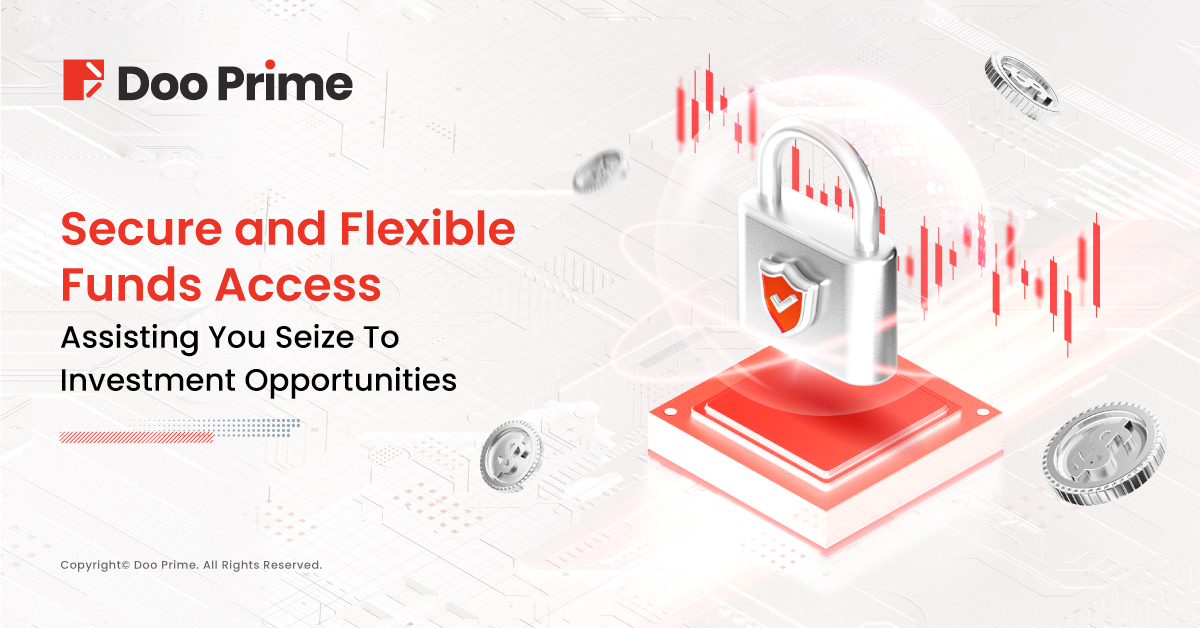 The complexity and diversity of the global financial investment market have prompted investors to constantly adjust and iterate their investment strategies, product choices as well as asset allocation. In order to meet the needs of clients to flexibly adjust funds, Doo Prime provides a variety of efficient and reliable deposit and withdrawal methods.
Of late, from August 14th to August 25th 2023, Doo Prime processed a total of 8,337 withdrawal transactions for clients, with a total amount of USD21,586,960.34. This has assisted clients in promptly seizing investment opportunities, targeting higher-potential investment options, and attaining their personal value objectives.
Secure and Flexible Ways to Deposit and Withdraw Funds
At Doo Prime, we provide a variety of convenient ways to deposit and withdraw funds via our provided funding channels including Local Bank Transfers, International Wire Transfers, and E-Wallet. In essence, Doo Prime supports more than 20 currencies to address investors' fund mobility needs and enhance asset allocation.
It's worth mentioning that Doo Prime incorporates strict approval processes for deposits and withdrawals, along with standardized procedures. Based on Anti-Money Laundering (AML) principles, we carefully verify client identity information to ensure that funds are accessed by the rightful account holder, mitigating security risks.
Our valued clients can currently deposit and withdraw funds based on their individual financial allocation needs.
1. Withdrawal Methods 
Doo Prime's clients are able to withdraw funds via our provided funding channels including Local Bank Transfer, International Wire Transfer, and E-Wallet. Recently, from August 14th to August 25th 2023, Doo Prime processed a total of 8,337 withdrawal transactions for clients, with a total amount of USD 21,586,960.34.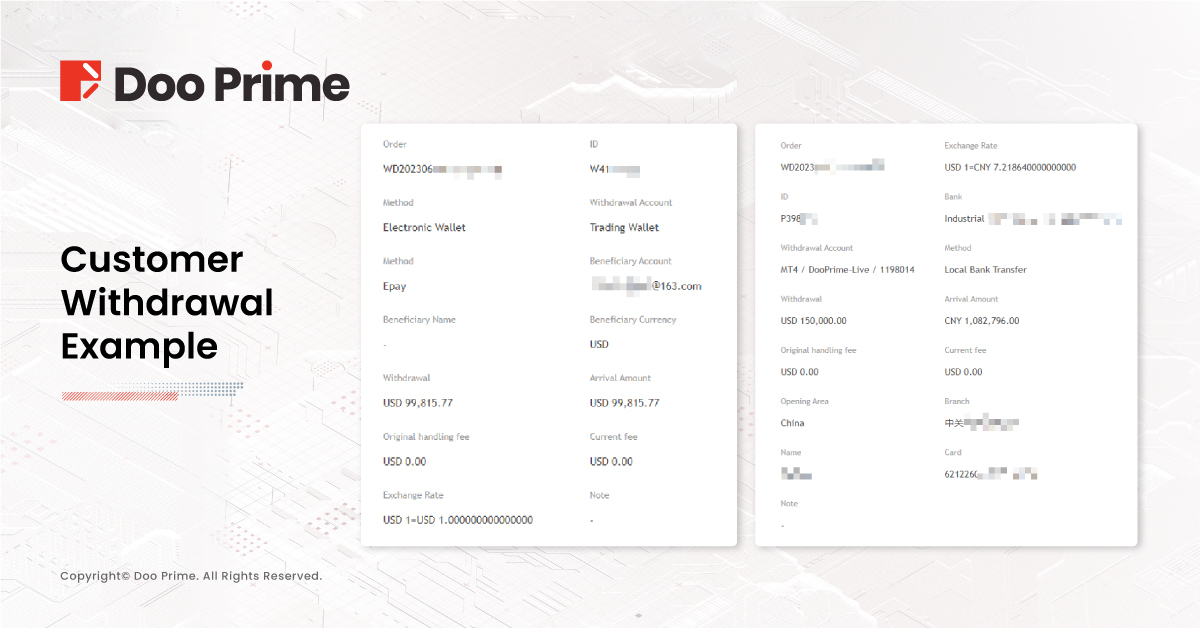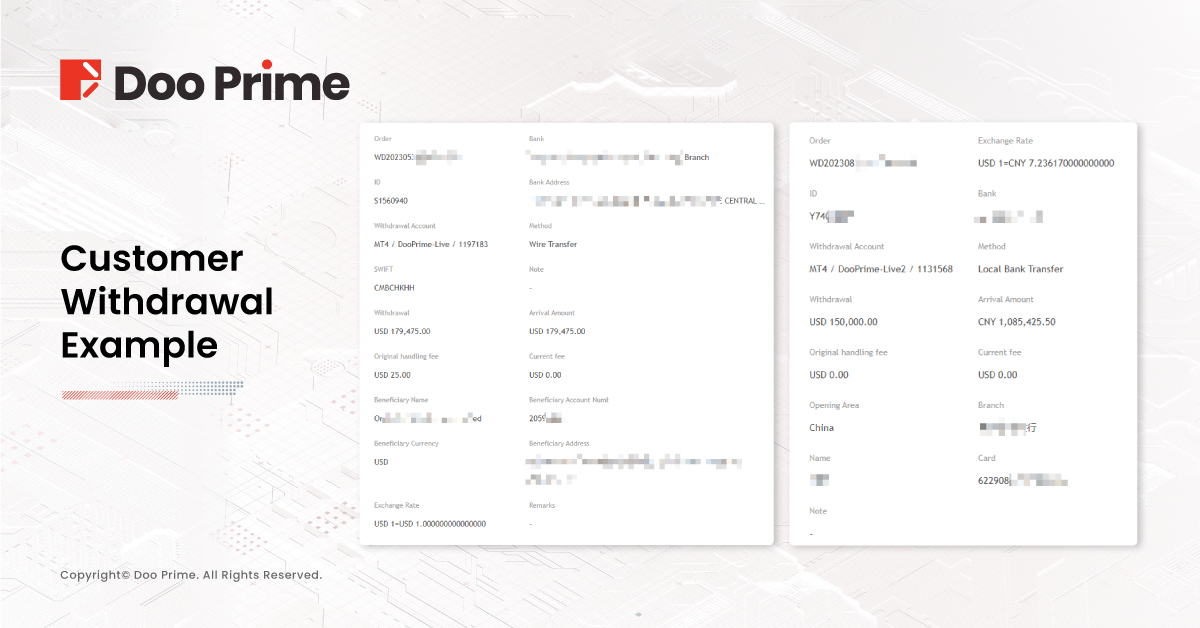 2. Deposit Methods
Doo Prime provides a variety of deposit and funding methods including E-Wallet, Credit/Debit Cards, International Wire Transfer, and Local Bank Transfer. As globalization continues to increase, Doo Prime ensures the quickest access to funds by accommodating deposits in various currencies including AED、AUD、BRL、COP、CLP、CNY、EUR、EUSD、GBP、HKD、IDR、KRW、KHR、LAK、MMK、MXN、NGN、PEN、THB、USD、USDT、VND、ZAR, and more.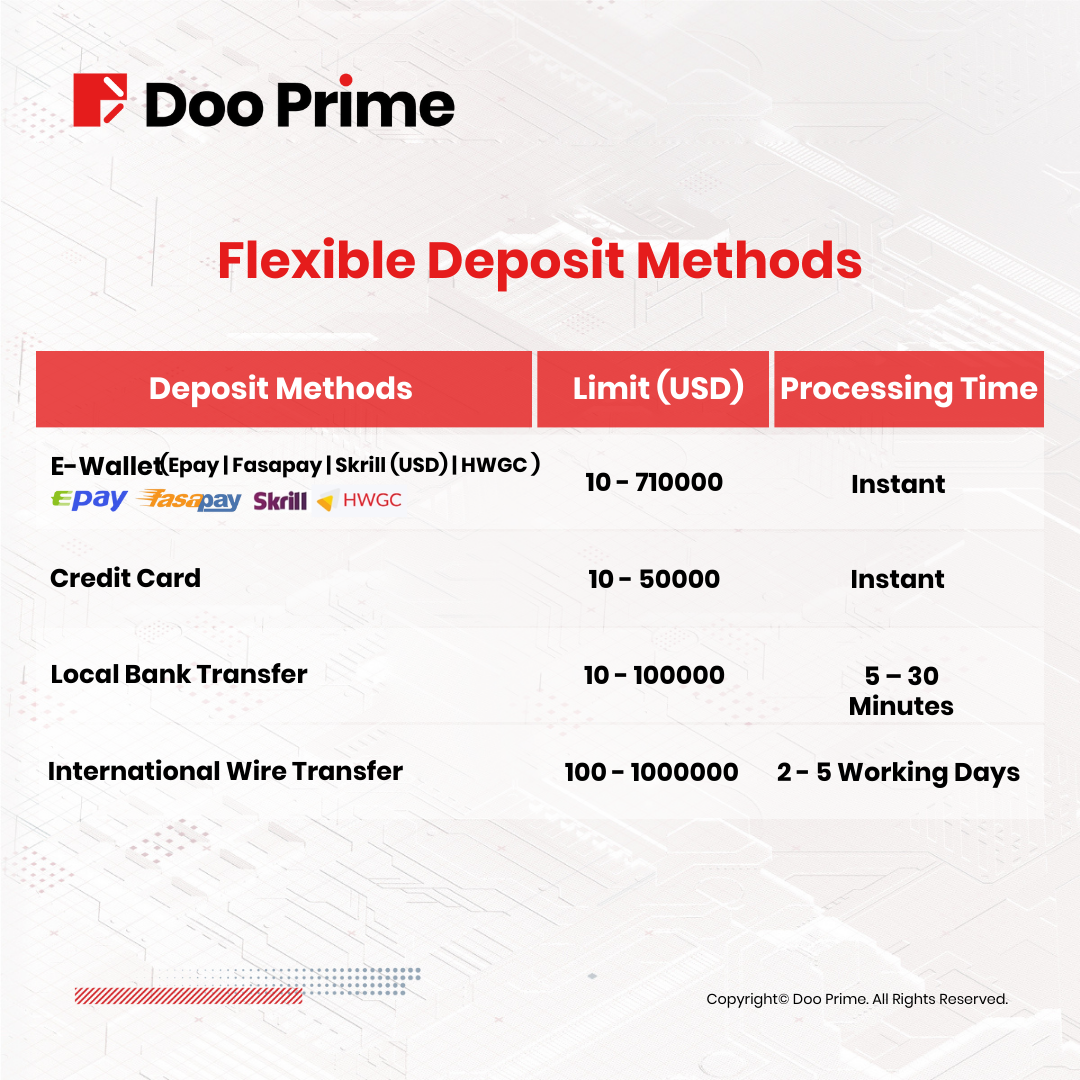 Recently, from August 14th to August 25th 2023, Doo Prime processed a total of 7611 deposits transactions for clients, with a total amount of USD 15,345,671.22.
Enhancements In Multiple Layers Of Security To Safeguard Funds
Doo Prime prioritizes client interests, providing secure and flexible ways to deposit and withdraw funds, and strives to ensure the safety of client funds. As it advances swiftly, Doo Prime proactively integrates collaborative resources and strengthens its fund security system.
At the same time, Doo Prime has added another layer of security by establishing a partnership with Barclays Bank, one of the largest commercial banks in the UK. This arrangement segregates client deposits from the company's operational funds and places them into the custody of a top-tier global bank, ensuring that client funds are dedicated and consistently protected.
To add, Doo Prime has recently successfully renewed their Professional Indemnity Insurance (PII) for the year 2023. The renewal of Professional Indemnity Insurance (PII) is underwritten by Lloyd's Certain Underwriters and Mauritius Union Assurance Company Limited (MUA) respectively, protecting Doo Prime clients' funds at all times.
Professional Indemnity Insurance (PII) will continue to provide coverage services during the validity period, effectively protecting the entity against any loss or damage that may be caused to the client based on the framework of its terms, conditions and exclusions.
Doo Prime aims to deliver a secure and exceptional trading experience to every investor, while concretely implementing the protection of client funds and transaction security. Through a series of effective fund security measures, Doo Prime hopes to join hands with global investors in upholding a favorable industry development environment. Together, we strive to collaboratively shape the future and create a better tomorrow.
About Doo Prime
Our Trading Products
Securities | Futures | Forex | Precious Metals | Commodities | Stock Indices
Doo Prime, an international preeminent online broker under Doo Group, strives to provide professional investors with a wide range of global CFD trading products including Securities, Futures, Forex, Precious Metals, Commodities, and Stock Indices. At present, Doo Prime is delivering the finest trading experience to more than 1300,000 professional clients, with an average monthly trading volume exceeding USD 51.223 billion.
Doo Prime entities respectively hold the relevant financial regulatory licenses in Seychelles, Mauritius, and Vanuatu with operation centers in Dallas, Singapore, Hong Kong, Sydney, Cyprus, Dubai, Kuala Lumpur, and other regions.
With robust financial technology infrastructure, well-established partnerships, and an experienced technical team, Doo Prime boasts a safe and secure trading environment, competitive trading costs, as well as deposit and withdrawal methods that support 20+ different currencies. Our 24/7 multilingual customer service ensures exceptional support, while our lightning-fast trade execution is facilitated through industry-leading trading terminals such as MT4, MT5, TradingView, and Doo Prime InTrade, covering over 10,000 trading products.
Doo Prime's vision and mission are to become a financial technology-focused broker, streamlining international global financial products investment.
For more information about Doo Prime, please contact us at:
Phone:
Europe: +44 11 3733 5199
Asia: +852 3704 4241
Asia – Singapore: +65 6011 1415
Asia – China: +86 400 8427 539
E-mail:
Technical Support: [email protected]
Account Manager: [email protected]
Forward-looking Statements
This article contains "forward-looking statements" and may be identified by the use of forward-looking terminology such as "anticipate", "believe", "continue", "could", "estimate", "expect", "hope", "intend", "may", "might", "plan", "potential", "predict", "should", or "will", or other variations thereon or comparable terminology. However, the absence of such terminology does not mean that a statement is not forward-looking. In particular, statements about the expectations, beliefs, plans, objectives, assumptions, future events, or future performance of Doo Prime will be generally assumed as forward-looking statements.
Doo Prime has provided these forward-looking statements based on all current information available to Doo Prime and Doo Prime's current expectations, assumptions, estimates, and projections. While Doo Prime believes these expectations, assumptions, estimations, and projections are reasonable, these forward-looking statements are only predictions and involve known and unknown risks and uncertainties, many of which are beyond Doo Prime's control. Such risks and uncertainties may cause results, performance, or achievements materially different from those expressed or implied by the forward-looking statements.
Doo Prime does not provide any representation or warranty on the reliability, accuracy, or completeness of such statements. Doo Prime is not obliged to provide or release any updates or revisions to any forward-looking statements.
Risk Disclosure
Trading in financial instruments involves high risks due to the fluctuation in the value and prices of the underlying financial instruments. Due to the adverse and unpredictable market movements, large losses exceeding the investor's initial investment could incur within a short period of time. A financial instrument's past performance does not indicate its future performance. Investments in certain services should be made on margin or leverage, where relatively small movements in trading prices may have a disproportionately large impact on the client's investment, and clients should therefore be prepared to suffer significant losses when using such trading facilities.
Please ensure you read and fully understand the trading risks of the respective financial instrument before engaging in any transaction with Doo Prime's trading platforms. You should seek independent professional advice if you do not understand any of the risks disclosed by us herein or any risk associated with the trade and investment of financial instruments. Please refer to Doo Prime's Client Agreement and Risk Disclosure and Acknowledgement Notice to learn more.
Disclaimer
This information is addressed to the general public solely for information purposes and should not be taken as investment advice, recommendation, offer, or solicitation to buy or sell any financial instrument. The information displayed herein has been prepared without any reference or consideration to any particular recipient's investment objectives or financial situation. Any references to the past performance of a financial instrument, index, or a packaged investment product shall not be taken as a reliable indicator of its future performance. Doo Prime and its holding company, affiliates, subsidiaries, associated companies, partners and their respective employees, make no representation or warranties to the information displayed and shall not be liable for any direct, indirect, special or consequential loss or damages incurred as a result of any inaccuracies or incompleteness of the information provided, and any direct or indirect trading risks, profit, or loss arising from any individual's or client's investment.