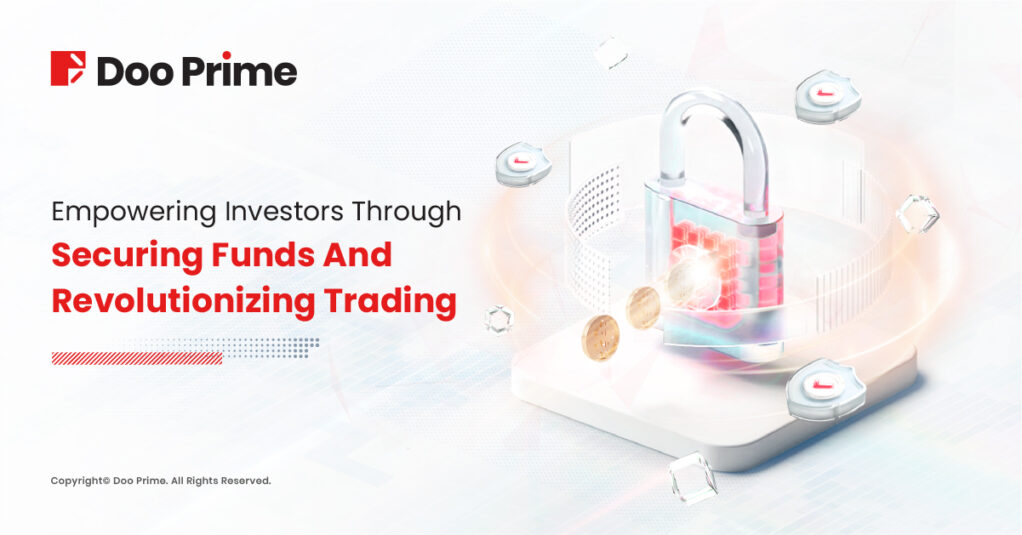 In early February, the Federal Reserve made the resolution to raise interest rates by 25 basis points, resulting in significant gains for U.S. stocks and gold.
Meanwhile, the recovering Chinese economy and the diminishing effects of the pandemic have increased confidence in Hong Kong stocks and A-shares for 2023 and the market is generally bullish on its path.
Despite the positive developments, there are still challenges in the market, such as high levels of inflation in the U.S. and the ongoing Russian-Ukrainian conflict.
However, Doo Prime is committed to supporting global investors in navigating these challenges. With a range of trading products and professional financial services, Doo Prime aims to empower investors to achieve their investment goals while ensuring the safety of their funds.
By working hand in hand with clients, Doo Prime is dedicated to making the most of market opportunities and overcoming market uncertainties in 2023.
Access Over 10,000 Trading Products for Comprehensive Asset Allocation 
As we commence 2023, the financial landscape is abuzz with optimism, and investors are presented with a plethora of options to diversify their portfolios. Doo Prime is at the forefront of this, offering access to more than 10,000 trading products across six key market segments: securities, futures, currency pairs, precious metals, commodities, and stock indices. With this broad range of options, traders can diversify their portfolios and tap into multiple revenue streams.
Whether you're an experienced trader or new to the field, Doo Prime's versatility makes it an ideal choice for navigating the fast-paced world of financial markets.
For investors seeking to create a diverse portfolio or mitigate risks, Doo Prime offers a wide range of Contract for Difference (CFD) products to choose from. These products can be traded through multiple trading platforms, including MT4, MT5, Doo Prime InTrade, TradingView, and FIX API 4.4, to name a few.
By providing access to such a comprehensive range of CFD products, Doo Prime empowers investors to make informed choices that align with their financial goals and risk tolerance levels.
Furthermore, Doo Prime has recently introduced a cost-effective solution for investors seeking to expand their portfolios. On February 6, 2023, Doo Prime launched Cross Forex, a new interest-free product that allows investors to invest in an even wider range of trading products.
This new offering builds upon the platform's already extensive suite of interest-free products, which currently encompasses U.S. equity CFDs, major currency pairs, cross-currency pairs, precious metals CFDs, and equity index CFDs.
The launch of Cross Forex is yet another example of Doo Prime's commitment to providing its users with the tools and resources they need to succeed in the financial markets, regardless of their experience level or investment objectives.
Assured Fund Segregation with Diverse Deposit and Withdrawal Methods 
At Doo Prime, the priority is always the interests of our valued customers. We work closely with reputable banks to ensure the proper segregation and management of funds, safeguarding your investments at all times.
Additionally, to enhance your trading experience, we offer a range of secure deposit and withdrawal options, giving you the flexibility and peace of mind to focus on your trading strategy. Our commitment to customer satisfaction and safety is unwavering.
1. Safe and Secure Deposit Methods
At Doo Prime, we understand the importance of speed and convenience when it comes to managing your funds. That's why we offer a wide range of deposit methods, including credit/debit card, international wire transfer, and local bank transfer, so clients can quickly and easily add funds to their accounts and take advantage of investment opportunities as they arise. With support for multiple currencies, including AED, AUD, CNY, EUR, EUSD, GBP, HKD, KRW, THB, USD, USDT, VND, and ZAR – clients have the flexibility to manage their funds in the currency of their choice.
Doo Prime is also proud to partner with banks and payment service providers in Southeast Asia, providing clients with even more convenient deposit options. And, to make clients' experience even smoother, Doo Prime even covers any fees incurred through these local bank transfers. With Doo Prime, clients can deposit funds with confidence, knowing that all transactions are secure, and funds are easily accessible.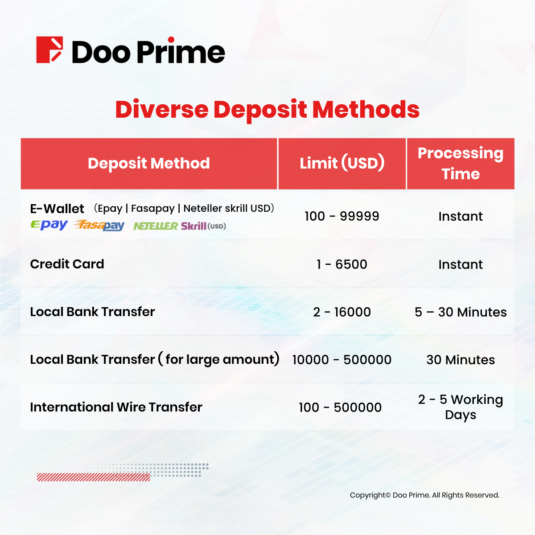 2. Facilitating Large Withdrawals with Ease
Doo Prime understands the need for efficient and reliable withdrawal services, especially when it comes to moving large amounts of funds.
Thus, we offer a comprehensive range of options for our clients to choose from, including local bank transfers and international wire transfers, with the ability to withdraw up to USD 159,000 in a single transaction from local banks and up to USD 228,682.42 from international wire transfers. Our dedicated team works diligently to process clients' withdrawal requests quickly and securely, ensuring that clients' funds are always accessible when they need them.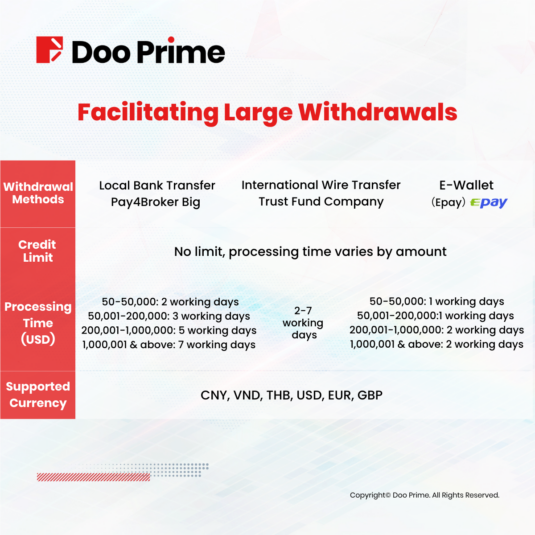 In addition to our convenient withdrawal options, we are committed to protecting the safety and security of our customers' funds. All of our deposit and withdrawal processes adhere to Anti-Money Laundering (AML) principles, and we have implemented strict auditing mechanisms and control processes. Our payment partners also prioritize careful and accurate verification of customer information to ensure that funds are accessed from the rightful account and to prevent any potential fraud. At Doo Prime, we take the security of your funds seriously, and we are committed to providing you with peace of mind when it comes to managing your money.
3. Segregation of Funds
To ensure that clients' funds are always segregated and protected, Doo Prime has established partnership with the world's top-tier bank. This investment-grade bank, Barclays Bank, is known for its strength and stability and is where we keep our clients' funds separate from the company's operating funds.  
We strictly follow all regulatory requirements and take every measure possible to ensure that clients' funds are secure.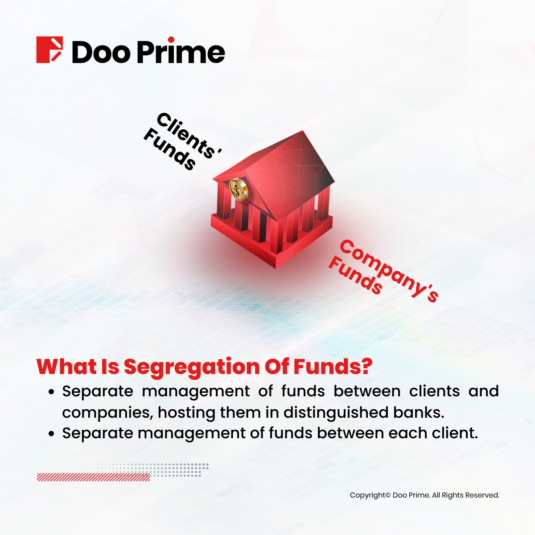 4. Authoritative Supervision
In addition to the segregation of funds to ensure safety, Doo Prime also operates under the supervision of international regulatory authorities. Doo Prime holds multiple licenses from financial institutions around the world, including the United States Securities and Exchange Commission (US SEC) and Financial Industry Regulatory Authority (US FINRA), the United Kingdom Financial Conduct Authority (UK FCA), the Australian Securities & Investments Commission (AU ASIC), the Hong Kong Insurance Authority (HK IA), the Hong Kong Customs and Excise Department (HK C&ED), the Hong Kong Companies Registry (HK CR), the Seychelles Financial Services Authority (SC FSA), Mauritius Financial Services Commission (MU FSC), and the Vanuatu Financial Services Commission (VU FSC).
As a subsidiary of Doo Group, we adhere to regulatory requirements and maintain a strong presence in financial hubs such as Dallas, London, Sydney, Singapore, Hong Kong, Dubai, and Kuala Lumpur. Our commitment to regulatory compliance and the protection of our client's interests is unwavering.
Advanced Network Security and Data Encryption for Maximum Fund Protection 
Doo Prime prioritizes data protection and security and has relied on Equinix, the world's leading data center and hosting provider, for its data center needs for years through its parent company, Doo Group. These data centers are strategically located in major financial centers such as London (LD5), New York (NY5), Hong Kong (HK2), and Singapore (SG1) and are at the highest Tier 4 level.
With the help of Doo Group subsidiary, Doo Tech, Doo Prime has established partnerships with leading backbone network service providers to secure a 1 Gbps fiber dedicated line connection to major data centers and improve global network connectivity using BGP technology. This ensures that Doo Prime's network latency and stability remain among the best in the industry, allowing for quick and efficient processing of real-time quote data and clients orders.
Moreover, Doo Prime employs SSL encryption technology for all internal system communications, providing a security level that cannot be easily breached according to current computing power. This ensures that clients' data and transaction information are securely transmitted and protected, contributing to the stability and security of the trading system.
24/7 Professional Customer Support: Always in Hand to Resolve Issues Anytime, Anywhere 
At Doo Prime, we pride ourselves not only on our cutting-edge technology and robust security measures but also on our exceptional customer service. Our team of over 500 highly skilled professionals, with diverse financial backgrounds, is spread across 10 key financial hubs around the world.
Doo Prime's customer support is available 24/7 to provide support in multiple languages including English, Chinese, Korean, Thai, and Vietnamese. With multiple customer service channels, including online chat, phone, email, and dedicated customer service managers, we are committed to providing a seamless and satisfactory experience to our clients. This is reflected in our customer satisfaction rate of 98% by the end of 2022, a testament to the quality of our customer service.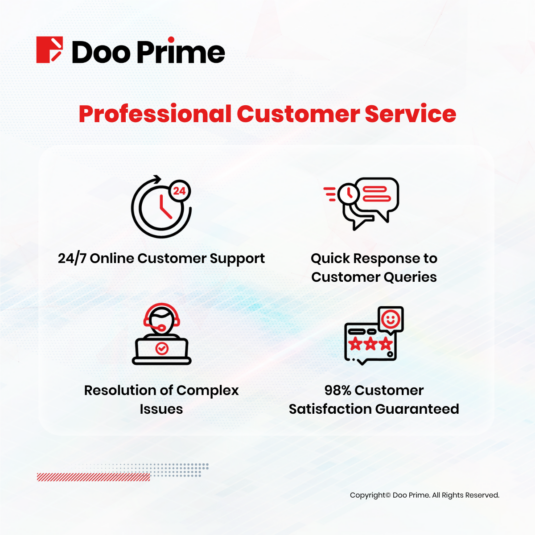 Above and beyond, Doo Prime's priority is to deliver exceptional financial services to our global community of over 90,000 investors. By leveraging cutting-edge technology, we ensure the safety and security of our client's funds and empower them to trade confidently with our continuously evolving financial innovation. Our ultimate goal is to offer a seamless, reliable, and efficient experience for all of our valued clients.


| About Doo Prime
Our Trading Instruments
Securities | Futures | Forex | Precious Metals | Commodities | Stock Indices
Doo Prime is an international pre-eminent online broker under Doo Group, which strives to provide professional investors with global CFD trading products in Securities, Futures, Forex, Precious Metals, Commodities, and Stock Indices. At present, Doo Prime is delivering the finest trading experience to more than 90,000 clients, with an average trading volume of more than USD 51.223 billion each month.
Doo Prime entities respectively holds the relevant financial regulatory licenses in Seychelles, Mauritius, and Vanuatu with operation centers in Dallas, Sydney, Singapore, Hong Kong, Dubai, Kuala Lumpur, and other regions.
With robust financial technology infrastructure, well-established partnerships, and an experienced technical team, Doo Prime boasts a safe and secure trading environment, competitive trading costs, as well as deposit and withdrawal methods that support 20 different currencies. Doo Prime also incorporates 24/7 multilingual customer service and extremely fast trade execution via multiple industry-leading trading terminals such as MT4, MT5, TradingView, and Doo Prime InTrade, covering over 10,000 trading products.
Doo Prime's vision and mission are to become a financial technology-focused broker, streamlining international global financial products investment.
For more information about Doo Prime, please contact us at:
Phone:
Europe : +44 11 3733 5199
Asia : +852 3704 4241
Asia – Singapore: +65 6011 1415
Asia – China : +86 400 8427 539
E-mail:
Technical Support: [email protected]
Account Manager: [email protected]

Forward-looking Statements
This article contains "forward-looking statements" and may be identified by the use of forward-looking terminology such as "anticipate", "believe", "continue", "could", "estimate", "expect", "hope", "intend", "may", "might", "plan", "potential", "predict", "should", or "will", or other variations thereon or comparable terminology. However, the absence of such terminology does not mean that a statement is not forward-looking. In particular, statements about the expectations, beliefs, plans, objectives, assumptions, future events, or future performance of Doo Prime will be generally assumed as forward-looking statements.
Doo Prime has provided these forward-looking statements based on all current information available to Doo Prime and Doo Prime's current expectations, assumptions, estimates, and projections. While Doo Prime believes these expectations, assumptions, estimations, and projections are reasonable, these forward-looking statements are only predictions and involve known and unknown risks and uncertainties, many of which are beyond Doo Prime's control. Such risks and uncertainties may cause results, performance, or achievements materially different from those expressed or implied by the forward-looking statements.
Doo Prime does not provide any representation or warranty on the reliability, accuracy, or completeness of such statements. Doo Prime is not obliged to provide or release any updates or revisions to any forward-looking statements.
Risk Disclosure
Trading in financial instruments involves high risks due to the fluctuation in the value and prices of the underlying financial instruments. Due to the adverse and unpredictable market movements, large losses exceeding the investor's initial investment could incur within a short period of time. The past performance of a financial instrument is not an indication of its future performance. Investments in certain services should be made on margin or leverage, where relatively small movements in trading prices may have a disproportionately large impact on the client's investment and client should therefore be prepared to suffer significant losses when using such trading facilities.
Please make sure you read and fully understand the trading risks of the respective financial instrument before engaging in any transaction with Doo Prime's trading platforms. You should seek independent professional advice if you do not understand any of the risks disclosed by us herein or any risk associated with the trade and investment of financial instruments. Please refer to Doo Prime's Client Agreement and Risk Disclosure and Acknowledgement Notice to find out more.
Disclaimer
This information is addressed to the general public solely for information purposes and should not be taken as investment advice, recommendation, offer, or solicitation to buy or sell any financial instrument. The information displayed herein has been prepared without any reference or consideration to any particular recipient's investment objectives or financial situation. Any references to the past performance of a financial instrument, index, or a packaged investment product shall not be taken as a reliable indicator of its future performance. Doo Prime and its holding company, affiliates, subsidiaries, associated companies, partners and their respective employees, make no representation or warranties to the information displayed and shall not be liable for any direct, indirect, special or consequential loss or damages incurred a result of any inaccuracies or incompleteness of the information provided, and any direct or indirect trading risks, profit, or loss arising from any individual's or client's investment.