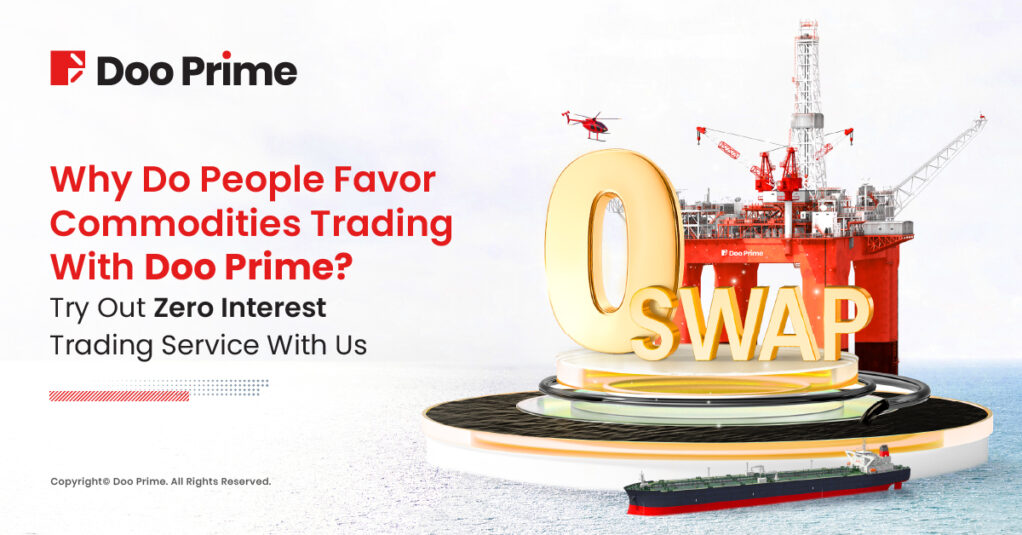 Try Out Zero Interest Trading Service With Us
Previously, we have briefly talked about why should you trade Forex CFDs, U.S. Stocks CFDs and Precious Metals CFDs with Doo Prime. This time, let's dive into the commodities market. Taking a rewind on the previous quarter of Swap-Free report (Swap Fees Waived Up to USD 800,000 ++ In Q3 2022), you may notice a surge of commodities during Q2 and Q3 of our Swap-Free and Swap Reduction Campaign. Namely the XTI/USD, which is the Crude Oil CFD.
So, why was there a surge of XTI/USD in the previous quarter?
The market is always volatile, hence the existence of constantly changing energy and commodity markets. Especially now, where extreme fluctuations are a norm due to global gas shortages caused by the Russia-Ukraine war and Zero-Covid policy of China, post-lockdown industrial demand, as well as low wind generation in Europe.
Therefore, a price surge of energy and commodities has happened as the consequence of insufficient of oil and gas supplies.
Here are more discussion on how geopolitical events affecting the market:
– Commodity Market: Energy In 2022 – What, How, What's Next
– In The Face Of The Russia-Ukraine War, Commodity Trades Lead Markets Into Volatility Zone
Renewable Energy VS Conventional Commodities – Time To Trade?
Some might suggest replacing oil and gas with non-renewable energy and into sustainable energy such as energy generated by wind, sun and water. The theory is simple but it's not really the same for execution.
Reasons Oil and Gas Are Still Irreplaceable For Now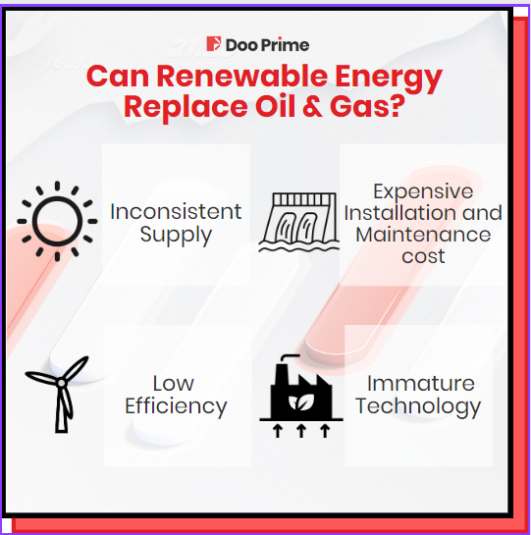 Inconsistent supply due to inconsistent weather
Weather is king when it comes to sustainable power generation. Of course, the solar panels would not stop working when the sun is hidden by a bit of cloud but do expect lower generating efficiency due to limited sunlight. Unlike oil, gas and biomass energy that work through all four seasons of the year, solar panels generally produce less energy in the winter due to shorter days. Plus a solar panel that's covered in snow cannot absorb light to make electricity. Same case applies to the wind generator, there won't be 24/7 windy days, hence the energy supply might not meet energy demand.
Let's say the sun do be bright and shines throughout the day, yes – there is enough energy for your household and even some excess energy for selling them back to the country! However, your excess energy will most likely go in vain as there is a quota for electricity reselling. This means that conventional energy is still needed to an extent, unless you have a solar battery (which comes with its own costs).
Expensive installation and maintenance cost
Renewable energies are also well-known for their high cost of installation and maintenance. The typical life span of a wind turbine is 20 years, with routine maintenance required every six months whereas the installation costs for solar panels roughly ranged from USD 3,500 t0 USD 35,000 depending on the type and model. Besides, dam construction depends on the government's planning with the cost of damaging nature and life structures of the local residents.
Low power output efficiency
If we want to replace oil and gas with renewable energies, the supplies efficiency shall meet the demand. However, wind turbines are 20-40% efficient at converting wind into energy while solar panel efficiency is generally around 15-20%. Converting over 90% of available energy into electricity, hydropower is the most efficient source of electrical energy.
Hence, with all the stated reasons, we can conclude that renewable energies might be one of the solutions to reduce the non-renewable energy consumptions like oil, gas, coal and fossil fuels BUT cannot replace them. At least, not with the current immature technologies and heavy demand in energy supplies from main cities.
Now, what is the relationship between energy and the price surge of other commodities items?
Commodities are found in the majority of goods that end up in the hands of consumers, including tires, tea, ground beef, orange juice, and clothing. The most common commodities include copper, crude oil, wheat, coffee beans, corns and gold.
As the demand for goods and services increases, the price of goods and services rises, and commodities are what will be used to produce those goods and services. To add, USD has contributed the most on the price surge efforts because all are sold in USD.
Consequently, commodity prices will rise when inflation accelerates, which is why investors often flock to them for protection during times of increased inflation.
This explains why our clients favor commodities CFDs. It is to trade commodities as a hedge against inflation especially buying before periods of high inflation.
Trade Swap-Free Energy With Us
The products listed are eligible for Swap-Free and Swap Reduction promotions:
Swap-Free:
| | | |
| --- | --- | --- |
| | Precious Metal CFDs | Overnight Interest |
| XAU/USD | Gold Spot CFD | Swap-Free |
| XAG/USD | Silver Spot CFD | Swap-Free |
| RKG/CNH | Chinese Kilo Gold vs Chinese Yuan Spot CFD | Swap-Free |
| HKG/HKD | Hong Kong Gold vs Hong Kong Dollar Spot CFD | Swap-Free |
| SKG/CNH | Silver Kilo Gold vs Chinese Yuan CFD | Swap-Free |
Swap Reduction:
| | | |
| --- | --- | --- |
| Product Types | Oil CFDs | Swap Adjustment |
| XBRUSD | Brend Spot CFD | Reduced Swap Fees |
| XNGUSD | Natural Gas CFD | Reduced Swap Fees |
| XTIUSD | Crude Oil CFD | Reduced Swap Fees |
Enjoy The Promotions With Your Desired Commodities CFDs Now!
Time to diversify your portfolio by exploring the energy markets and trade with crude oil, natural gas and more commodities CFDs with our Swap-Free and Swap Reduction promotions. We encourage your participation, regardless of whether you are new or experienced in trading.
Contact Doo Prime's 24/7 multilingual support team now to activate the Swap-Free option on multiple trading terminals including MetaTrader 4, MetaTrader 5, TradingView, Doo Prime InTrade, and more.
For more campaign-related terms and conditions, clients may access our help center or contact your 1-on-1 dedicated account manager. 

| About Doo Prime
Our Trading Instruments
Securities | Futures | Forex | Precious Metals | Commodities | Stock Indices
Doo Prime is an international pre-eminent online broker under Doo Group, which strives to provide professional investors with global CFD trading products in Securities, Futures, Forex, Commodities, Stock Indices, and Funds. At present, Doo Prime is delivering the finest trading experience to more than 60,000 professional clients, with an average trading volume of more than USD51.223 billion each month.
Doo Prime entities respectively holds the relevant financial regulatory licenses in Seychelles, Mauritius, and Vanuatu with operation centers in Dallas, Sydney, Singapore, Hong Kong, Dubai, Kuala Lumpur, and other regions.
With robust financial technology infrastructure, well-established partnerships, and an experienced technical team, Doo Prime boasts a safe and secure trading environment, competitive trading costs, as well as deposit and withdrawal methods that support 10 different currencies. Doo Prime also incorporates 24/7 multilingual customer service and extremely fast trade execution via multiple industry-leading trading terminals such as MT4, MT5, TradingView, and InTrade, covering over 10,000 trading products.
Doo Prime's vision and mission are to become a financial technology-focused broker, streamlining international global financial products investment.
For more information about Doo Prime, please contact us at:
Phone:
Europe : +44 11 3733 5199
Asia : +852 3704 4241
Asia – Singapore: +65 6011 1415
Asia – China : +86 400 8427 539
E-mail:
Technical Support: [email protected]
Sales Representative: [email protected]
Risk Disclosure
Trading in financial instruments involves high risks due to the fluctuation in the value and prices of the underlying financial instruments. Due to the adverse and unpredictable market movements, large losses exceeding the investor's initial investment could incur within a short period of time. The past performance of a financial instrument is not an indication of its future performance. Investments in certain services should be made on margin or leverage, where relatively small movements in trading prices may have a disproportionately large impact on the client's investment and client should therefore be prepared to suffer significant losses when using such trading facilities.
Please make sure you read and fully understand the trading risks of the respective financial instrument before engaging in any transaction with Doo Prime's trading platforms. You should seek independent professional advice if you do not understand any of the risks disclosed by us herein or any risk associated with the trade and investment of financial instruments. Please refer to Doo Prime's Client Agreement and Risk Disclosure and Acknowledgement Notice to find out more.

Disclaimer
This information is addressed to the general public solely for information purposes and should not be taken as investment advice, recommendation, offer, or solicitation to buy or sell any financial instrument. The information displayed herein has been prepared without any reference or consideration to any particular recipient's investment objectives or financial situation. Any references to the past performance of a financial instrument, index, or a packaged investment product shall not be taken as a reliable indicator of its future performance. Doo Prime and its holding company, affiliates, subsidiaries, associated companies, partners and their respective employees, make no representation or warranties to the information displayed and shall not be liable for any direct, indirect, special or consequential loss or damages incurred a result of any inaccuracies or incompleteness of the information provided, and any direct or indirect trading risks, profit, or loss arising from any individual's or client's investment.