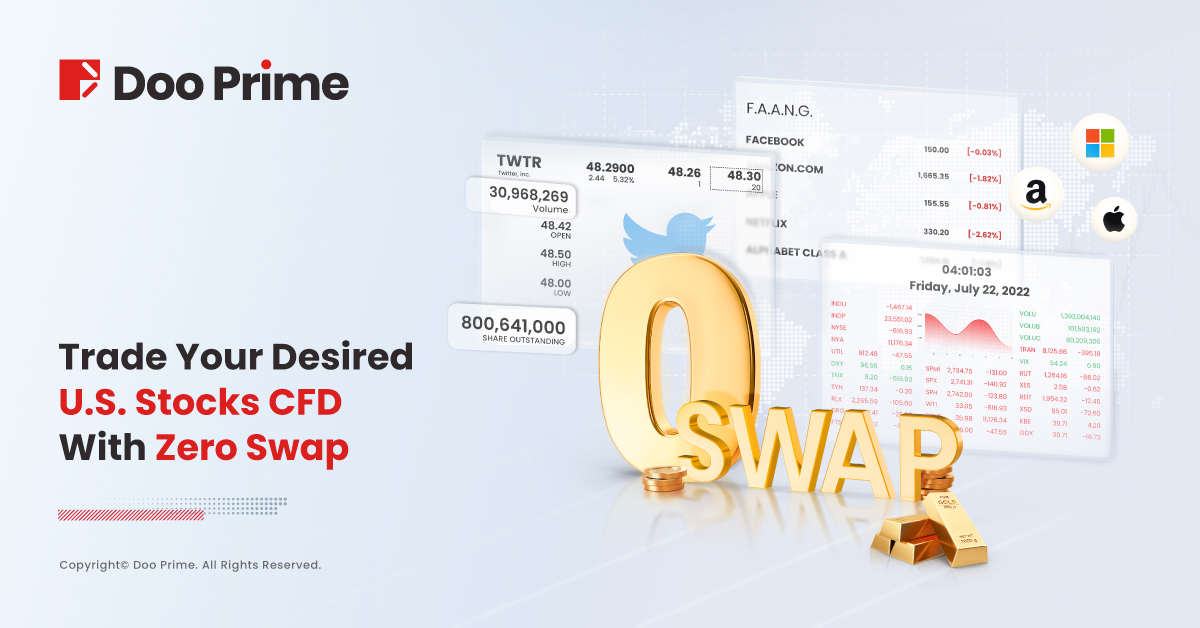 The Swap-Free and Swap Reduction Campaign from Doo Prime has become one of the most wanted campaigns among the clients as it gives traders advantages to trade their desired products.
Especially now. With all the concurrent impactive events, like the incoming of second Fed rate hike, the Russian-Ukraine ongoing war, Boris's resignation, and the assassination of Japan's ex-prime minister, Shinzo Abe, volatility in the market does not seem to go away anytime soon. However, whenever there is a presence of volatility, there will be more opportunities too in the market even though there will be more risk coming along.
Doo Prime offers leverage up to 1:500
Leverage allows you to open large positions with only a limited amount of money in your trading account. This means that your trading profits can be increased, and so with your losses.
In Doo Prime, we offer flexible leverage of up to 1:500, allowing our clients to trade with minimal capital and maximize their trading profits.
It is never too late to seize the window of opportunities now by joining the exclusive campaign to enjoy all the benefits now!
In the midst of wondering which product to trade? Perhaps U.S. stocks CFD is a good choice to start with.
Why are U.S. Stocks CFDs so popular?
Information Transparency
As the title suggests, U.S. stocks CFDs is more transparent with most of their information available. For instance, the quarterly report of the U.S. stock market will also include the quarter's major events or significant information other than the compulsory financial figures.
Including but not limited to the reasons behind the changes in the financial figures or the latest mergers and acquisitions, etc. All this information is essential to help traders to decide whether this stock is worth investing in.
U.S. stocks CFDs allow for short selling
U.S. stocks CFDs can be bought up or sold short.
Short selling is an investment technique that seeks to profit from the decline in a security's value.
During the global financial crisis of 2007 and 2008, short selling has fallen under heavy scrutiny when Australia, Canada and several European nations placed bans on short selling of financial stocks.
Since that time, regulations have been lifted or amended in some countries, but in general, the United States has more liberal laws on short selling than most of the world.
It is a great news because in particular, a variety of investment strategies can be formed.
Impact of Foreign Exchange
Another key factor to note is that U.S. market is fluctuating in the exchange rate. Investing in U.S. stocks makes you invest in U.S. dollar and bear the associated risk too.
When the US Dollar appreciates, it gives an extra boost to your portfolio value and vice versa.
After knowing the reasons behind the popularity of this product, let's focus on which U.S. stocks CFDs do traders usually pay attention on.
Which U.S. stocks CFD are in focus?

The figure above is the financial visualization that shows most traded U.S. stocks CFDs within the latest 3-month. Data was acquired on 22nd July 2022 from Finviz.
Why would they choose these U.S. stocks CFDs?
Reasons of people willing to invest their money in these stocks including but not limited to:
Companies with bigger market capitalization are preferred
Based on the graphic acquired, we can see that the majority are still focusing on companies with big market cap like Microsoft, Apple, Amazon, Google, Tesla, MCD, etc. This is because a company with big market cap will have more cash flow hence better stability.
Market evolves around the surrounding changes
Some analysts would agree that the market reacts according to the Covid situation. It is noted that when Covid-19 situations are worsening around the world, one can pay attention to growth & technology stocks. And when cases have reduced greatly, we can pay more attention to the economy rebooting stocks.
Ever since Covid-19 hit the world, we can see that the market is more tech-sided with all the tech companies like Microsoft, Apple, Amazon, Google and Tesla leading the market.
Weather conditions determine the stock choices of the season
As climate change has become more and more alarming, the global temperature rise has become one of the most trending topics. Senior Portfolio Manager of Globalt Investments, Thomas Martin, once said that a real experienced trader will make predictions based on all the extreme weather conditions.
Take the recent heatwave in the United States as an example, when a heatwave is predicted, a buy-in of energy-related stocks makes more sense. This is because people will definitely spend more on home cooling systems like air conditioning, especially when the outdoor temperature is spiking throughout the day.
Hence, HIVAC (Heating Ventilation Air Conditioning) companies like LII (residence air conditioning services) and WSO (distributor of heating, air conditioning, and refrigeration (HVAC/R) products might be one of the potential stocks.
All-time needed item is a keep
Another U.S. stocks CFDs worth investing would be all-time needed items, such as Coca-Cola. Research has shown that heat waves increase your craving for sodas and that some individuals can feel an overpowering urge to satisfy their thirst not with water, but with sugar-sweetened beverages.
The recent heatwave might cause Coca-Cola's sales to surprise us again due to their top 1 popularity among all the other soft drinks in the summer. The fact that Coca-Cola (KO) is Warren Buffett's oldest stock position at Berkshire Hathaway shows the potential and value of Coca-Cola in the market.
To add, the nearly 60% of high gross margin of Coca-Cola is another attractive factor as high gross margin provides good indications of a company's profitability based on its sales and costs of goods sold.
Ultimately, we should always study the target we are investing in. Do research on the history and background of the company's management team, always keep our information updated, and make predictions as the stock market is always one step ahead.
Join The Campaign Now
Get on the train of experiencing Swap-Free and Swap Reduction promotions with your desired U.S. stocks now. Whether beginner or experienced traders, we welcome you to trade with us.
Contact Doo Prime's 24/7 multilingual support team now to activate the Swap-Free option on multiple trading terminals including MetaTrader 4, MetaTrader 5, TradingView, Doo Prime InTrade, and more.
For more campaign-related terms and conditions, clients may access our help center or contact your 1-on-1 dedicated account manager. 
| About Doo Prime
Our Trading Instruments
Securities | Futures | Forex | Precious Metals | Commodities | Stock Indices
Doo Prime is an international pre-eminent online broker under Doo Group, which strives to provide professional investors with global CFD trading products in Securities, Futures, Forex, Commodities, Stock Indices, and Funds. At present, Doo Prime is delivering the finest trading experience to more than 40,000 professional clients, with over 1 million trade orders fulfilled each month.
Doo Prime entities respectively holds the relevant financial regulatory licenses in Seychelles, Mauritius, and Vanuatu with operation centers in Dallas, Sydney, Singapore, Hong Kong, Dubai, Kuala Lumpur, and other regions.
With robust financial technology infrastructure, well-established partnerships, and an experienced technical team, Doo Prime boasts a safe and secure trading environment, competitive trading costs, as well as deposit and withdrawal methods that support 10 different currencies. Doo Prime also incorporates 24/7 multilingual customer service and extremely fast trade execution via multiple industry-leading trading terminals such as MT4, MT5, TradingView, and InTrade, covering over 10,000 trading products.
Doo Prime's vision and mission are to become a financial technology-focused broker, streamlining international global financial products investment.
For more information about Doo Prime, please contact us at:
Phone:
Europe : +44 11 3733 5199
Asia : +852 3704 4241
Asia – Singapore: +65 6011 1415
Asia – China : +86 400 8427 539
E-mail:
Technical Support: [email protected]
Sales Representative: [email protected]
Forward-looking Statements
This article contains "forward-looking statements" and may be identified by the use of forward-looking terminology such as "anticipate", "believe", "continue", "could", "estimate", "expect", "hope", "intend", "may", "might", "plan", "potential", "predict", "should", or "will", or other variations thereon or comparable terminology. However, the absence of such terminology does not mean that a statement is not forward-looking. In particular, statements about the expectations, beliefs, plans, objectives, assumptions, future events, or future performance of Doo Prime will be generally assumed as forward-looking statements.
Doo Prime has provided these forward-looking statements based on all current information available to Doo Prime and Doo Prime's current expectations, assumptions, estimates, and projections. While Doo Prime believes these expectations, assumptions, estimations, and projections are reasonable, these forward-looking statements are only predictions and involve known and unknown risks and uncertainties, many of which are beyond Doo Prime's control. Such risks and uncertainties may cause results, performance, or achievements materially different from those expressed or implied by the forward-looking statements.
Doo Prime does not provide any representation or warranty on the reliability, accuracy, or completeness of such statements. Doo Prime is not obliged to provide or release any updates or revisions to any forward-looking statements.
Risk Disclosure
Trading in financial instruments involves high risks due to the fluctuation in the value and prices of the underlying financial instruments. Due to the adverse and unpredictable market movements, large losses exceeding the investor's initial investment could incur within a short period of time. The past performance of a financial instrument is not an indication of its future performance. Investments in certain services should be made on margin or leverage, where relatively small movements in trading prices may have a disproportionately large impact on the client's investment and client should therefore be prepared to suffer significant losses when using such trading facilities.
Please make sure you read and fully understand the trading risks of the respective financial instrument before engaging in any transaction with Doo Prime's trading platforms. You should seek independent professional advice if you do not understand any of the risks disclosed by us herein or any risk associated with the trade and investment of financial instruments. Please refer to Doo Prime's Client Agreement and Risk Disclosure and Acknowledgement Notice to find out more.

Disclaimer
This information is addressed to the general public solely for information purposes and should not be taken as investment advice, recommendation, offer, or solicitation to buy or sell any financial instrument. The information displayed herein has been prepared without any reference or consideration to any particular recipient's investment objectives or financial situation. Any references to the past performance of a financial instrument, index, or a packaged investment product shall not be taken as a reliable indicator of its future performance. Doo Prime and its holding company, affiliates, subsidiaries, associated companies, partners and their respective employees, make no representation or warranties to the information displayed and shall not be liable for any direct, indirect, special or consequential loss or damages incurred a result of any inaccuracies or incompleteness of the information provided, and any direct or indirect trading risks, profit, or loss arising from any individual's or client's investment.