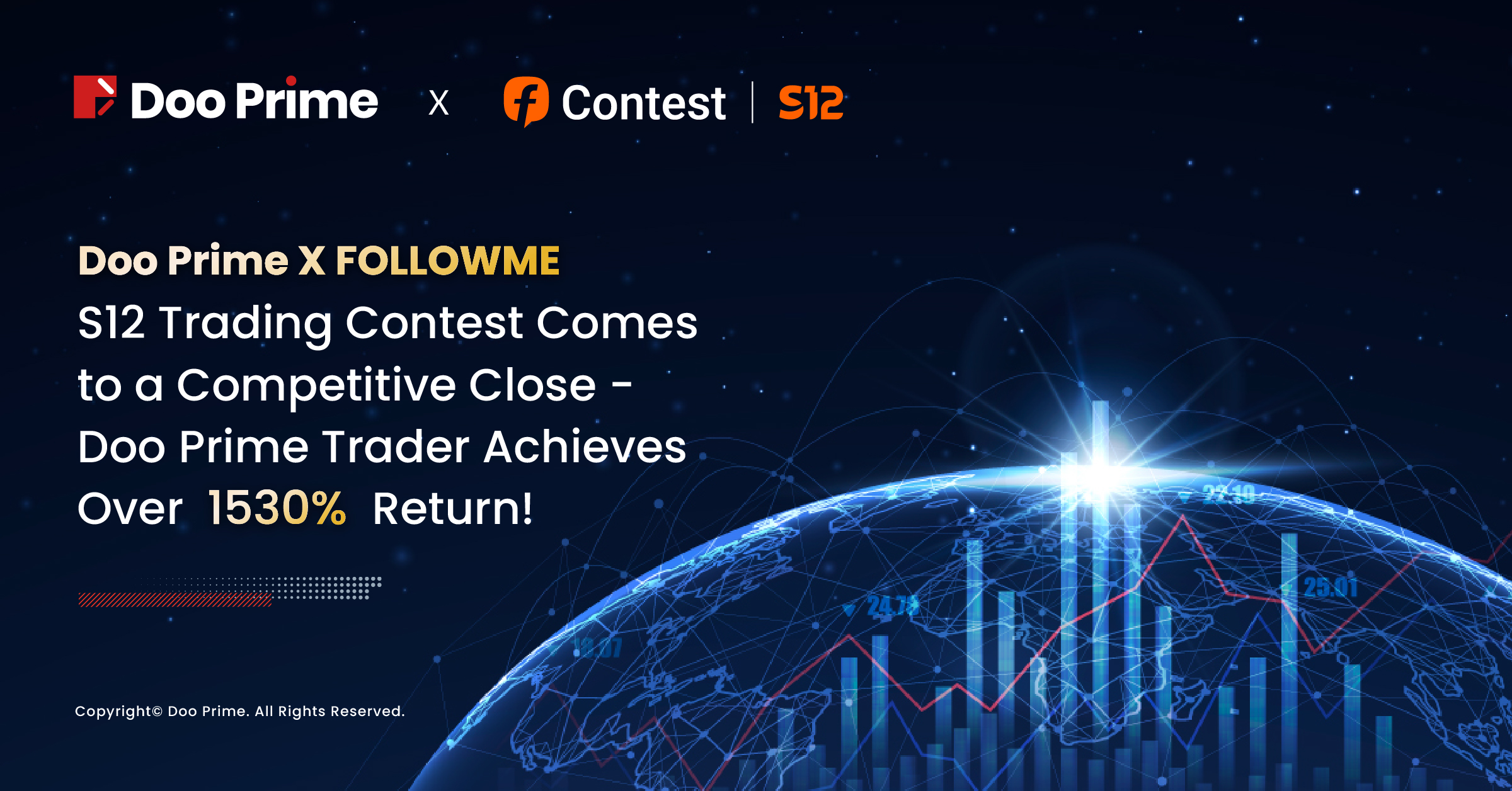 The FOLLOWME S12 trading competition concluded with great success, bringing together a diverse and highly skilled group of Doo Prime participants. With this event and collaboration, Doo Prime aimed to provide a platform for investors to share trading experiences and refine their techniques. As the proud diamond sponsor of the event, Doo Prime supported the participants throughout the three-month journey, witnessing impressive achievements and substantial gains.
Moving forward, Doo Prime is committed to further collaboration with FOLLOWME, offering investors enhanced opportunities for communication and a platform for fruitful exchanges.
FOLLOWME S12 Concludes with Doo Prime Traders Dominating the Overall Rankings
The highly competitive FOLLOWME S12 trading competition witnessed intense rivalry among top traders across three categories: Micro Group, Large Group, and Random Group. Doo Prime traders achieved outstanding results and substantial profits in this event. As of June 20th 2023, the Heavyweights category of the FOLLOWME S12 trading competition saw 748 accounts closing their positions, with Doo Prime traders comprising 51 accounts and boasting an impressive profit rate of 92.16%!
In addition, 10 Doo Prime traders secured positions within the top 50 across all categories. Trader @薅羊毛大神 claimed the third-place spot in the Random Group, amassing a net profit of over USD 9,342.95 with exceptional trading strategies. Meanwhile, trader @认真搞 showcased a keen eye and remarkable expertise, ranking sixth in the Random Group with an impressive profit rate of 89.02% in the overall standings.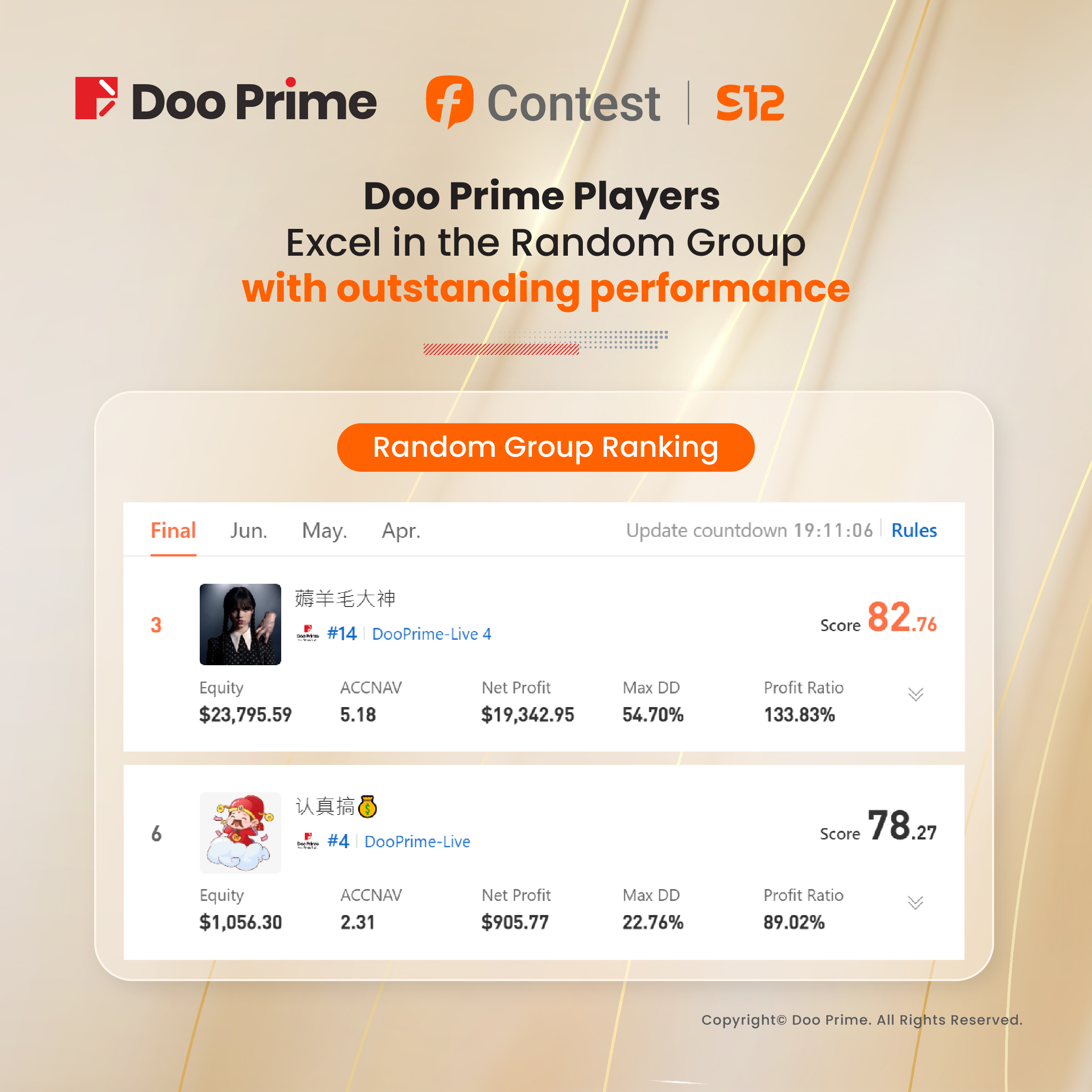 We would like to extend our heartfelt congratulations to all the exceptional Doo Prime traders who have delivered outstanding trading performances. Their exceptional trading skills and strategies are a sight to behold and provided valuable insights into advanced trading techniques.
Gathering Top-notch Traders, Competing for Extraordinary Profits
The competition brought together a remarkable lineup of traders, and among them @手表哥 stood out as the most exceptional participant. He has already secured two championship titles in the FOLLOWME trading contest. In the FOLLOWME S12 competition, @手表哥 entered with a substantial USD 253,424 and skillfully capitalized on the upward trend, securing an impressive profit of USD 78,685 upon closing positions, claiming the first-place spot in the Doo Prime top equity category. Following closely behind was @金蚁操盘, a skilled trader known for shorting gold, who earned a remarkable profit of USD 56,044, more than doubling his initial capital. Not to be outdone, @随风潜入夜夜 confidently claimed the third-place position, starting with a mere USD 182 and multiplying it by an astounding 153 times to achieve a high profit of USD 27,964.
June Monthly Ranking Battle: Unleashing Full Force to Seize the Top 3 Spots
Spanning three months, the latest competition featured Doo Prime as the diamond sponsor of the FOLLOWME S12 trading competition, offering additional rewards to the top three performers in the monthly rankings. These elite traders had the chance to share a bonus exceeding USD 500 for the respective month.
Congratulations to trader @低调走红 for securing the championship title in the June Monthly Ranking with an impressive profit rate of 160.49%. Trader @tikorn claimed the second position with a low drawdown and an outstanding net profit of USD 31,006.99. Taking the third-place spot was trader @薅羊毛大神, who achieved a remarkable net profit of USD 16,503.17. Their exceptional performances earned them well-deserved extra rewards in the Monthly Ranking Battle!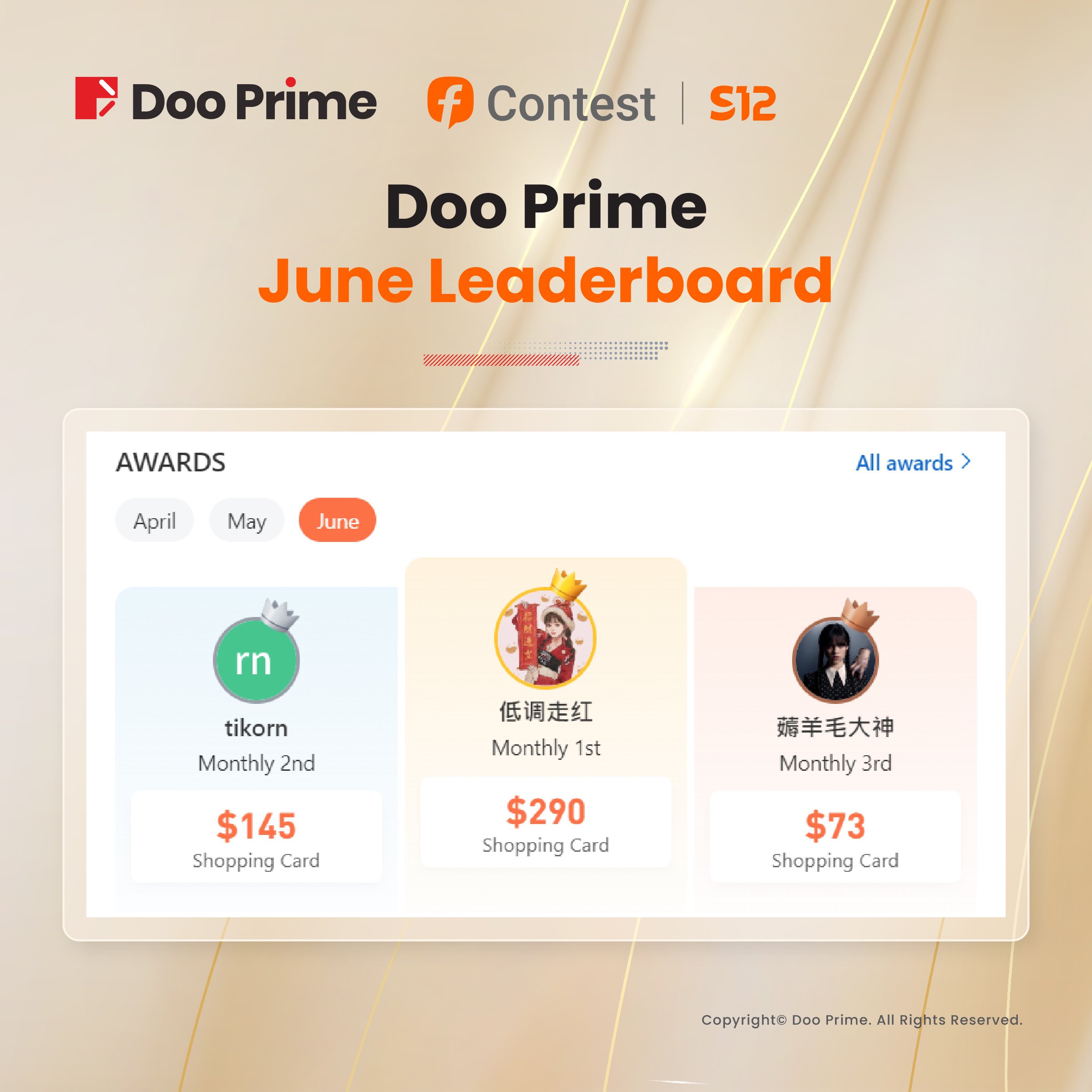 Embarking on a Journey Towards New Investment Horizons
The FOLLOWME S12 trading competition has come to a successful conclusion, with participants showcasing unique trading strategies and exceptional operational skills. As the diamond sponsor of the FOLLOWME S12 trading competition, Doo Prime has always upheld its original intention of gathering outstanding global investors to exchange ideas, share real-life experiences, provide a platform for aspiring traders to showcase their talents, and collectively create a favorable trading environment. Our aim is to lead the optimization of the industry's development, convey positive reputation and influence, and foster a more favorable investment atmosphere.
While this season's competition may have ended, it represents just the beginning of investors' trading journeys, as new opportunities and challenges arise in response to evolving macroeconomic conditions. Doo Prime is dedicated to supporting every investor, fostering progress, and embarking together on the next exciting venture. Going forward, Doo Prime will continue to deliver professional, high-quality services to our global clients, ensuring the protection of your investment dreams and striving towards their realization.
| About Doo Prime
Our Trading Products
Securities | Futures | Forex | Precious Metals | Commodities | Stock Indices
Doo Prime is an international preeminent online broker under Doo Group, which strives to provide professional investors with global CFD trading products in Securities, Futures, Forex, Precious Metals, Commodities, and Stock Indices. At present, Doo Prime is delivering the finest trading experience to more than 90,000 clients, with an average trading volume of more than USD 51.223 billion each month.
Doo Prime entities respectively hold the relevant financial regulatory licenses in Seychelles, Mauritius, and Vanuatu with operation centers in Dallas, Sydney, Singapore, Hong Kong, Dubai, Kuala Lumpur, and other regions.
With robust financial technology infrastructure, well-established partnerships, and an experienced technical team, Doo Prime boasts a safe and secure trading environment, competitive trading costs, as well as deposit and withdrawal methods that support 20+ different currencies. Doo Prime also incorporates 24/7 multilingual customer service and extremely fast trade execution via multiple industry-leading trading terminals such as MT4, MT5, TradingView, and Doo Prime InTrade, covering over 10,000 trading products.
Doo Prime's vision and mission are to become a financial technology-focused broker, streamlining international global financial products investment.

For more information about Doo Prime, please contact us at:
Phone:
Europe: +44 11 3733 5199
Asia: +852 3704 4241
Asia – Singapore: +65 6011 1415
Asia – China: +86 400 8427 539
E-mail:
Technical Support: [email protected]
Account Manager: [email protected]
Forward-looking Statements
This article contains "forward-looking statements" and may be identified by the use of forward-looking terminology such as "anticipate", "believe", "continue", "could", "estimate", "expect", "hope", "intend", "may", "might", "plan", "potential", "predict", "should", or "will", or other variations thereon or comparable terminology. However, the absence of such terminology does not mean that a statement is not forward-looking. In particular, statements about the expectations, beliefs, plans, objectives, assumptions, future events, or future performance of Doo Prime will be generally assumed as forward-looking statements.
Doo Prime has provided these forward-looking statements based on all current information available to Doo Prime and Doo Prime's current expectations, assumptions, estimates, and projections. While Doo Prime believes these expectations, assumptions, estimations, and projections are reasonable, these forward-looking statements are only predictions and involve known and unknown risks and uncertainties, many of which are beyond Doo Prime's control. Such risks and uncertainties may cause results, performance, or achievements materially different from those expressed or implied by the forward-looking statements.
Doo Prime does not provide any representation or warranty on the reliability, accuracy, or completeness of such statements. Doo Prime is not obliged to provide or release any updates or revisions to any forward-looking statements.
Risk Disclosure
Trading in financial instruments involves high risks due to the fluctuation in the value and prices of the underlying financial instruments. Due to the adverse and unpredictable market movements, large losses exceeding the investor's initial investment could incur within a short period of time. The past performance of a financial instrument is not an indication of its future performance. Investments in certain services should be made on margin or leverage, where relatively small movements in trading prices may have a disproportionately large impact on the client's investment and client should therefore be prepared to suffer significant losses when using such trading facilities.
Please make sure you read and fully understand the trading risks of the respective financial instrument before engaging in any transaction with Doo Prime's trading platforms. You should seek independent professional advice if you do not understand any of the risks disclosed by us herein or any risk associated with the trade and investment of financial instruments. Please refer to Doo Prime's Client Agreement and Risk Disclosure and Acknowledgement Notice to learn more.
Disclaimer
This information is addressed to the general public solely for information purposes and should not be taken as investment advice, recommendation, offer, or solicitation to buy or sell any financial instrument. The information displayed herein has been prepared without any reference or consideration to any particular recipient's investment objectives or financial situation. Any references to the past performance of a financial instrument, index, or a packaged investment product shall not be taken as a reliable indicator of its future performance. Doo Prime and its holding company, affiliates, subsidiaries, associated companies, partners and their respective employees, make no representation or warranties to the information displayed and shall not be liable for any direct, indirect, special or consequential loss or damages incurred as a result of any inaccuracies or incompleteness of the information provided, and any direct or indirect trading risks, profit, or loss arising from any individual's or client's investment.