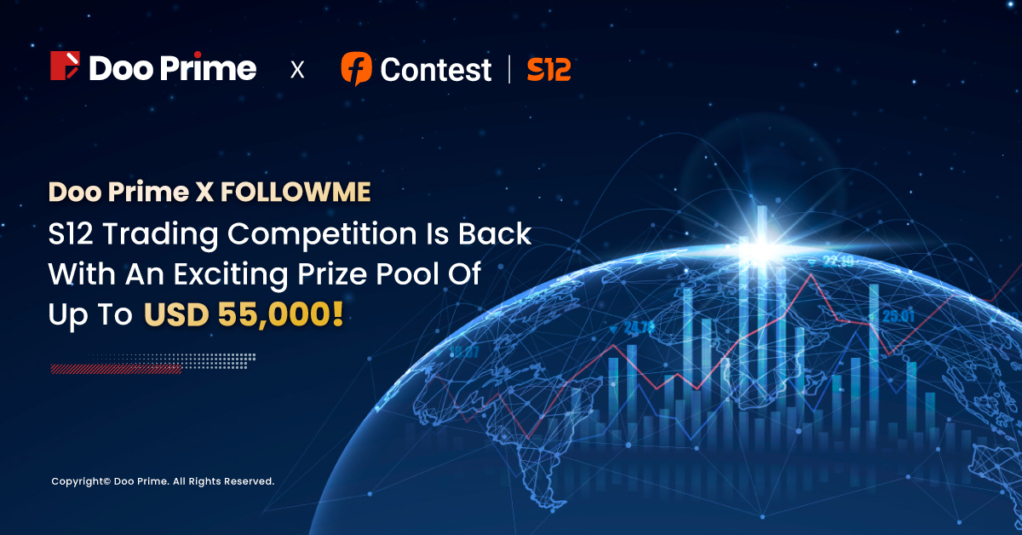 We're reprising our role as a Diamond Sponsor of the FOLLOWME S12 Trading Contest once more! The event will commence on 3 April 2023 and Doo Prime will be providing quality players for this year's contest. Things are already heating up as the previous FOLLOWME Trading Contest has given away a combined prize money of USD 260,000, and that's not all – the top traders are gunning for this season's prize pool of over USD 55,000!
Registrations were opened since 20 March 2023, and have so far garnered over 400 entries from all around the world. The collaboration between Doo Prime and FOLLOWME aims to create an interactive platform for the investors of the industry, improve trading skills and market analysis capabilities for traders whilst contributing to the development of the industry as a whole.
Who will rise above the contest and win the USD 55,000 prize pool?
The FOLLOWME Trading Contest has been an ongoing biannual contest for the past 6 years, gaining the attention of traders and investors from all over the world with extravagant cash prizes for the victor. In the previous year, approximately 11,419 accounts participated in the contest, amassing a total profit of USD 59,160,765 with more than 500 Doo Prime veterans from all over the world.
Among them, a handful of Doo Prime users have successfully secured top positions in all three categories of the contest. In addition, long-time Doo Prime trader – nicknamed "The Professional" (CN: "专业户") has also emerged victorious, winning the FOLLOWME S11 Trading Contest Micro Account Group with a whopping 3,000% return and a 3.80% retracement rate with precise trading strategies; gaining the attention and recognition from the entire industry.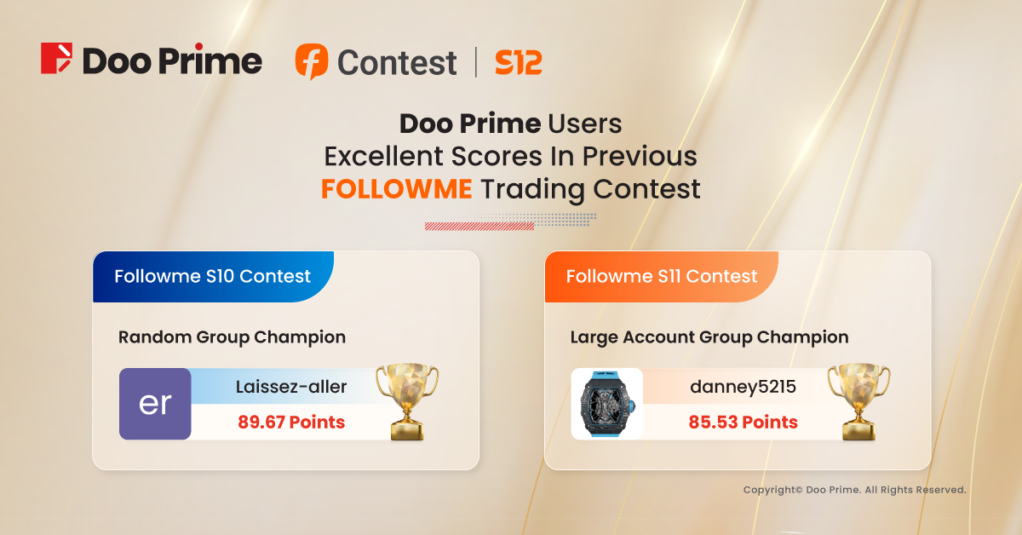 With the support of Doo Prime, the FOLLOWME S12 Trading Contest will provide a much broader and more diversified development space to showcase its empowering financial innovation and technological advancements. With this in mind, we look forward to witnessing a heated battle to the top as participants compete amongst each other for the prize.
With an acclaimed reputation, Doo Prime reprises its role as a diamond sponsor of the contest to appeal to the general masses to further expand its reach. The competition is not just about the prize pool and honor, but also about showcasing our prime trading environment to participants. Doo Prime retains its uncompromising reputation of prioritizing the interests of its clients first and foremost, striving to provide investors with a safe and secure trading environment that strictly complies to the regulations of various authoritative institutions to protect customer funds.
Doo Prime provides over 10,000 different trading products that are managed by a team that comprises of over 500 industry professionals, offering a complete 365-day service. Doo Prime's innovative financial technology allows extremely fast transactions, empowering your investments with ultra-low spreads of up to 0.1 pips alongside a 1:1,000 leverage, promoting bigger investment opportunities at a much lower cost. With such comprehensive advantages, Doo Prime seeks to elevate the successes of its customers in the trading contest.
What To Expect From The FOLLOWME S12 Trading Contest?
This year's contest is filled with innovative formats as it possesses a multitude of options in which the participants may compete in. As a diamond sponsor, Doo Prime participants will be granted access to all exclusive platforms and benefits.
Highlight 1: Multiple Rewards
With the advantages of the platform's developments and trust backing, Doo Prime users will have the opportunity to win additional prizes apart from the prize pool of USD 55,000.
Participants of the FOLLOWME S12 Trading Contest who create a Doo Prime account for the first time through the FOLLOWME platform will not only enjoy the exclusive monthly prize pool, but also have the opportunity to win a MacBook Pro, iPhone 14 Pro, iPad mini or other popular 3C digital prizes upon registering. We look forward to working with and aiding your trading journey during and after the contest.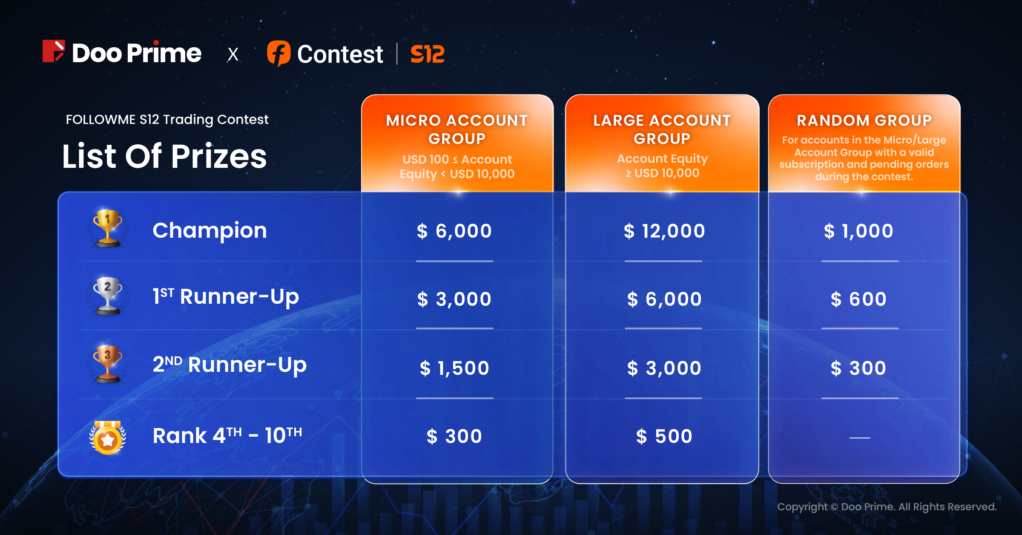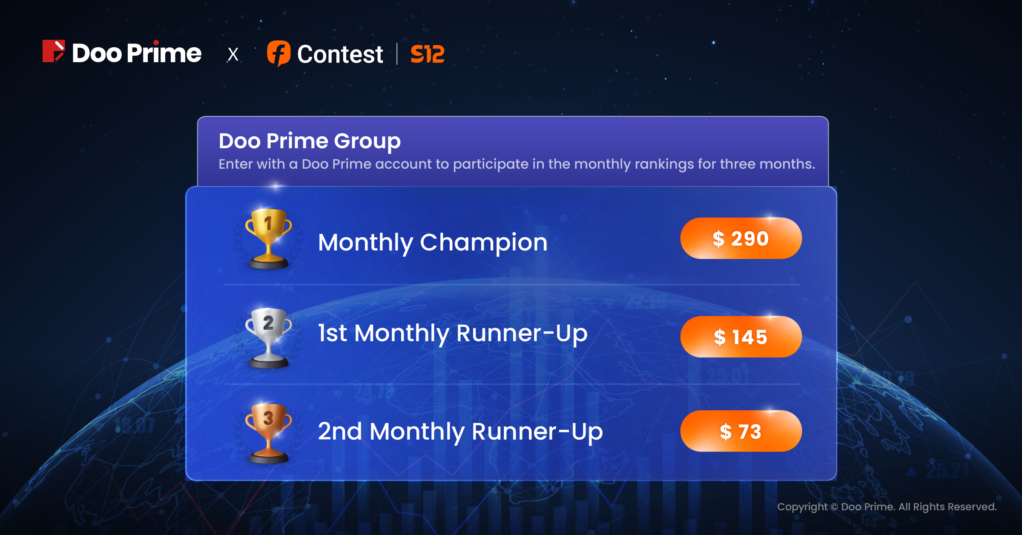 Highlight 2: 1V1 PK Tournament
The FOLLOWME S12 Trading Contest has also introduced a new 1V1 PK tournament. This is a fun, interactive sub-event for new sponsor trading accounts that were created during the contest period.
The PK tournament is made up of 12 phases with opponents assigned to every individual phase. Players can earn points by accumulating wins or winning streaks to score. At the end of the 12 phases, they can use the total points won to split the prize pool. Additional points are also rewarded when a Diamond Sponsor account is used to participate. With the support of Doo Prime, participants will be able to take on all kinds of trading environments to win the "Grand Slam" of the 12 PK tournament to win.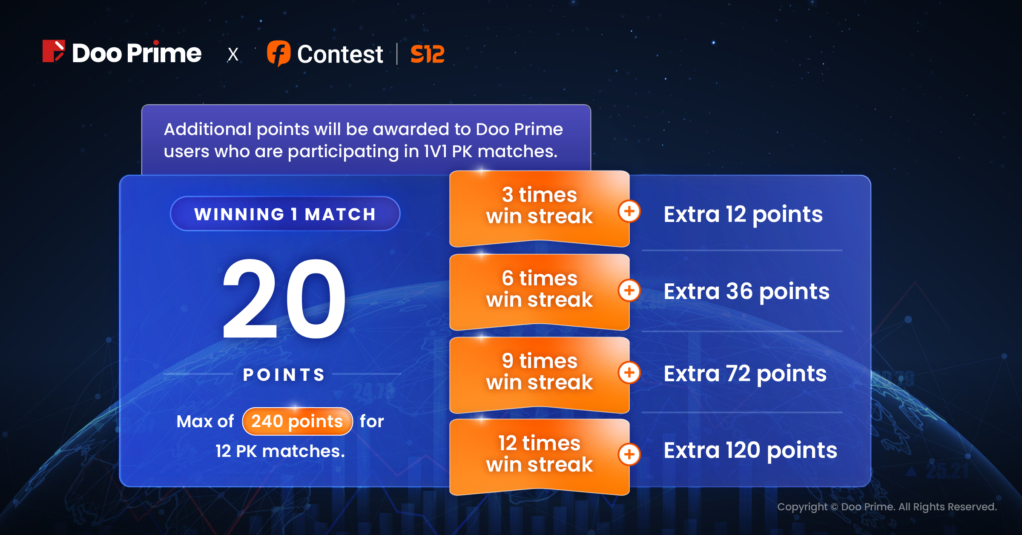 Ready to take on the contest?
The contest has only just begun, and registrations are open. Details of the contest are as follows:
1. Registration Period: 20 March – 3 June 2023
2. Contest Period: 3 April – 3 July 2023
3. Follow these simple steps to be a participant now:
Step 1: Login to https://www.followme.vip/openplatform/create to register;
Step 2: Enter the FOLLOWME S12 Trading Contest page at https://www.followme.vip/contest/ and click [Enter Now];
Step 3: Bind your Doo Prime account to enter the contest.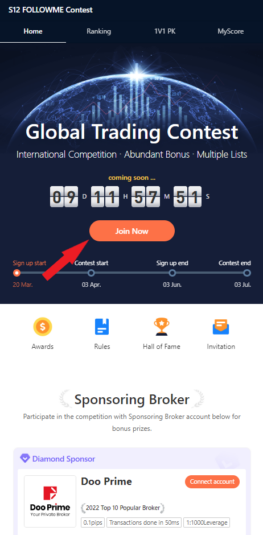 Time to test your best trading techniques with the top industry professionals; the opportunity of a lifetime awaits. The FOLLOWME S12 Trading Contest registration channel is now open, so sign up for a Doo Prime account and be in the running to win the contest with bonuses, rewards and so much more.
Click here for more details about the contest: https://www.followme.vip/contest/
| About Doo Prime
Our Trading Instruments
Securities | Futures | Forex | Precious Metals | Commodities | Stock Indices
Doo Prime is an international pre-eminent online broker under Doo Group, which strives to provide professional investors with global CFD trading products in Securities, Futures, Forex, Precious Metals, Commodities, and Stock Indices. At present, Doo Prime is delivering the finest trading experience to more than 90,000 clients, with an average trading volume of more than USD51.223 billion each month.
Doo Prime entities respectively holds the relevant financial regulatory licenses in Seychelles, Mauritius, and Vanuatu with operation centers in Dallas, Sydney, Singapore, Hong Kong, Dubai, Kuala Lumpur, and other regions.
With robust financial technology infrastructure, well-established partnerships, and an experienced technical team, Doo Prime boasts a safe and secure trading environment, competitive trading costs, as well as deposit and withdrawal methods that support 10 different currencies. Doo Prime also incorporates 24/7 multilingual customer service and extremely fast trade execution via multiple industry-leading trading terminals such as MT4, MT5, TradingView, and InTrade, covering over 10,000 trading products.
Doo Prime's vision and mission are to become a financial technology-focused broker, streamlining international global financial products investment.
For more information about Doo Prime, please contact us at:
Phone:
Europe : +44 11 3733 5199
Asia : +852 3704 4241
Asia – Singapore: +65 6011 1415
Asia – China : +86 400 8427 539
E-mail:
Technical Support: [email protected]
Account Manager: [email protected]
Disclaimer
This information is addressed to the general public solely for information purposes and should not be taken as investment advice, recommendation, offer, or solicitation to buy or sell any financial instrument. The information displayed herein has been prepared without any reference or consideration to any particular recipient's investment objectives or financial situation. Any references to the past performance of a financial instrument, index, or a packaged investment product shall not be taken as a reliable indicator of its future performance. Doo Prime and its holding company, affiliates, subsidiaries, associated companies, partners and their respective employees, make no representation or warranties to the information displayed and shall not be liable for any direct, indirect, special or consequential loss or damages incurred a result of any inaccuracies or incompleteness of the information provided, and any direct or indirect trading risks, profit, or loss arising from any individual's or client's investment.