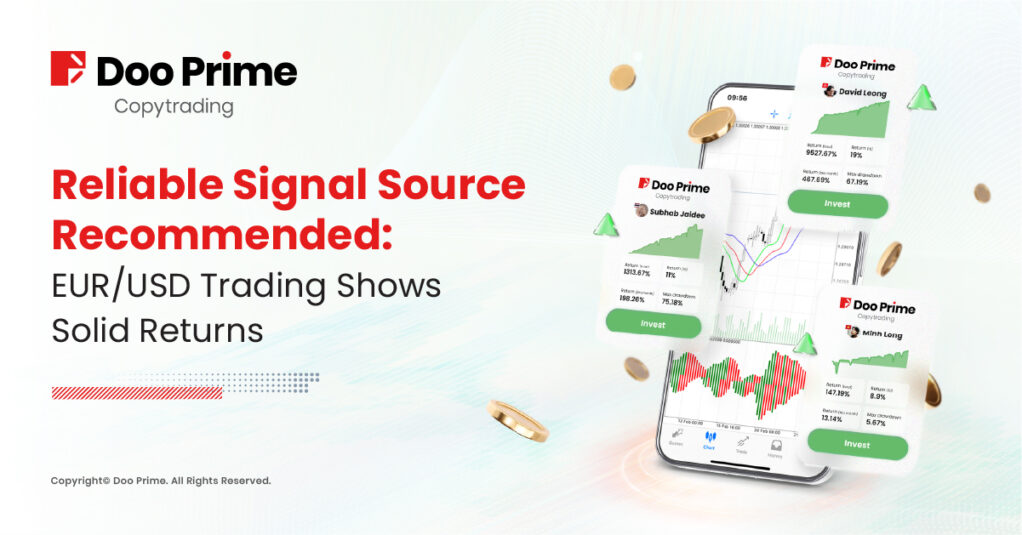 In the trading market, the 80/20 rule – also known as the Pareto Principle – has remained a constant truth. While a few traders are able to consistently profit, the majority of traders often have to watch as their accounts suffer losses. This is precisely why Doo Prime introduced the CopyTrading platform last year!
By copying the strategies of top traders on Doo Prime CopyTrading, users can benefit from their expertise without needing to do the trading themselves. In exchange for a small share of investment profits, professional traders handle the trading and investment work, subsequently increasing the probability of success for users with limited professional knowledge.
However, even in the community of professional traders, the 80/20 rule remains relevant, and only the highest-quality signal providers can help users earn significant investment income.
Thus, this series of articles aims to promote reliable and high-quality signal providers to general users by evaluating individual traders, as selecting a reliable and trustworthy signal provider is crucial.
In this article, we will showcase the leading signal provider of the "EURUSD Expert" (EURUSD短线小能手) from three dimensions.
1. Return On Investment: ⭐️⭐️⭐️⭐️ 
The "EURUSD Expert" (EURUSD短线小能手) trading signal feed was established on 3rd November 2022, and has consistently yielded impressive returns since its inception. In fact, by 13th February 2023, the return had reached an all-time high of 246.72%, a mere three months after its launch.

The monthly returns of "EURUSD Expert" (EURUSD短线小能手) is equally remarkable. In November 2022 alone, the return was an outstanding 55.78%. Although the "EURUSD Expert" (EURUSD短线小能手) focuses primarily on the EUR/USD currency pair, its returns in February were slightly lower due to the fluctuating USD exchange rate following news of the Fed's hawkish stance. Nevertheless, the average monthly return of the "EURUSD Expert" (EURUSD短线小能手) to date has been an impressive 29.58%.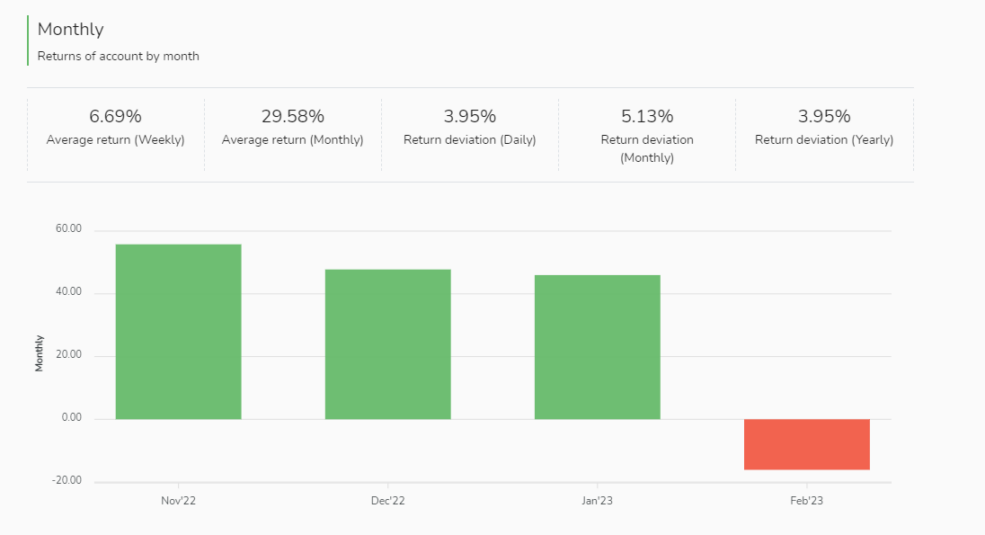 2. Investment Stability: ⭐️⭐️⭐️⭐️⭐️ 
Evaluating the effectiveness of a trade signal requires considering more than just investment returns. While high returns may seem impressive, if they are accompanied by frequent fluctuations, it may not be ideal for followers seeking stability in their investment strategy.
Propitiously, "EURUSD Expert" (EURUSD短线小能手) has demonstrated a consistent and reliable investment style since its inception, without any significant fluctuations during this period.
"EURUSD Expert" (EURUSD短线小能手) focuses solely on trading the EUR/USD currency pair, allowing for concentrated efforts and stable returns in that particular area. This single trade strategy ensures steady growth and provides followers with a reliable investment opportunity.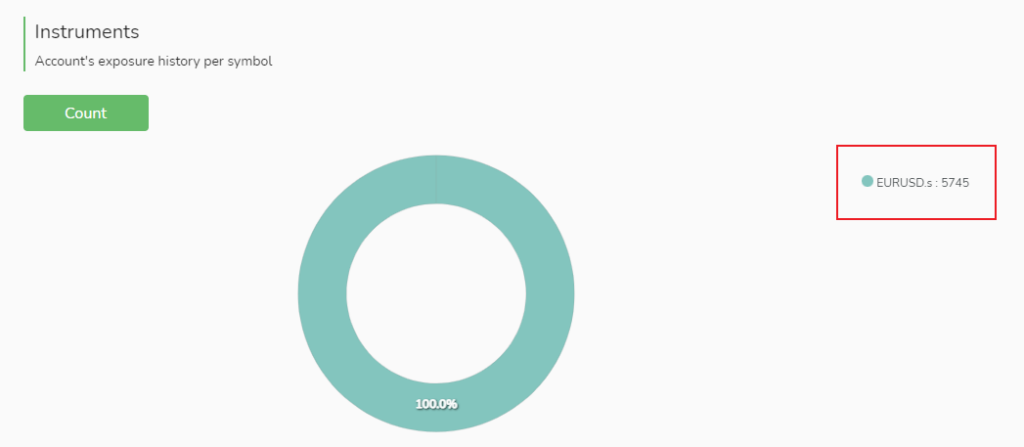 In addition, "EURUSD Expert" (EURUSD短线小能手) focuses mainly on intraday short orders for the EUR/USD currency pair, which naturally avoids the risks associated with long-term trading. What's even more impressive is that since its inception, its maximum retracement has only been 24.81%, a rare feat in the volatile market of currency pairs. This indicates that "EURUSD Short Term Expert" frequently goes short while strictly setting the stop loss line in high probability, ensuring that it avoids adverse situations with too large pullback.
3. Capital Allocation: ⭐️⭐️⭐️ 
The capital size of a signal provider is an important factor to consider when evaluating its reliability. If the provider has a small amount of capital, it may indicate a lack of seriousness and responsibility towards trading operations. Even if such a provider has impressive investment returns and a satisfactory retracement, users may find it difficult to trust its trading decisions.
In contrast, signal providers with larger amounts of money are more likely to be professional traders who take their responsibilities seriously. They understand the risks involved and have a greater sense of accountability.
Therefore, we recommend signal providers to hold more than USD 5,000 in capital. ""EURUSD Expert" (EURUSD短线小能手) has a current balance of USD 6,455.1, which has been above the USD 5,000 threshold for most of its inception. While this may not be a large amount, it still indicates a certain level of trustworthiness and commitment to responsible trading.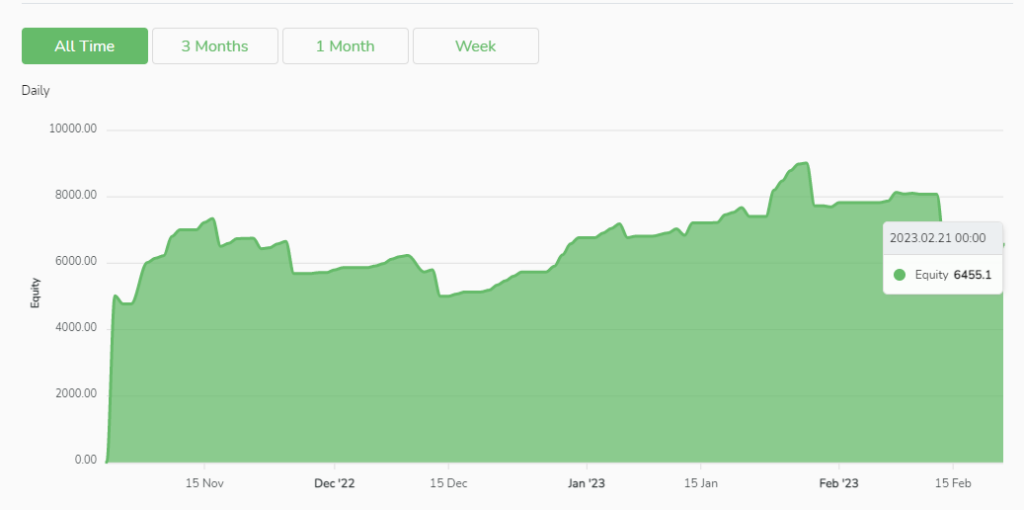 Overall Assessment Of The Signal Provider: ⭐️⭐️⭐️⭐️ 
Overall, while the "EURUSD Expert" (EURUSD短线小能手) signal provider may not be a large account, it has demonstrated impressive returns on investment, a limited maximum retracement, and consistent performance. 
Are you an aspiring investor seeking to embark on a winning trading journey by following a high-quality signal?
If so, we invite you to click the link and sign up as a follower now and start enjoying the benefits of our quality signal provider.  
Doo Prime CopyTrading: The Ideal Platform for Instant Profit Sharing and Quality Signal Providers
We would like to extend a warm welcome to all high-quality signal providers to join the Doo Prime CopyTrading platform.
At present, well-known third-party following communities like Followme and Myfxbook integrate many brokers. If you wish to follow a signal provider from such a community, you must bind the signal provider account through an API interface. However, different third-party following communities have different API interface management and risk control rules, which can result in disconnections and other risks.
Although signal providers in such communities have transparent and visible access to the platform, they are separated from it and cannot benefit from the instant profit-sharing feature. Immediate profit sharing is an advantage for signal providers because experienced traders know that the sooner they receive their profits, the better.
To address this, Doo Prime CopyTrading has introduced the Instant Profit feature that allows signal providers to share their profits instantly. We believe that having more quality trading signals on our platform will bring more returns to our users, which will attract more users and signal providers, leading to a win-win situation for all.
If you wish to join our CopyTrading platform, and earn more income, while leading novices to success, please click on this link and register as a signal provider today! 

| About Doo Prime
Our Trading Instruments
Securities | Futures | Forex | Precious Metals | Commodities | Stock Indices
Doo Prime is an international pre-eminent online broker under Doo Group, which strives to provide professional investors with global CFD trading products in Securities, Futures, Forex, Precious Metals, Commodities, and Stock Indices. At present, Doo Prime is delivering the finest trading experience to more than 90,000 clients, with an average trading volume of more than USD 51.223 billion each month.
Doo Prime entities respectively holds the relevant financial regulatory licenses in Seychelles, Mauritius, and Vanuatu with operation centers in Dallas, Sydney, Singapore, Hong Kong, Dubai, Kuala Lumpur, and other regions.
With robust financial technology infrastructure, well-established partnerships, and an experienced technical team, Doo Prime boasts a safe and secure trading environment, competitive trading costs, as well as deposit and withdrawal methods that support 20+ different currencies. Doo Prime also incorporates 24/7 multilingual customer service and extremely fast trade execution via multiple industry-leading trading terminals such as MT4, MT5, TradingView, and Doo Prime InTrade, covering over 10,000 trading products.
Doo Prime's vision and mission are to become a financial technology-focused broker, streamlining international global financial products investment.
For more information about Doo Prime, please contact us at:
Phone:
Europe : +44 11 3733 5199
Asia : +852 3704 4241
Asia – Singapore: +65 6011 1415
Asia – China : +86 400 8427 539
E-mail:
Technical Support: [email protected]
Account Manager: [email protected]

Forward-looking Statements
This article contains "forward-looking statements" and may be identified by the use of forward-looking terminology such as "anticipate", "believe", "continue", "could", "estimate", "expect", "hope", "intend", "may", "might", "plan", "potential", "predict", "should", or "will", or other variations thereon or comparable terminology. However, the absence of such terminology does not mean that a statement is not forward-looking. In particular, statements about the expectations, beliefs, plans, objectives, assumptions, future events, or future performance of Doo Prime will be generally assumed as forward-looking statements.
Doo Prime has provided these forward-looking statements based on all current information available to Doo Prime and Doo Prime's current expectations, assumptions, estimates, and projections. While Doo Prime believes these expectations, assumptions, estimations, and projections are reasonable, these forward-looking statements are only predictions and involve known and unknown risks and uncertainties, many of which are beyond Doo Prime's control. Such risks and uncertainties may cause results, performance, or achievements materially different from those expressed or implied by the forward-looking statements.
Doo Prime does not provide any representation or warranty on the reliability, accuracy, or completeness of such statements. Doo Prime is not obliged to provide or release any updates or revisions to any forward-looking statements.
Risk Disclosure
Trading in financial instruments involves high risks due to the fluctuation in the value and prices of the underlying financial instruments. Due to the adverse and unpredictable market movements, large losses exceeding the investor's initial investment could incur within a short period of time. The past performance of a financial instrument is not an indication of its future performance. Investments in certain services should be made on margin or leverage, where relatively small movements in trading prices may have a disproportionately large impact on the client's investment and client should therefore be prepared to suffer significant losses when using such trading facilities.
Please make sure you read and fully understand the trading risks of the respective financial instrument before engaging in any transaction with Doo Prime's trading platforms. You should seek independent professional advice if you do not understand any of the risks disclosed by us herein or any risk associated with the trade and investment of financial instruments. Please refer to Doo Prime's Client Agreement and Risk Disclosure and Acknowledgement Notice to find out more.
Disclaimer
This information is addressed to the general public solely for information purposes and should not be taken as investment advice, recommendation, offer, or solicitation to buy or sell any financial instrument. The information displayed herein has been prepared without any reference or consideration to any particular recipient's investment objectives or financial situation. Any references to the past performance of a financial instrument, index, or a packaged investment product shall not be taken as a reliable indicator of its future performance. Doo Prime and its holding company, affiliates, subsidiaries, associated companies, partners and their respective employees, make no representation or warranties to the information displayed and shall not be liable for any direct, indirect, special or consequential loss or damages incurred a result of any inaccuracies or incompleteness of the information provided, and any direct or indirect trading risks, profit, or loss arising from any individual's or client's investment.