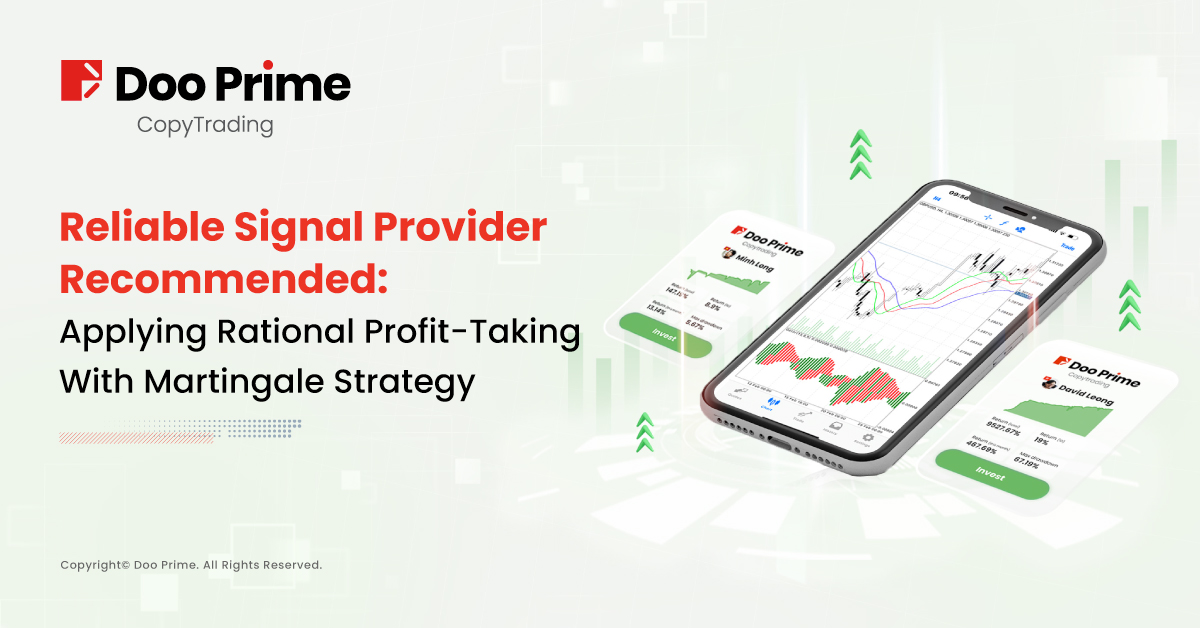 At Doo Prime CopyTrading, our commitment to promoting high-quality signal providers remains unwavering, helping users effortlessly achieve profits through copy trading.
In our previous promotional article, we highlighted the low drawdown Martingale strategy trading using EA (Expert Advisor) intelligent trading systems, and the top-tier signal provider featured in this issue is no exception.
What sets this Martingale strategy apart is not only its low drawdown but also its rational approach to profit-taking, resulting in stable and robust returns.
In the spotlight for this edition is "Wǎng zuì wěndìng gēn shàng chī ròu 2" (全网最稳定跟上吃肉2) or "The Network's Most Stable Meat Eater 2", boasting the following key features:
Investment Returns: Offering steady returns, maintaining an average monthly return of 7.72% over 13 months of trading.
Investment Stability: Remarkably low drawdown, with a maximum drawdown rate of just 8.51%.
Capital Requirements: A relatively higher capital entry point, with a minimum copy trading amount of $3,000.
Rating For Investment Returns: ⭐️⭐️⭐
"Wǎng zuì wěndìng gēn shàng chī ròu 2" (全网最稳定跟上吃肉2) or "The Network's Most Stable Meat Eater 2", a trading signal provider was established on September 8th, 2022.
As of now, the signal provider has achieved 13 consecutive months of profitability, with an average monthly return of 7.72% and an impressive annualized return of 144.56%.
Over the past year, the signal provider recorded its highest monthly return in November 2022 at 10.9% and its lowest in March 2023 at 4.43%.
Maintaining such consistent returns over a year requires not only focusing on profitable trades but also stringent adherence to loss limits. Based on its trading history, the highest loss on a single order was only -$81.51, well within the 1% maximum loss threshold relative to its net value. In contrast, its most profitable single order reached a high of $752.94.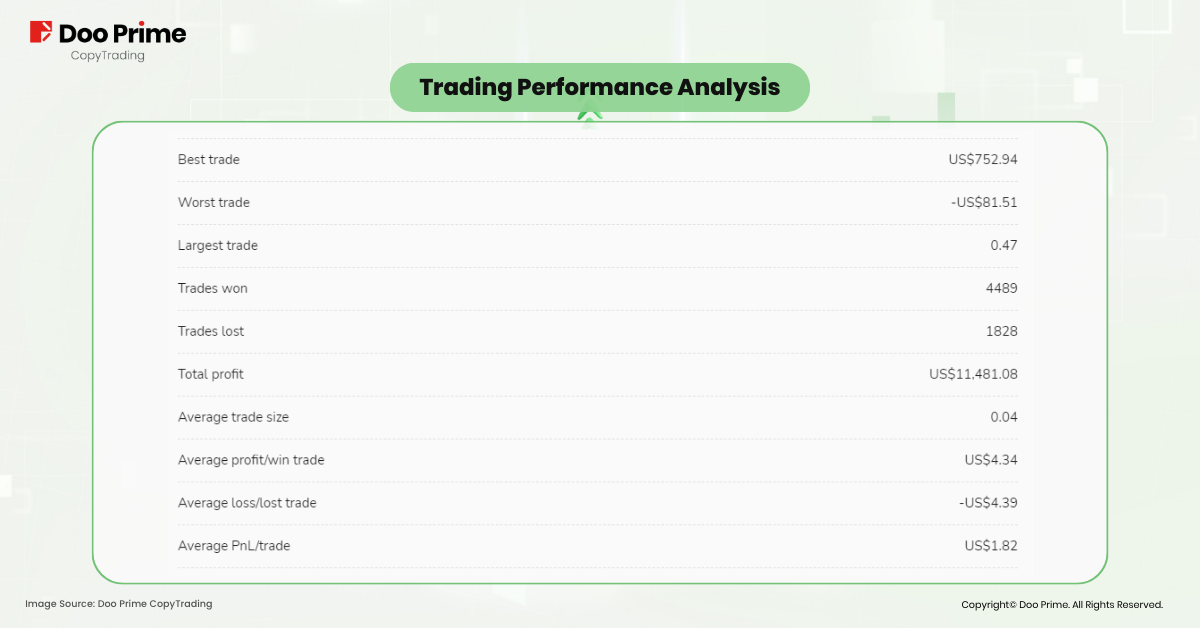 All trades executed by "The Network's Most Stable Meat Eater 2" are exclusively in the EUR/USD currency pair. Out of a total of 6,317 orders, the average trade size is a mere 0.04, yet the number of profitable trades exceeds 4,400, with an average profit of $1.82 per trade. This means that while maintaining a profit-to-loss ratio close to 1, its success rate far exceeds 50%.
Rating For Investment Stability: ⭐️⭐️⭐⭐️⭐️
Over the course of 13 months, "The Network's Most Stable Meat Eater 2" experienced a maximum drawdown of only 8.51%. Looking at the signal provider's return curve, it showed consistent growth until August of this year, when its return reached 150%. Subsequently, there were some minor fluctuations, but the signal provider quickly stabilized and resumed its upward trajectory.
Such a return curve is common in various EA trades. Upon closer examination, "The Network's Most Stable Meat Eater 2" employs a popular Martingale strategy, but with a significant distinction. It closes cumulative additional position orders at lower take-profit levels, ensuring swift exits.
Thanks to the signal provider's low average trade size of 0.04 and optimized exit strategy, based on balance and net value, the signal provider manages to avoid passive situations during one-sided market trends. Furthermore, the signal provider exclusively trades the EUR/USD pair, likely for similar reasons.
Rating For Capital Requirements: ⭐⭐️⭐️
In the signal provider's settings, "The Network's Most Stable Meat Eater 2" requires a minimum balance of $3,000 for copy trading. Given the signal provider's trading style and trade size, $3,000 or more should suffice for following its trading strategy based on a percentage or copy trading multiplier. Moreover, the higher capital requirement ensures stability in profit sharing.
Overall Signal Source Rating: ⭐⭐️⭐️⭐️
In summary, while "The Network's Most Stable Meat Eater 2" demands a relatively higher capital investment, its Martingale strategy, focusing on seizing optimal exit opportunities and employing rational profit-taking, has consistently delivered long-term, stable returns.
If you possess a substantial capital and seek enduring, dependable returns, this signal provider is an excellent fit for your copy trading.
Unlock Your Financial Potential With Doo Prime CopyTrading
Doo Prime CopyTrading offers not only versatile profit-sharing features but also diverse models for signal providers, fostering mutual success through compounding profits.
If you are interested in joining the Doo Prime CopyTrading platform and enhance your earnings while guiding new users, simply click the link to register as a signal provider today!
For everyday investors seeking top-tier signal providers to achieve their financial goals, or for those interested in promoting or partnering with signal providers, take the next step by clicking the link to register as a follower today!
---
| About Doo Prime
Our Trading Products
Securities | Futures | Forex | Precious Metals | Commodities | Stock Indices
Doo Prime, an international preeminent online broker under Doo Group, strives to provide professional investors with global CFD trading products in Securities, Futures, Forex, Precious Metals, Commodities, and Stock Indices. At present, Doo Prime is delivering the finest trading experience to more than 130,000 clients, with an average trading volume of more than USD 51.223 billion each month.
Doo Prime entities respectively hold the relevant financial regulatory licenses in Seychelles, Mauritius, and Vanuatu with operation centers in Dallas, Sydney, Singapore, Hong Kong, Dubai, Kuala Lumpur, and other regions.
With robust financial technology infrastructure, well-established partnerships, and an experienced technical team, Doo Prime boasts a safe and secure trading environment, competitive trading costs, as well as deposit and withdrawal methods that support 20+ different currencies. Doo Prime also incorporates 24/7 multilingual customer service and extremely fast trade execution via multiple industry-leading trading terminals such as MT4, MT5, TradingView, and Doo Prime InTrade, covering over 10,000 trading products.
Doo Prime's vision and mission are to become a financial technology-focused broker, streamlining international global financial products investment.
For more information about Doo Prime, please contact us at:
Phone:
Europe: +44 11 3733 5199
Asia: +852 3704 4241
Asia – Singapore: +65 6011 1415
Asia – China: +86 400 8427 539
E-mail:
Technical Support: [email protected]
Account Manager: [email protected]
Forward-looking Statements
This article contains "forward-looking statements" and may be identified by the use of forward-looking terminology such as "anticipate", "believe", "continue", "could", "estimate", "expect", "hope", "intend", "may", "might", "plan", "potential", "predict", "should", or "will", or other variations thereon or comparable terminology. However, the absence of such terminology does not mean that a statement is not forward-looking. In particular, statements about the expectations, beliefs, plans, objectives, assumptions, future events, or future performance of Doo Prime will be generally assumed as forward-looking statements.
Doo Prime has provided these forward-looking statements based on all current information available to Doo Prime and Doo Prime's current expectations, assumptions, estimates, and projections. While Doo Prime believes these expectations, assumptions, estimations, and projections are reasonable, these forward-looking statements are only predictions and involve known and unknown risks and uncertainties, many of which are beyond Doo Prime's control. Such risks and uncertainties may cause results, performance, or achievements materially different from those expressed or implied by the forward-looking statements.
Doo Prime does not provide any representation or warranty on the reliability, accuracy, or completeness of such statements. Doo Prime is not obliged to provide or release any updates or revisions to any forward-looking statements.
Risk Disclosure
Trading in financial instruments involves high risks due to the fluctuation in the value and prices of the underlying financial instruments. Due to the adverse and unpredictable market movements, large losses exceeding the investor's initial investment could incur within a short period of time. The past performance of a financial instrument is not an indication of its future performance. Investments in certain services should be made on margin or leverage, where relatively small movements in trading prices may have a disproportionately large impact on the client's investment and client should therefore be prepared to suffer significant losses when using such trading facilities.
Please make sure you read and fully understand the trading risks of the respective financial instrument before engaging in any transaction with Doo Prime's trading platforms. You should seek independent professional advice if you do not understand any of the risks disclosed by us herein or any risk associated with the trade and investment of financial instruments. Please refer to Doo Prime's Client Agreement and Risk Disclosure and Acknowledgement Notice to find out more.
Disclaimer
This information is addressed to the general public solely for information purposes and should not be taken as investment advice, recommendation, offer, or solicitation to buy or sell any financial instrument. The information displayed herein has been prepared without any reference or consideration to any particular recipient's investment objectives or financial situation. Any references to the past performance of a financial instrument, index, or a packaged investment product shall not be taken as a reliable indicator of its future performance. Doo Prime and its holding company, affiliates, subsidiaries, associated companies, partners and their respective employees, make no representation or warranties to the information displayed and shall not be liable for any direct, indirect, special or consequential loss or damages incurred a result of any inaccuracies or incompleteness of the information provided, and any direct or indirect trading risks, profit, or loss arising from any individual's or client's investment.