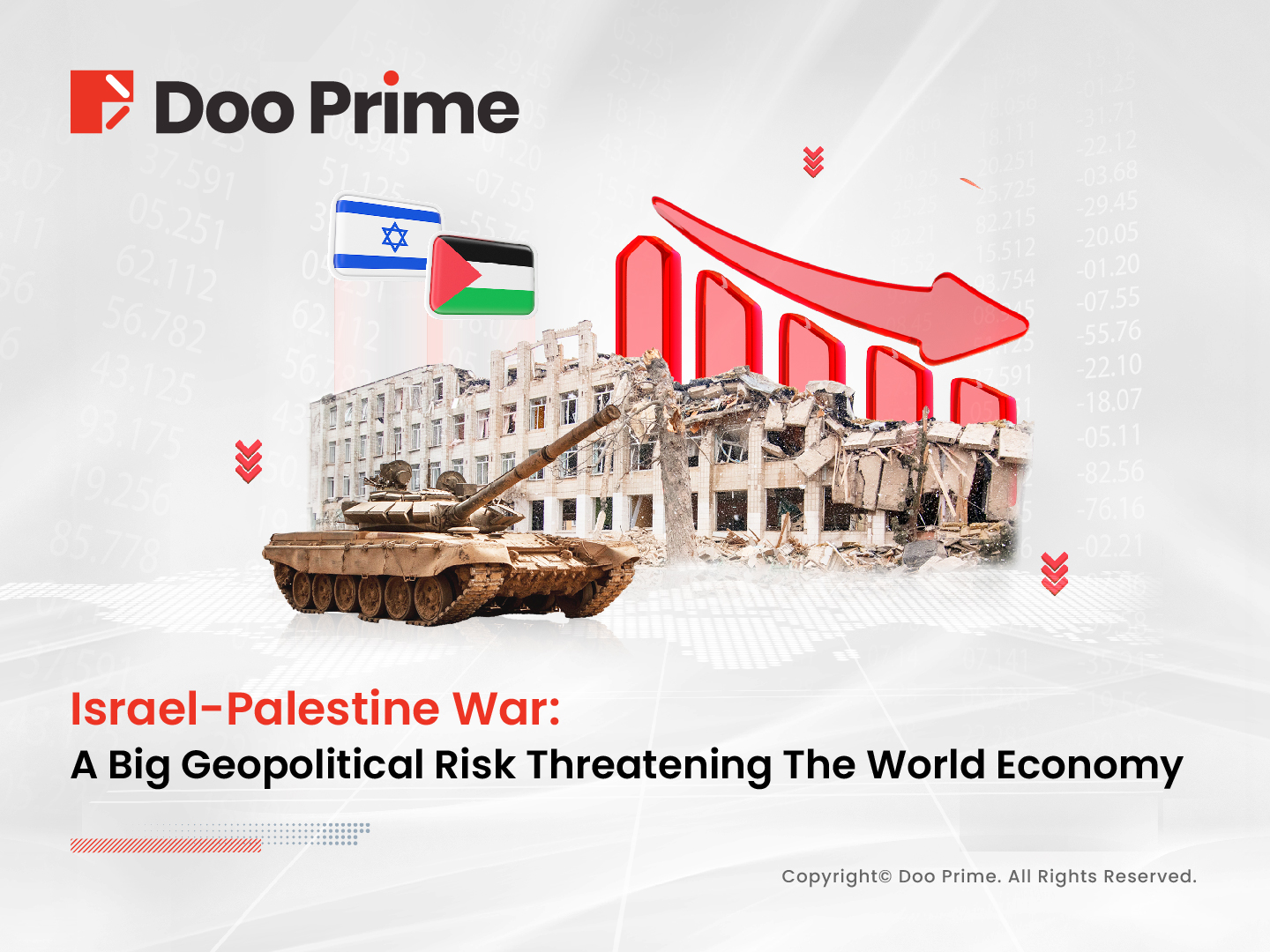 The recent Israel-Palestine war has taken center stage, and there is a growing concern that it might not stop there. What is keeping experts and investors on edge is the potential for this conflict to escalate into a larger regional war, to say the least.
This war between Israel and Palestine is not just a headline on the news; it's a ripple that can touch our daily lives. These are defining moments for the future of the market and the world.
In this article, we will examine how this situation could impact global geopolitical dynamics, as well as its potential effects on treasury yields, the stock market, gold prices, and the oil markets.
The Geopolitical Threat Behind The Israel-Palestine War
The Israel-Palestine conflict is a long-standing issue with roots dating back to 1948. However, what happened on October 7th marked one of the most significant developments in the past 75 years.
The recent conflict is causing a lot of concern because it is not just a local problem – it has bigger geopolitical implications.
Hamas, which some see as a Palestinian resistance group and others label as a terrorist organization, attacked Israel and killed/captured around a thousand Israeli soldiers and civilians. In response, Israel has launched military operations that have resulted in the deaths of many Hamas members and thousands of Palestinian civilians. They are doing this to get back at Hamas for their attacks, but there's more to the story.
The Israeli Defense Forces (IDF) have a mission that goes beyond retaliation. They want to eradicate Hamas and remove Palestinians from their land for good. This is a major shift in the conflict's goals.
The conflict has already begun to spill over into multiple areas, with Lebanon and Syria attempting to assert pressure along the Israeli borders.
Adding to the complexity, big countries like Iran, Saudi Arabia, Russia, China, the USA, and some European Union countries are getting involved. Russia, China and Saudi Arabia want a peaceful solution and say Israel's actions go beyond self-defense. On the other hand, the USA and some EU countries are firmly supporting Israel.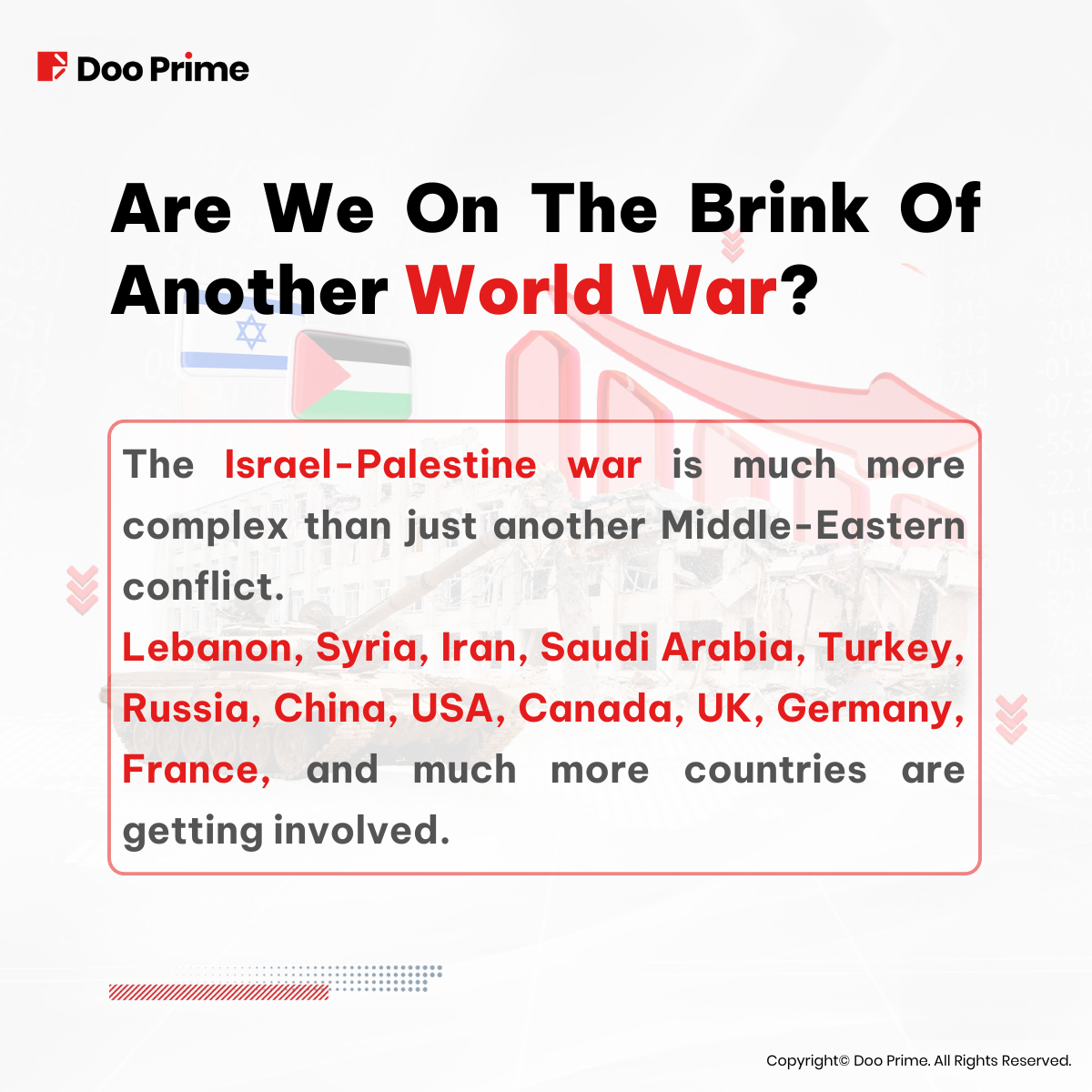 This situation reveals how complex the Israel-Palestine conflict is on a global scale. It's connected to bigger conflicts among powerful countries that shape the world, and what these powerful countries do can really affect what comes next.
Additionally, hedge fund billionaire Ray Dalio has said that there is a 50% chance of world war as the Israel-Hamas conflict threatens to spread.
But the question is, how did the market respond so far during these uncertain times? Let's explore!
Hamas Attacks Pause Treasury Yields' Rise
The Federal Reserve has been emphasizing the idea of "higher rates for longer," with a consistent aim to maintain a 2% inflation target. However, it's crucial to recognize that this narrative could easily shift in response to significant external factors. A vivid reminder lies in the Fed's actions during the COVID-19 pandemic when they adjusted monetary policies by slashing interest rates to zero and printed trillions of dollars to support the economy. A similar scenario might unfold if the ongoing war escalates further. Investors should remain mindful of this potential development.
As U.S. treasury yields surge to levels last witnessed in 2007 due to growing concerns about resurging inflation, an unexpected development emerged when Hamas launched an attack on Israel. This unforeseen crisis temporarily halted the bullish acceleration of yields, as investors are now speculating that the Federal Reserve might reconsider its stance on raising interest rates. And it turns out, a few members of the Fed dropped hints, post Hamas attack, that they are very likely done with rate hikes.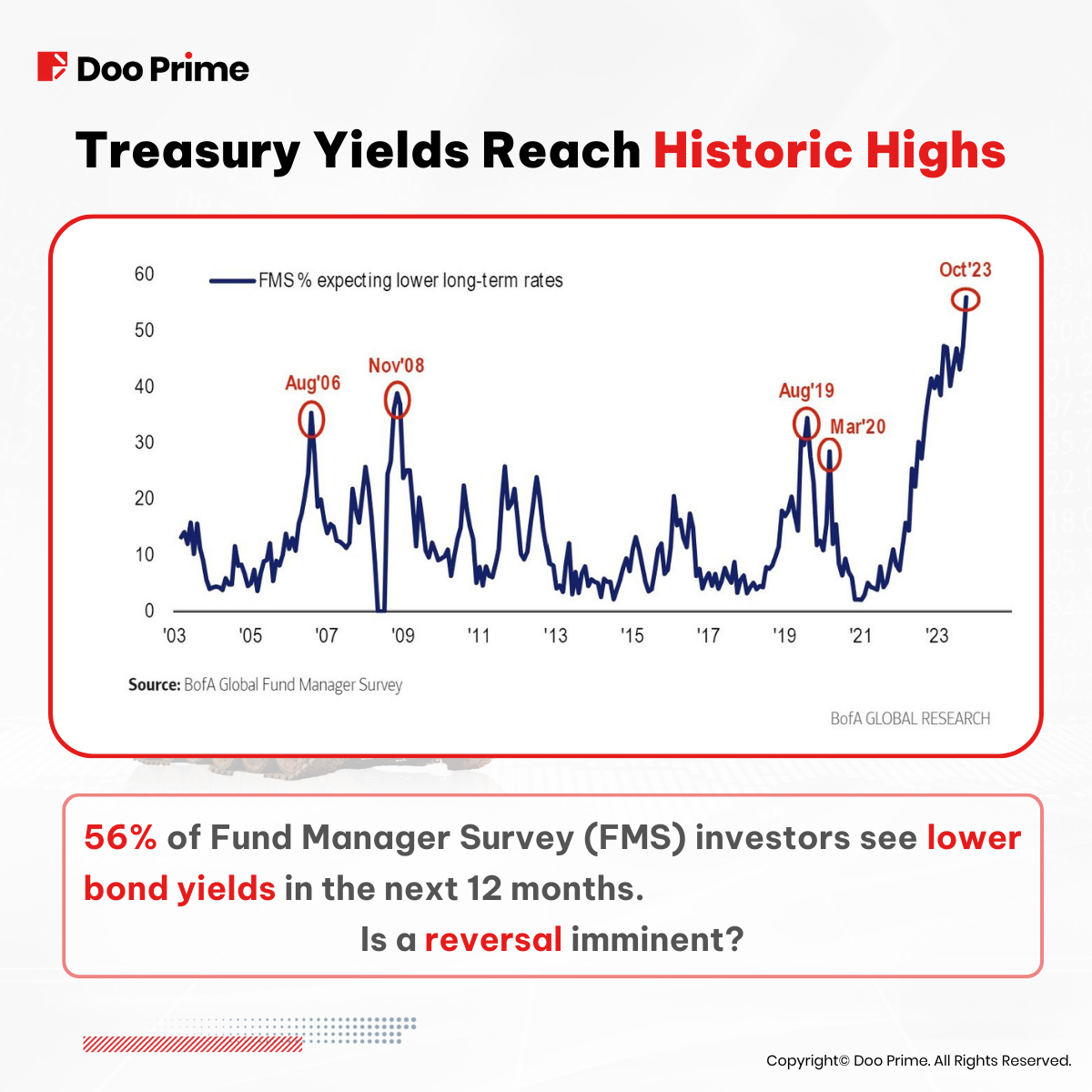 Investors should keep a close eye on U.S. Treasury yields, and any new developments between Israel and Palestine, as what comes next might be very crucial. 
U.S. Stock Market Remains Resilient 
Despite the recent extreme bearish sentiment in the equity market, along with fears of a potential World War 3, U.S. stocks have once again defied these negative forces by continuing to rise even after the Hamas attack.  
One of the main reasons for this unexpected behavior is that yields are sliding, suggesting that the Fed might decide to use more accommodating monetary policies. Interestingly, the Gaza attack happened at a time that could give the Fed a valid reason to adjust its monetary policy further if the situation worsens.
As long as yields keep going down, it is quite likely that we could see equities keep going up.
Contrary to common belief, history indicates that war can actually have a positive impact on the market. Typically, when a war occurs, the market tends to rally shortly afterward. You can see this pattern in the chart below.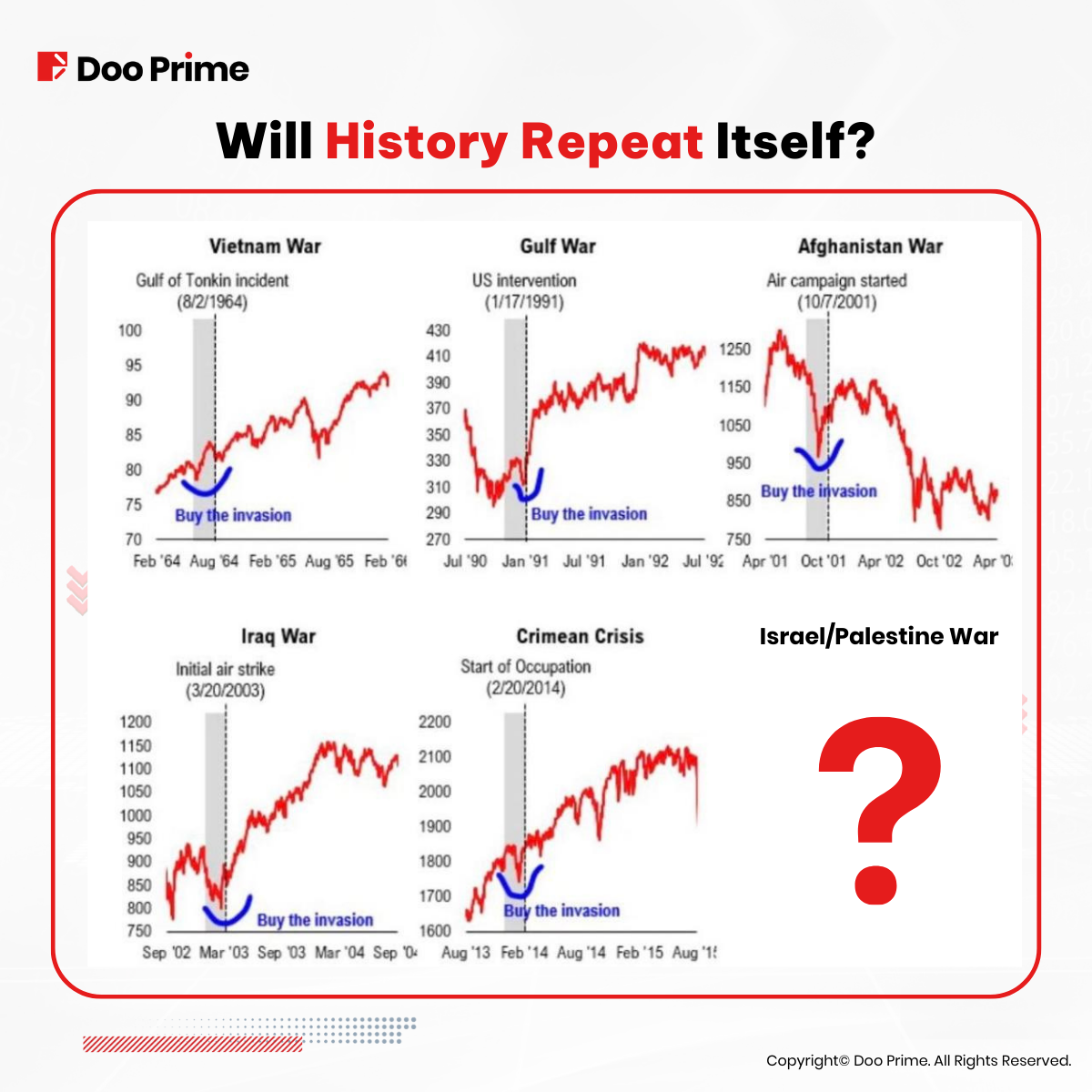 Is It Time To Shine For Gold Prices?
Based on our previous analysis, it was evident that gold prices needed a substantial catalyst to break through the psychological barrier of USD 2000. The recent unexpected conflict might just be the catalyst we have been waiting for. Gold short sellers found themselves in a tight spot, leading to a remarkable surge of over 5% in gold prices within a few days. Investors are turning to gold as a hedge against any potential escalation in the conflict. Additionally, the decline in yields is excellent news for those bullish on gold.
Moving forward, gold bulls remain dormant despite the recent surge, as the chart below shows that gold has clearly outperformed stocks after yield inversions.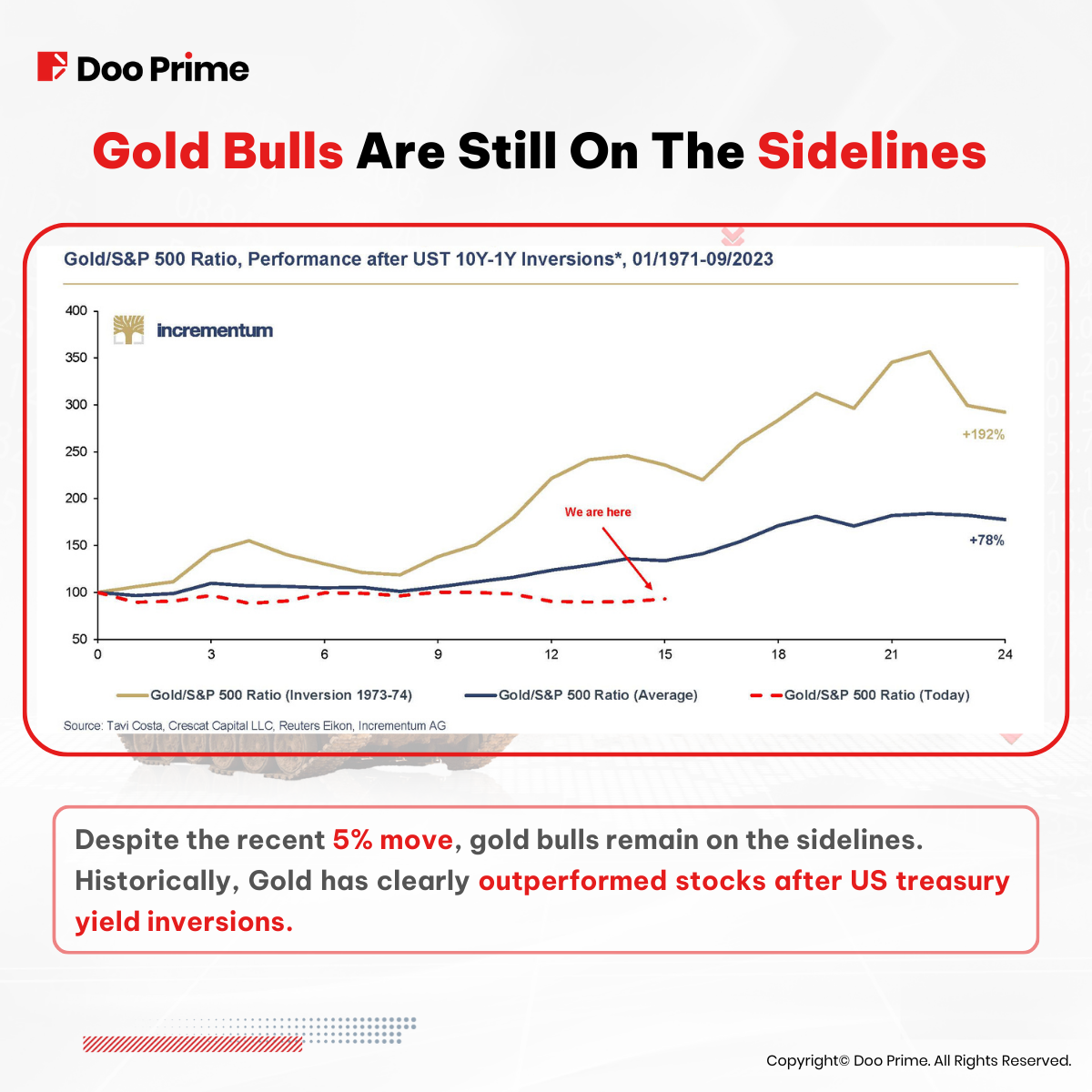 Oil Prices: The Calm Before The Storm
In our previous analysis, we anticipated that oil prices might surge towards USD 90-100/barrel, primarily due to production cuts by Saudi Arabia and Russia. Since then, oil prices have peaked at USD 95 before retreating to USD 85/barrel.
However, investors are currently puzzled by the absence of a significant oil price surge following the Hamas attacks on Israel.
This unusual calm in the oil markets is unlikely to persist, considering the Gaza blockade and the possibility of Israel launching a ground invasion to remove Hamas from power.
However, eliminating Hamas would require Israel to engage in challenging urban combat, which could last for months. This kind of conflict would likely exert upward pressure on oil prices.
As the situation worsens and more Palestinians suffer, it is likely that Middle Eastern governments will come together to support the Palestinian cause.
The previous understanding between the US, Israel and Saudi Arabia does not seem valid anymore. This has significant implications for the oil market, especially because oil supplies are already running low, and prices are quite high. Part of the reason for this is that Saudi Arabia and OPEC have been cutting oil production by two million barrels per day.
This has large implications for oil at a time when the crude market is already in deficit and prices are at the upper band of their historical range.
Adding to the complexity, Russia and Iran combined are 23% of global oil exports. Removing even a fraction of this supply would drive oil prices to levels not seen since the beginning of Russia-Ukraine war.
We are one miscalculation short of a Middle East firestorm and the next world oil crisis.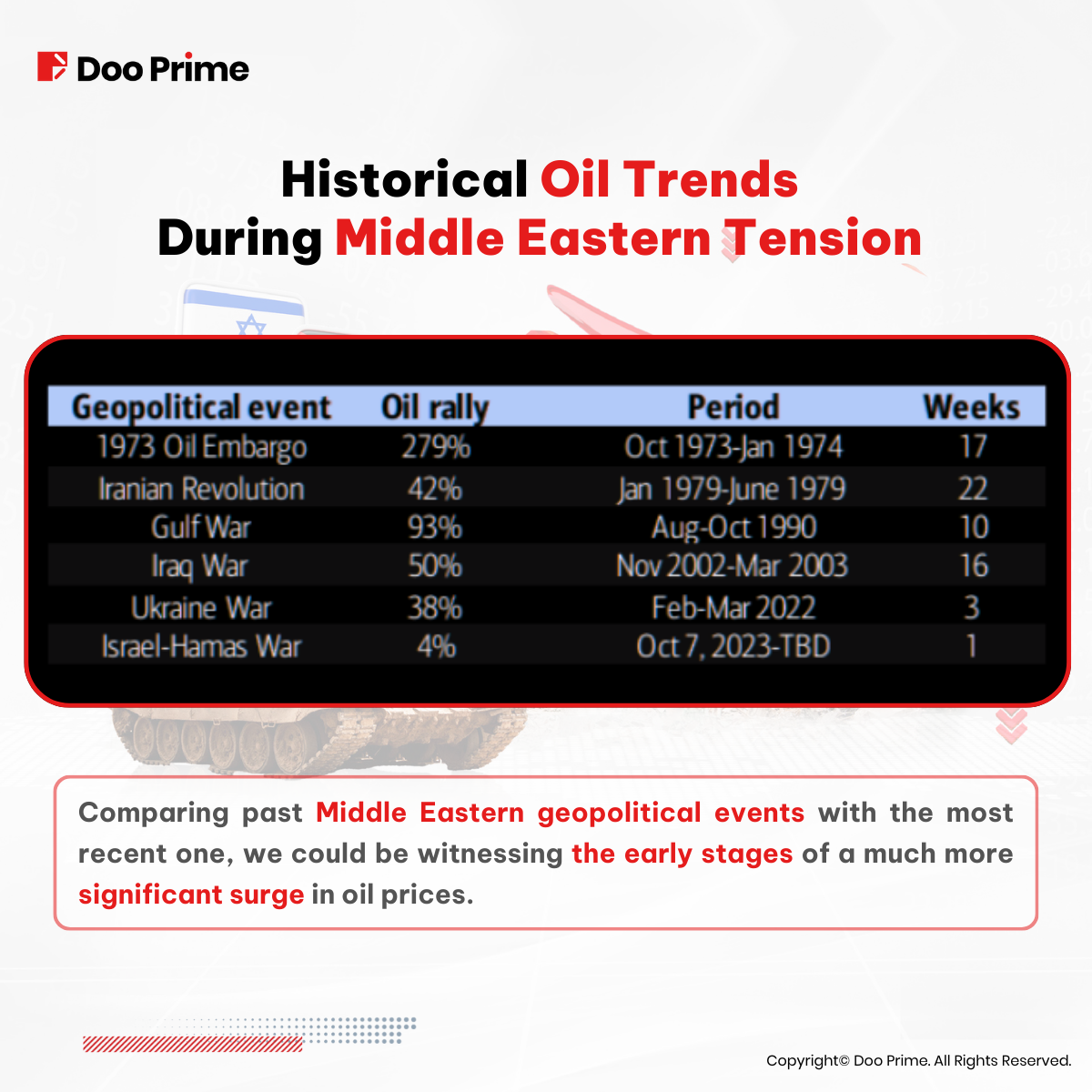 Managing Risks In An Uncertain World
In a world filled with complex mix of geopolitical tensions, vigilance is key.
We are at the brink of significant changes that could reshape global stability, economies, and energy markets. A single misstep could trigger a Middle East crisis and a new global oil challenge. Remember, in trading and investing, it is not just about predicting the future but also about managing risks. Stay safe and make informed decisions.
| About Doo Prime
Our Trading Products
Securities | Futures | Forex | Precious Metals | Commodities | Stock Indices
Doo Prime, an international preeminent online broker under Doo Group, strives to provide professional investors with global CFD trading products in Securities, Futures, Forex, Precious Metals, Commodities, and Stock Indices. At present, Doo Prime is delivering the finest trading experience to more than 130,000 clients, with an average trading volume of more than USD 51.223 billion each month.
Doo Prime entities respectively holds the relevant financial regulatory licenses in Seychelles, Mauritius, and Vanuatu with operation centers in Dallas, Sydney, Singapore, Hong Kong, Dubai, Kuala Lumpur, and other regions.
With robust financial technology infrastructure, well-established partnerships, and an experienced technical team, Doo Prime boasts a safe and secure trading environment, competitive trading costs, as well as deposit and withdrawal methods that support 20+ different currencies. Doo Prime also incorporates 24/7 multilingual customer service and extremely fast trade execution via multiple industry-leading trading terminals such as MT4, MT5, TradingView, and Doo Prime InTrade, covering over 10,000 trading products.
Doo Prime's vision and mission are to become a financial technology-focused broker, streamlining international global financial products investment.
For more information about Doo Prime, please contact us at:
Phone:
Europe: +44 11 3733 5199
Asia: +852 3704 4241
Asia – Singapore: +65 6011 1415
Asia – China: +86 400 8427 539
E-mail:
Technical Support: [email protected]
Account Manager: [email protected]
Forward-looking Statements
This article contains "forward-looking statements" and may be identified by the use of forward-looking terminology such as "anticipate", "believe", "continue", "could", "estimate", "expect", "hope", "intend", "may", "might", "plan", "potential", "predict", "should", or "will", or other variations thereon or comparable terminology. However, the absence of such terminology does not mean that a statement is not forward-looking. In particular, statements about the expectations, beliefs, plans, objectives, assumptions, future events, or future performance of Doo Prime will be generally assumed as forward-looking statements.
Doo Prime has provided these forward-looking statements based on all current information available to Doo Prime and Doo Prime's current expectations, assumptions, estimates, and projections. While Doo Prime believes these expectations, assumptions, estimations, and projections are reasonable, these forward-looking statements are only predictions and involve known and unknown risks and uncertainties, many of which are beyond Doo Prime's control. Such risks and uncertainties may cause results, performance, or achievements materially different from those expressed or implied by the forward-looking statements.
Doo Prime does not provide any representation or warranty on the reliability, accuracy, or completeness of such statements. Doo Prime is not obliged to provide or release any updates or revisions to any forward-looking statements.
Risk Disclosure
Trading in financial instruments involves high risks due to the fluctuation in the value and prices of the underlying financial instruments. Due to the adverse and unpredictable market movements, large losses exceeding the investor's initial investment could incur within a short period of time. The past performance of a financial instrument is not an indication of its future performance. Investments in certain services should be made on margin or leverage, where relatively small movements in trading prices may have a disproportionately large impact on the client's investment, and client should therefore be prepared to suffer significant losses when using such trading facilities.
Please ensure you read and fully understand the trading risks of the respective financial instrument before engaging in any transaction with Doo Prime's trading platforms. You should seek independent professional advice if you do not understand any of the risks disclosed by us herein or any risk associated with the trade and investment of financial instruments. Please refer to Doo Prime's Client Agreement and Risk Disclosure and Acknowledgement Notice to learn more.
Disclaimer
This information is addressed to the general public solely for information purposes and should not be taken as investment advice, recommendation, offer, or solicitation to buy or sell any financial instrument. The information displayed herein has been prepared without any reference or consideration to any particular recipient's investment objectives or financial situation. Any references to the past performance of a financial instrument, index, or a packaged investment product shall not be taken as a reliable indicator of its future performance. Doo Prime and its holding company, affiliates, subsidiaries, associated companies, partners and their respective employees, make no representation or warranties to the information displayed and shall not be liable for any direct, indirect, special or consequential loss or damages incurred a result of any inaccuracies or incompleteness of the information provided, and any direct or indirect trading risks, profit, or loss arising from any individual's or client's investment.