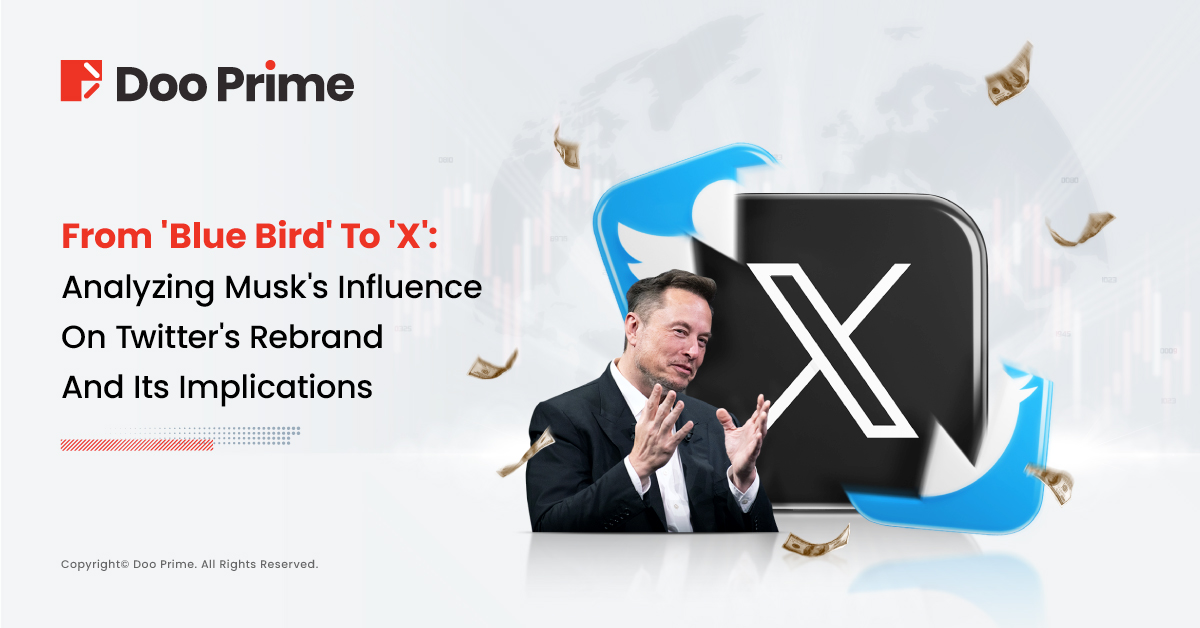 From The "Blue Bird" To "X," How Does Musk's Rebranding Impact Twitter?
"Buying Twitter is an accelerant to creating X, the everything app" – Elon Musk revealed his ambitious vision for this social media giant during the acquisition of Twitter. Today, Twitter's one step closer to this vision of his. On July 24th, Twitter officially bid farewell to its "Blue Bird" logo and began a new journey with the black and white "X."
Since 2012, the "Blue Bird" has been Twitter's iconic logo, representing swift and concise tweet sounds for initial or immediate information delivery. It later developed unique cultural terms, such as "Tweet" and "Retweet," symbolizing this social platform. However, this deeply ingrained brand image no longer exists. This is not the first time the "Blue Bird" logo has been replaced; earlier in April, the official Twitter homepage key was briefly changed to a cartoon avatar of a Shiba Inu.
Musk's reshaping of Twitter's brand not only caused a massive uproar but also led to significant brand value losses, estimated by analysts and brand agencies to range from USD 4 billion to USD 20 billion. Is the "X" logo an innovation or a "misstep" for Twitter?
We review the controversies and events that unfolded after Musk completed the acquisition of Twitter, explore the reasons behind renaming it to "X," and analyze the potential implications of this rebranding on Twitter.
Elon Musk's Controversial Overhaul Of Twitter
Leaving aside the dramatic ups and downs of Elon Musk's acquisition of Twitter, let's review the series of bold and controversial moves he made after completing the acquisition.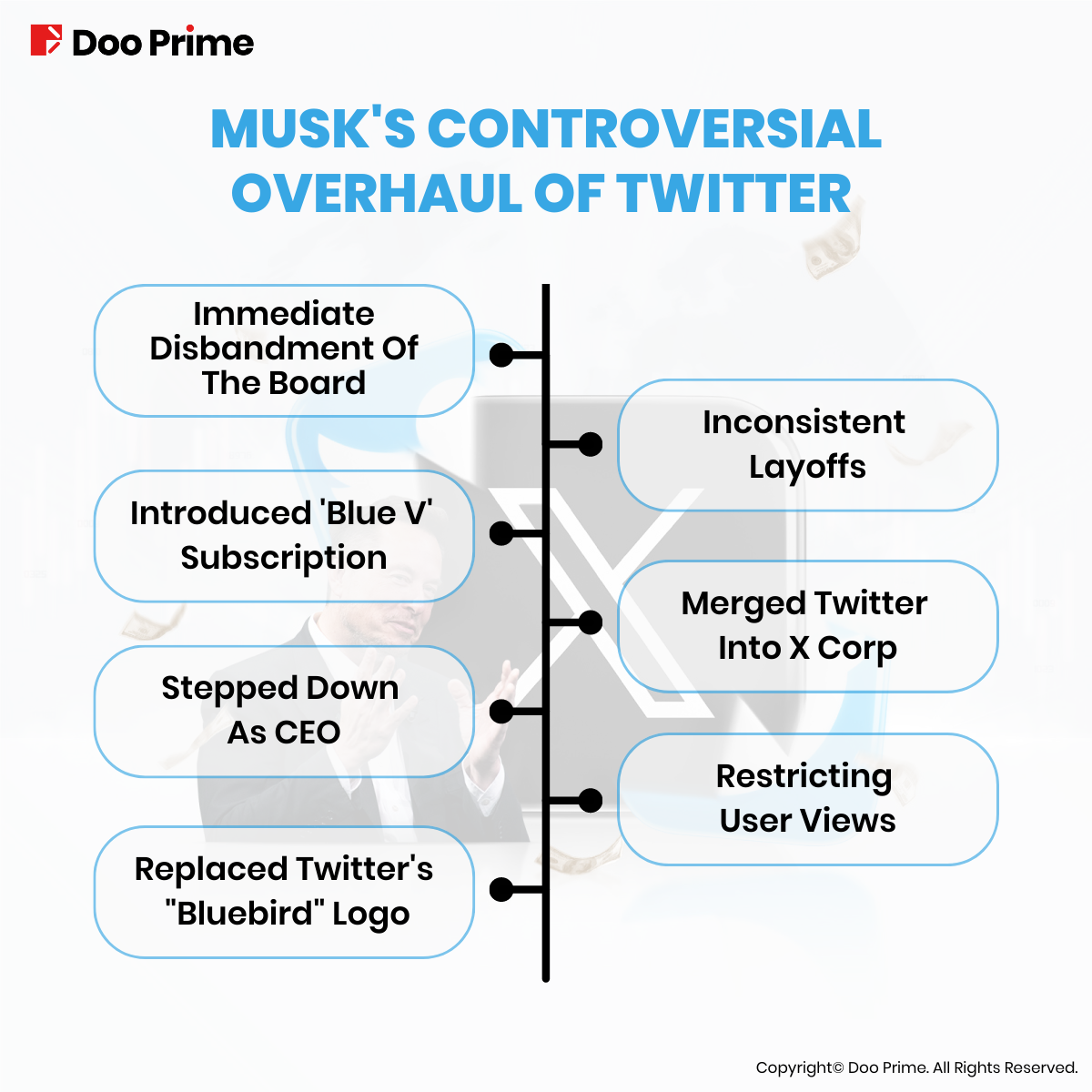 Immediate Disbandment of the Board:
On October 27th, upon assuming the role of Twitter's CEO, Musk cited poor management as the reason for dismissing the former CEO Parag Agrawal, CFO Ned Segal, Head of Legal Policy, Trust, and Safety Vijaya Gadde, and General Counsel Sean Edgett. The Twitter board was instantly dissolved, leaving Musk as the sole director. At the same time, Musk denied rumors of a forthcoming 75% staff reduction.
Inconsistent Layoffs:
Less than a month later, in early November, Musk initiated a large-scale layoff affecting about half of the total workforce of 7,500 employees. Surprisingly, Twitter then recalled some of the employees who were mistakenly laid off, hoping they would return to support the development of new features.
Introduction of the "Blue V" Subscription Service:
Also in November, Twitter launched a monthly USD 8 subscription system to increase revenue. As a result, the traditional "blue checkmark" verification was revoked, and users could obtain the "blue checkmark" simply by subscribing. This move led to chaos, with a surge in fake accounts and advertisers fleeing the platform.
Twitter Merged into X Corp:
According to legal documents filed in California court on April 4th, Twitter's lawyers stated: "Twitter has been merged into X Corp and no longer exists." X Corp was established in Nevada on March 9th, with Musk as the President of the company and its parent company, X Holdings Corp.
Stepping Down as CEO:
After causing much controversy, Musk announced in May that he would step down as Twitter's CEO and transition to a product and technology position. Meanwhile, Twitter welcomed its first female CEO, Linda Yaccarino.
Restricting User Views:
In early July, in an effort to prevent AI from freeload on data, Musk announced that Twitter would limit user views, but this decision changed three times in just a few hours. Ultimately, unverified new accounts could only see 500 posts per day, unverified accounts could see 1,000, and verified new users could see 10,000 posts per day. This not only affected thousands of users but also caused server interruptions.
Changing the Twitter Logo:
Musk's latest move was to "kill the Blue Bird" and rebrand the platform with the "X" logo.
Since acquiring Twitter, Musk has fired executives, conducted large-scale layoffs to cut expenses, and introduced various new policies to increase revenue and transform the platform's ecosystem. However, the results have not been as expected, and these actions have raised questions. Yet, Musk's seemingly random decisions also appear to be carefully strategized for the universal super app "X."
Why Is Musk So Enamored With 'X'?
Today, the decision to rename Twitter as "X" may not come as a surprise, as Musk's fondness for the letter 'X' has spanned over two decades.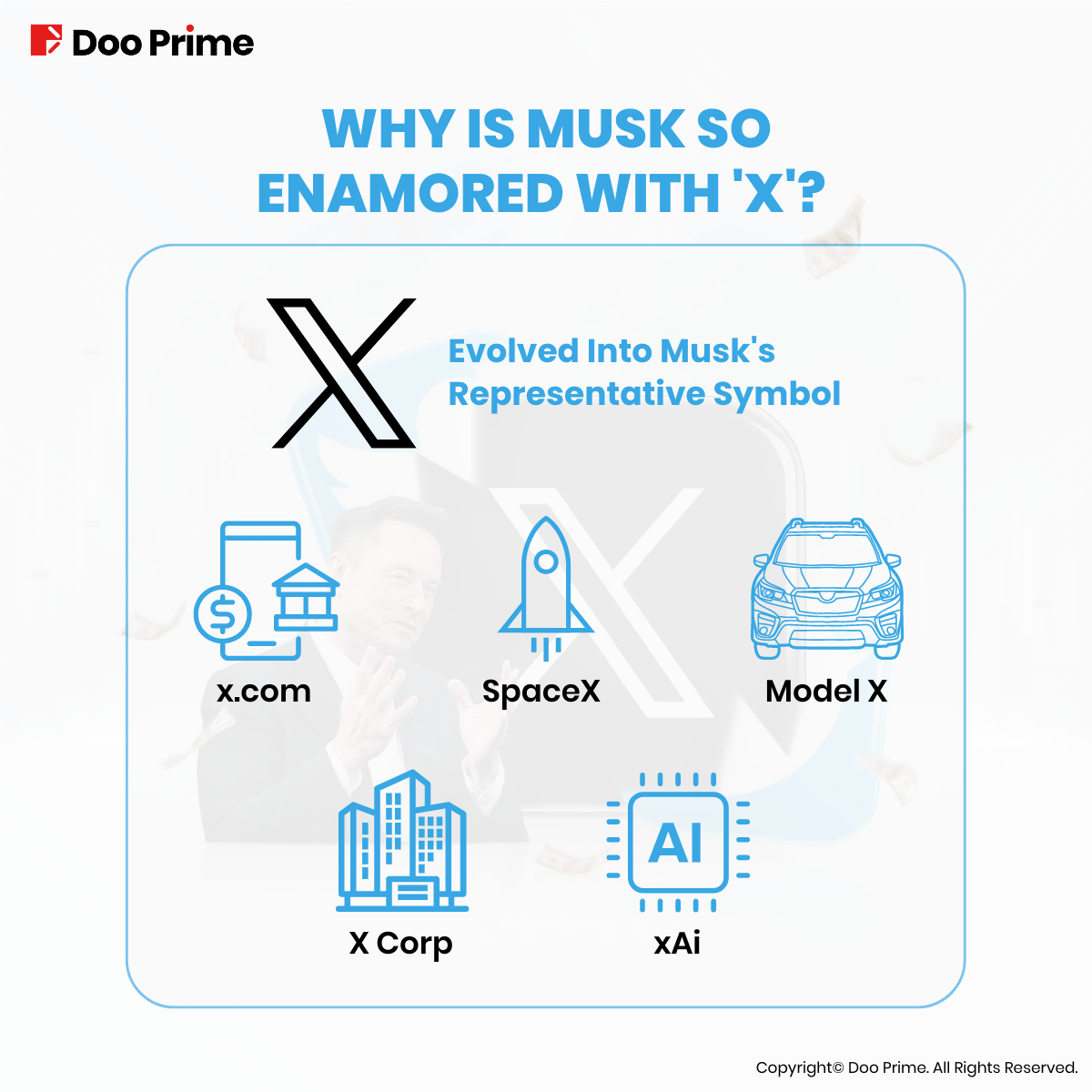 In 1999, when Musk founded an online banking company, he named it "x.com," which later evolved into the precursor of PayPal. In 2017, Musk repurchased the domain "X.com" from PayPal, stating that it held significant sentimental value for him. Now, "X.com" seamlessly becomes Twitter's new web address.
Furthermore, Musk's space exploration company, established in 2002, bears the name "SpaceX." In 2015, his electric vehicle and energy company Tesla introduced one of its flagship models called the "Model X." Moreover, in 2023, Musk registered "X Corp" as the parent company of Twitter. Seizing the AI trend, Musk also founded an artificial intelligence company called "xAI."
'X' has become Musk's carefully crafted umbrella term, serving as the parent company for various enterprises he leads, including Tesla and SpaceX. With a majority of his ventures bearing the letter 'X,' it has evolved into Musk's representative symbol. It is, therefore, not surprising that Musk chose to reshape the Twitter brand as "X" on his path toward creating a universal app.
The Impact Of The 'X' Logo On Twitter's Brand
The transformation of Twitter's logo from the "Blue Bird" to the "X" is Elon Musk's first step towards creating a universal app. Musk had already expressed his desire to create a "U.S. version of WeChat" when announcing the collaboration between Twitter and the social trading platform eToro, aiming to include instant messaging, payments, e-commerce, and mobile transportation services, among others.
However, rebranding can be a double-edged sword, and the impact of Musk's overhaul of the Twitter logo is undoubtedly a mix of positives and negatives. The change to the "X" logo may breathe new life into Twitter, enabling it to start afresh with a completely new image and potentially explore more development opportunities.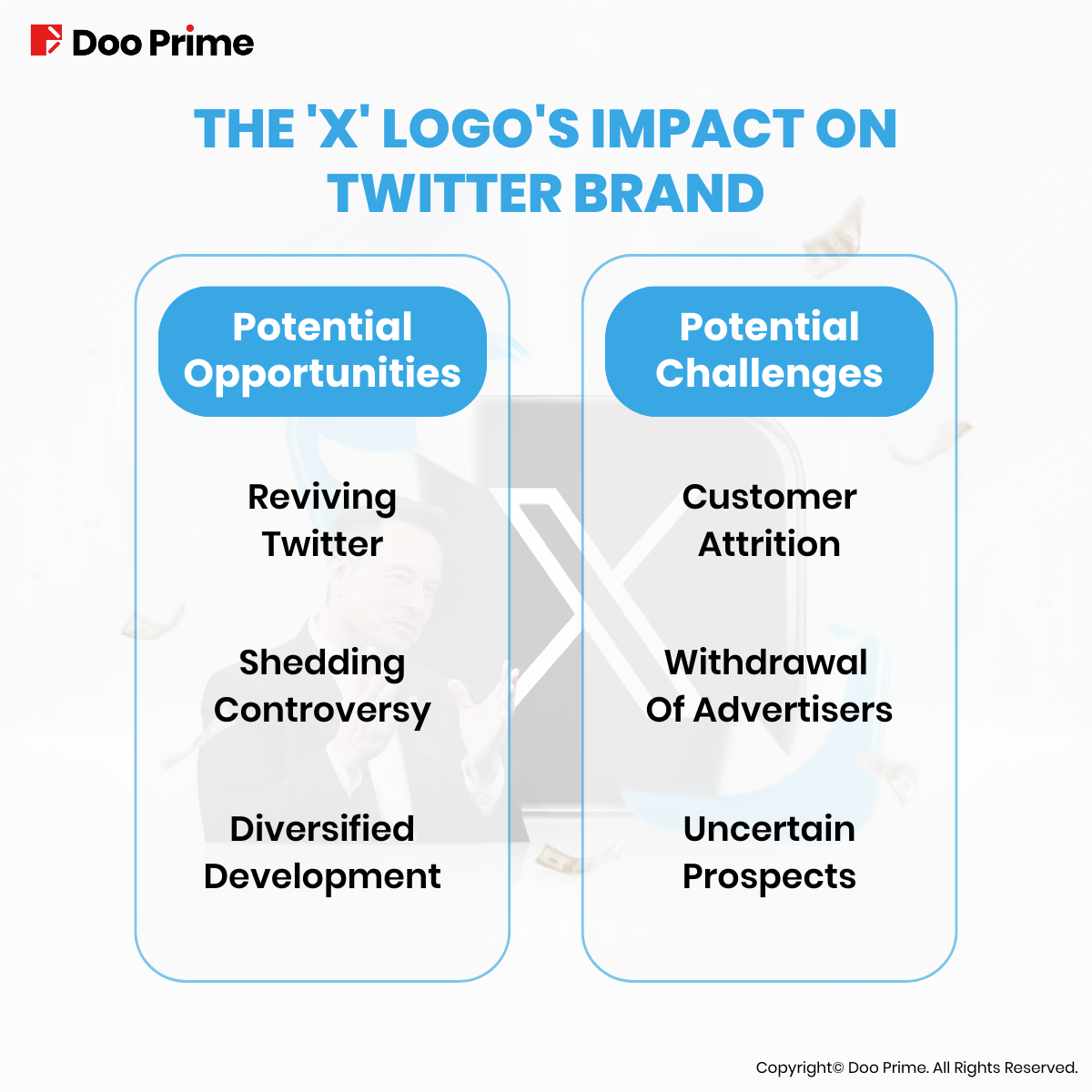 Potential Opportunities:
Revitalizing Twitter: While Twitter's user base remains active, maintaining its status as a social media giant, it appears to have reached a plateau with a lack of innovative developments, resulting in a relatively stagnant stock performance. The willingness of Twitter's board to entertain Musk's acquisition hints at his strategic planning for the platform. Musk has repeatedly proposed new features and policies, and this rebranding may stimulate market confidence and lead Twitter into a new chapter.
Shedding Controversy: Twitter has been plagued by negative public opinions before and after Musk's acquisition. The new logo represents a fresh image that can help Twitter move away from past controversies and reemerge with a positive identity.
Diversified Development: After becoming part of "X," Twitter will no longer be just a social media platform. It is reported that Musk's xAI will use Twitter's content as data to train its language model and also leverage Tesla's computing resources. This move is likely to lead to further integration between Twitter, xAI, and Tesla, opening up new possibilities for the platform.

On the other hand, disrupting a brand and breaking away from long-established user perceptions and habits will undoubtedly pose significant challenges. Changing the "Blue Bird" logo will likely lead to the loss of some users and a loss of confidence from advertisers. Additionally, Musk's unpredictable decision-making makes it difficult for the market to predict Twitter's future development prospects.
Potential Challenges:
Customer Attrition: With the demise of the iconic "Blue Bird," Twitter's identity transformation may lead to inevitable dissatisfaction and attrition among existing users. As the platform ceases to be the familiar Twitter, users might seek solace in rival platforms, with Meta's Threads posing a formidable threat in the fierce competition. Twitter's rebranding now faces the arduous task of managing related risks and retaining its loyal user base.
Advertiser Exodus: The decrease in user numbers will inevitably lead to a decline in advertisers as well. Previous incidents of rampant fake accounts on Twitter have already eroded advertisers' confidence, causing them to withdraw from the platform and directly impacting its revenue streams.
Uncertain Future: While Musk has innovative ideas for Twitter's development, a clear roadmap for the future remains elusive. Furthermore, Musk's formidable personal brand often overshadows that of Twitter, and his every move is intricately linked to the platform's destiny. The realization of his vision for Twitter remains an enigma, adding uncertainty to its prospects.

According to Mike Proulx, Vice President and Research Director at market research firm Forrester, Musk's actions may well have dealt a fatal blow to a once-iconic internet brand, making him a true "Twitter slayer."
Is Twitter's Rebranding A Blessing Or A Curse? Only Time Will Tell.
While Musk's rebranding of Twitter from the "Blue Bird" to the "X" may have caused a considerable evaporation of its brand value, it is premature to pass a final judgment on Twitter's future. The only certainty lies in the fact that, under Musk's guidance, Twitter's destiny will be characterized by either remarkable success or significant decline.
Musk's brainchild, Tesla, was once heavily favored by short-sellers in the market until 2020. However, since its inception, Tesla's stock has skyrocketed nearly 20,000%, proving the market's initial misjudgment. Will the future of "Twitter X" unfold similarly to Tesla's success? Only time will reveal the answer to this intriguing question. Let us watch with anticipation and see what lies ahead.


| About Doo Prime
Our Trading Products
Securities | Futures | Forex | Precious Metals | Commodities | Stock Indices
Doo Prime, an international preeminent online broker under Doo Group, strives to provide professional investors with global CFD trading products in Securities, Futures, Forex, Precious Metals, Commodities, and Stock Indices. At present, Doo Prime is delivering the finest trading experience to more than 130,000 clients, with an average trading volume of more than USD 51.223 billion each month.
Doo Prime entities respectively holds the relevant financial regulatory licenses in Seychelles, Mauritius, and Vanuatu with operation centers in Dallas, Sydney, Singapore, Hong Kong, Dubai, Kuala Lumpur, and other regions.
With robust financial technology infrastructure, well-established partnerships, and an experienced technical team, Doo Prime boasts a safe and secure trading environment, competitive trading costs, as well as deposit and withdrawal methods that support 20+ different currencies. Doo Prime also incorporates 24/7 multilingual customer service and extremely fast trade execution via multiple industry-leading trading terminals such as MT4, MT5, TradingView, and Doo Prime InTrade, covering over 10,000 trading products.
Doo Prime's vision and mission are to become a financial technology-focused broker, streamlining international global financial products investment.
For more information about Doo Prime, please contact us at:
Phone:
Europe: +44 11 3733 5199
Asia: +852 3704 4241
Asia – Singapore: +65 6011 1415
Asia – China: +86 400 8427 539
E-mail:
Technical Support: [email protected]
Account Manager: [email protected]
Forward-looking Statements
This article contains "forward-looking statements" and may be identified by the use of forward-looking terminology such as "anticipate", "believe", "continue", "could", "estimate", "expect", "hope", "intend", "may", "might", "plan", "potential", "predict", "should", or "will", or other variations thereon or comparable terminology. However, the absence of such terminology does not mean that a statement is not forward-looking. In particular, statements about the expectations, beliefs, plans, objectives, assumptions, future events, or future performance of Doo Prime will be generally assumed as forward-looking statements.
Doo Prime has provided these forward-looking statements based on all current information available to Doo Prime and Doo Prime's current expectations, assumptions, estimates, and projections. While Doo Prime believes these expectations, assumptions, estimations, and projections are reasonable, these forward-looking statements are only predictions and involve known and unknown risks and uncertainties, many of which are beyond Doo Prime's control. Such risks and uncertainties may cause results, performance, or achievements materially different from those expressed or implied by the forward-looking statements.
Doo Prime does not provide any representation or warranty on the reliability, accuracy, or completeness of such statements. Doo Prime is not obliged to provide or release any updates or revisions to any forward-looking statements.
Risk Disclosure
Trading in financial instruments involves high risks due to the fluctuation in the value and prices of the underlying financial instruments. Due to the adverse and unpredictable market movements, large losses exceeding the investor's initial investment could incur within a short period of time. The past performance of a financial instrument is not an indication of its future performance. Investments in certain services should be made on margin or leverage, where relatively small movements in trading prices may have a disproportionately large impact on the client's investment, and client should therefore be prepared to suffer significant losses when using such trading facilities.
Please ensure you read and fully understand the trading risks of the respective financial instrument before engaging in any transaction with Doo Prime's trading platforms. You should seek independent professional advice if you do not understand any of the risks disclosed by us herein or any risk associated with the trade and investment of financial instruments. Please refer to Doo Prime's Client Agreement and Risk Disclosure and Acknowledgement Notice to learn more.
Disclaimer
This information is addressed to the general public solely for information purposes and should not be taken as investment advice, recommendation, offer, or solicitation to buy or sell any financial instrument. The information displayed herein has been prepared without any reference or consideration to any particular recipient's investment objectives or financial situation. Any references to the past performance of a financial instrument, index, or a packaged investment product shall not be taken as a reliable indicator of its future performance. Doo Prime and its holding company, affiliates, subsidiaries, associated companies, partners and their respective employees, make no representation or warranties to the information displayed and shall not be liable for any direct, indirect, special or consequential loss or damages incurred a result of any inaccuracies or incompleteness of the information provided, and any direct or indirect trading risks, profit, or loss arising from any individual's or client's investment.