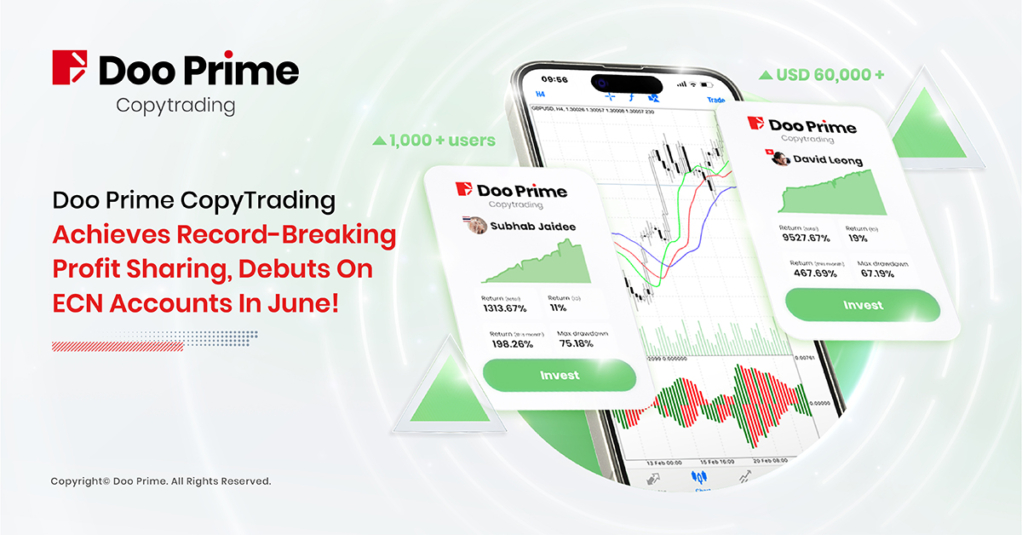 Doo Prime CopyTrading Surpasses USD 60,000 in May Profits, Setting New Milestones! 
Since its official launch in September 2022, Doo Prime CopyTrading has been garnering increasing recognition and acclaim from its valued clientele. This exceptional trading community – known for its instant profitability – has witnessed a surge in the number of exceptional investors, with a remarkable addition of 1300 new users in May alone.
Doo Prime CopyTrading empowers investors with unparalleled flexibility, offering customizable profit ratios and cycles to cater to individual preferences. Whether it's a per-trade profit or a monthly return, signal providers can establish diverse follow conditions aligned with their unique trading strategies, while followers enjoy the autonomy to selectively emulate trades based on signal providers' outstanding performance and profit percentages.
Since the introduction of CopyTrading on Doo Prime, the signal providers have generated a staggering revenue of nearly USD 2 million for the dedicated follower community. As a testament to its commitment to nurturing a thriving ecosystem, followers receive their well-deserved share of over USD 200,000 in profitable rewards, distributed among the top-performing signal providers.
This virtuous cycle fosters a symbiotic relationship between traders and followers, fostering an atmosphere of positive feedback and collective growth.
Remarkably, Doo Prime CopyTrading achieved an unprecedented milestone in May, recording an astonishing monthly profit of USD 62,418.42 for all categories of high-quality signal sources, thus surpassing all previous records and setting a new benchmark for success since the advent of Doo Prime CopyTrading.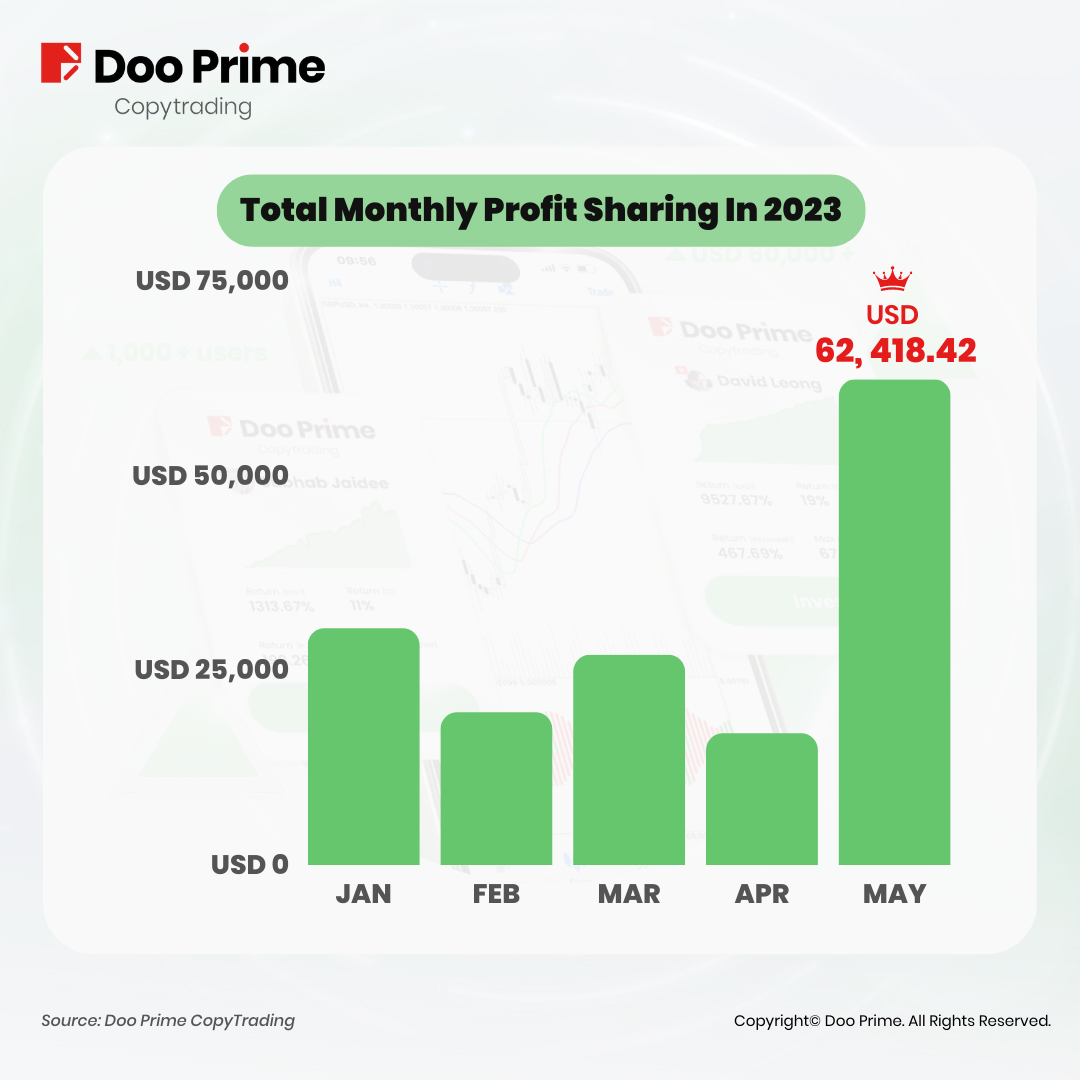 Seamlessly Follow With ECN Accounts  
Doo Prime remains steadfast in its mission to foster a culture of excellence in trading, exemplified through initiatives such as the esteemed #DooTrader Charity Cup global trading competition and the creation of a vibrant trading community for sharing high-quality signal feeds. These endeavors are all aimed at facilitating investor communication, strategy sharing, and ultimately making trading a seamless experience.
In its unyielding pursuit to provide a flexible and streamlined trading experience for clients with diverse risk preferences, Doo Prime CopyTrading has taken a momentous stride forward by introducing ECN accounts.
Since June 1st, clients across all account types, including STP and CENT accounts, can now revel in the convenience of effortlessly posting signals and effortlessly following trades on the Live 4 server.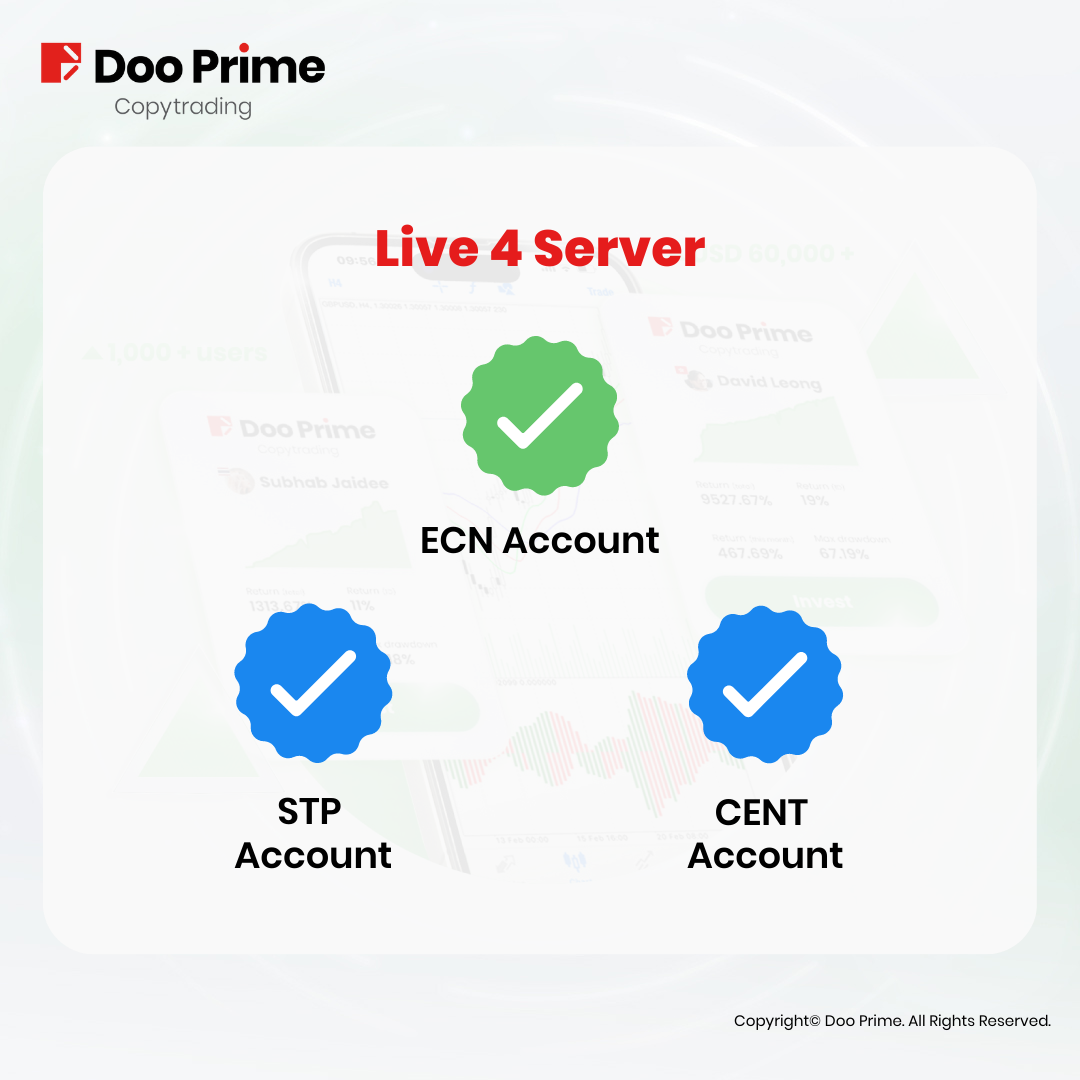 This transformative leap ensures that the advantages and benefits previously exclusive to ECN accounts are now universally accessible, leveling the playing field for traders across the spectrum.
With this innovative integration, Doo Prime CopyTrading empowers investors to explore new horizons and embrace diverse trading strategies, while fostering a thriving environment of collaboration and shared success.
Unlocking Profitability With Quality Signals 
In the market, many mainstream follower communities solely incentivize signal providers through platform tokens as subscription fees, often neglecting profit sharing altogether. However, Doo Prime CopyTrading takes a different approach by fostering a virtuous cycle within its trading community.
It not only provides instant profit sharing incentives for high-quality signals but also enables novice traders to earn profits without the need for capital investment. This innovative model offers a multitude of benefits, including invaluable learning opportunities and a deeper understanding of sound trading principles—a truly multifaceted approach.
Given the challenging landscape of CFDs – characterized by high leverage, market volatility, and uninterrupted trading hours throughout the week – achieving consistent profitability demands unwavering self-discipline, a considerable time commitment, and substantial capital investment.
Recognizing the need to bridge this gap, Doo Prime has launched a comprehensive series of articles that champion quality signal providers like "EURUSD Expert" (EURUSD短线小能手), "Xiaoniu No. 0001" (小牛0001号) and "Bīngshān——huángjīn shèngshǒu" or "Iceberg ——Holy Hand of Gold" (冰山——黄金圣手). These meticulously curated resources enable novice traders to effortlessly realize profits by following reliable signals.
Within this network of exceptional signals, one luminary takes center stage: the highly regarded "Fùguì cáifù jīngāng èr hào" (富贵財富金剛二號) or "Prospering Fortune King Kong II" This distinguished signal provider boasts a range of standout features including:
Return on Investment: Employing a long-term holding strategy to transform losses into profits, ensuring solid returns in the later stages.
Investment Stability: Diversification across various trading instruments to minimize risk and maintain stable performance.
Capital Allocation: Utilizing a moderate capital amount, allowing for a high capital redundancy as a safety cushion.
With Doo Prime CopyTrading's unique framework and exceptional signal providers like "Fùguì cáifù jīngāng èr hào" (富贵財富金剛二號) or "Prospering Fortune King Kong II," traders can navigate the path to profitability with confidence and enjoy a rewarding trading experience.
Return On Investment: ⭐️⭐️⭐️⭐️
Returns serve as the ultimate gauge of risk, and when it comes to delivering exceptional returns with minimal risk, "Fùguì cáifù jīngāng èr hào" (富贵財富金剛二號) or "Prospering Fortune King Kong II, the trading signal provider shines bright.
Since its inception on November 18th, 2022, "Fùguì cáifù jīngāng èr hào" (富贵財富金剛二號) or "Prospering Fortune King Kong II" has transformed returns into profitable gains within a mere six months, soaring to an impressive 223.63% as of May.
Notably, it achieved a staggering maximum profit of 1347.84%, propelling its assets to USD 7,631.28 on February 2nd, 2023. Today, the total profits have surpassed USD 8,500, highlighting the remarkable growth this signal provider has accomplished.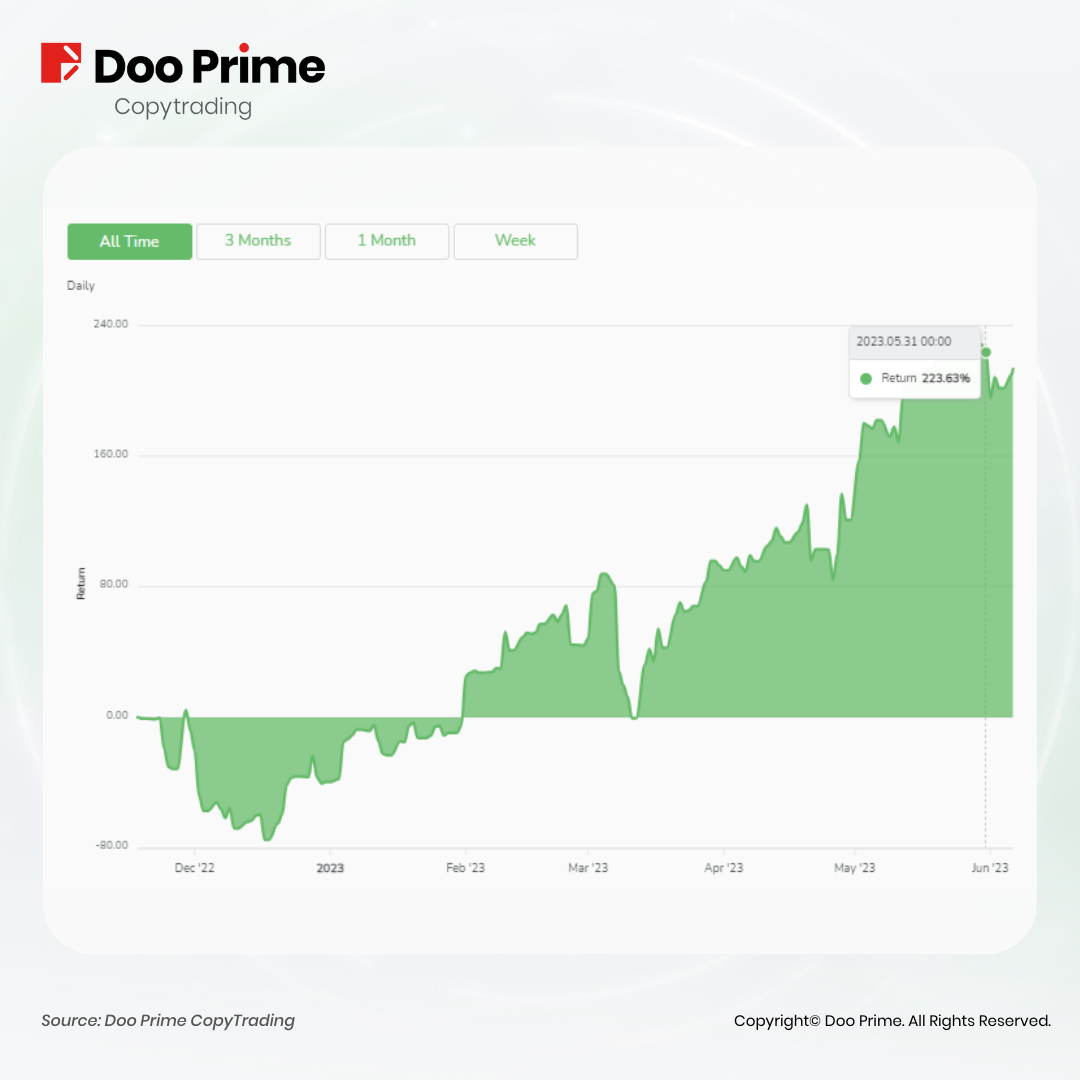 When it comes to monthly performance, "Fùguì cáifù jīngāng èr hào" (富贵財富金剛二號) or "Prospering Fortune King Kong II" has demonstrated exceptional results.
After two months of inception, it swiftly transitioned to positive returns and has consistently delivered over 15% returns each month since January 2023. Remarkably, it maintains an impressive average monthly return of 17.72%, solidifying its status as a reliable source of consistent profitability.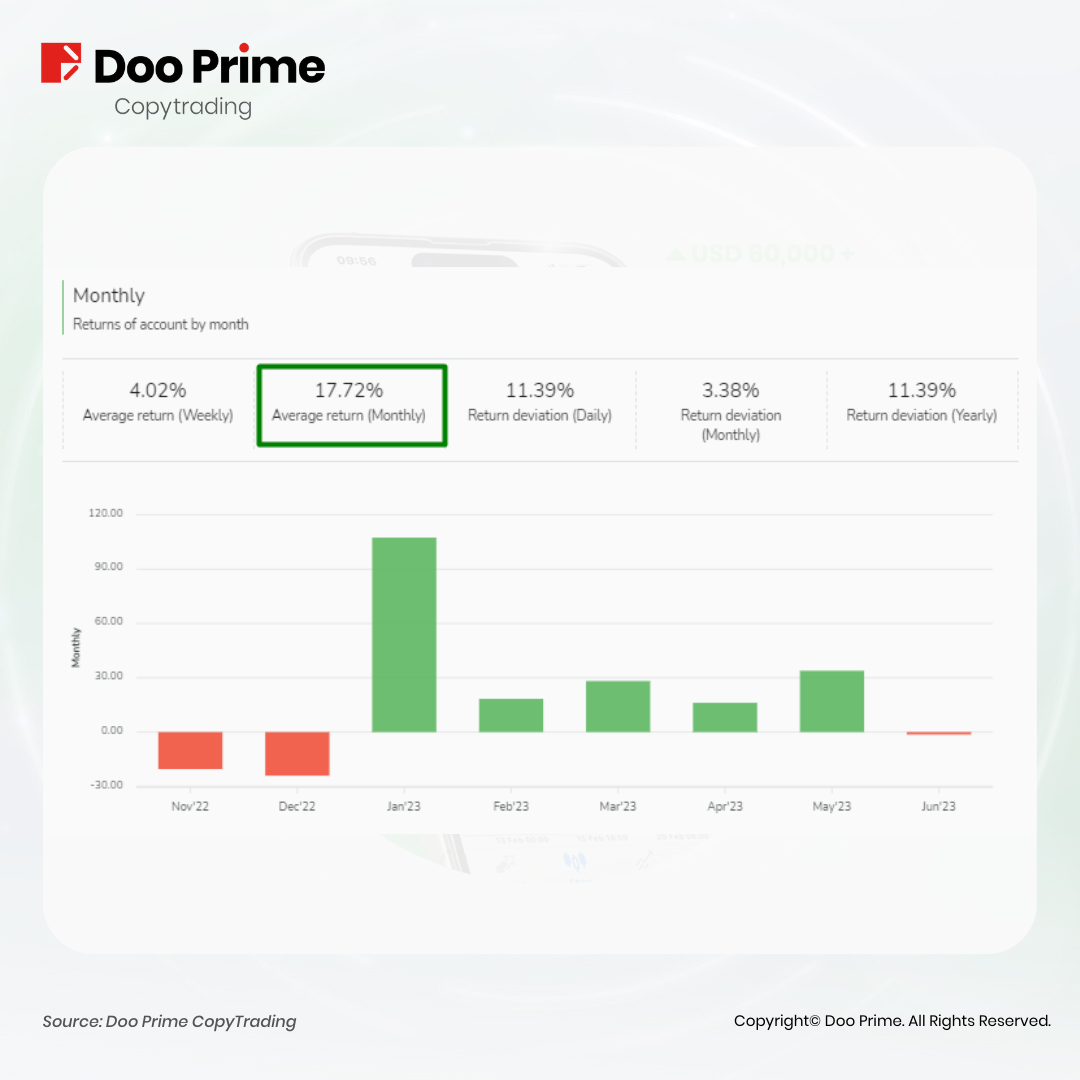 Investment Stability: ⭐️⭐️⭐️⭐️⭐️
"Fùguì cáifù jīngāng èr hào" (富贵財富金剛二號) or "Prospering Fortune King Kong II" embodies exceptional investment stability, evident in its steadfast performance over time and a growing follower base of 115 individuals.
While its maximum retracement may reach as high as 77.77%, the signal provider demonstrates a remarkable ability to preserve profits once profitability is achieved.
Analyzing its net worth curve, we observe that "Fùguì cáifù jīngāng èr hào" (富贵財富金剛二號) or "Prospering Fortune King Kong II" diligently safeguards its gains and exhibits resilience. Despite slight fluctuations in returns during the months of April and May, the signal provider swiftly stabilized, avoiding significant losses.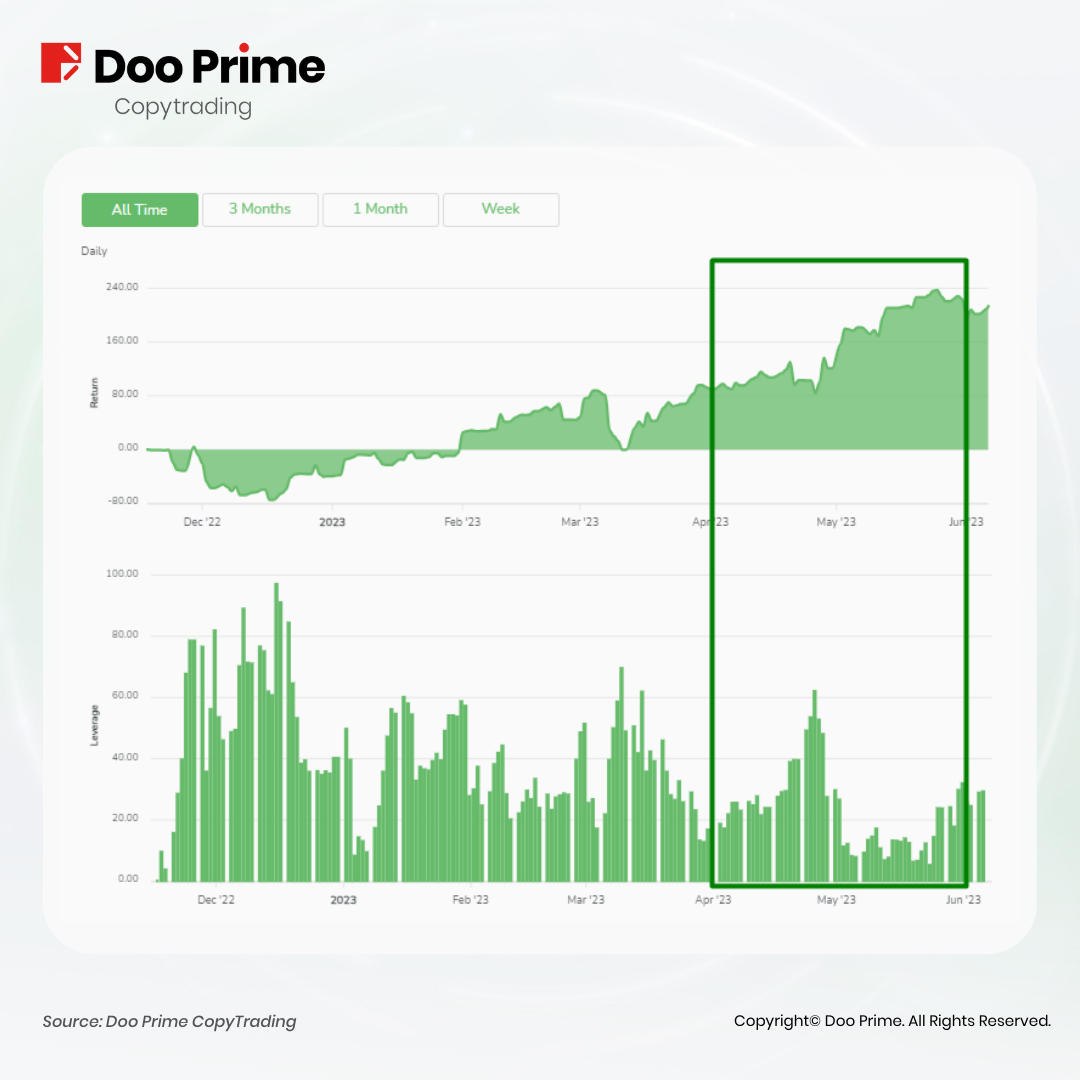 Furthermore, "Fùguì cáifù jīngāng èr hào" (富贵財富金剛二號) or "Prospering Fortune King Kong II" showcases a diverse trading portfolio, primarily focusing on cross-trading hedging.
This strategy minimizes risk by avoiding overreliance on a single mainstream product such as XAU/USD or EUR/USD. Additionally, the signal provider enforces a strict minimum lot size of 0.01 for each order, effectively mitigating the impact of volatile profit and loss fluctuations caused by sudden position enlargements.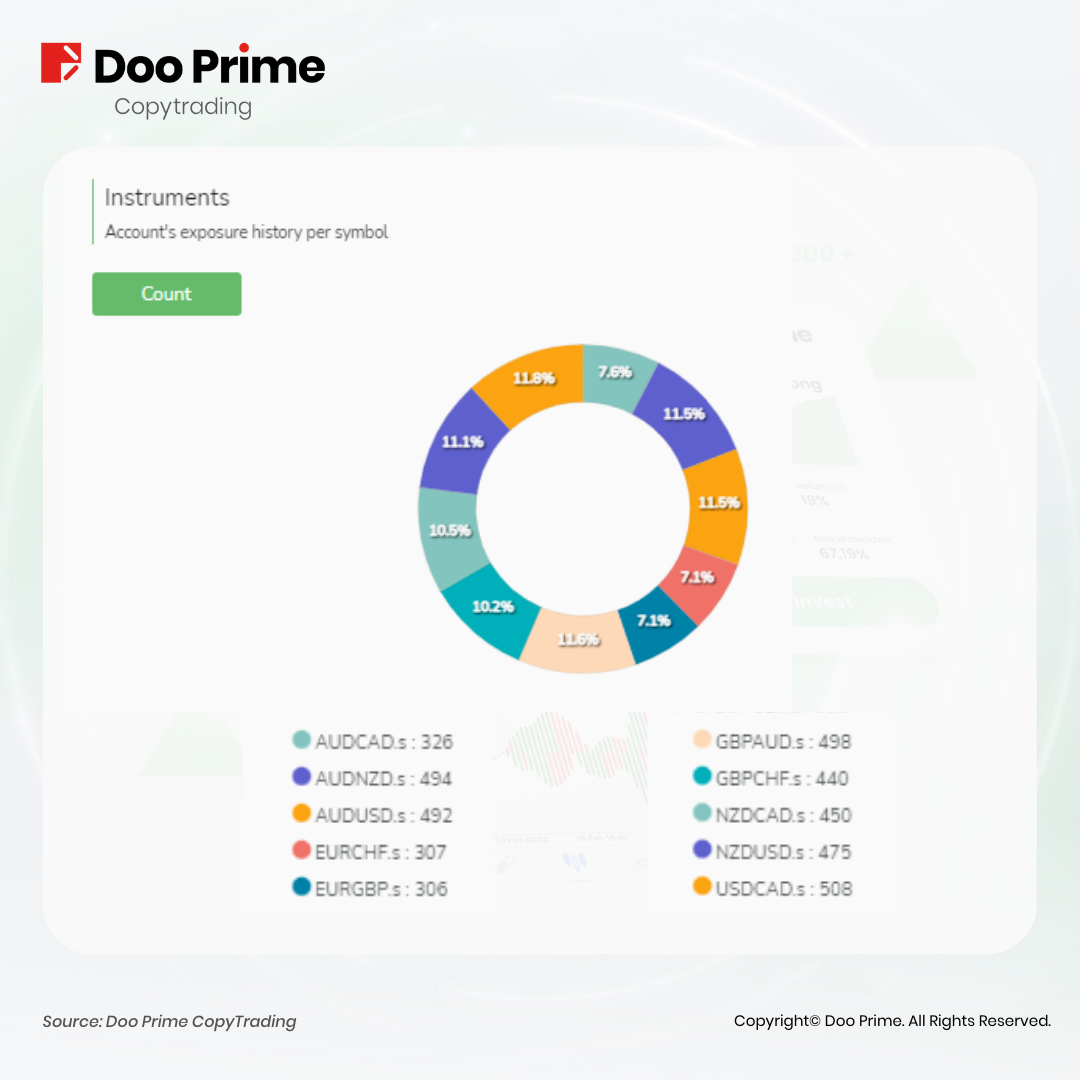 Capital Allocation: ⭐️️⭐️️️⭐️
"Fùguì cáifù jīngāng èr hào" (富贵財富金剛二號) or "Prospering Fortune King Kong II" strikes a balance when it comes to the required capital investment. With a moderate threshold, this signal provider ensures a comfortable investment experience for followers.
As of May 31st 2023, with an asset amount of approximately USD 4016.79, this signal provider empowers followers to maintain a substantial capital redundancy. This serves as a protective buffer, instilling confidence during trade execution.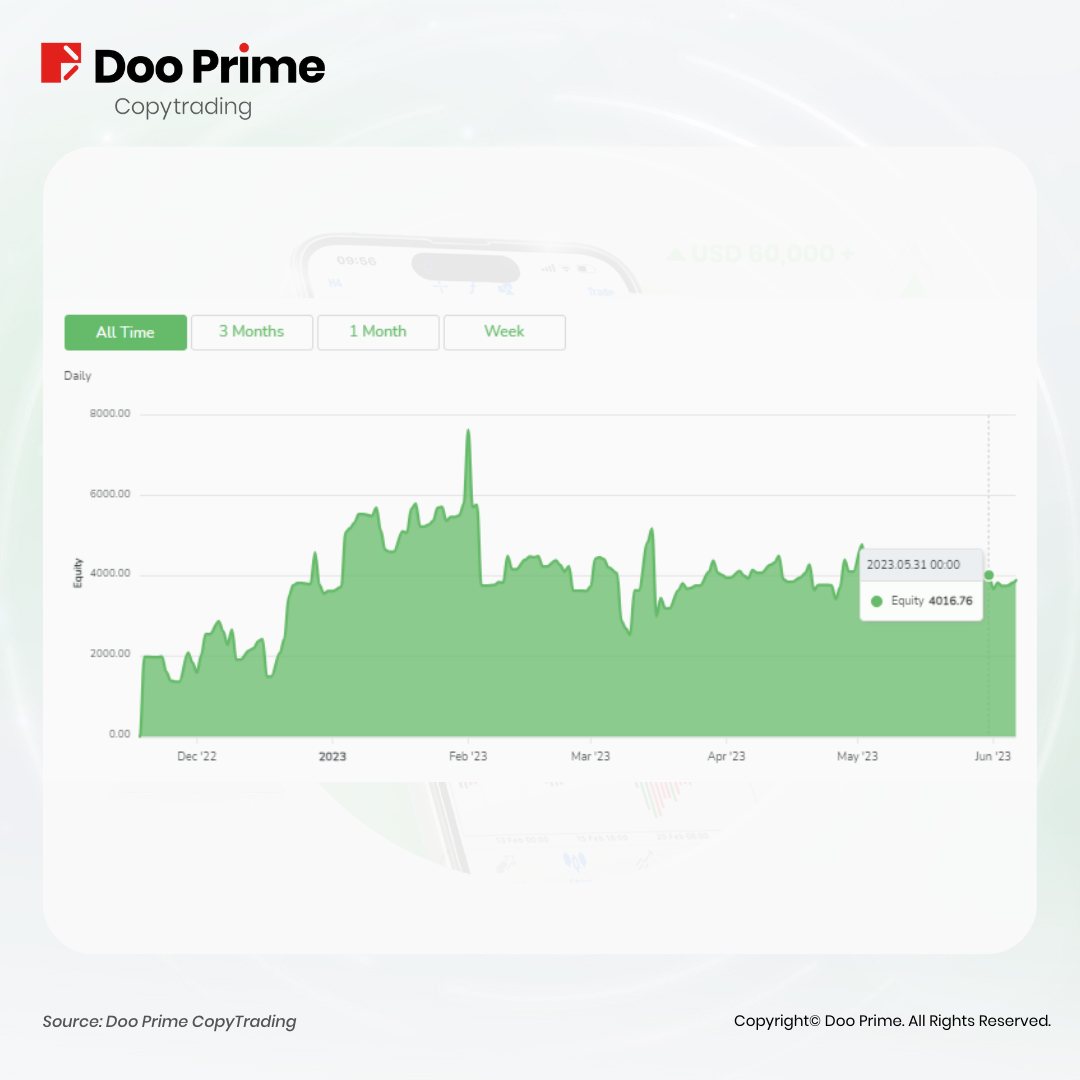 Overall Assessment Of The Signal Provider:  ⭐️⭐️⭐️️ 
Overall, "Fùguì cáifù jīngāng èr hào" (富贵財富金剛二號) or "Prospering Fortune King Kong II" showcases exceptional risk control and profitability, achieving an impressive average monthly return of 18% with the lowest lot size. Its diversified investment varieties and strategies contribute to its success.
On the other hand, "Fùguì cáifù jīngāng èr hào" (富贵財富金剛二號) or "Prospering Fortune King Kong II" leverages the vast market to secure solid returns, making it an ideal choice for long-term followers.
Are you an aspiring investor seeking to embark on a winning trading journey by following a high-quality signal?
If so, we invite you to click the link and sign up as a follower now and start enjoying the benefits of our quality signal provider.
Additionally, Doo Prime CopyTrading has introduced the Instant Profit feature that allows signal providers to share their profits instantly. If you wish to join our CopyTrading platform, and earn more income, while leading novices to success, please click on this link and register as a signal provider today!
| About Doo Prime
Our Trading Products
Securities | Futures | Forex | Precious Metals | Commodities | Stock Indices
Doo Prime is an international pre-eminent online broker under Doo Group, which strives to provide professional investors with global CFD trading products in Securities, Futures, Forex, Precious Metals, Commodities, and Stock Indices. At present, Doo Prime is delivering the finest trading experience to more than 90,000 clients, with an average trading volume of more than USD 51.223 billion each month.
Doo Prime entities respectively holds the relevant financial regulatory licenses in Seychelles, Mauritius, and Vanuatu with operation centers in Dallas, Sydney, Singapore, Hong Kong, Dubai, Kuala Lumpur, and other regions.
With robust financial technology infrastructure, well-established partnerships, and an experienced technical team, Doo Prime boasts a safe and secure trading environment, competitive trading costs, as well as deposit and withdrawal methods that support 20+ different currencies. Doo Prime also incorporates 24/7 multilingual customer service and extremely fast trade execution via multiple industry-leading trading terminals such as MT4, MT5, TradingView, and Doo Prime InTrade, covering over 10,000 trading products.
Doo Prime's vision and mission are to become a financial technology-focused broker, streamlining international global financial products investment.
For more information about Doo Prime, please contact us at:
Phone:
Europe: +44 11 3733 5199
Asia: +852 3704 4241
Asia – Singapore: +65 6011 1415
Asia – China: +86 400 8427 539
E-mail:
Technical Support: [email protected]
Account Manager: [email protected]

Forward-looking Statements
This article contains "forward-looking statements" and may be identified by the use of forward-looking terminology such as "anticipate", "believe", "continue", "could", "estimate", "expect", "hope", "intend", "may", "might", "plan", "potential", "predict", "should", or "will", or other variations thereon or comparable terminology. However, the absence of such terminology does not mean that a statement is not forward-looking. In particular, statements about the expectations, beliefs, plans, objectives, assumptions, future events, or future performance of Doo Prime will be generally assumed as forward-looking statements.
Doo Prime has provided these forward-looking statements based on all current information available to Doo Prime and Doo Prime's current expectations, assumptions, estimates, and projections. While Doo Prime believes these expectations, assumptions, estimations, and projections are reasonable, these forward-looking statements are only predictions and involve known and unknown risks and uncertainties, many of which are beyond Doo Prime's control. Such risks and uncertainties may cause results, performance, or achievements materially different from those expressed or implied by the forward-looking statements.
Doo Prime does not provide any representation or warranty on the reliability, accuracy, or completeness of such statements. Doo Prime is not obliged to provide or release any updates or revisions to any forward-looking statements.
Risk Disclosure
Trading in financial instruments involves high risks due to the fluctuation in the value and prices of the underlying financial instruments. Due to the adverse and unpredictable market movements, large losses exceeding the investor's initial investment could incur within a short period of time. The past performance of a financial instrument is not an indication of its future performance. Investments in certain services should be made on margin or leverage, where relatively small movements in trading prices may have a disproportionately large impact on the client's investment and client should therefore be prepared to suffer significant losses when using such trading facilities.
Please make sure you read and fully understand the trading risks of the respective financial instrument before engaging in any transaction with Doo Prime's trading platforms. You should seek independent professional advice if you do not understand any of the risks disclosed by us herein or any risk associated with the trade and investment of financial instruments. Please refer to Doo Prime's Client Agreement and Risk Disclosure and Acknowledgement Notice to find out more.
Disclaimer
This information is addressed to the general public solely for information purposes and should not be taken as investment advice, recommendation, offer, or solicitation to buy or sell any financial instrument. The information displayed herein has been prepared without any reference or consideration to any particular recipient's investment objectives or financial situation. Any references to the past performance of a financial instrument, index, or a packaged investment product shall not be taken as a reliable indicator of its future performance. Doo Prime and its holding company, affiliates, subsidiaries, associated companies, partners and their respective employees, make no representation or warranties to the information displayed and shall not be liable for any direct, indirect, special or consequential loss or damages incurred a result of any inaccuracies or incompleteness of the information provided, and any direct or indirect trading risks, profit, or loss arising from any individual's or client's investment.