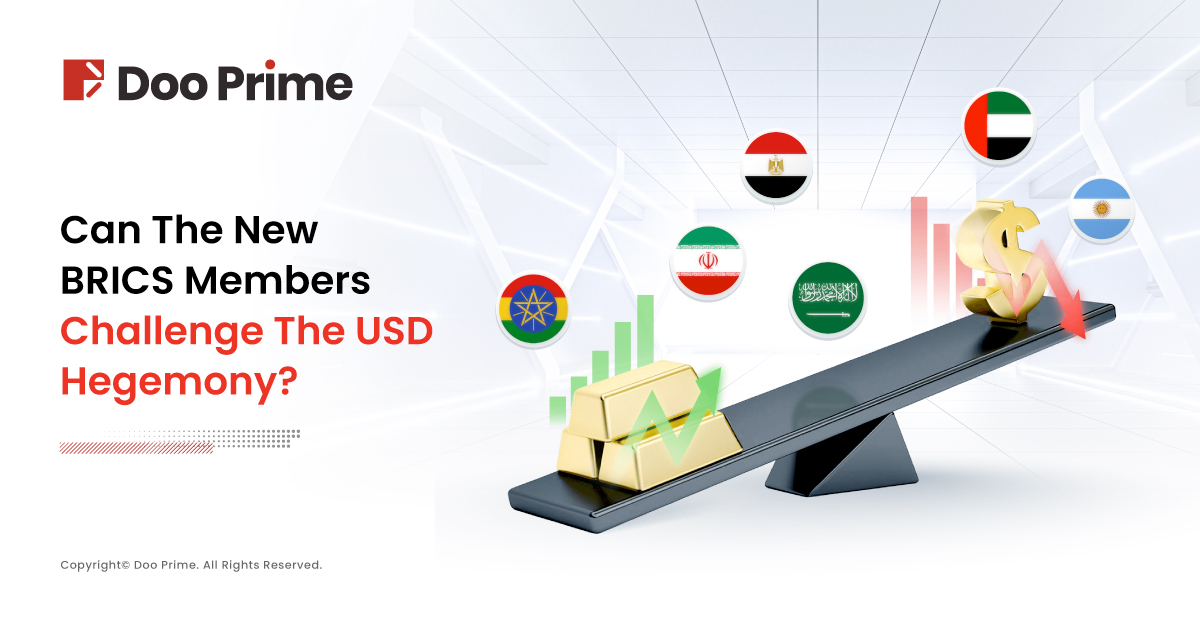 The original BRICS members – Brazil, Russia, India, China, and South Africa – share a vision of a more multipolar world order, in which developing countries have a greater say in global affairs.
A multipolar world is a world in which there are multiple centers of power, rather than just one. No single country or bloc of countries can dominate the others.
BRICS countries believe that the current world order, led by the United States, gives Western countries an unfair advantage.
The idea of a multipolar world gained a lot of attention in recent years, encouraging six additional members – Argentina, Egypt, Ethiopia, Iran, Saudi Arabia, and the United Arab Emirates – to join the BRICS coalition.
Their mission is to challenge the prevailing global order dominated by the United States, a system they perceive as heavily biased in favor of Western powers. More importantly, to instill a world order that's not just centered around a few powerful nations but one where every country has a voice and influence on the global stage.
The rise of BRICS and the multipolar world is seen by some investors as a threat to the USD hegemony, while others remain unconvinced.
In this article, we explore the significant influence held by the six new BRICS members, an influence that many investors overlook. And finally, we examine what this means for the U.S. dollar, gold, and the global balance of power.
BRICS: A Vision For A Multipolar World
There has been a great deal of media commentary following the BRICS summit in South Africa on August 22nd. Many people are underestimating the upcoming additions of the six new BRICS countries – Argentina, Egypt, Ethiopia, Iran, Saudi Arabia, and the UAE, which full membership will take effect on January 1st, 2024.
Currently, there are five nations. Next year, there will be eleven. In the near future, this number could be as many as twenty. At that point, the scales will completely tip.
What many have missed however, is that all the BRICS countries – including the coming additions of the six new BRICS members – possess significant trade influence on up to 84 countries within their own backyards with a collective GDP of USD 83.5 Trillion.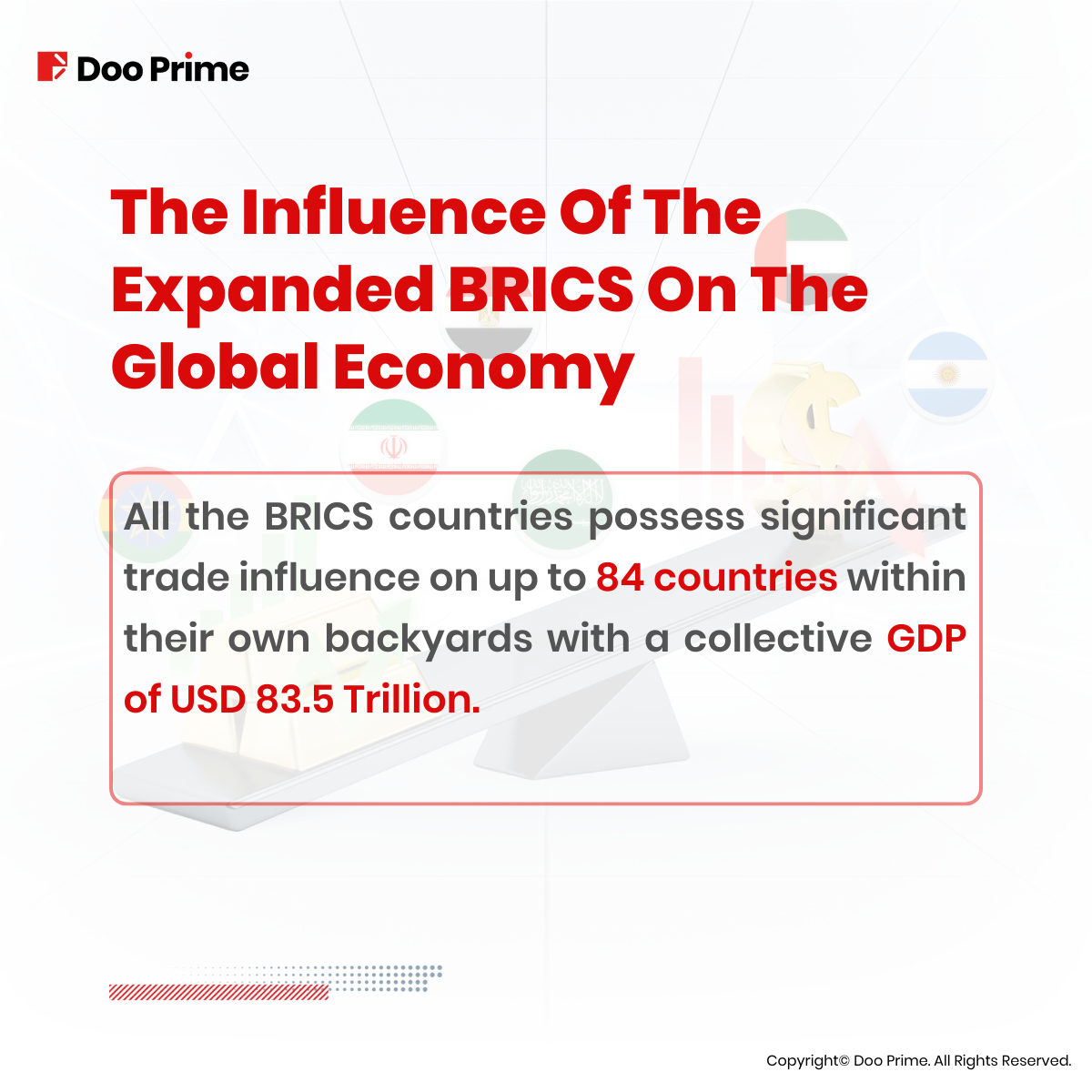 Let's explore the value that each country brings to the table.
Argentina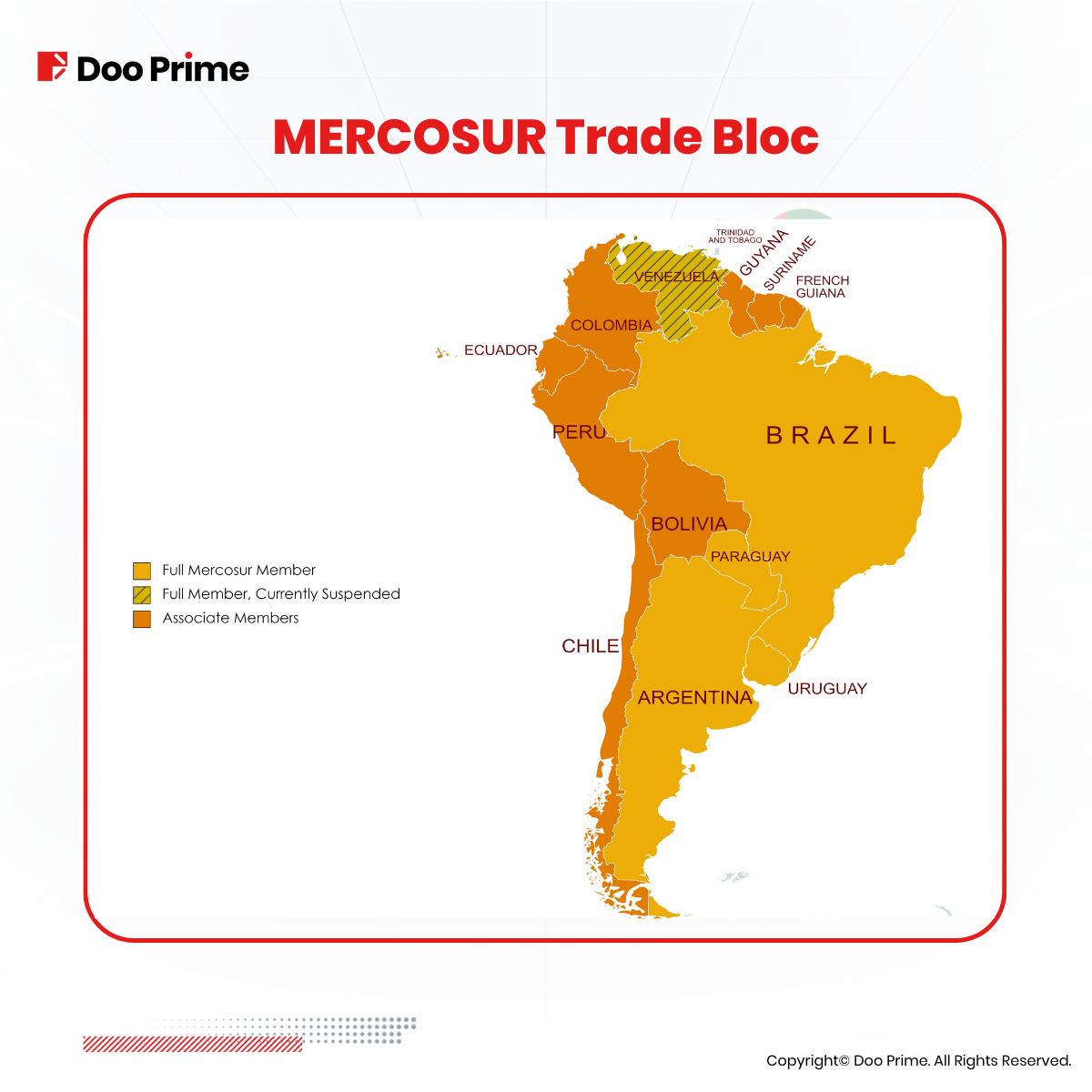 Argentina is a founding member of Mercosur, a major trade bloc in South America. The bloc also includes Brazil, Paraguay, Uruguay, Bolivia, Chile, Colombia, Ecuador, Guyana, Peru, and Suriname. Venezuela was a member until 2017, when it was suspended due to political and economic turmoil.
Mercosur has a combined population of 284 million people and a GDP (PPP) of USD 5.195 trillion. This makes it the third-largest free trade bloc in the world, after the European Union and the North American Free Trade Agreement (NAFTA).
Egypt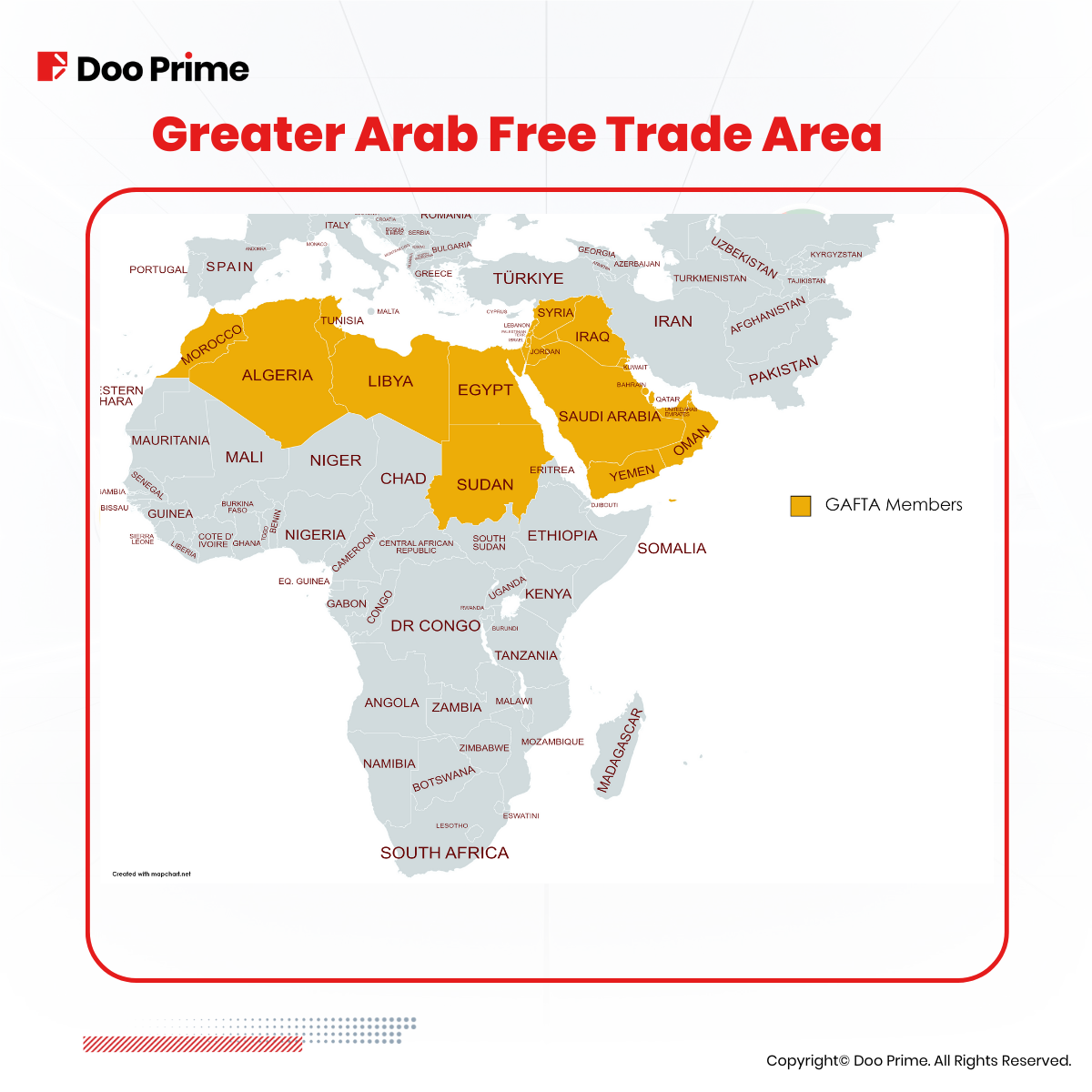 Egypt is the second-largest country in the Greater Arab Free Trade Agreement (GAFTA), after Saudi Arabia. GAFTA is a trade bloc that includes 17 Arab countries in the Middle East and North Africa.
The other members of GAFTA are Algeria, Bahrain, Iraq, Jordan, Kuwait, Lebanon, Libya, Morocco, Oman, Palestine, Qatar, Sudan, Syria, Tunisia, the United Arab Emirates, and Yemen.
GAFTA has a combined population of about 440 million people and a GDP (PPP) of about USD 7.9 trillion. This makes it the largest free trade bloc in the Arab world.
Ethiopia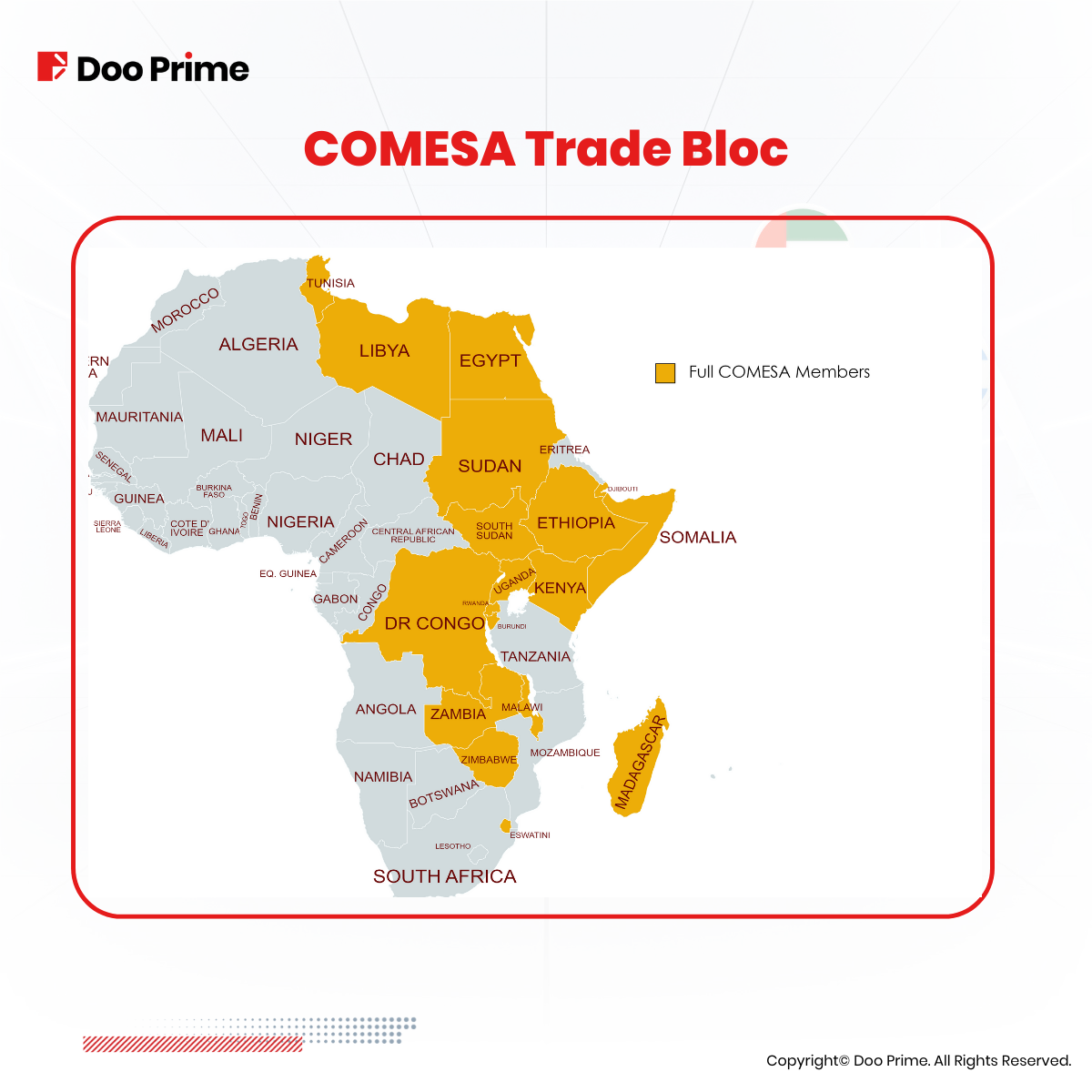 Ethiopia is the second-most populous country in Africa, with over 110 million people. It is also the sixth largest economy in Africa, with a GDP (PPP) of about USD 91 billion.
Ethiopia is a member of the Common Market for Eastern and Southern Africa (COMESA), which is a trade bloc of 21 African countries. COMESA aims to promote trade and economic integration among its members.
Ethiopia is also a member of the African Continental Free Trade Agreement (AfCFTA), which is a free trade agreement between 54 African countries. The AfCFTA aims to create a single market for goods and services in Africa.
Iran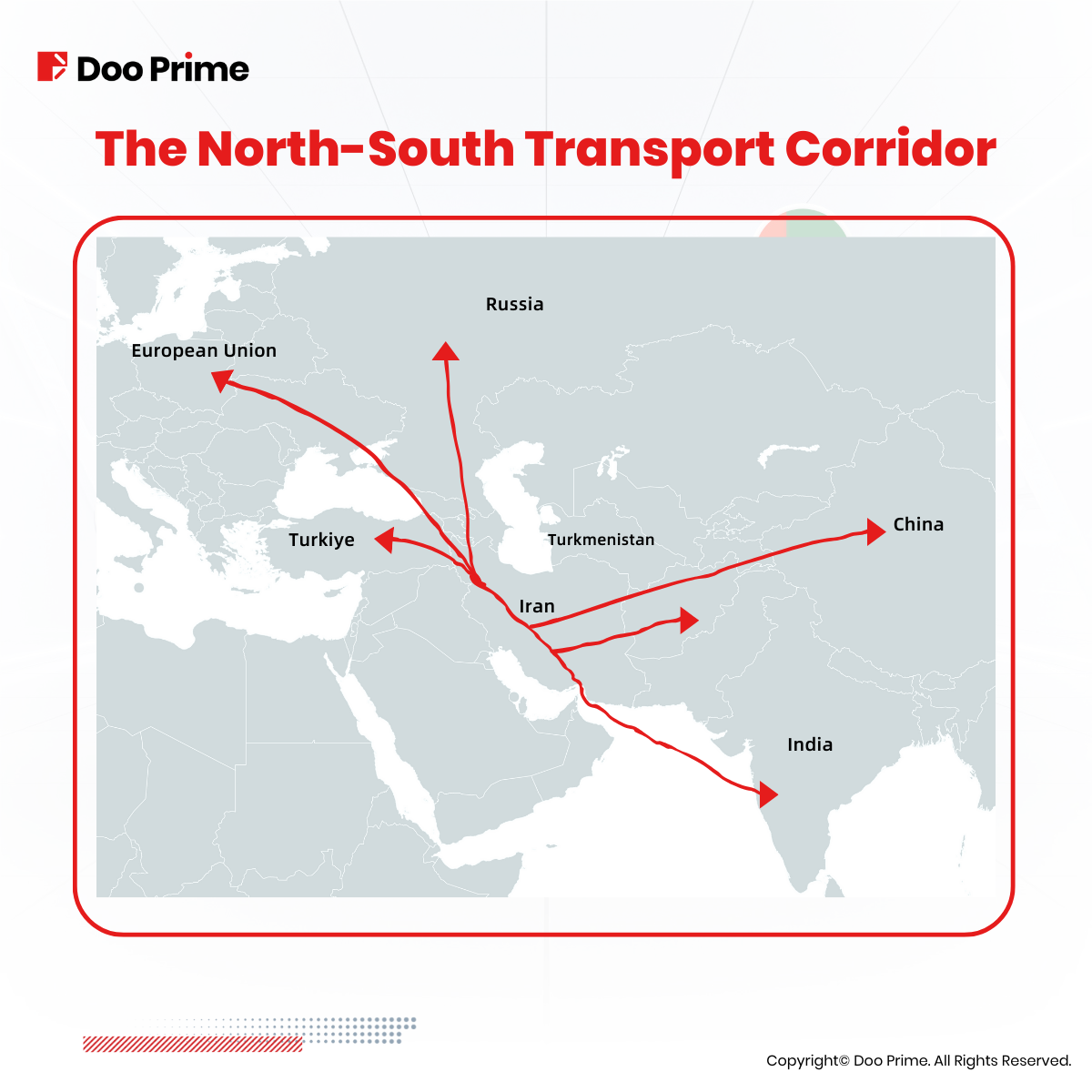 Iran is a major regional power with a population of 85 million and a GDP (PPP) of USD 1.692 trillion. However, it is heavily sanctioned by the West, which has limited its trade and economic growth.
Despite the sanctions, Iran has been working to improve its trade links with other countries. It has a Free Trade Agreement with the Eurasian Economic Union and is a member of the Shanghai Cooperation Organization.
Iran is also a key player in the International North-South Transportation Corridor (INSTC), which is a trade route that connects Iran to Russia, India, and Europe.
The INSTC is expected to come into full operational use in 2024. It is cheaper and faster than the Suez Canal routes, which could make Iran a major hub for trade between Europe and Asia.
Additionally, Iran is currently improving its regional ties, especially with Saudi Arabia. This is a positive development, as it could help reduce tensions in the region.
Saudi Arabia and the United Arab Emirates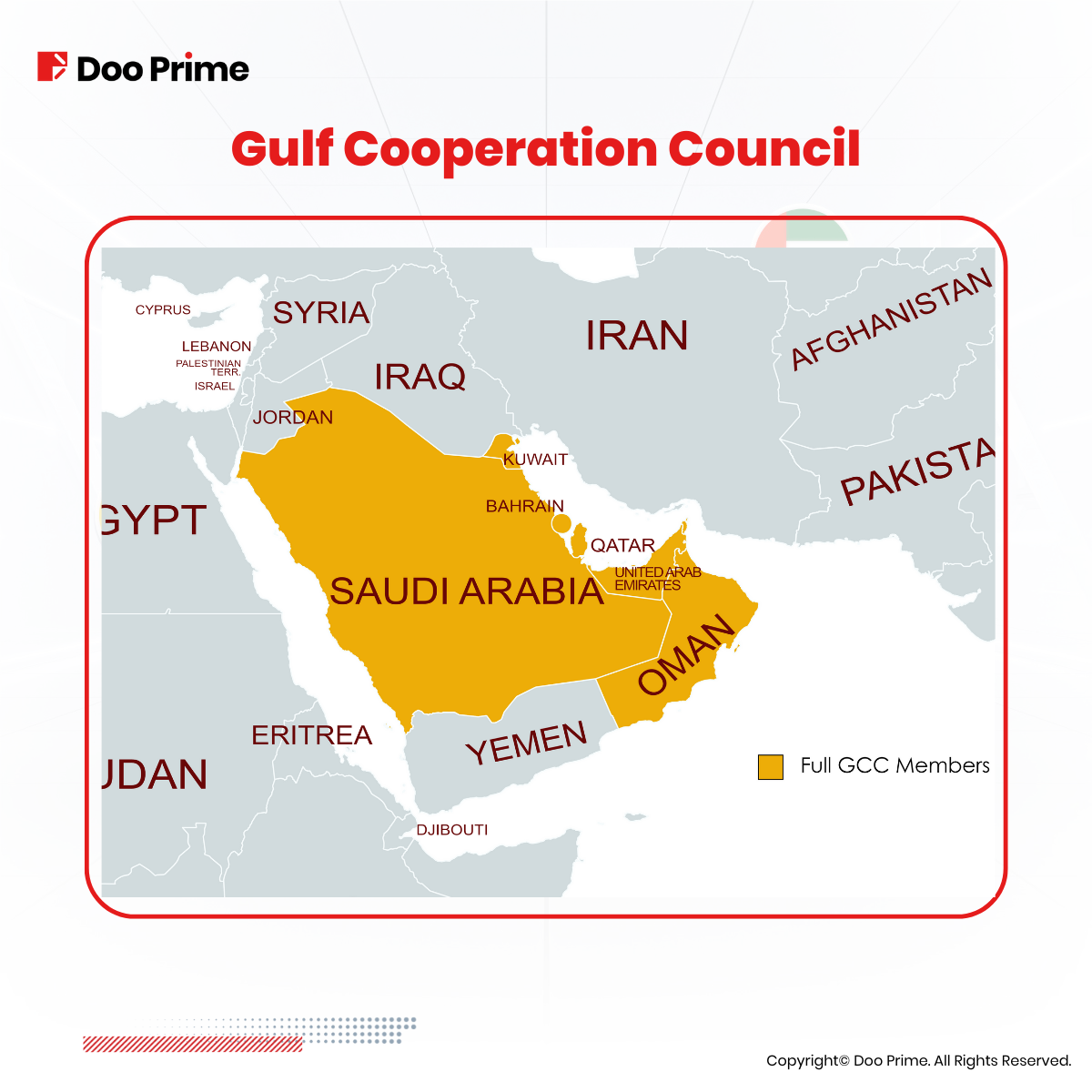 Saudi Arabia and the United Arab Emirates are two of the richest countries in the world, with a combined GDP (PPP) of over USD 3 trillion. They are also important members of the Gulf Cooperation Council (GCC), a trade bloc of six Arab countries in the Persian Gulf.
The GCC has a population of over 56 million people and is a major economic and political force in the Middle East. It is likely to play an increasingly important role in the global economy in the years to come.
The GCC countries have CEPA trade agreements with India, Israel, and Singapore and have been working to diversify their economies away from oil and gas. They are investing in tourism, manufacturing, and other sectors. They are also negotiating free trade agreements with other countries, such as Australia, Chile, China, and the UK.
The GCC is a strategic location for trade and investment. It is located at the crossroads of Europe, Asia, and Africa. It is also home to a number of important ports and airports.
BRICS GDP Surpasses G7
The original five BRICS countries have a combined GDP that already exceeds that of the G7 countries (Canada, France, Germany, Italy, Japan, the United Kingdom, and the United States). Once the six new members join the BRICS in 2024, the gap between the two blocs is only going to widen.
The expanded BRICS will have a combined GDP (PPP) of roughly USD 65 trillion, which is around 37% of the global economy. In comparison, the G7's share of the global economy is currently around 29.9%.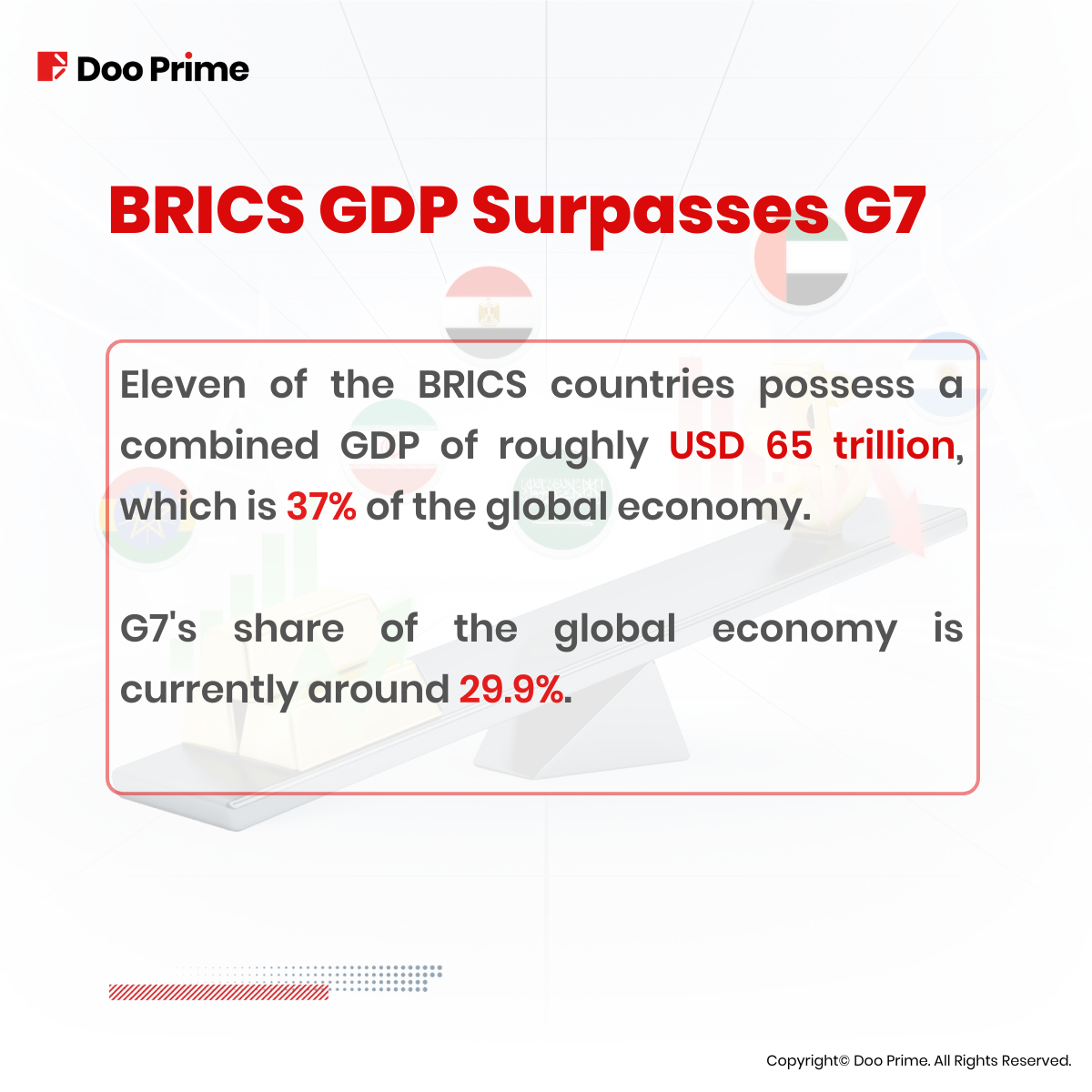 The addition of new members to the BRICS will further diversify the bloc's economy and give it a stronger voice on the global stage. These countries are all major economies, and they bring a wealth of experience and expertise to the BRICS.
The expansion of the BRICS is a sign of the growing economic power of the developing world. It is also a challenge to the traditional dominance of the G7 countries. The BRICS is poised to become a major force in the global economy, and its expansion is only going to accelerate its rise.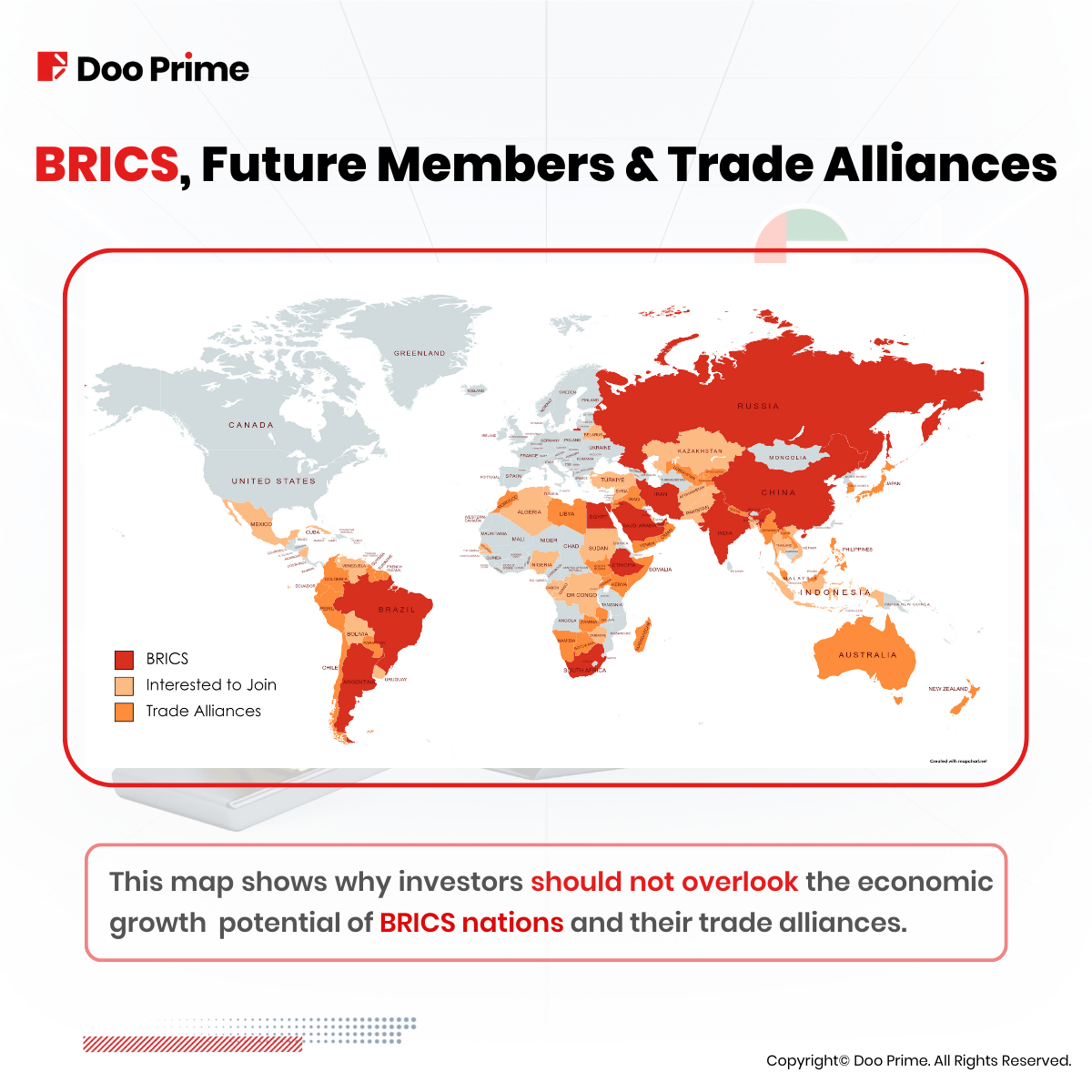 The Future Of The USD And Gold In A BRICS-Led World
For two generations of investors, geopolitics did not matter in a unipolar world. The actions of central banks were far more important than the actions of heads of states. However, with the rise of the BRICS countries, geopolitics could become important once again.

The BRICS countries have been working to develop their own financial systems and to use their own currencies more in international trade. This could lead to a decline in the use of the US dollar and could also increase the demand for gold as an alternative reserve asset.
Read our in-depth analysis on gold here: Gold Price Soars To All-Time-Highs
The key point about the expansion of BRICS is the trade and development potential that it brings. With the bloc about to be expanded to eleven members, this actually increases the overall geographic reach of the BRICS to 84 countries because of their respective additional free trade agreements with other countries.
If further BRICS expansions arise, then this will tilt the current balance of power, as the world will be marching one step closer to achieving a fair multipolar system.
Ultimately, investors who want to thrive in the markets in the coming years need to stay vigilant and pay attention to geopolitics. Understanding the political risks that could impact the markets is vital for investors who need to be prepared to adjust their portfolios accordingly.
| About Doo Prime
Our Trading Products
Securities | Futures | Forex | Precious Metals | Commodities | Stock Indices
Doo Prime, an international preeminent online broker under Doo Group, strives to provide professional investors with global CFD trading products in Securities, Futures, Forex, Precious Metals, Commodities, and Stock Indices. At present, Doo Prime is delivering the finest trading experience to more than 130,000 clients, with an average trading volume of more than USD 51.223 billion each month.
Doo Prime entities respectively holds the relevant financial regulatory licenses in Seychelles, Mauritius, and Vanuatu with operation centers in Dallas, Sydney, Singapore, Hong Kong, Dubai, Kuala Lumpur, and other regions.
With robust financial technology infrastructure, well-established partnerships, and an experienced technical team, Doo Prime boasts a safe and secure trading environment, competitive trading costs, as well as deposit and withdrawal methods that support 20+ different currencies. Doo Prime also incorporates 24/7 multilingual customer service and extremely fast trade execution via multiple industry-leading trading terminals such as MT4, MT5, TradingView, and Doo Prime InTrade, covering over 10,000 trading products.
Doo Prime's vision and mission are to become a financial technology-focused broker, streamlining international global financial products investment.
For more information about Doo Prime, please contact us at:
Phone:
Europe: +44 11 3733 5199
Asia: +852 3704 4241
Asia – Singapore: +65 6011 1415
Asia – China: +86 400 8427 539
E-mail:
Technical Support: [email protected]
Account Manager: [email protected]
Forward-looking Statements
This article contains "forward-looking statements" and may be identified by the use of forward-looking terminology such as "anticipate", "believe", "continue", "could", "estimate", "expect", "hope", "intend", "may", "might", "plan", "potential", "predict", "should", or "will", or other variations thereon or comparable terminology. However, the absence of such terminology does not mean that a statement is not forward-looking. In particular, statements about the expectations, beliefs, plans, objectives, assumptions, future events, or future performance of Doo Prime will be generally assumed as forward-looking statements.
Doo Prime has provided these forward-looking statements based on all current information available to Doo Prime and Doo Prime's current expectations, assumptions, estimates, and projections. While Doo Prime believes these expectations, assumptions, estimations, and projections are reasonable, these forward-looking statements are only predictions and involve known and unknown risks and uncertainties, many of which are beyond Doo Prime's control. Such risks and uncertainties may cause results, performance, or achievements materially different from those expressed or implied by the forward-looking statements.
Doo Prime does not provide any representation or warranty on the reliability, accuracy, or completeness of such statements. Doo Prime is not obliged to provide or release any updates or revisions to any forward-looking statements.
Risk Disclosure
Trading in financial instruments involves high risks due to the fluctuation in the value and prices of the underlying financial instruments. Due to the adverse and unpredictable market movements, large losses exceeding the investor's initial investment could incur within a short period of time. The past performance of a financial instrument is not an indication of its future performance. Investments in certain services should be made on margin or leverage, where relatively small movements in trading prices may have a disproportionately large impact on the client's investment, and client should therefore be prepared to suffer significant losses when using such trading facilities.
Please ensure you read and fully understand the trading risks of the respective financial instrument before engaging in any transaction with Doo Prime's trading platforms. You should seek independent professional advice if you do not understand any of the risks disclosed by us herein or any risk associated with the trade and investment of financial instruments. Please refer to Doo Prime's Client Agreement and Risk Disclosure and Acknowledgement Notice to learn more.
Disclaimer
This information is addressed to the general public solely for information purposes and should not be taken as investment advice, recommendation, offer, or solicitation to buy or sell any financial instrument. The information displayed herein has been prepared without any reference or consideration to any particular recipient's investment objectives or financial situation. Any references to the past performance of a financial instrument, index, or a packaged investment product shall not be taken as a reliable indicator of its future performance. Doo Prime and its holding company, affiliates, subsidiaries, associated companies, partners and their respective employees, make no representation or warranties to the information displayed and shall not be liable for any direct, indirect, special or consequential loss or damages incurred a result of any inaccuracies or incompleteness of the information provided, and any direct or indirect trading risks, profit, or loss arising from any individual's or client's investment.