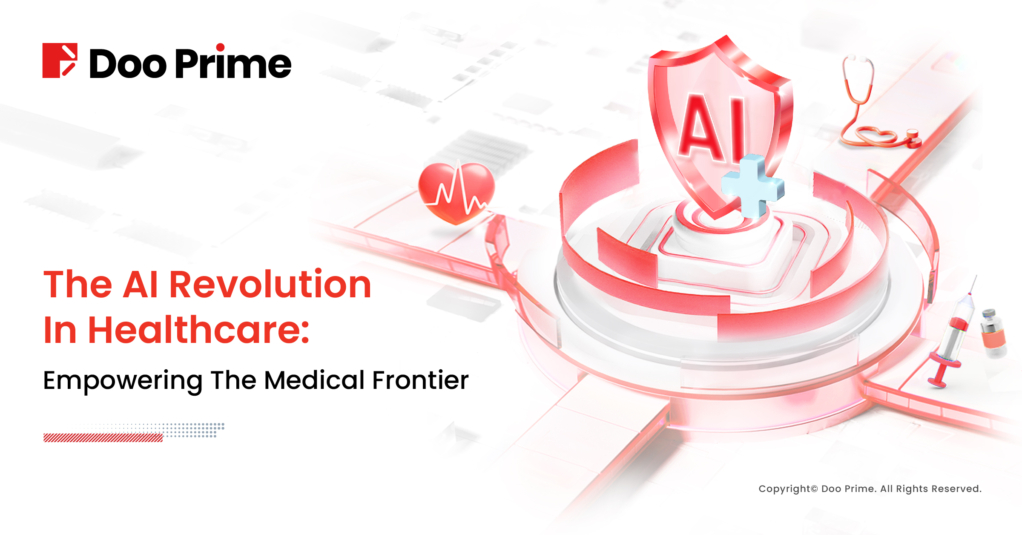 ChatGPT is the latest milestone in the evolution of AI and has been making headlines since its first release to the public. Earlier, Business Insider reported that the AI's latest iteration – GPT-4 – got 90% of the questions on the US medical licensing exam correctly, and even diagnosed a 1 in 100,000 conditions called 'Congenital Adrenal Hyperplasia' in seconds. Is GPT-4 a game-changer?
In fact, the growth in digital health adoption has been even better since the onset of the COVID-19 pandemic. People with limited mobility and the surge in medical demand have driven a wide range of uses in the global online consultation and telemedicine services, providing patients with convenient and fast treatment solutions. As the pandemic gradually comes under control, medical institutions and companies are strengthening the integration of online and offline services in the post-epidemic era, thereby improving service quality and user experience.
With the accumulation of medical data and the continuous development and popularity of AI technology, it's inevitable to use big data, machine learning, natural language processing, and other technologies to assist in the diagnosis, treatment, prediction, monitoring, and management of the medical field, in order to improve the quality and efficiency of medical services.
AI is promoting the medical industry to usher in a new course, related investment sectors also attracted the attention of the market. Is AI the magic wand to healthcare needs? And how can it benefit investors?
Transforming Healthcare with AI: Impact & Examples to know
AI has been a trend across industries. AI enables medical innovation, cost reduction, and efficiency, including the most extensive disease treatment, the most comprehensive medical image analysis, and the fastest drug development.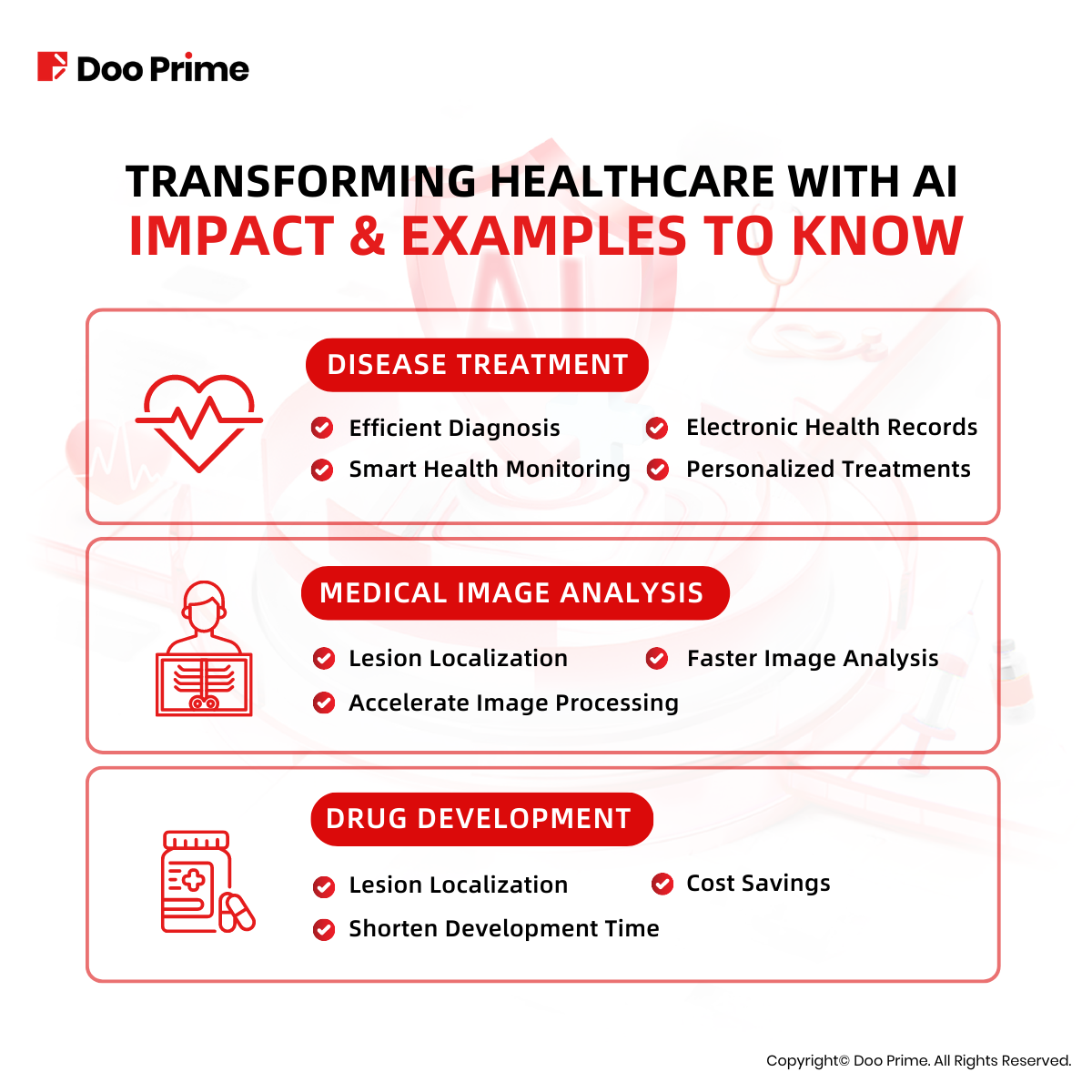 Disease Treatment
As part of digital health technologies, remote patient monitoring (RPM) has been widely used, and many healthcare services are more accessible through applications including appointment booking and prescription purchase. An e-Consultation system is available as well, which is built based on machine learning and natural language processing technologies to assist doctors in quickly diagnosing conditions.
With the above applications stored in big data, AI can use machine learning algorithms to identify and analyze personal health data, which can predict the risk of chronic diseases such as diabetes and kidney disease. On the other hand, it can work with patients' day-to-day patterns to come up with comprehensive clinical suggestions that are beneficial to both mental and physical health.
These digital health and medical records not only simplify the resource management of medical institutions but also help doctors to tailor personalized treatment plans for patients and support efficiency in disease diagnosis.
Medical Image Analysis
Given the pace of technological advancement, medical imaging has moved past the nascent stage toward maturity. It helps accelerate the processing and analysis of medical images beyond ultrasound, X-ray, endoscopy, CT, and MRI, while effectively aiding doctors' clinical diagnosis and treatment decisions.
The present AI invention with the application of deep learning and computer vision technology can help with the automated segmentation and automated feature extraction of lesions. AI's ability to learn lesions' features allow healthcare providers to make a more accurate clinical judgment. In addition, AI can automate image interpretation, compare and analyze multiple medical images at once, greatly saving doctors' time in reading films while reducing the rate of misdiagnosis. AI can even reconstruct medical images in three dimensions through computer vision technology to help doctors clearly locate the location and shape of lesions during surgery and other treatments.
Drug Development
AI can perform large-scale computation and optimization of molecules, often used to estimate the intermolecular interaction between the pharmacodynamics. One is to help scientists quickly screen compounds with potential efficacy, and the other is to help design a precise drug molecule structure, thus improving the efficiency of drug development. AI can also implement big data and machine learning techniques to filter suitable patients from medical data, predict their clinical outcomes, and optimize trial design to improve trial efficiency and success rates.
The process of drug discovery based on AI and biocomputing can be completed in an average of one to two years, saving 40 to 60 percent of the time compared to traditional models. Tech Emergence also notes that AI has helped increase the success rate of new drug development from 10 percent to 14 percent, saving billions of dollars in R&D costs each year.
A Great Opportunity: Investment in AI Healthcare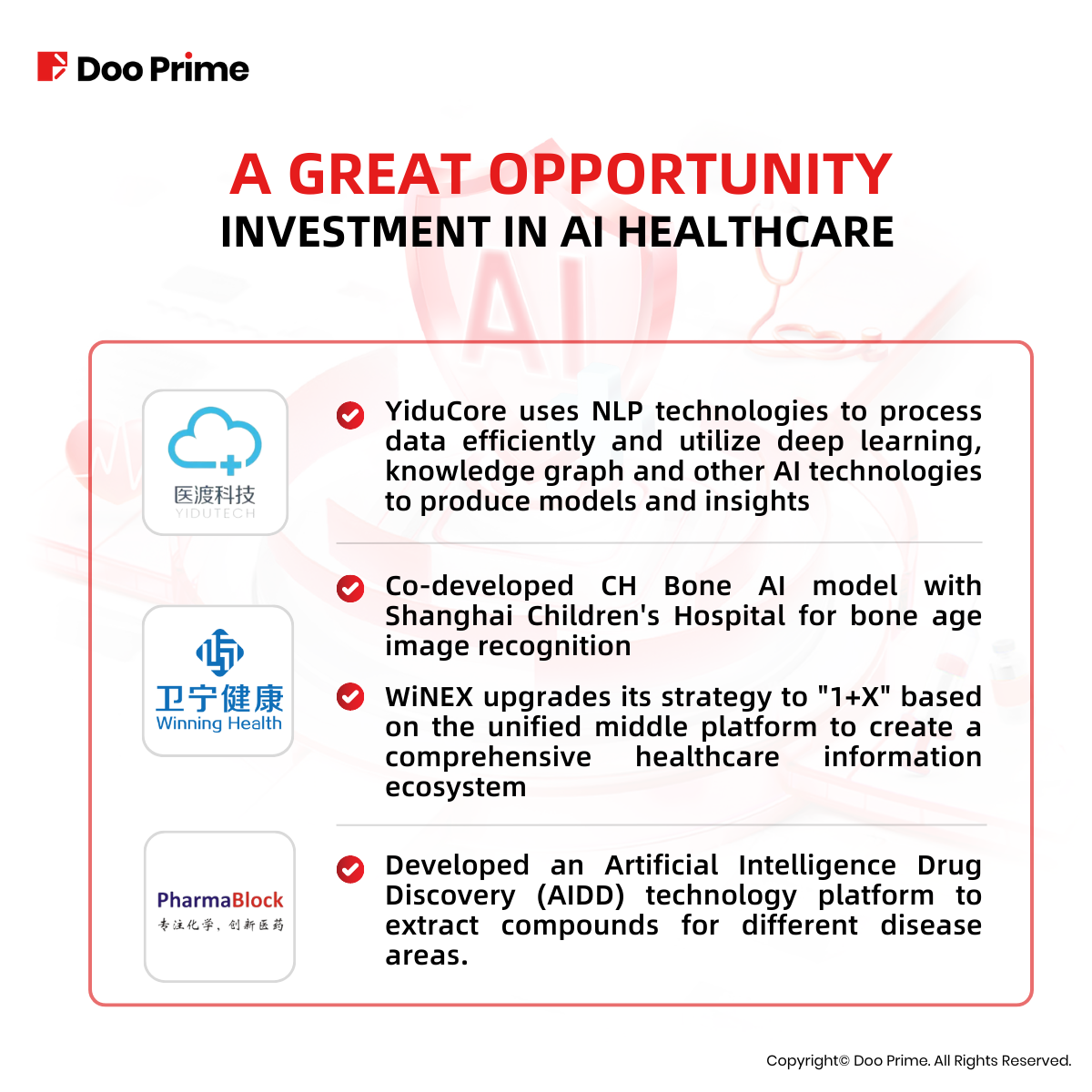 China has recently introduced a number of policies related to the application of AI in healthcare, all of which sets the pace for the adoption of AI in healthcare technology. The AI medical industry has a set of ideal standards and norms, and mature industry regulation is conducive to the healthy development of the industry.
In addition, technology giant Baidu announced the acquisition of GBI Health after unveiling its ChatGPT-like app "ERNIE Bot". The market has a high expectation on Baidu to combine "ERNIE Bot" with GBI Health, which has a massive amount of medical data, to create a comprehensive and intelligent medical professional think tank.
Seeing industry leaders further layout AI medical field, the market is very optimistic about the future of AI medicine, that healthcare may be the ultimate proving ground for AI and will continue to attract investment in the near future.
At present, there is a wide range of companies working on AI healthcare. In terms of disease treatment, YiduCore, a medical intelligent brain developed by YiduTech, is a good example. YiduCore uses NLP and other technologies to efficiently process data and produce models and insights through deep learning and knowledge mapping technology. YiduCore is a competitive medical intelligence infrastructure that has processed and analyzed more than 3 billion medical records of over 700 million patients as of September 30, 2022, and provides solutions to several top Chinese research hospitals as well as regulators and policymakers.
In addition, industry leader Winning Health Technology's dynamics in 2023 also attract much attention. Winning Health Technology's business covers two major segments: healthcare informatization and digital health. The most remarkable achievement is the development of CH Bone AI model with Shanghai Children's Hospital in 2018 by achieving bone age image recognition, and the contract signing with Shanghai Mingchen Tong in 2022 to promote the popularization of AI Bone Age Assessment. In 2022, the company also formally upgraded its strategy to "1+X", building "X" digital health application scenarios based on WiNEX, a unified middle platform, to create a richer medical information ecology.
PharmaBlock is a leader in the application of AI to drug discovery and development. With its CDMO business and molecular building blocks business, PharmaBlock is a leading global provider of innovative chemical products and services, partnering with top 20 global pharmaceutical companies and hundreds of small to medium-sized biotech companies. Using the core resources of Molecular Blocks, PharmaBlock has developed an Artificial Intelligence Drug Discovery (AIDD) technology platform to extract compounds for different disease areas and improve the efficiency and success rate of new drug development.
Recently, the valuation of the healthcare sector in the stock market has approached historical lows. Analysis suggests that after experiencing a pullback, the healthcare sector is once again presenting a good investment opportunity. Investment institutions generally believe that the healthcare sector has a high investment value, and the market is seizing the opportunity to invest in long-term opportunities. As a result, funds flowing into the healthcare sector have been increasing, with a net inflow of as much as RMB 672 million on April 13th. According to the SWS Research Industry Ranking, the healthcare and biotech sector is the most watched by institutions, with 37 stocks receiving a "buy" rating.
Key Challenges of Adopting AI in Healthcare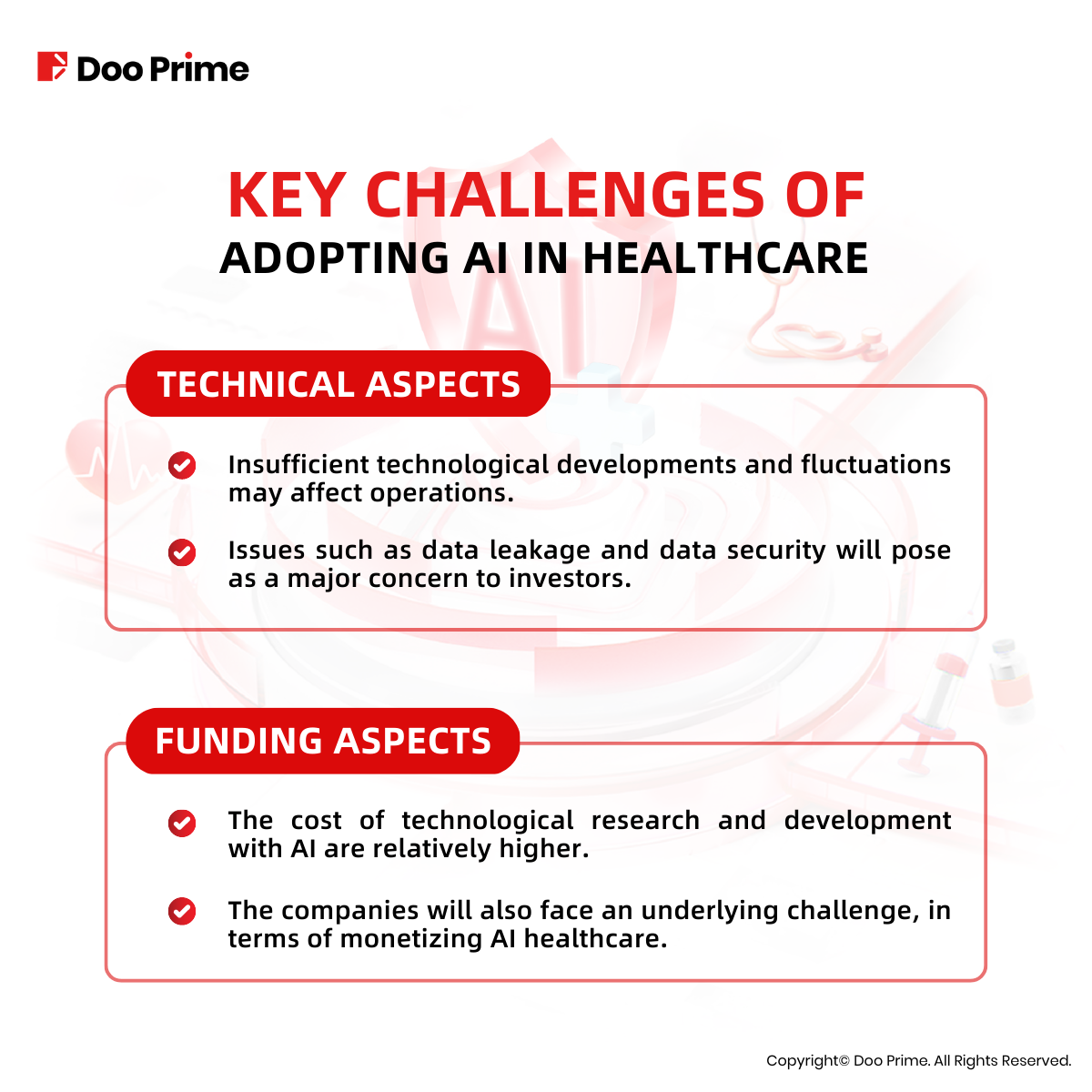 AI healthcare may seem like a promising prospect with its policy support and strong financial backing, investors need to be aware of the risks that entails.
In addition to the competitive risks faced by multiple industries, there are also technical concerns involved. While AI advancements can certainly elevate the medical industry to greater heights, many still require research and improvements. Insufficient technological developments and fluctuations may affect operations.
On another note, medical data involved in research and development of related technologies are closely tied to personal privacy. Issues such as data leakage and data security will pose as a major concern to investors.
Concurrently, the cost of technological research and development may also affect the profitability of companies as the cost of medical research and development has always been relatively higher compared to other industries. Paired with the continuous trial and error of integrating AI technology, medical institutions and companies may not be able to achieve a return on investment in the foreseeable future. Apart from this, companies will also face an underlying challenge, in terms of monetizing AI healthcare.
Undoubtedly, 2023 is still dubbed as the year of AI healthcare as it is believed that the industry will be the new trending investment. Although the market is ever-changing and extremely volatile, it is best to keep a close tab on this rapidly evolving industry.
| About Doo Prime
Our Trading Products
Securities | Futures | Forex | Precious Metals | Commodities | Stock Indices
Doo Prime is an international pre-eminent online broker under Doo Group, which strives to provide professional investors with global CFD trading products in Securities, Futures, Forex, Precious Metals, Commodities, and Stock Indices. At present, Doo Prime is delivering the finest trading experience to more than 90,000 clients, with an average trading volume of more than USD 51.223 billion each month.
Doo Prime entities respectively holds the relevant financial regulatory licenses in Seychelles, Mauritius, and Vanuatu with operation centers in Dallas, Sydney, Singapore, Hong Kong, Dubai, Kuala Lumpur, and other regions.
With robust financial technology infrastructure, well-established partnerships, and an experienced technical team, Doo Prime boasts a safe and secure trading environment, competitive trading costs, as well as deposit and withdrawal methods that support 20+ different currencies. Doo Prime also incorporates 24/7 multilingual customer service and extremely fast trade execution via multiple industry-leading trading terminals such as MT4, MT5, TradingView, and Doo Prime InTrade, covering over 10,000 trading products.
Doo Prime's vision and mission are to become a financial technology-focused broker, streamlining international global financial products investment.
For more information about Doo Prime, please contact us at:
Phone:
Europe : +44 11 3733 5199
Asia : +852 3704 4241
Asia – Singapore: +65 6011 1415
Asia – China : +86 400 8427 539
E-mail:
Technical Support: [email protected]
Account Manager: [email protected]

Forward-looking Statements
This article contains "forward-looking statements" and may be identified by the use of forward-looking terminology such as "anticipate", "believe", "continue", "could", "estimate", "expect", "hope", "intend", "may", "might", "plan", "potential", "predict", "should", or "will", or other variations thereon or comparable terminology. However, the absence of such terminology does not mean that a statement is not forward-looking. In particular, statements about the expectations, beliefs, plans, objectives, assumptions, future events, or future performance of Doo Prime will be generally assumed as forward-looking statements.
Doo Prime has provided these forward-looking statements based on all current information available to Doo Prime and Doo Prime's current expectations, assumptions, estimates, and projections. While Doo Prime believes these expectations, assumptions, estimations, and projections are reasonable, these forward-looking statements are only predictions and involve known and unknown risks and uncertainties, many of which are beyond Doo Prime's control. Such risks and uncertainties may cause results, performance, or achievements materially different from those expressed or implied by the forward-looking statements.
Doo Prime does not provide any representation or warranty on the reliability, accuracy, or completeness of such statements. Doo Prime is not obliged to provide or release any updates or revisions to any forward-looking statements.
Risk Disclosure
Trading in financial instruments involves high risks due to the fluctuation in the value and prices of the underlying financial instruments. Due to the adverse and unpredictable market movements, large losses exceeding the investor's initial investment could incur within a short period of time. The past performance of a financial instrument is not an indication of its future performance. Investments in certain services should be made on margin or leverage, where relatively small movements in trading prices may have a disproportionately large impact on the client's investment and client should therefore be prepared to suffer significant losses when using such trading facilities.
Please make sure you read and fully understand the trading risks of the respective financial instrument before engaging in any transaction with Doo Prime's trading platforms. You should seek independent professional advice if you do not understand any of the risks disclosed by us herein or any risk associated with the trade and investment of financial instruments. Please refer to Doo Prime's Client Agreement and Risk Disclosure and Acknowledgement Notice to find out more.
Disclaimer
This information is addressed to the general public solely for information purposes and should not be taken as investment advice, recommendation, offer, or solicitation to buy or sell any financial instrument. The information displayed herein has been prepared without any reference or consideration to any particular recipient's investment objectives or financial situation. Any references to the past performance of a financial instrument, index, or a packaged investment product shall not be taken as a reliable indicator of its future performance. Doo Prime and its holding company, affiliates, subsidiaries, associated companies, partners and their respective employees, make no representation or warranties to the information displayed and shall not be liable for any direct, indirect, special or consequential loss or damages incurred a result of any inaccuracies or incompleteness of the information provided, and any direct or indirect trading risks, profit, or loss arising from any individual's or client's investment.