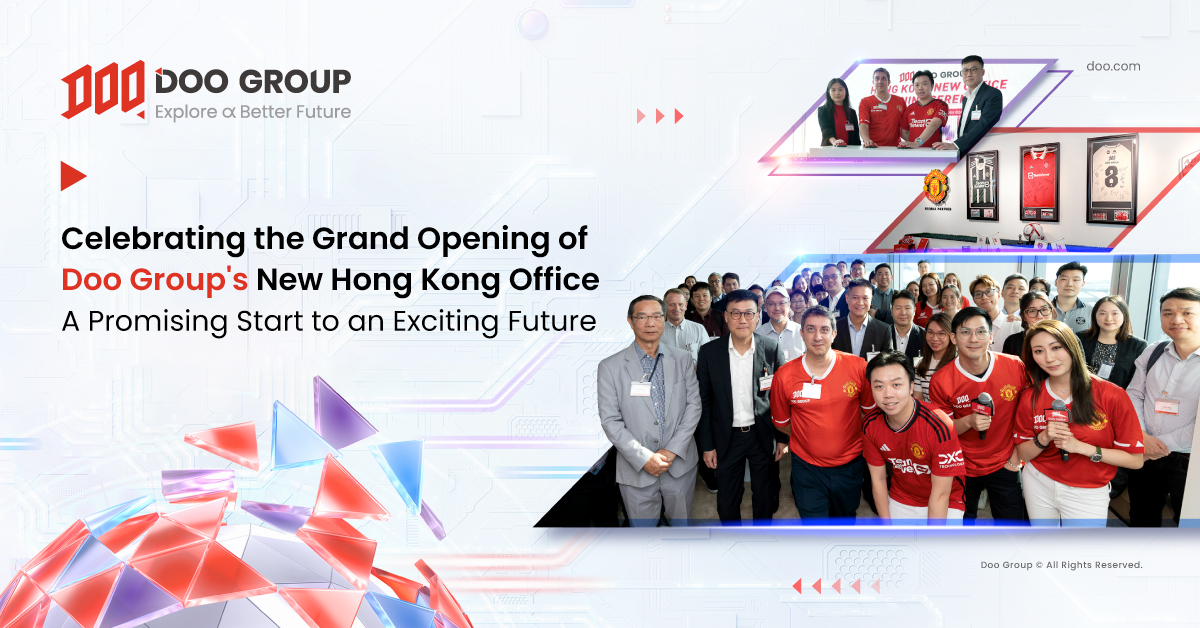 As the market continues to evolve and our business experiences consistent growth, Doo Group has strategically developed four major business lines: brokerage, wealth management, payment exchange, and FinTech. We have been steadily expanding our global footprint, currently operating in over 20 major cities worldwide. In our ongoing commitment to meet the diverse needs of our clients and deliver more personalized financial services, we have been diligently enhancing and optimizing our global operational centers.
After nearly a year of meticulous preparation, we are thrilled to announce the transformation and upgrade of our Hong Kong office, culminating in a grand opening ceremony on September 20th. This marks a fresh beginning for us, as we strive to provide higher-quality services and deliver an unparalleled experience to our valued clients.
New Location Unveiled: A Fresh Start Begins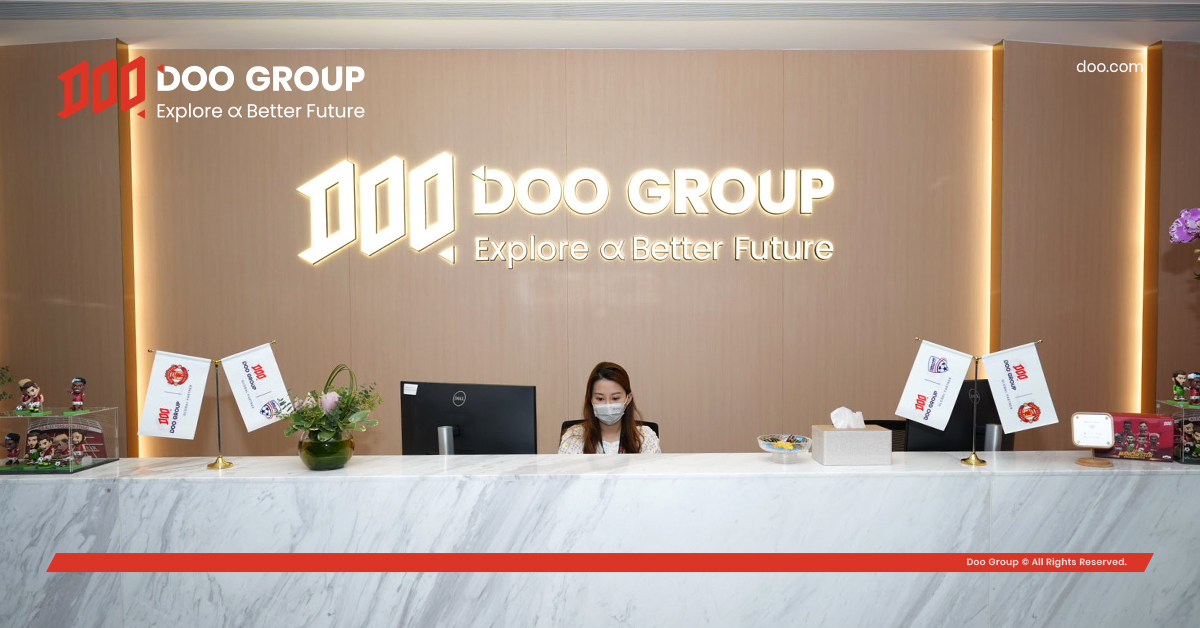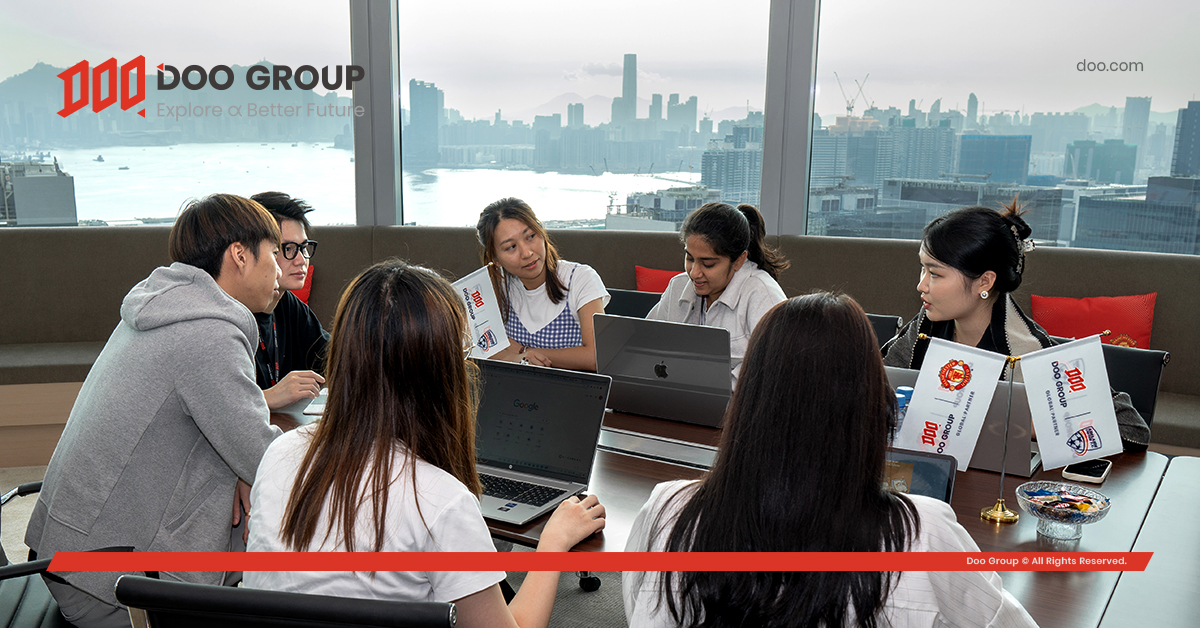 The newly upgraded Hong Kong office is located in The Millennity Tower, a prime office building in Kwun Tong, Hong Kong. Situated at a superior geographical location, it is adjacent to the Kwun Tong and Ngau Tau Kok MTR stations. The vicinity offers a wide range of amenities, including approximately 300 restaurants, 20 fitness centers, and 5 hotels. With excellent living facilities and a diverse culinary scene, it is well-connected in terms of transportation, making it convenient for international business dealings. The Hong Kong office occupies the 28th floor of this building, providing panoramic views of Kwun Tong and the bustling city of Hong Kong. It will serve as a strategic base for Doo Group in Asia and a key hub for global operations.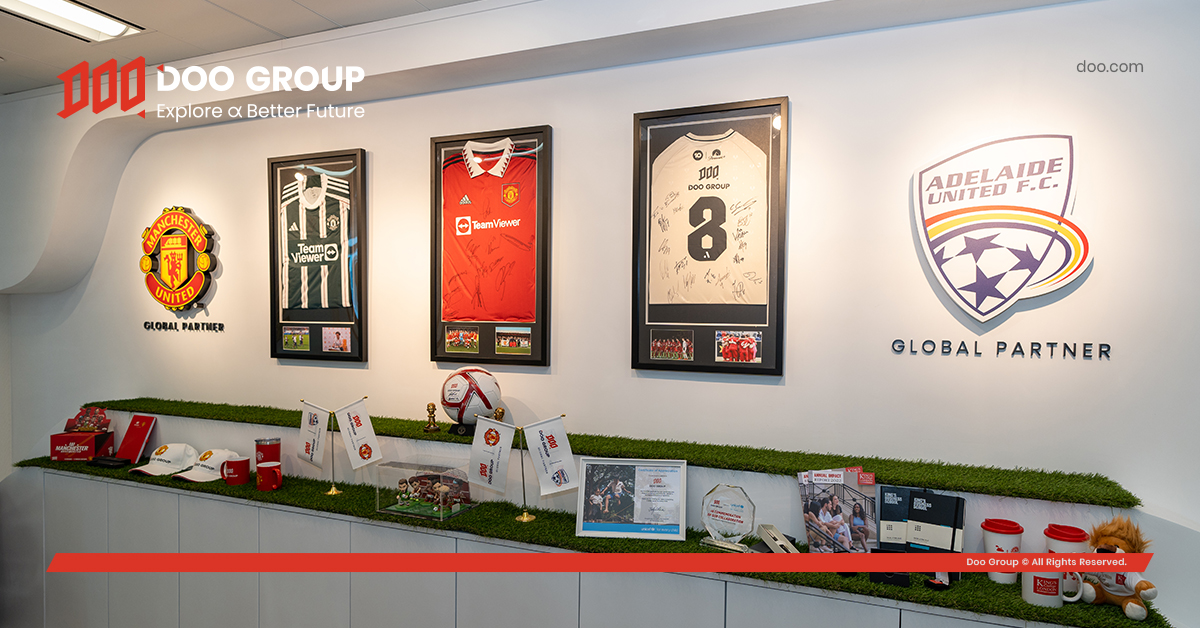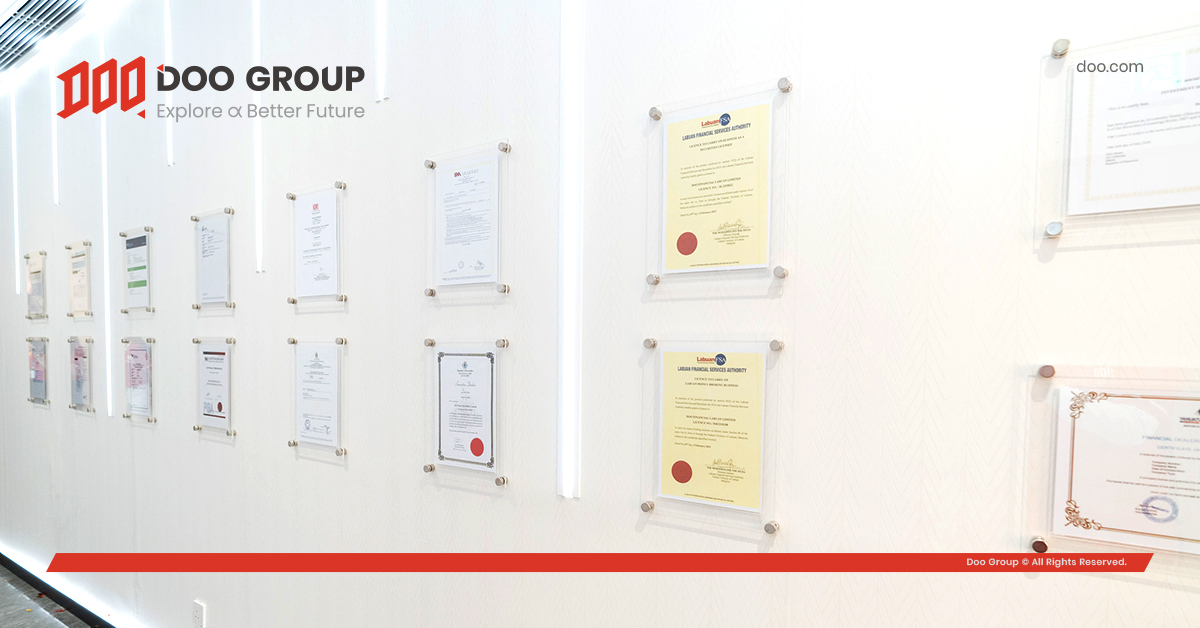 In addition to its convenient external environment, we have innovatively upgraded the interior of the office space. The entire office covers an area of approximately 12,600 square feet and has been thoughtfully designed to maximize the use of space and natural light.
It features open workspace areas, multifunctional meeting rooms, a smart reception area, and an integrated pantry. Notably, we have created a Regulatory License Wall and a Partners' Wall. The Regulatory License Wall showcases licenses from 16 authoritative financial institutions in 9 countries across 5 continents, underscoring the global recognition of Doo Group's compliance. The Partners' Wall highlights significant moments during collaborations with important partners such as Manchester United, Adelaide United, UNICEF, and King's College London, allowing visitors to gain a comprehensive understanding of Doo Group's brand strength, cross-industry collaborations, and commitment to ESG principles.
The newly upgraded Hong Kong office strives to create a healthy, comfortable, and intelligently convenient working environment across various dimensions, including space size, functional layout, user experience, and design empowerment. It aims to provide ample space support for the team's growth and expansion while offering a completely new service and interactive visiting environment for both existing and new clients and partners.
Celebrating Our Office Relocation: Explore α Better Future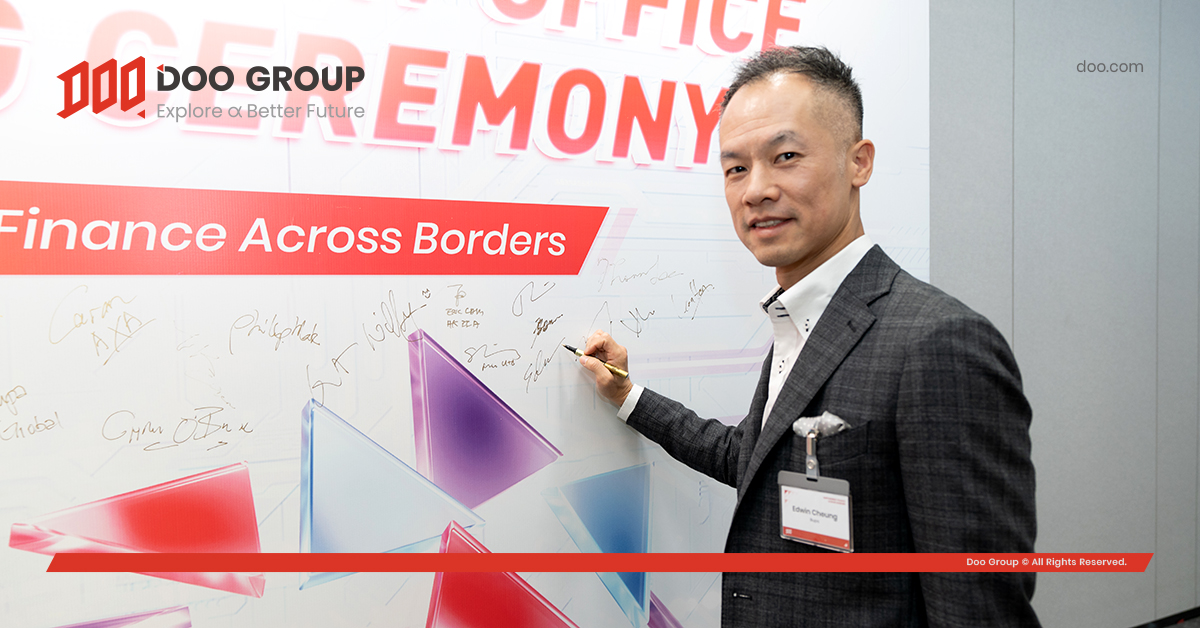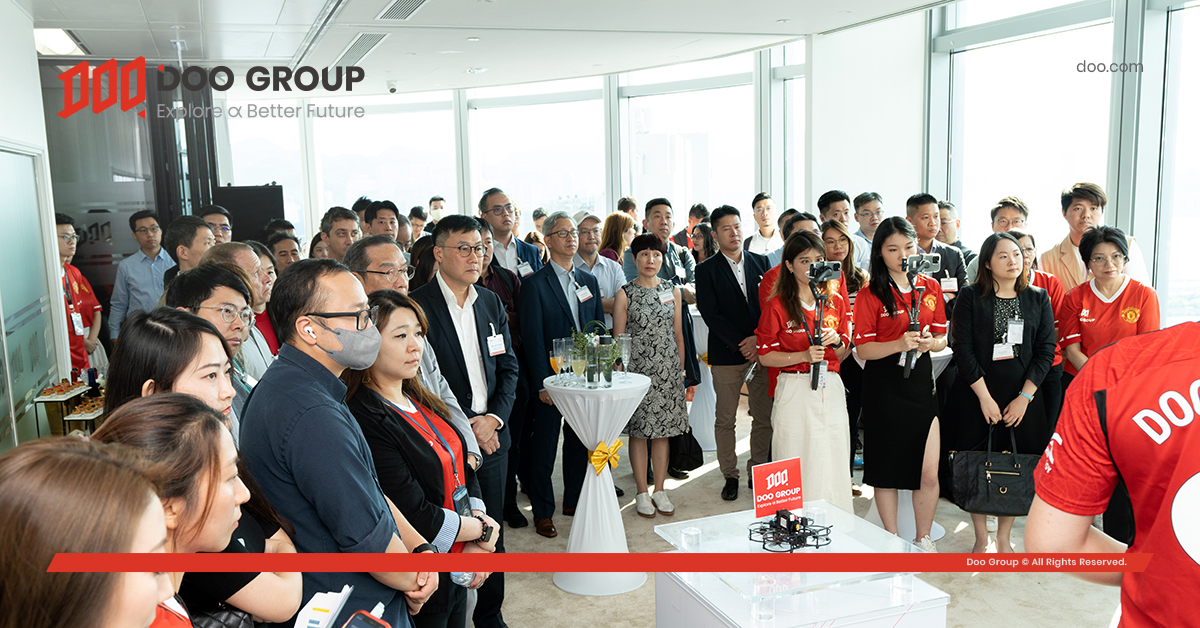 After thorough preparations, we hosted the grand opening ceremony of our new office in Hong Kong on September 20th. On this special occasion, over a hundred representatives from Doo Group's global partners, collaborative organizations, and employees from various subsidiary brands gathered to celebrate.
Doo Group partners, including Mr. Herman Cheung Chairman of the Hong Kong Professional Insurance Brokers Association, and representatives from Manchester United, Associate Partnership Director, Shirley Chen, MUSS Hong Kong Head Coach, Chris O' Brien, along with partners from various industries, were also in attendance to mark and witness this significant moment.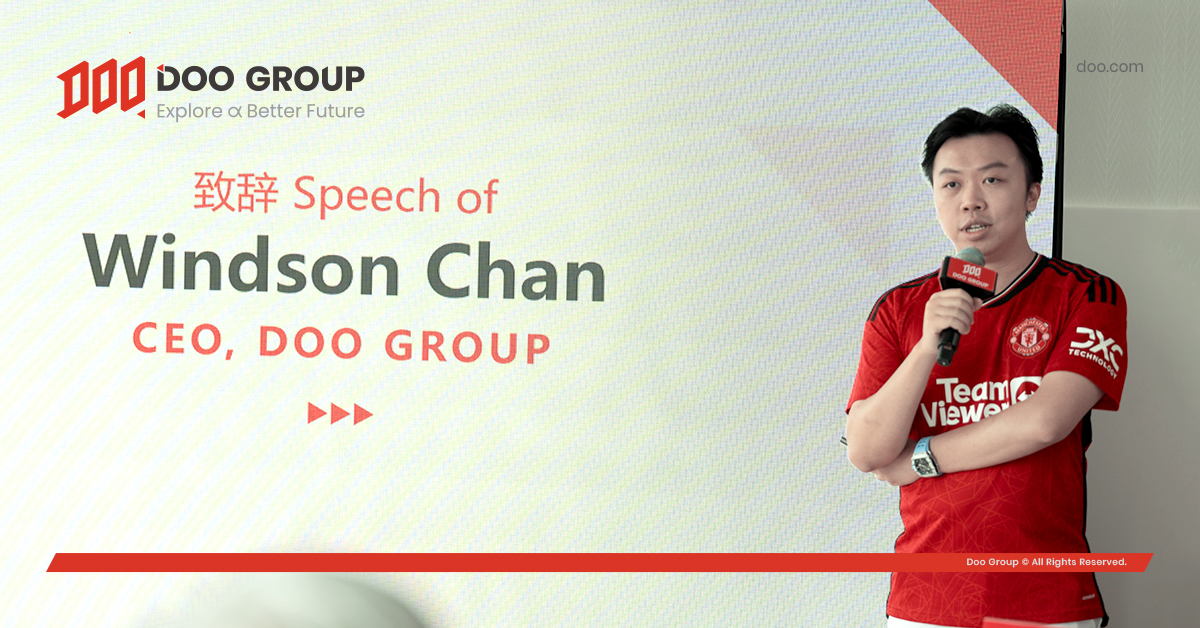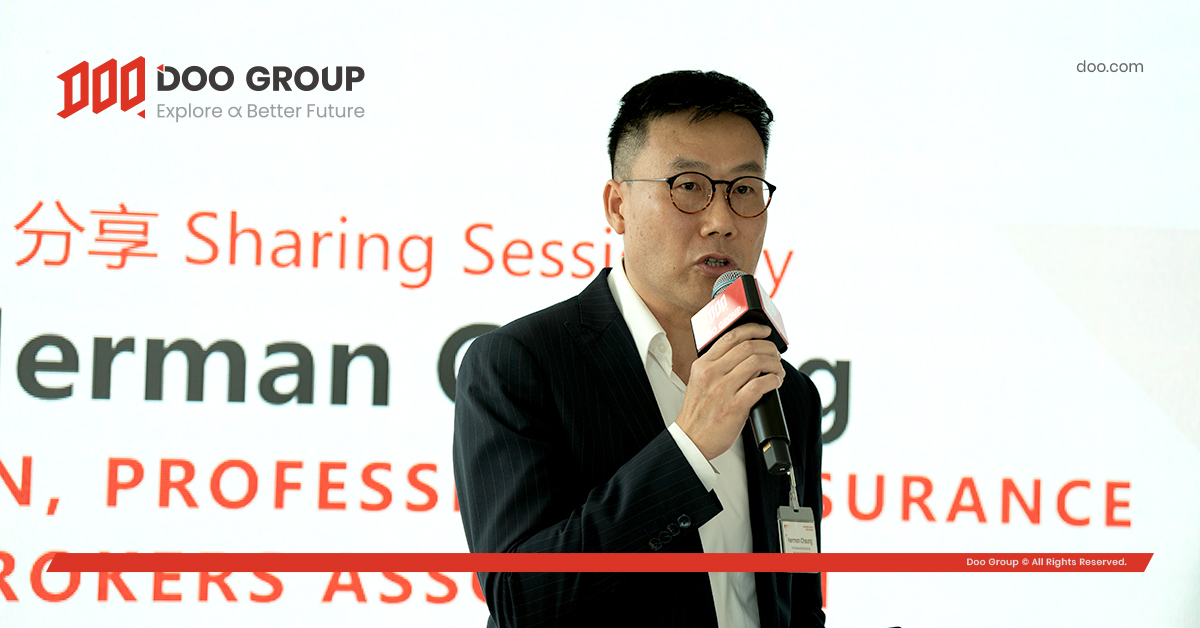 The event began with a heartfelt message from Mr. King Leung, Head of Financial Services and FinTech at Invest Hong Kong, who sent his warm wishes through a virtual connection. Mr. Leung expressed gratitude for Doo Group's longstanding contributions and support to the financial industry in Hong Kong. He commended Doo Group for providing comprehensive financial services to a wider clientele through cutting-edge technology and a professional team. He also highlighted the collaborative efforts with industry peers in building a secure and reliable investment environment. He expressed hope for continued collaboration in creating a more robust and healthier financial ecosystem for the future, extending beyond the next decade.
Following this, Mr. Windson Chan, CEO of Doo Group, delivered the opening speech. He elaborated on Doo Group's nine-year journey of growth and its current four major business pillars. He emphasized, "We've always put our customers first, and we aim to provide top-quality financial services through professionalism and integrity. Additionally, Doo Group actively embraces ESG development principles, hoping that through continuous efforts, we can create more value for our customers, partners, and employees, contributing to sustainable social development."

After the inspiring speeches, Mr. Windson Chan, along with Managing Director of EMEA, Costas Kappai, Mr. Herman Cheung, Chairman of the Hong Kong Professional Insurance Brokers Association, and Shirley Chen, Associate Relationship Director at Manchester United, jointly initiated the inauguration ceremony for the new Hong Kong office location. This signifies a new chapter for Doo Group in 2023, injecting fresh vitality and inspiring all employees to work together towards brighter horizons.

Guests at the event enjoyed a breathtaking panoramic view of the Hong Kong office through a drone showcase. Outstanding employees from our global operations center also shared their well-wishes and aspirations. The event concluded with a special lucky draw segment.
Doo Group aims to share the joy of this occasion and extends sincere thanks to all the attendees for their presence and support.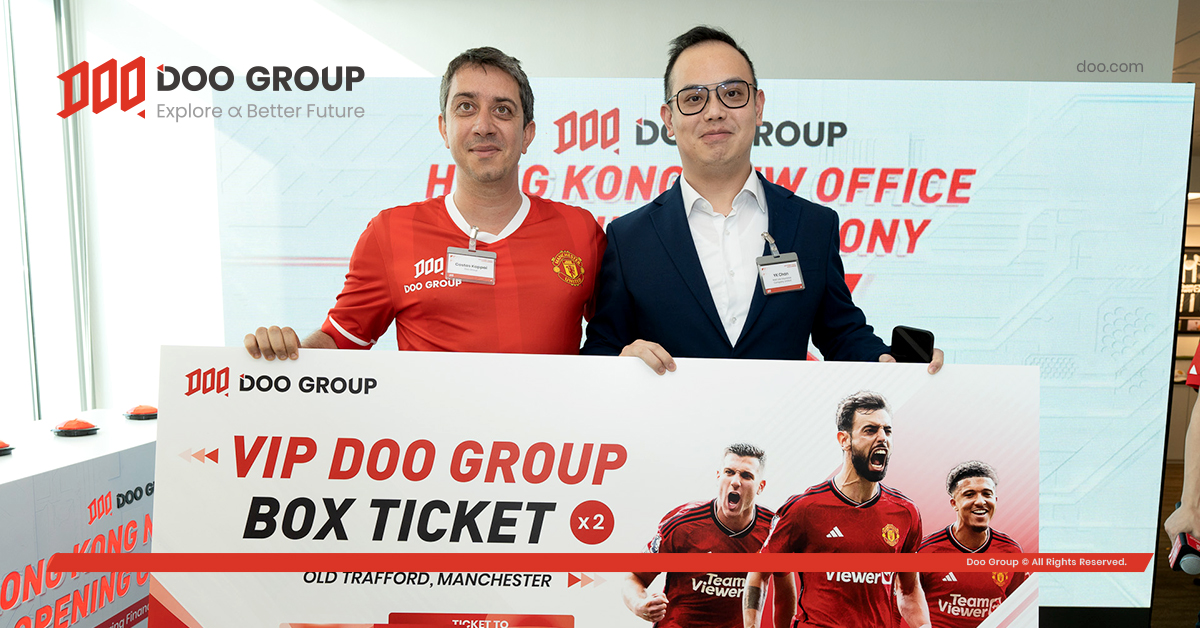 Staying True to Our Mission: A Resolute Journey Ahead
The ever-changing landscape of the financial markets has driven Doo Group to remain steadfast in its mission, continuously pushing boundaries and forging ahead. Since our inception in 2014, we have been dedicated to the FinTech sector, innovating technology, creating new products, and optimizing environments, all aimed at providing our clients with a superior experience. In the future, we will gradually open offices worldwide to offer high-quality localized financial services to more clients.
Over the past 9 years of development, Doo Group has been committed to breaking down barriers between investors and financial markets through innovative technological research and development. We have offered diverse financial products to meet the ever-changing needs and expectations of our clients.
Simultaneously, we have strengthened our financial security service system, obtaining regulatory licenses from over 10 leading international financial regulatory bodies, including the United States Securities and Exchange Commission (US SEC), United States Financial Industry Regulatory Authority (US FINRA), United Kingdom Financial Conduct Authority (UK FCA) , and Mauritius Financial Services Commission (MU FSC), to effectively protect clients' rights. Leveraging our exceptional technological advantages, a highly skilled professional team, and a robust business foundation, Doo Group has established long-term partnerships with over 400 leading global financial institutions and liquidity providers, providing comprehensive support for client investments.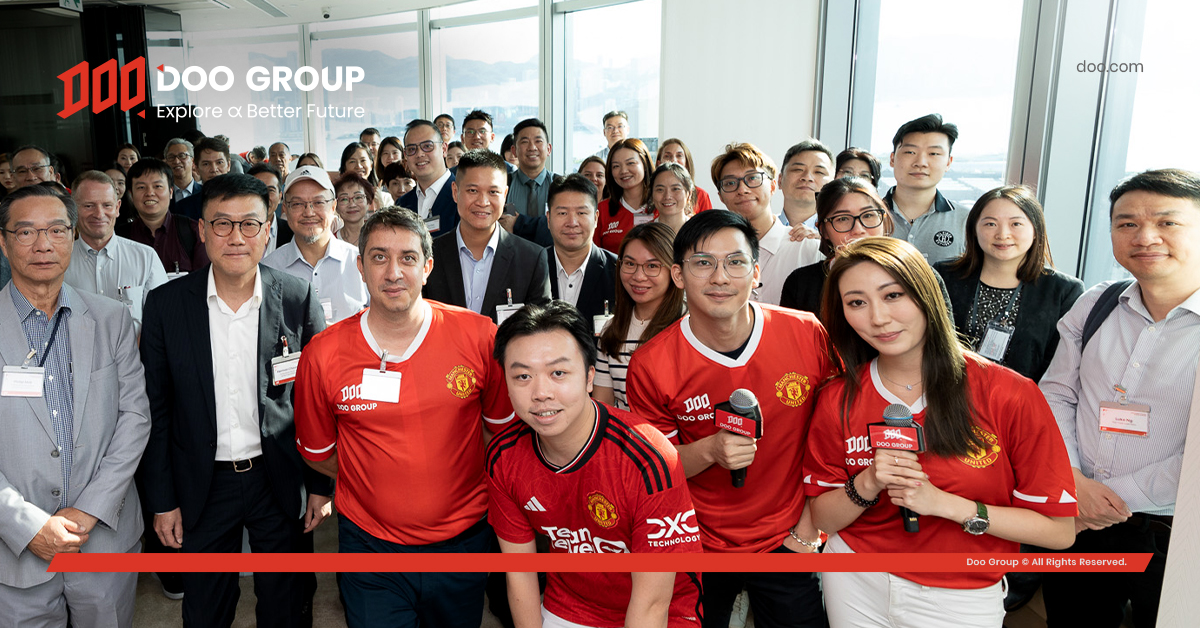 Doo Group, together with all our employees, has achieved increasing support and trust within the industry through unwavering efforts. The number of global clients has surged from 40,000+ in 2021 to over 130,000+ today. In the future, Doo Group will always adhere to its original intention of placing 'Clients Come First' , envisioning a diversified financial service landscape. We will continue to expand global operations, explore new markets, and build a comprehensive and healthy financial ecosystem.
As we approach our 9th anniversary, and with the inauguration of the new Hong Kong office location, we look forward to continuing our journey with our global clients, working together for a better future.
About Doo Group
Doo Group was established in 2014, currently headquartered in Singapore. After years of development, Doo Group has become a multi-faceted financial services group with financial technology as its core. With multiple sub-brands such as Doo Clearing, Doo Financial, Doo Prime, Doo Wealth, Doo Health, Doo Academy, Lesspay, FinPoints and many more, the group is committed to providing individuals and institutional clients worldwide with one-stop high-quality financial services and innovative solutions.
Currently, the entities within Doo Group, according to their location and products, are regulated by many of the top global financial regulators, including, but not limited to the United States Securities and Exchange Commission (US SEC) and Financial Industry Regulatory Authority (US FINRA), United Kingdom Financial Conduct Authority (UK FCA), the Australian Securities & Investments Commission (ASIC), the Australian Transaction Reports and Analysis Centre (AUSTRAC), the Hong Kong Securities and Futures Commission (HK SFC), the Hong Kong Insurance Authority (HK Insurance Broker), the Hong Kong Companies Registry (HK Trust Company), the Hong Kong Customs and Excise Department (HK Money Service Operator), the Hong Kong Estate Agents Authority (HK EAA), the Malaysia Labuan Financial Services Authority (MY Labuan FSA), the Seychelles Financial Services Authority (SC FSA), Mauritius Financial Services Commission (MU FSC), and the Vanuatu Financial Services Commission (VU FSC). Doo Group has entities operating in various global locations, including Dallas, London, Sydney, Singapore, Hong Kong, Dubai, Kuala Lumpur as well as other regions.
For enquiries and further information, please contact us:
Website: www.doo.com
Hong Kong: +852 6701 2091
Singapore: +65 6011 1736
Email: [email protected]
Disclaimer
This information is addressed to the general public solely for information purposes and should not be taken as investment advice, recommendation, offer, or solicitation to buy or sell any financial instrument. The information displayed herein has been prepared without any reference or consideration to any particular recipient's investment objectives or financial situation. Any references to the past performance of a financial instrument, index, or a packaged investment product shall not be taken as a reliable indicator of its future results. Doo Group makes no representation and warranties to the information displayed and shall not be liable for any direct or indirect loss or damages as a result of any inaccuracies and incompleteness of the information provided. Doo Group shall not be liable for any loss or damages as a result of any direct or indirect trading risks, profit, or loss associated with any individual's investment.