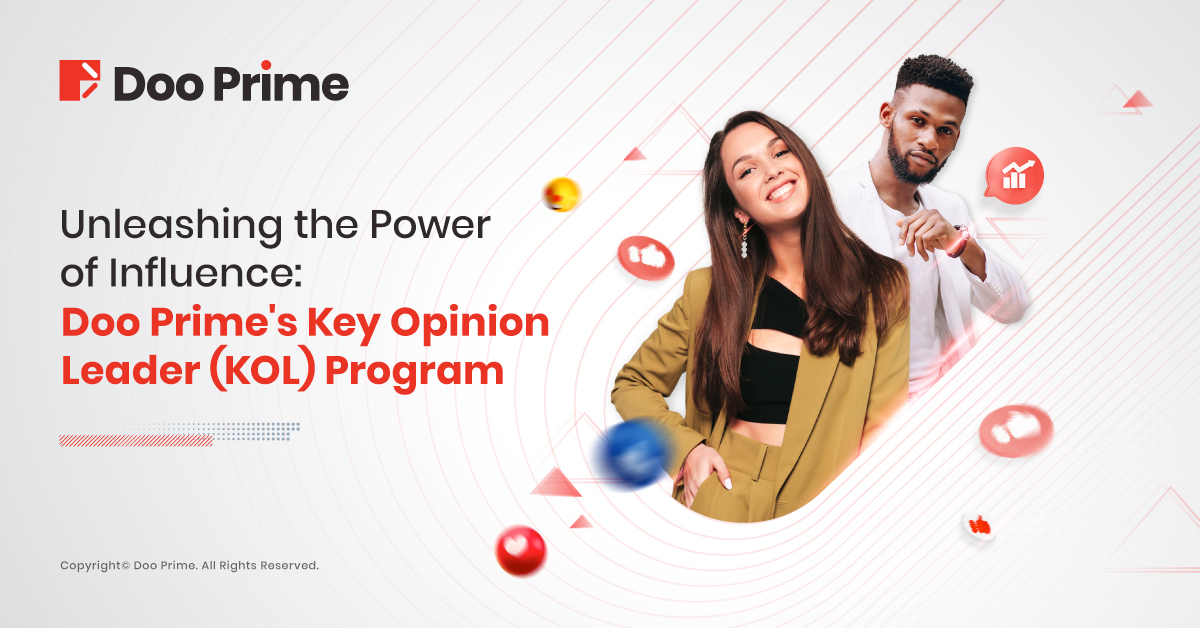 In the dynamic world of trading, staying ahead of the curve is essential for success. That's why Doo Prime is excited to introduce our groundbreaking Key Opinion Leader (KOL) Program, a venture that is set to reshape the trading landscape and empower both established and emerging voices in the industry.
If you're ready to redefine the trading landscape, read on to discover how you can be a part of this groundbreaking movement. 
A Glimpse into the Key Opinion Leader Program 
Doo Prime recognizes that the synergy between influential figures and the trading community can create waves of transformation.
Our Key Opinion Leader Program serves as the conduit connecting brands with esteemed Trading Key Opinion Leaders, setting the stage for a collaboration that amplifies brand presence and harnesses the clout of renowned trading experts. Together, we embark on a journey of mutual growth and prosperity, where your influence takes center stage. 
The Crucial Role of Trading Key Opinion Leaders 
A Treasury of Knowledge: Trading Key Opinion Leaders are veritable goldmines of information, generously sharing educational resources that empower traders to unravel a tapestry of trading techniques, master risk management, and navigate the intricacies of the market. With their guidance, traders can ascend the learning curve with confidence and competence.
Navigators of Market Dynamics: In a sea of market volatility, Trading Key Opinion Leaders stand as beacons of stability, delivering timely updates on pivotal economic events, policy shifts, and market-moving news. By equipping their followers with real-time insights, these KOLs equip traders with the tools to make informed decisions amidst uncertainty.
Forging Connections and Community: Beyond numbers and charts, Trading Key Opinion Leaders act as catalysts for forging meaningful connections and nurturing a sense of belonging within the trading community. Their influence extends beyond financial gains, fostering an environment where traders collaborate, learn, and thrive collectively. 
Elevating Excellence: The Key Opinion Leaders Monthly Awards 
Imagine the thrill of being at the heart of the action – the exhilarating cheers, the electric atmosphere – as you witness a Manchester United match live in Manchester.
Doo Prime's Key Opinion Leaders Monthly Awards are your tickets to this extraordinary experience. Each month, the two top performing KOLs may stand a chance to earn the privilege of attending a Manchester United match, a once-in-a-lifetime opportunity that celebrates excellence and commitment.  
Boost Your Influence: Join Doo Prime Today! 
Don't miss out on the exclusive opportunity to secure your seat at the season's most anticipated football match. By joining hands with Doo Prime, you're not just growing a brand; you're embarking on a journey toward personal and collective advancement. As a Key Opinion Leader, you'll gain access to unparalleled perks and benefits, all while playing a pivotal role in shaping the future of trading.
Are you prepared to leave an indelible mark on the trading landscape? Reach out to us via` [email protected] to unlock a realm of boundless possibilities. Become an integral part of Doo Prime's Key Opinion Leader Program, where influence converges with innovation, and together, we script a new narrative for the world of trading.
Let's amplify your influence, reshape the future, and stand witness to not only market shifts but also the excitement of football's grandest stages. 
| About Doo Prime
Our Trading Products
Securities | Futures | Forex | Precious Metals | Commodities | Stock Indices
Doo Prime, an international preeminent online broker under Doo Group, strives to provide professional investors with a wide range of global CFD trading products including Securities, Futures, Forex, Precious Metals, Commodities, and Stock Indices. At present, Doo Prime is delivering the finest trading experience to more than 1300,000 professional clients, with an average monthly trading volume exceeding USD 51.223 billion.
Doo Prime entities respectively hold the relevant financial regulatory licenses in Seychelles, Mauritius, and Vanuatu with operation centers in Dallas, Singapore, Hong Kong, Sydney, Cyprus, Dubai, Kuala Lumpur, and other regions.
With robust financial technology infrastructure, well-established partnerships, and an experienced technical team, Doo Prime boasts a safe and secure trading environment, competitive trading costs, as well as deposit and withdrawal methods that support 20+ different currencies. Our 24/7 multilingual customer service ensures exceptional support, while our lightning-fast trade execution is facilitated through industry-leading trading terminals such as MT4, MT5, TradingView, and Doo Prime InTrade, covering over 10,000 trading products.
Doo Prime's vision and mission are to become a financial technology-focused broker, streamlining international global financial products investment.
For more information about Doo Prime, please contact us at:
Phone:
Europe: +44 11 3733 5199
Asia: +852 3704 4241
Asia – Singapore: +65 6011 1415
Asia – China: +86 400 8427 539
E-mail:
Technical Support: [email protected]
Account Manager: [email protected]
Forward-looking Statements
This article contains "forward-looking statements" and may be identified by the use of forward-looking terminology such as "anticipate", "believe", "continue", "could", "estimate", "expect", "hope", "intend", "may", "might", "plan", "potential", "predict", "should", or "will", or other variations thereon or comparable terminology. However, the absence of such terminology does not mean that a statement is not forward-looking. In particular, statements about the expectations, beliefs, plans, objectives, assumptions, future events, or future performance of Doo Prime will be generally assumed as forward-looking statements.
Doo Prime has provided these forward-looking statements based on all current information available to Doo Prime and Doo Prime's current expectations, assumptions, estimates, and projections. While Doo Prime believes these expectations, assumptions, estimations, and projections are reasonable, these forward-looking statements are only predictions and involve known and unknown risks and uncertainties, many of which are beyond Doo Prime's control. Such risks and uncertainties may cause results, performance, or achievements materially different from those expressed or implied by the forward-looking statements.
Doo Prime does not provide any representation or warranty on the reliability, accuracy, or completeness of such statements. Doo Prime is not obliged to provide or release any updates or revisions to any forward-looking statements.
Risk Disclosure
Trading in financial instruments involves high risks due to the fluctuation in the value and prices of the underlying financial instruments. Due to the adverse and unpredictable market movements, large losses exceeding the investor's initial investment could incur within a short period of time. A financial instrument's past performance does not indicate its future performance. Investments in certain services should be made on margin or leverage, where relatively small movements in trading prices may have a disproportionately large impact on the client's investment, and clients should therefore be prepared to suffer significant losses when using such trading facilities.
Please ensure you read and fully understand the trading risks of the respective financial instrument before engaging in any transaction with Doo Prime's trading platforms. You should seek independent professional advice if you do not understand any of the risks disclosed by us herein or any risk associated with the trade and investment of financial instruments. Please refer to Doo Prime's Client Agreement and Risk Disclosure and Acknowledgement Notice to learn more.
Disclaimer
This information is addressed to the general public solely for information purposes and should not be taken as investment advice, recommendation, offer, or solicitation to buy or sell any financial instrument. The information displayed herein has been prepared without any reference or consideration to any particular recipient's investment objectives or financial situation. Any references to the past performance of a financial instrument, index, or a packaged investment product shall not be taken as a reliable indicator of its future performance. Doo Prime and its holding company, affiliates, subsidiaries, associated companies, partners and their respective employees, make no representation or warranties to the information displayed and shall not be liable for any direct, indirect, special or consequential loss or damages incurred as a result of any inaccuracies or incompleteness of the information provided, and any direct or indirect trading risks, profit, or loss arising from any individual's or client's investment.