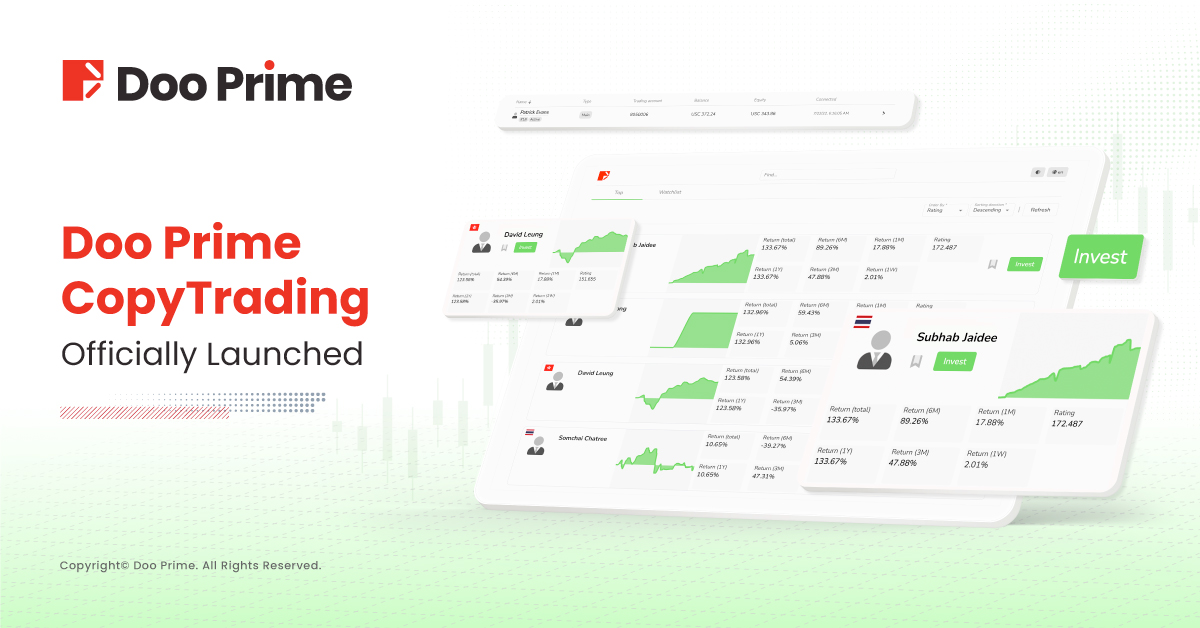 In response to the tremendous requests from clients around the world, we are proud to announce that Doo Prime is officially launching our CopyTrading platform.
CopyTrading is a social trading community-based platform that provides high-quality trading signals for traders where it allows users to copy trades from a source account into a target account.
With the launch of CopyTrading, duplicating success can now be done in just one click. Successful traders are allowed to share their trading strategies with other traders to follow. On top of duplicating success, agent that has successfully referred the signals to other traders will be rewarded with extra referral fees too.
Beginners are welcome to try out our latest launched CopyTrading platform, especially if you have no clue where to begin with your trading. It is also a nice tool to save time for having to pay attention to the market 24/7. Just by signing up with Doo Prime and subscribing to your desired provider, you are all set to earn extra income by allowing the top traders to do the work for you.
This CopyTrading is more than just a trading platform. You will get to be connected to a community that is full of skillful traders and investors. It is a place to connect, share, learn and triumph in victory together.
Key Features of CopyTrading
The attractions of this social trading platform lie in the outstanding key features that make trading more appealing amongst other social trading offerings.

Role Settings in CopyTrading
All clients who are registered with Doo Prime are eligible to use the CopyTrading platform. All you need to do is to own one or more MetaTrader 4 STP or Cent accounts to kickstart your CopyTrading journey!
Let's start with setting your role as a Follower, Provider or Agent.
Followers
A follower is a client's trading account that decides to follow the signal shared by the provider and trade accordingly. A follower account can subscribe to multiple providers at the same time to maximise their profits.
To add, follower accounts can set up different copying strategies and risk management settings to their providers. Like the amount of capital they are placing per trade, or the take profit/stop loss levels based on the followers' judgements and risk appetite.
If being a follower is not what you are after anymore, worry not, CopyTrading allows you to be the signal provider too. Doo Prime welcomes you to share your elite opinions and successful strategies to triumph together with all the other traders.
Providers
A provider is a client's trading account that provides their real-time trades along with the trading strategies for the follower accounts to follow and duplicate their success in real-time.
Other than setting up strategies, providers can set up their offers for agents and followers to follow accordingly as commissions are available when the specific trade earns profits.
Ratings Module Offered In CopyTrading
A ratings module is provided for traders to view detailed trading performance statistics such as; return rates, average profit/win trade, average trade duration, the instruments providers invested and more. Through understanding these statistics, traders get to make decisions of which providers to follow.
Let's surf through the ratings of our trading gurus and select the best one to follow now!
Agents
An agent is a third party and can be a company, a Doo Prime client, an Introducing Broker, or even a social media influencer. Essentially, as long as they manage to attract the follower to successfully subscribe to a signal provider.
One of the key traits to highlight in this role is that the agent will be attached to the specific subscriptions that they recommend to the public, and agents do not have to pay a single penny to earn the public agent fees.
When the recommended offer earns profit, the provider will pay a ratio of shared profit to the agent which was agreed by both parties.
The fee percentage is fixed and equal for all agents in terms of one offer.
Profit-Sharing
What makes Doo Prime CopyTrading system stand out amongst other copy trading platforms? With this platform, all Doo Prime clients with a MetaTrader 4 STP or Cent account and registered to the copy trading system get to earn.
When an order is placed and has earned any amount of profit, whoever is involved in the trade benefits.
Below is a diagram showing how each party can profit from the Doo Prime CopyTrading platform.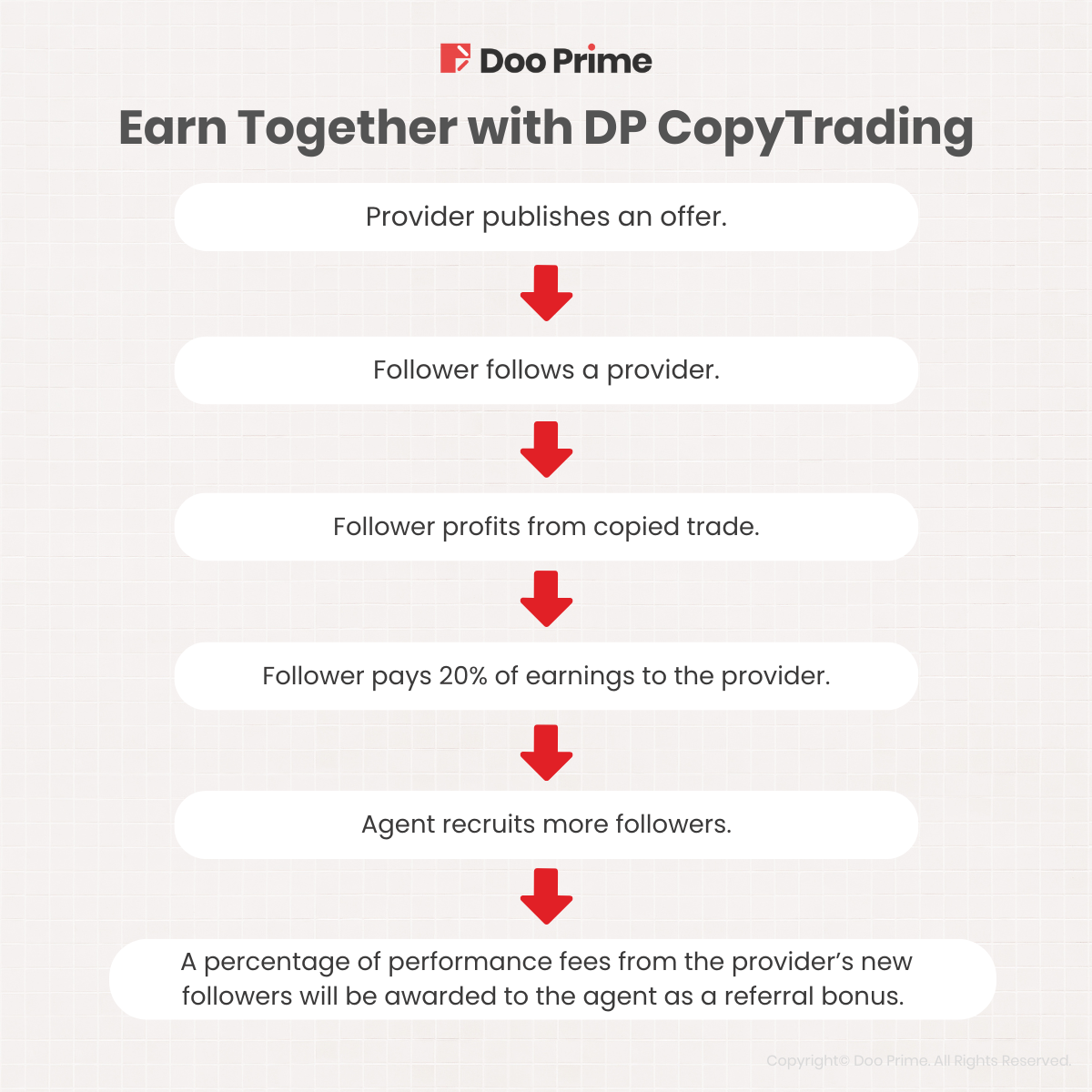 Some examples are provided for better understanding.
Example 1 :
Provider A has made an Offer (xxx) publicly on Doo Prime CopyTrading.
Follower B chooses to follow the Offer (xxx) from Provider A and agrees to pay an amount of the closed trade profits to Provider A as the performance fees.
Example 2:
Follower B has decided to refer this offer to another trader, Follower C.
Follower B is now a follower and an agent simultaneously (referred to as Agent B from now on).
When Follower C has successfully subscribed to the Offer (xxx) and pays 10% of performance fees to Provider A. Provider A will pay Agent B a 5% of referral fees, deriving from the performance fees from Follower C to Provider A. The ratio of referral fees is consented by both parties.
Semi-Private Social Trading Community
Providers get to post their offers publicly on Doo Prime CopyTrading for better access for new joiners. However, providers are also allowed to make their offers private with certain followers only.
Some of the providers prefer to publish their higher risks but with higher returns offer options in private as they are allowed to maximize their performance fees to 80%.
With this, traders get to build their trading community with better quality.
How to access Doo Prime CopyTrading?

Head to Doo Prime CopyTrading client portal.
You may make your decision whether you want to sign up as a provider or follower.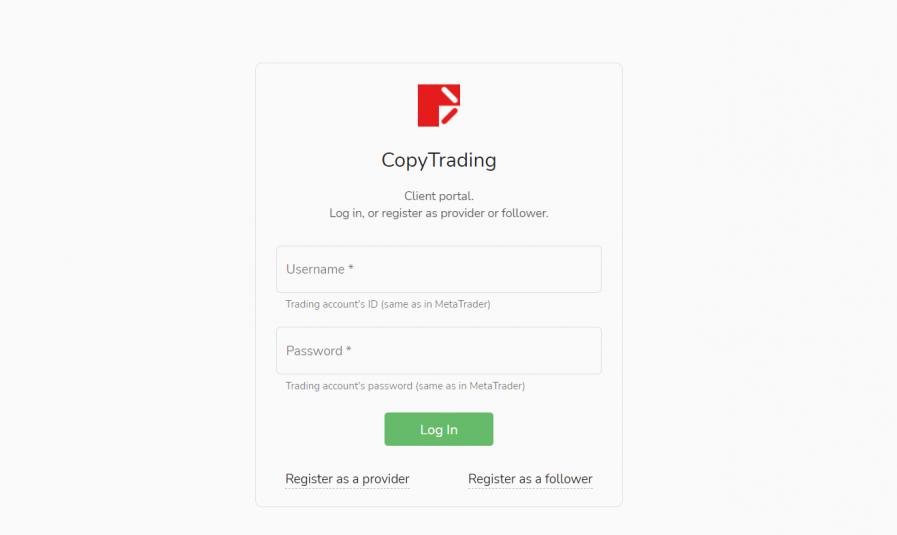 Provider
Sign Up As A Provider
Register as a provider by entering your Trading account's ID and password, which is the same as your MetaTrader account, click "Register". Make sure you are well aware of all the terms of service before ticking the box for consent.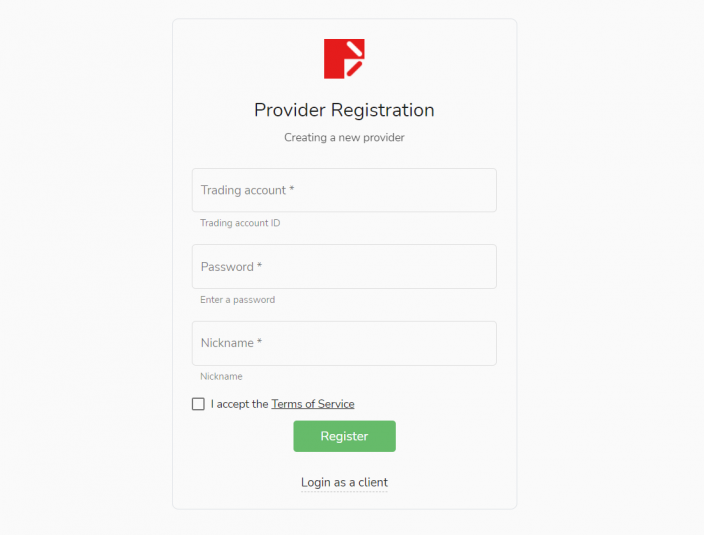 Create appealing offers
Present your best trading strategies to your followers and make your desired offers. The provider has the absolute power of setting the performance fees and sharing the profit ratio with the referral agent.
Manage the offer settings
The published offer details can always be edited as the market changes with every passing second.
Trade via MetaTrader 4 as per usual
When followers have subscribed to an offer, their MT4 account will copy the chosen trades directly because MT4 accounts are linked with CopyTrading systems. Therefore, they can work simultaneously.
Receive performance fees from followers
Providers will be receiving their performance fees from followers according to the agreed time interval.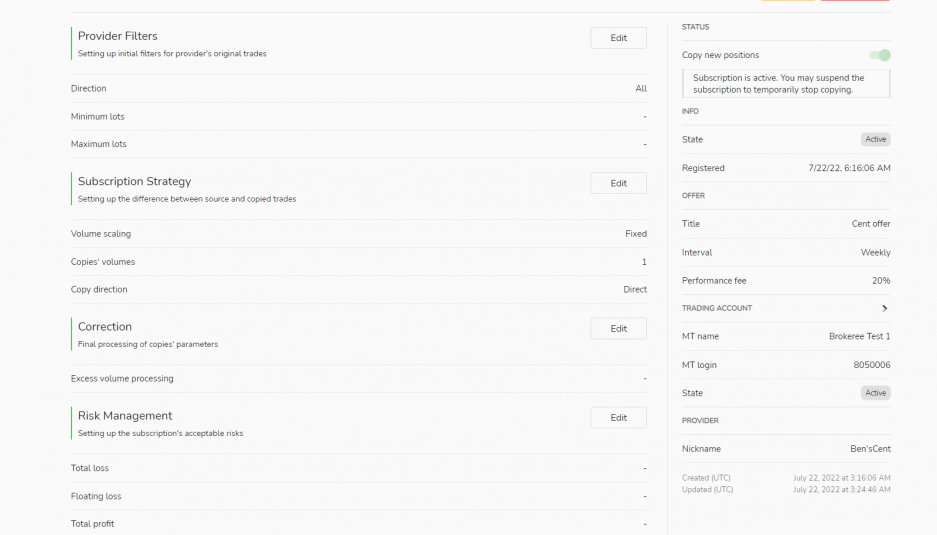 Follower
Sign Up as a Follower:
Register as a follower by entering your Trading account's ID and password, which is the same as your MetaTrader account, and click "Register".
You will need to choose your provider and the offer they provide. Make sure you are well aware of all the terms of service before ticking the box for consent.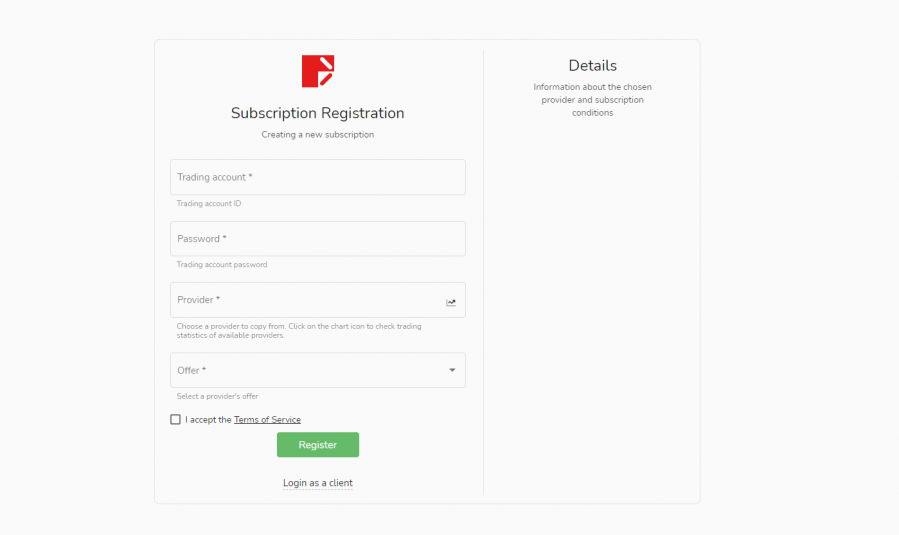 Tip: You may check different providers' ratings through the Live Rating Module which includes profit returns in different periods of time.
Choose a provider to copy
After surfing through all the ratings and strategies from all the master traders, it is time to choose the best offer to copy from.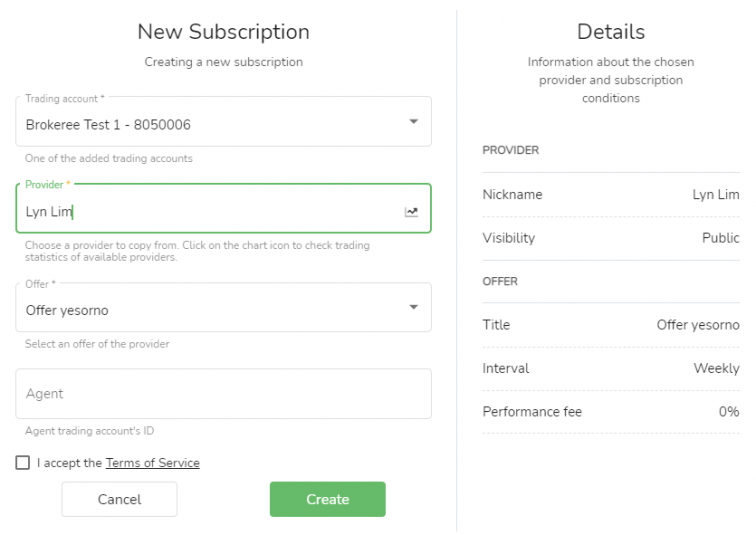 Manage the subscription
You are always in control of your assets as you are allowed to stop copying, unsubscribe, or close trades and conclude your profits daily. Remember, it's only your profit once you close the trade and cash out.
Let the elites earn the profits for you with copied trades
You are now all set to earn by trading and learning from the experts.
Log in now or sign up as a Doo Prime client and discover more of the robust features of Doo Prime CopyTrading for yourself!
| About Doo Prime
Our Trading Instruments
Securities | Futures | Forex | Precious Metals | Commodities | Stock Indices
Doo Prime is an international pre-eminent online broker under Doo Group, which strives to provide professional investors with global CFD trading products in Securities, Futures, Forex, Commodities, Stock Indices, and Funds. At present, Doo Prime is delivering the finest trading experience to more than 40,000 professional clients, with over 1 million trade orders fulfilled each month.
Doo Prime entities respectively holds the relevant financial regulatory licenses in Seychelles, Mauritius, and Vanuatu with operation centers in Dallas, Sydney, Singapore, Hong Kong, Dubai, Kuala Lumpur, and other regions.
With robust financial technology infrastructure, well-established partnerships, and an experienced technical team, Doo Prime boasts a safe and secure trading environment, competitive trading costs, as well as deposit and withdrawal methods that support 10 different currencies. Doo Prime also incorporates 24/7 multilingual customer service and extremely fast trade execution via multiple industry-leading trading terminals such as MT4, MT5, TradingView, and InTrade, covering over 10,000 trading products.
Doo Prime's vision and mission are to become a financial technology-focused broker, streamlining international global financial products investment.
For more information about Doo Prime, please contact us at:
Phone:
Europe : +44 11 3733 5199
Asia : +852 3704 4241
Asia – Singapore: +65 6011 1415
Asia – China : +86 400 8427 539
E-mail:
Technical Support: [email protected]
Sales Representative: [email protected]
Forward-looking Statements
This article contains "forward-looking statements" and may be identified by the use of forward-looking terminology such as "anticipate", "believe", "continue", "could", "estimate", "expect", "hope", "intend", "may", "might", "plan", "potential", "predict", "should", or "will", or other variations thereon or comparable terminology. However, the absence of such terminology does not mean that a statement is not forward-looking. In particular, statements about the expectations, beliefs, plans, objectives, assumptions, future events, or future performance of Doo Prime will be generally assumed as forward-looking statements.
Doo Prime has provided these forward-looking statements based on all current information available to Doo Prime and Doo Prime's current expectations, assumptions, estimates, and projections. While Doo Prime believes these expectations, assumptions, estimations, and projections are reasonable, these forward-looking statements are only predictions and involve known and unknown risks and uncertainties, many of which are beyond Doo Prime's control. Such risks and uncertainties may cause results, performance, or achievements materially different from those expressed or implied by the forward-looking statements.
Doo Prime does not provide any representation or warranty on the reliability, accuracy, or completeness of such statements. Doo Prime is not obliged to provide or release any updates or revisions to any forward-looking statements.
Risk Disclosure
Trading in financial instruments involves high risks due to the fluctuation in the value and prices of the underlying financial instruments. Due to the adverse and unpredictable market movements, large losses exceeding the investor's initial investment could incur within a short period of time. The past performance of a financial instrument is not an indication of its future performance. Investments in certain services should be made on margin or leverage, where relatively small movements in trading prices may have a disproportionately large impact on the client's investment and client should therefore be prepared to suffer significant losses when using such trading facilities.
Please make sure you read and fully understand the trading risks of the respective financial instrument before engaging in any transaction with Doo Prime's trading platforms. You should seek independent professional advice if you do not understand any of the risks disclosed by us herein or any risk associated with the trade and investment of financial instruments. Please refer to Doo Prime's Client Agreement and Risk Disclosure and Acknowledgement Notice to find out more.

Disclaimer
This information is addressed to the general public solely for information purposes and should not be taken as investment advice, recommendation, offer, or solicitation to buy or sell any financial instrument. The information displayed herein has been prepared without any reference or consideration to any particular recipient's investment objectives or financial situation. Any references to the past performance of a financial instrument, index, or a packaged investment product shall not be taken as a reliable indicator of its future performance. Doo Prime and its holding company, affiliates, subsidiaries, associated companies, partners and their respective employees, make no representation or warranties to the information displayed and shall not be liable for any direct, indirect, special or consequential loss or damages incurred a result of any inaccuracies or incompleteness of the information provided, and any direct or indirect trading risks, profit, or loss arising from any individual's or client's investment.