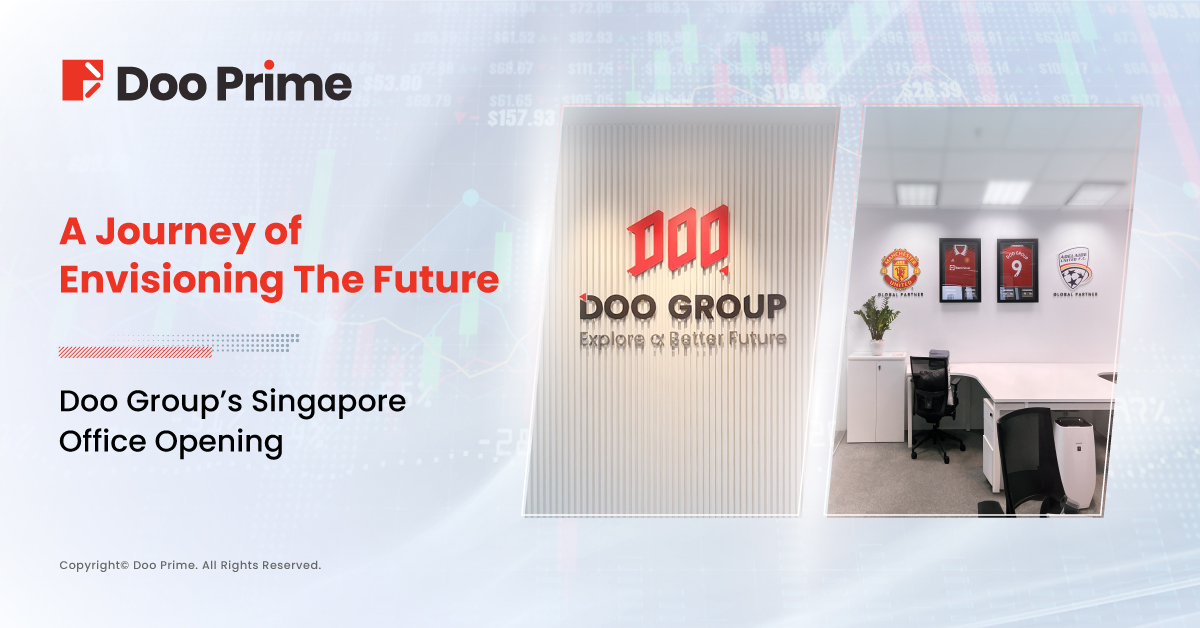 Doo Group has been deeply involved in the financial technology sector since our establishment in 2014. Operating as a conglomerate model, we have developed four major business lines: brokerage, wealth management, payment exchange and financial technology. Our dedication is to provide top-notch financial services and innovative solutions to individuals and institutional clients worldwide.
As our global business volume and client base continue to expand, we have been continuously exploring new horizons in global operations. Up to date, we have nurtured a group of more than 900 employees working dedicatedly in over 20 global operational centers, providing professional services to our clients worldwide. In pursuit of bringing a more comfortable visiting experience for our guests, we have been upgrading our global operational centers with continuous optimization. The opening of Singapore office is a testament to our commitment to this service mission.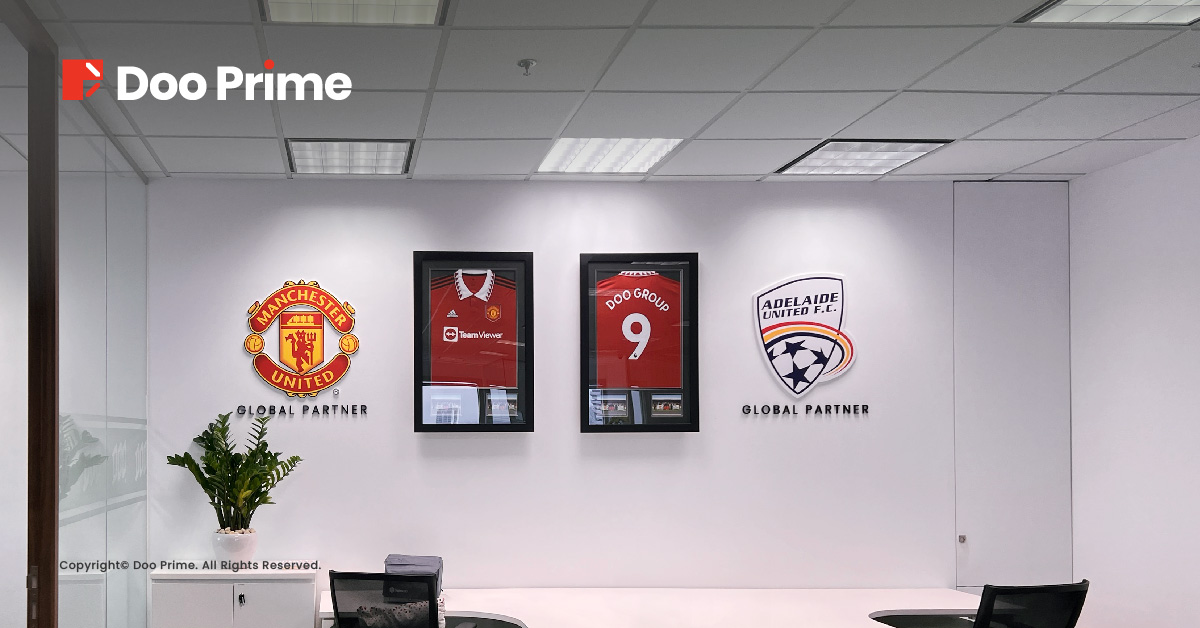 A Service-focused Journey
Our Singapore office is located in the renowned Millenia Tower at Singapore's iconic Marina Bay. It's less than a 20-minute drive from Changi Airport and within walking distance of the well-known Ritz-Carlton hotel, surrounded by iconic landmarks such as the Marina Bay Sands, Gardens by the Bay, and the Singapore Flyer, with easy access to public transportation and amenities.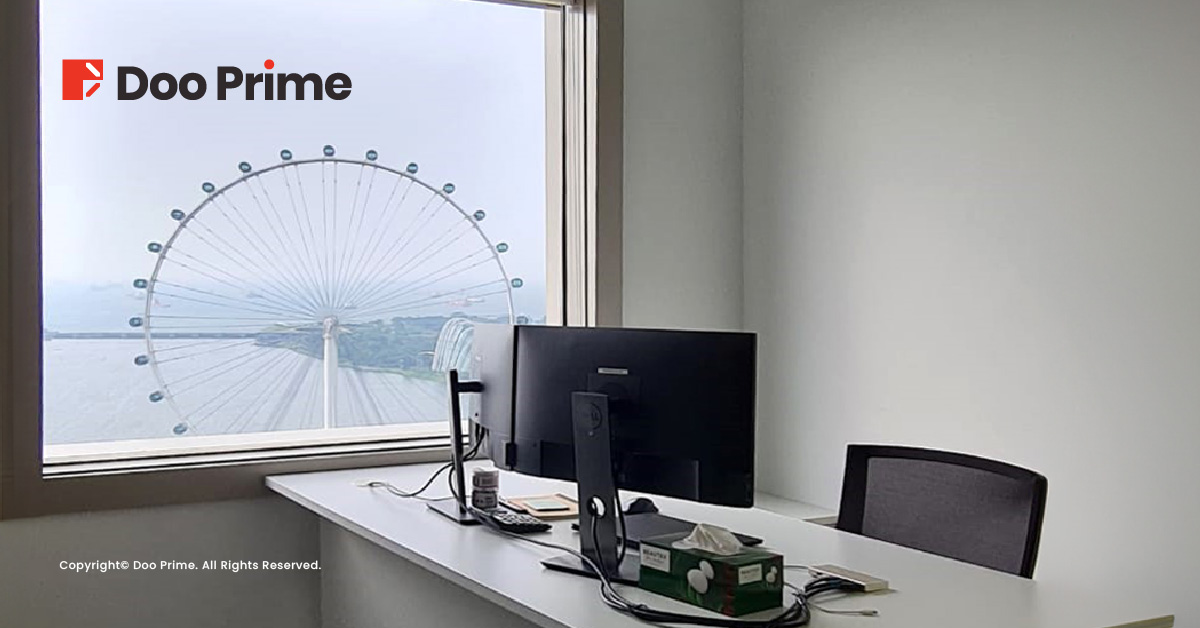 The Singapore office comes with several functionality upgrades. The new 2,153 sq ft office features smart meeting rooms and open office space, equipped with a guest room named in partnership with Manchester United and a multifunctional pantry. The design aims to provide our clients with a comfortable meeting environment.
The Singapore office is now open to the public and has welcomed its first group of visiting clients. A visiting client comments, "As a regular client, I am impressed by the spacious and bright office environment. The user-friendly design and thoughtful service once again demonstrate Doo Group's professionalism and dedication, making it worthy of our trust."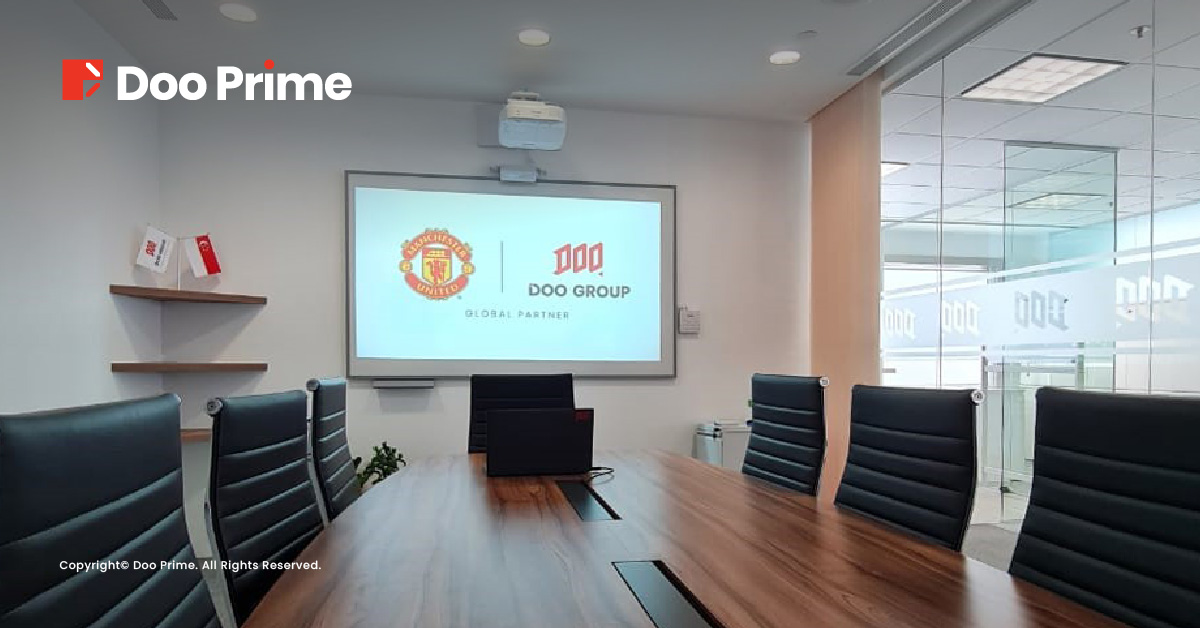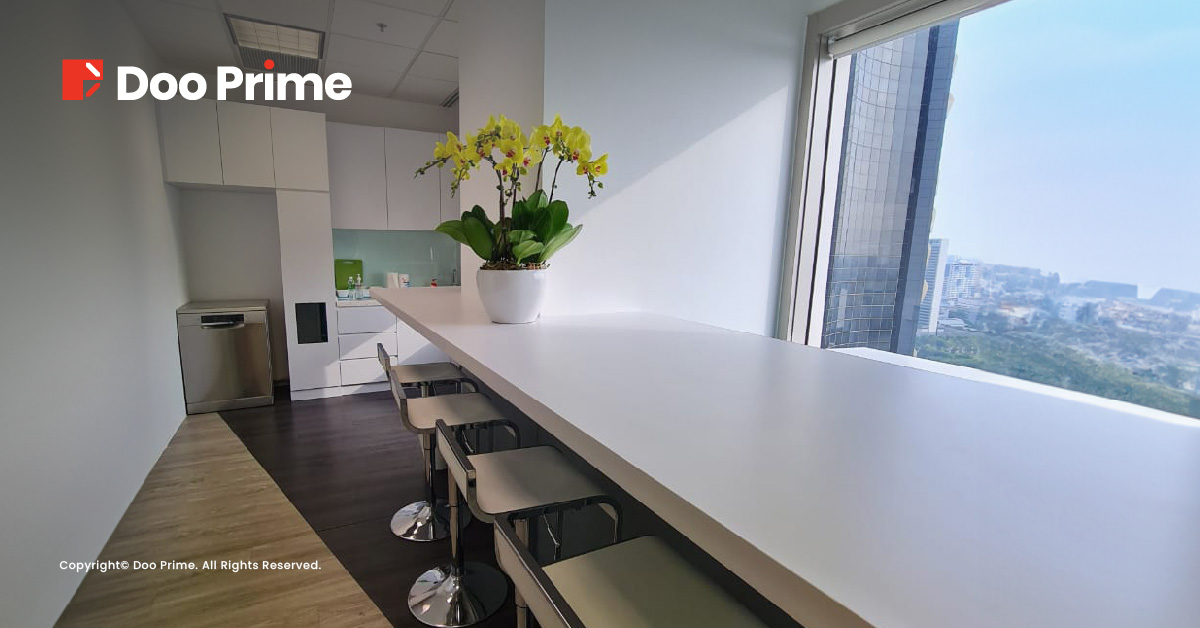 Sailing Towards New Horizons
Over the 9 years, Doo Group has been focusing on the quality enhancement of client services. Empowered by financial technology, we have driven innovation in investment trading, constantly exploring innovation to achieve technological breakthroughs. From product innovation to service upgrading, and from risk management to financial security, Doo Group is always committed to providing clients with safer and wider access of funding channels.
To date, we have provided 130,000 clients with trading brokerage and asset management services for more than 20,000 financial products such as securities, futures, currency pairs, CFDs and funds, etc. We are strictly regulated by 15 authoritative financial institutions from 9 countries and 5 continents, ensuring that the legitimate rights and interests of each client are protected by professional third-party organizations while trading.
To provide our clients with a full range of protection, we have renewed our Professional Indemnity Insurance (PII) with a strong insurance organization to ensure the safety of their funds. Internally, we have set up a team of ACCA-certified accounting professionals to ensure the safety of internal funds and normal operation, so as to build a financial security barrier for our clients. Simultaneously, we have established long-term partnerships with over 400 globally renowned financial institutions and liquidity providers. This allows us to offer clients a secure trading environment, as well as convenient deposit and withdrawal channels.
Along the way, Doo Group has always adhered to the principle of "Clients Come First", constantly seeking breakthroughs to provide clients with outstanding experiences. This commitment has garnered international recognition and earned the trust of our clients. In the future, we will continue to expand our global business landscape, establishing new regional operational centers to offer localized and customized financial innovation services to a broader range of investors.
About Doo Group
Doo Group was established in 2014, currently headquartered in Singapore. After years of development, Doo Group has become a multi-faceted financial services group with financial technology as its core. With multiple sub-brands such as Doo Clearing, Doo Financial, Doo Prime, Doo Wealth, Doo Health, Doo Academy, Lesspay, FinPoints and many more, Doo Group is committed to provide trading and asset management services for over 20,000 financial products such as Securities, Futures, Forex, CFDs and Funds to global individual and institutional clients.
Currently, the entities within Doo Group, according to their location and products, are regulated by many of the top global financial regulators, including, but not limited to the United States Securities and Exchange Commission (US SEC) and Financial Industry Regulatory Authority (US FINRA), United Kingdom Financial Conduct Authority (UK FCA), the Australian Securities & Investments Commission (ASIC), the Australian Transaction Reports and Analysis Centre (AUSTRAC), the Hong Kong Securities and Futures Commission (HK SFC), the Hong Kong Insurance Authority (HK Insurance Broker), the Hong Kong Companies Registry (HK Trust Company), the Hong Kong Customs and Excise Department (HK Money Service Operator), the Malaysia Labuan Financial Services Authority (MY Labuan FSA), the Seychelles Financial Services Authority (SC FSA), Mauritius Financial Services Commission (MU FSC), and the Vanuatu Financial Services Commission (VU FSC). Doo Group has entities operating in various global locations, including Dallas, London, Sydney, Singapore, Hong Kong, Dubai, Kuala Lumpur as well as other regions.
For enquiries and further information, please contact us:
Hong Kong: +852 6701 2091
Singapore: +65 6011 1736
Email: [email protected]
Forward-looking Statement
This article contains "forward-looking statements" and may be identified by the use of forward-looking terminology such as "anticipate", "believe", "continue", "could", "estimate", "expect", "hope", "intend", "may", "might", "plan", "potential", "predict", "should", or "will", or other variations thereon or comparable terminology. However, the absence of such terminology does not mean that a statement is not forward-looking. In particular, statements about the expectations, beliefs, plans, objectives, assumptions, future events, or future performance of Doo Group will be generally assumed as forward-looking statements.
Doo Group has provided these forward-looking statements based on all current information available to Doo Group and Doo Group's current expectations, assumptions, estimates, and projections. While Doo Group believes these expectations, assumptions, estimations, and projections are reasonable, these forward-looking statements are only predictions and involve known and unknown risks and uncertainties, many of which are beyond Doo Group's control. Such risks and uncertainties may cause results, performance, or achievements materially different from those expressed or implied by the forward-looking statements.
Doo Group does not provide any representation or warranty on the reliability, accuracy, or completeness of such statements. Doo Group is not obliged to provide or release any updates or revisions to any forward-looking statements.
Risk Disclosure
Trading in financial instruments involves high risks due to the fluctuation in the value and prices of the underlying financial instruments. Due to the adverse and unpredictable market movements, large losses exceeding the investor's initial investment could be incurred within a short period of time. The past performance of a financial instrument is not an indication of its future performance.
Please make sure you read and fully understand the trading risks of the respective financial instrument before engaging in any transaction with us. You should seek independent professional advice if you do not understand the risks disclosed by us herein.
Disclaimer
This information is addressed to the general public solely for information purposes and should not be taken as investment advice, recommendation, offer, or solicitation to buy or sell any financial instrument. The information displayed herein has been prepared without any reference or consideration to any particular recipient's investment objectives or financial situation. Any references to the past performance of a financial instrument, index, or a packaged investment product shall not be taken as a reliable indicator of its future results. Doo Group makes no representation and warranties to the information displayed and shall not be liable for any direct or indirect loss or damages as a result of any inaccuracies and incompleteness of the information provided. Doo Group shall not be liable for any loss or damages as a result of any direct or indirect trading risks, profit, or loss associated with any individual's investment.