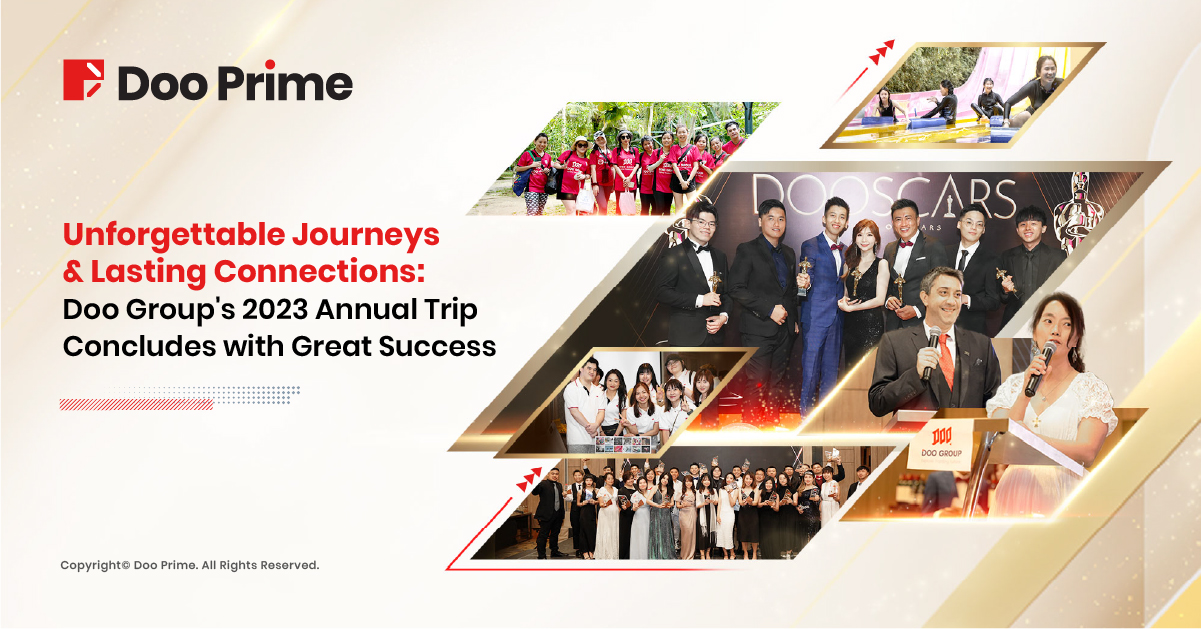 As a leading global financial services group, Doo Group has earned the trust and support of global users through its comprehensive global financial service ecosystem. Our professional team has gained recognition in a competitive market environment, which is a result of our strong corporate culture and talent development. Currently, we have nurtured 750+ elite talents from 30+ nationalities, positioned across more than 10 offices worldwide, including Singapore, Hong Kong, Dubai, Kuala Lumpur, Taiwan, and Ho Chi Minh City – all working diligently to deliver professional services to our global clients.
This year's annual trip aims to show our appreciation for the dedication of Doo Group employees. Meticulously planned over the course of two months, we aim to foster cross-departmental communication and strengthen team collaboration through a series of engaging activities and lavish dinners.
A 4-Day Midsummer Retreat – Embarking on a Journey of Opulence Together
In nearly a decade of growth, Doo Group has consistently emphasized the importance of departmental collaboration, continuous development of the employee, and enhancing overall team capabilities as part of our corporate culture. These values also align with our commitment to ESG principles. We deeply acknowledge that the hard work and dedication of our DOOers are integral to our success.
To express our gratitude for years of hard work, we treated our employees to a remarkable four-day, three-night luxury trip. From handling flight arrangements and hotel reservations to airport transfers, a warm welcome ceremony, engaging team-building activities, and a magnificent gala dinner, no detail was spared in demonstrating the love and care Doo Group has for its employees. This extraordinary experience not only showcases the strength of our organization but also underscores our unwavering commitment to valuing and celebrating each member of our team.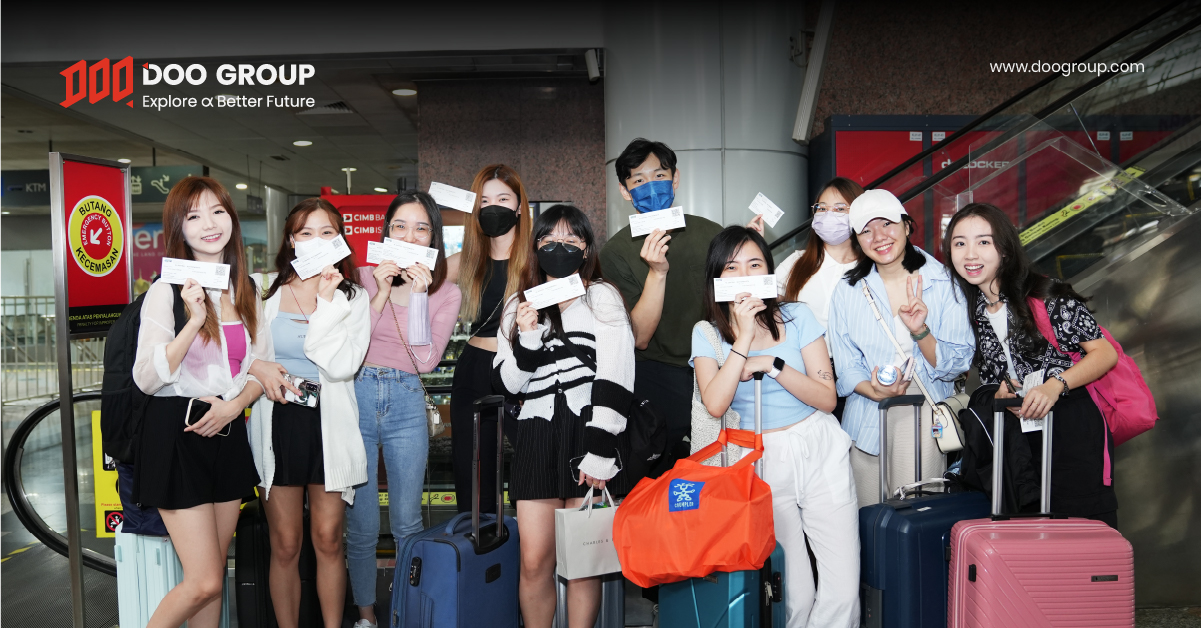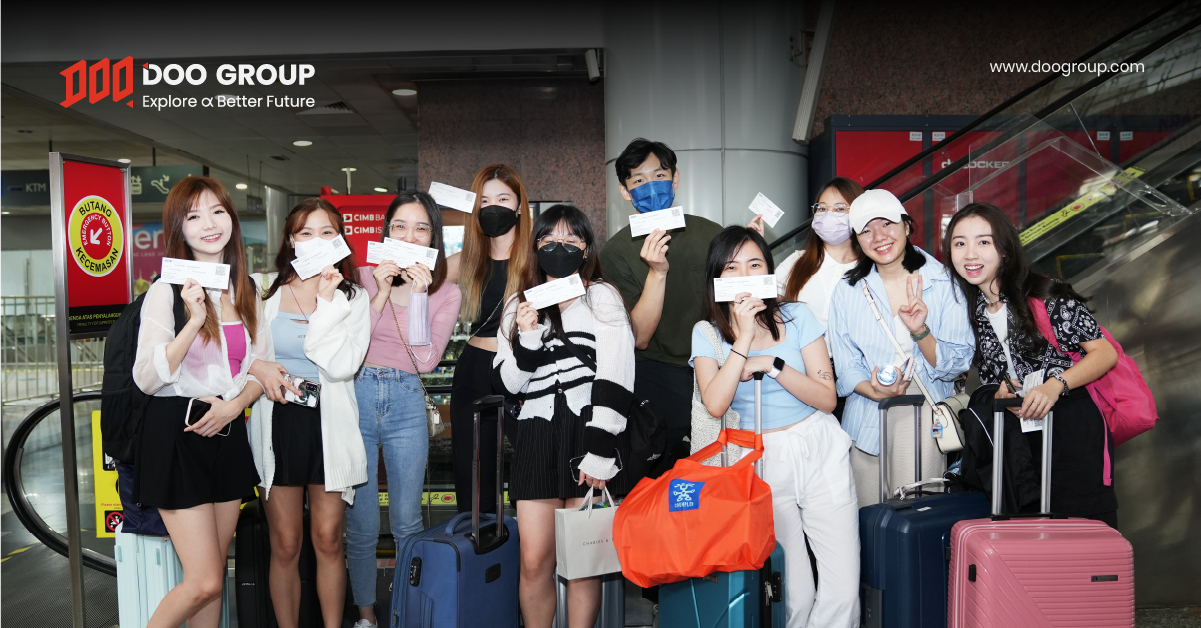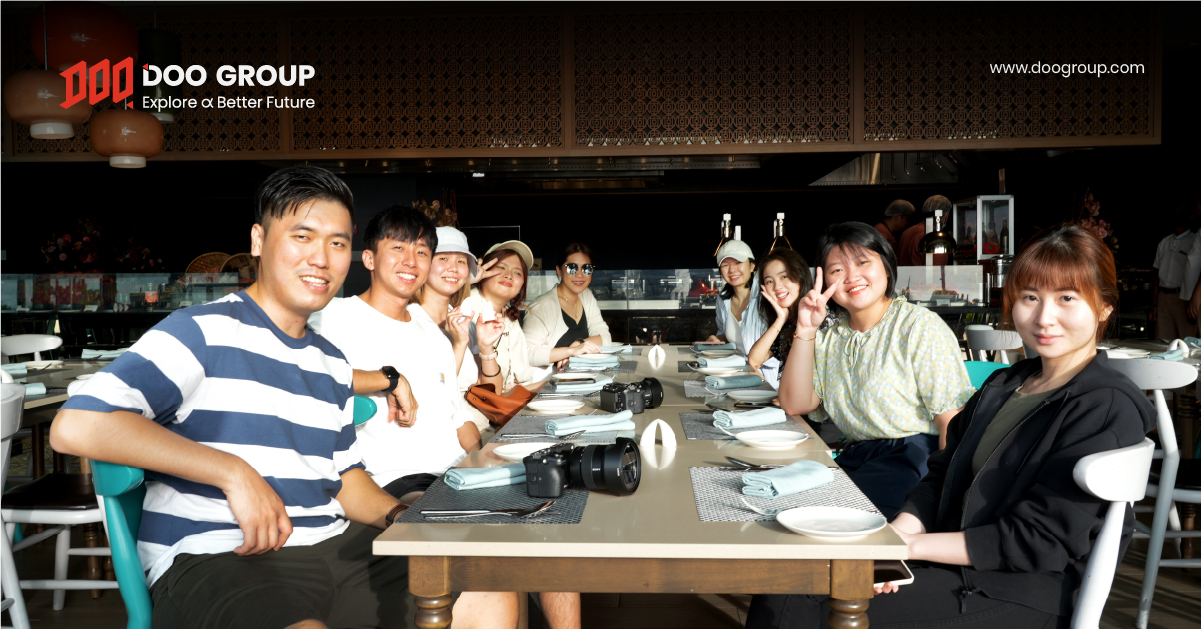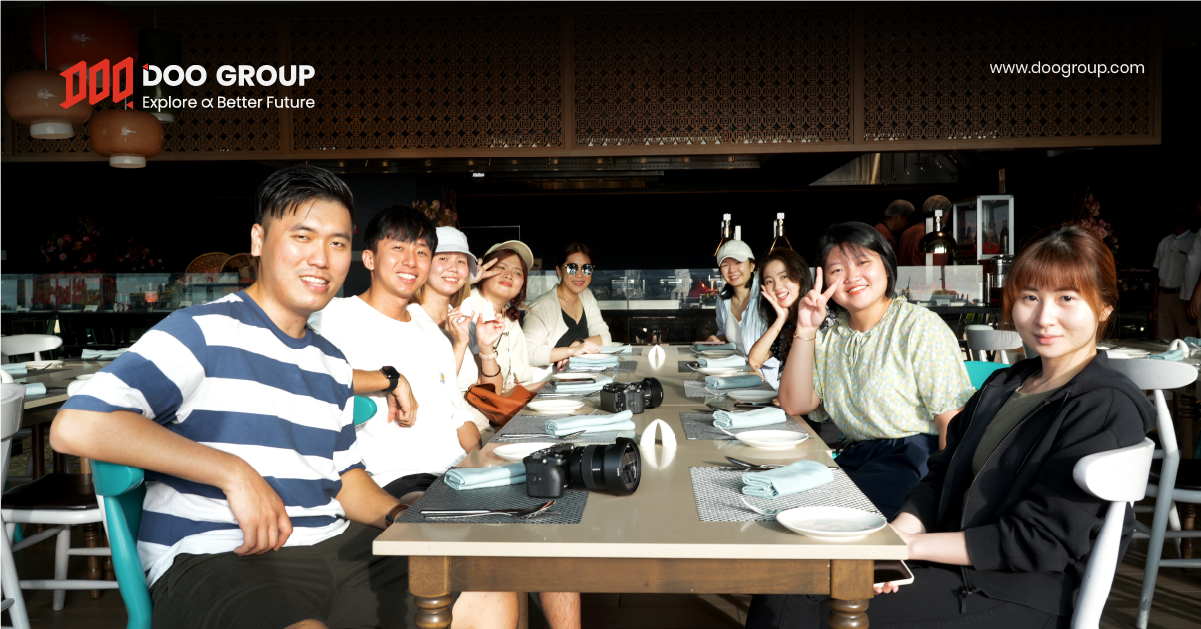 Bridging Miles, Breaking Barriers: United And Achieving Excellence Together
Unity and youthful dynamism define our team's core identity and set us apart. To unleash a powerful and enduring energy as well as fueling creativity, we have curated a diverse array of enriching activities for the entire team.
On 1 July 2023, day 1 of the Trip, after employees from near and far gathered together in Penang, DOOers embarked on an ice-breaking journey. We reorganized employees into different teams – each consisting of DOOers from various departments – and set objectives for casual yet engaging ice-breaking games, showcasing the team's spirit of passion. This fostered cross-departmental collaboration and communication, promoting a diverse and inclusive team culture.
The following day, we ventured into the popular "Penang Escape Theme Park" for a thrilling day-long adventure-packed program. A common goal of collecting 'gold coins' through experiencing rides and attractions was set for DOOers.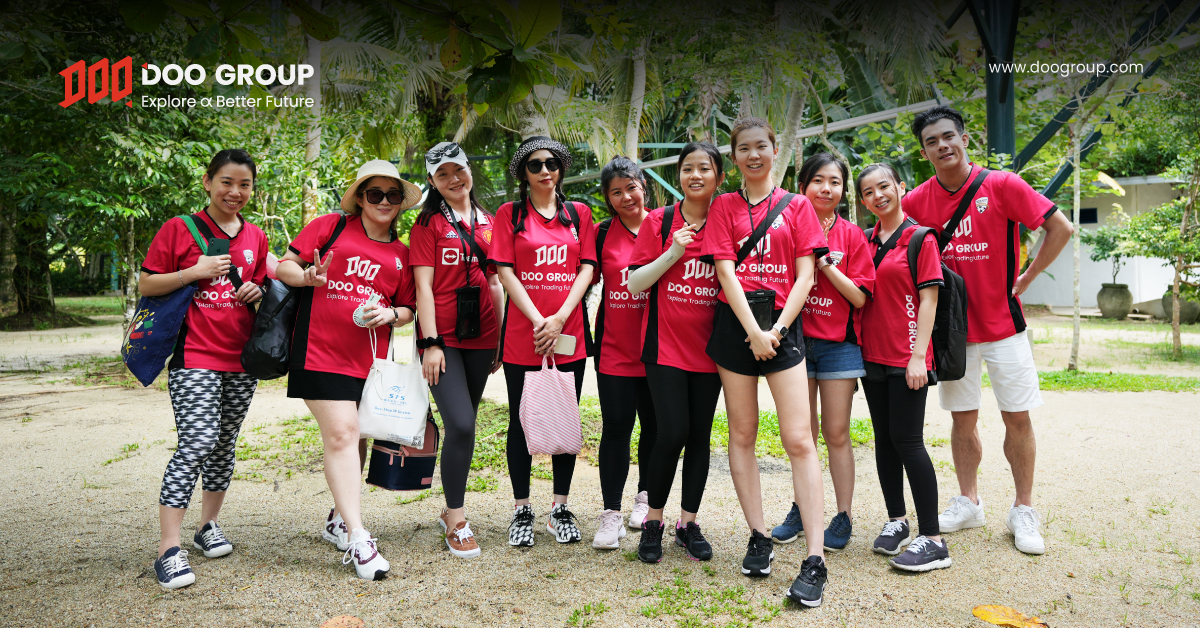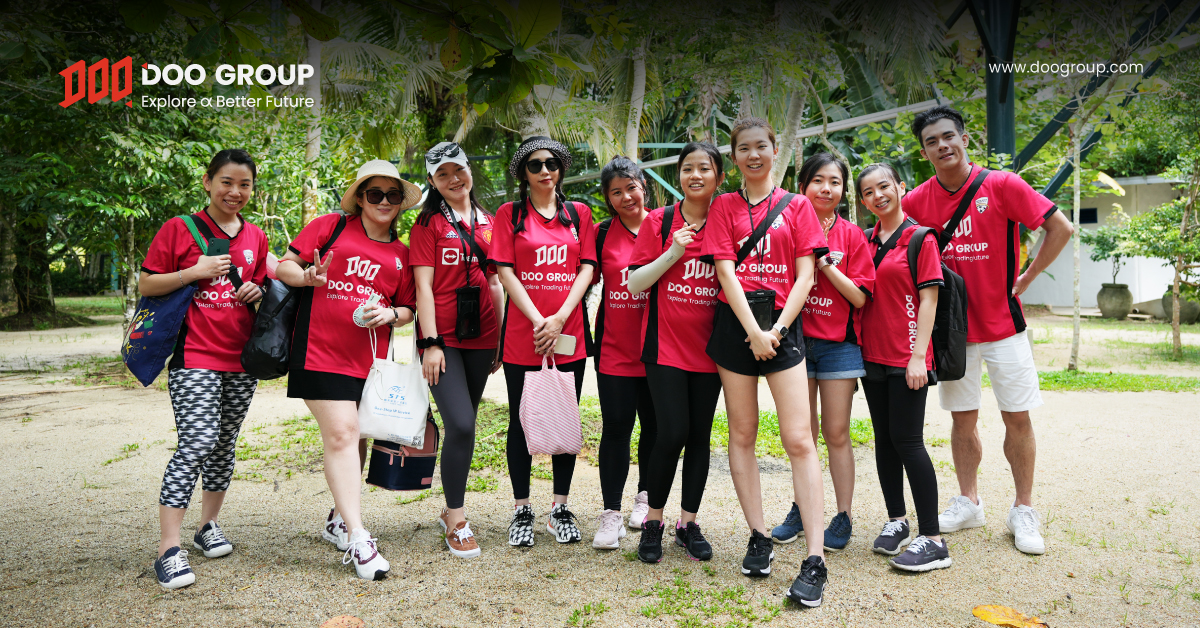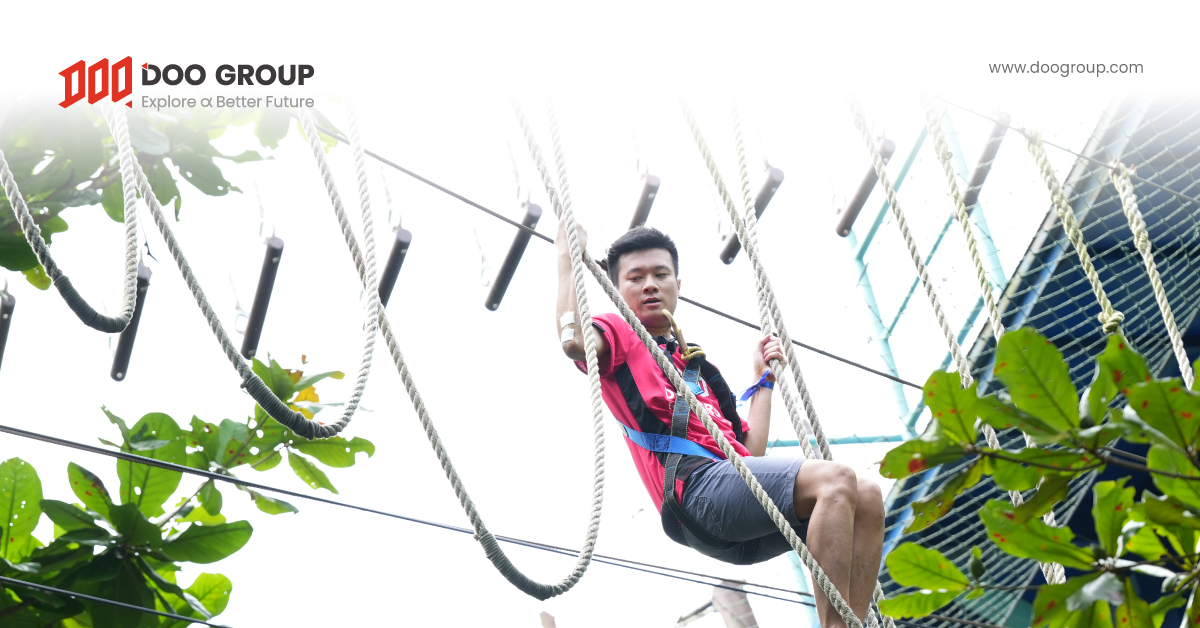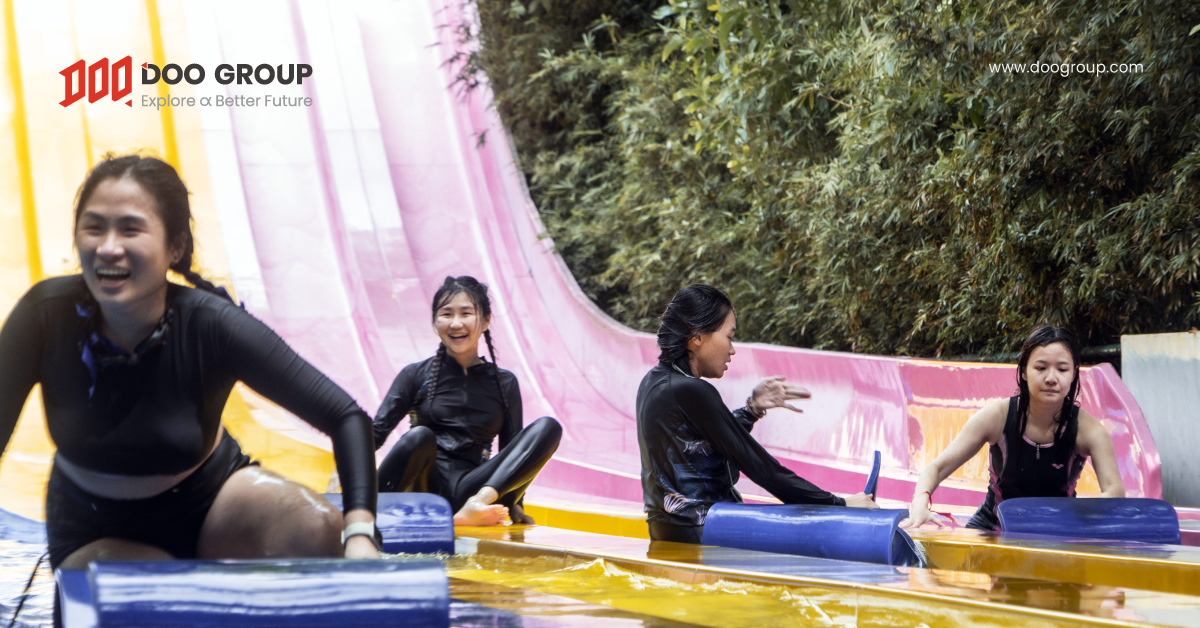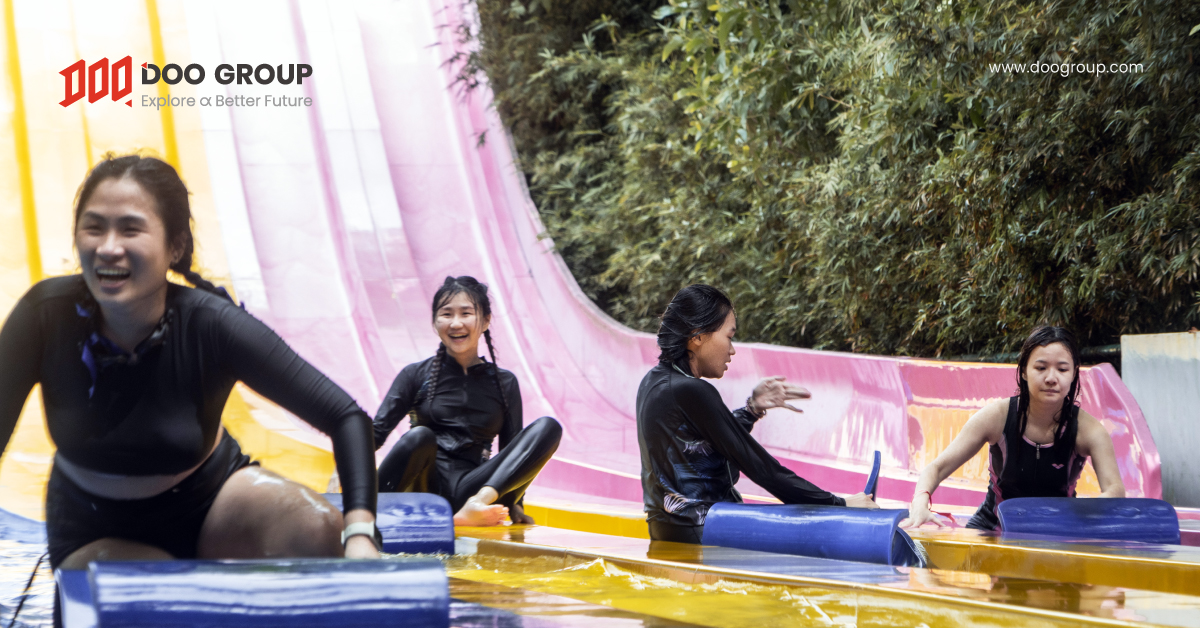 We took on challenges such as the world's longest water slide and over 30 exciting activities, strengthening teamwork and enhancing team cohesion. Concluding the activities, we had a grand finale where members utilized the 'gold coins' – or rather, income – earned from the day in Penang Escape Theme Park for virtual investment activity. This activity not only aligns with our brand culture and identity as a financial services company but also enhances team professionalism and investment awareness, enabling us to serve our clients better.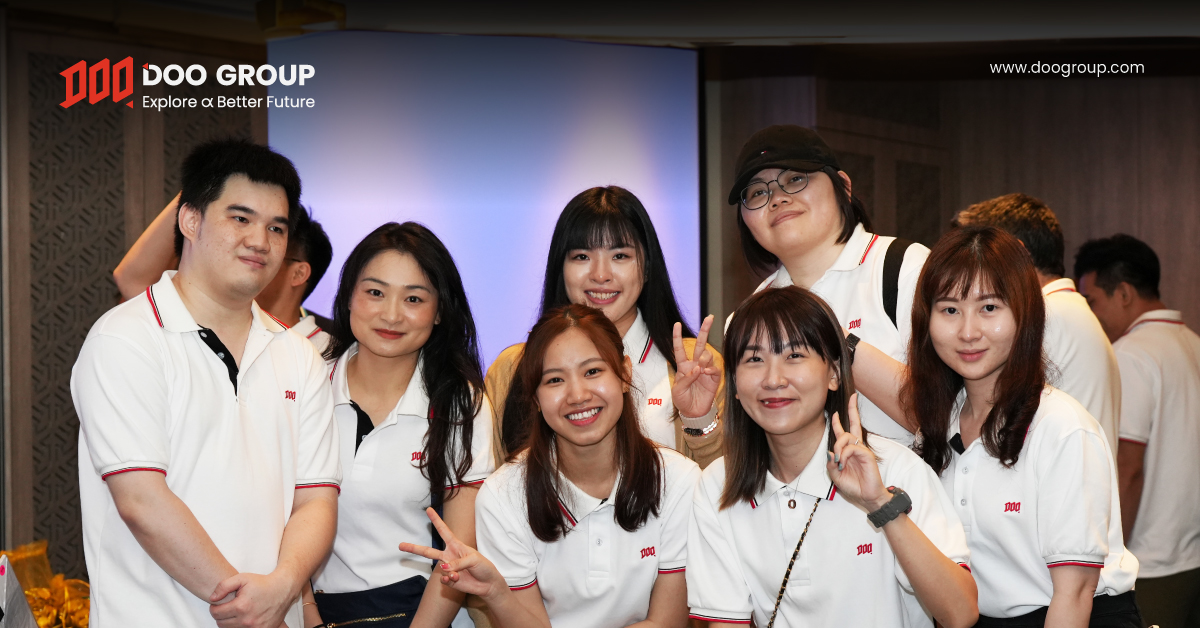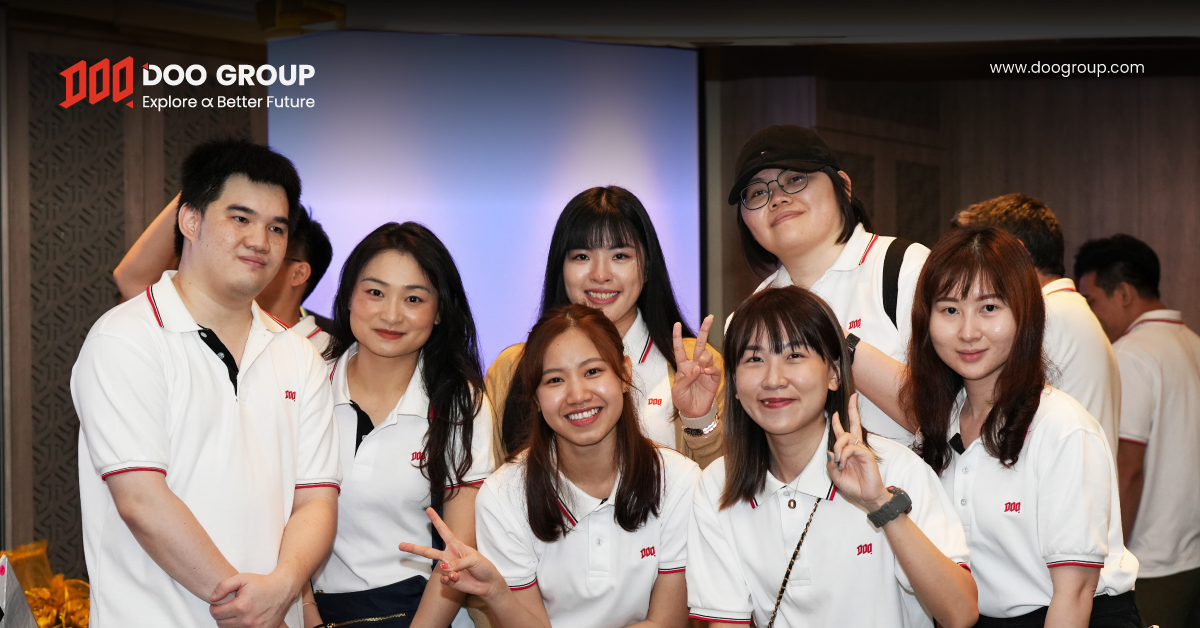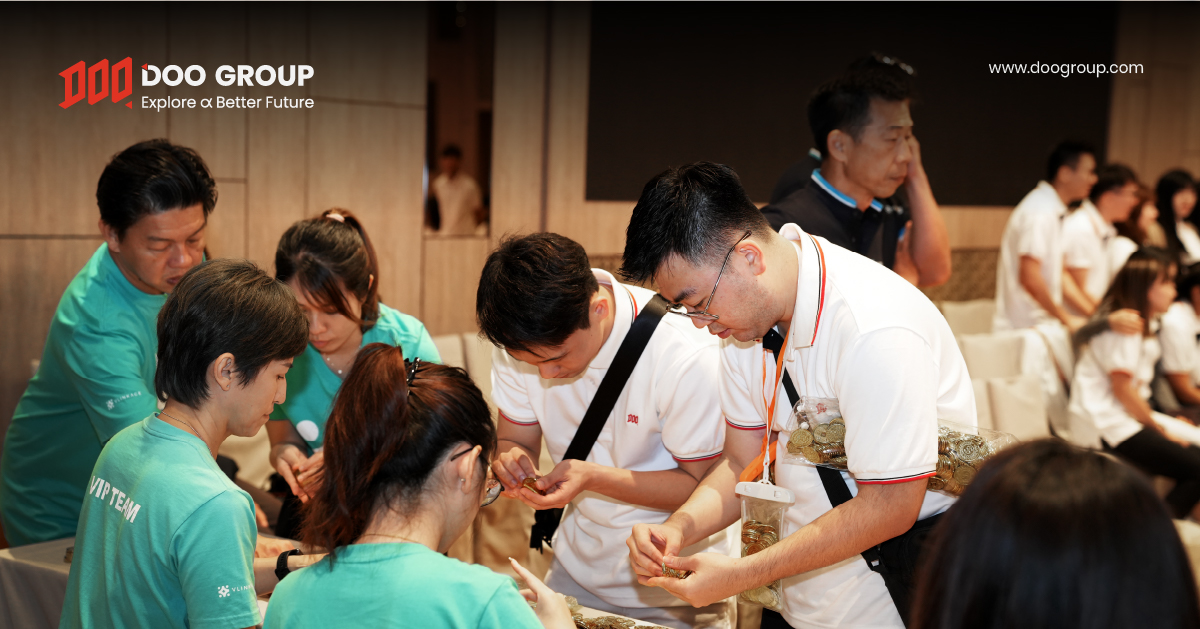 Glamorous Doo Star: Unveiling Our Success
Leadership Address: Igniting New Energy, Charting New Chapters
In addition to a vibrant array of activities, we have also prepared a grand "The DOOSCARS" themed dinner, where all DOOers dressed to impress, showcasing the other side of our talented professionals. Meanwhile, Doo Group's CEO, Chan, COO, Hellen Tan, and Executive Director, Costas Kappai, graced the dinner with their presence and delivered inspiring speeches.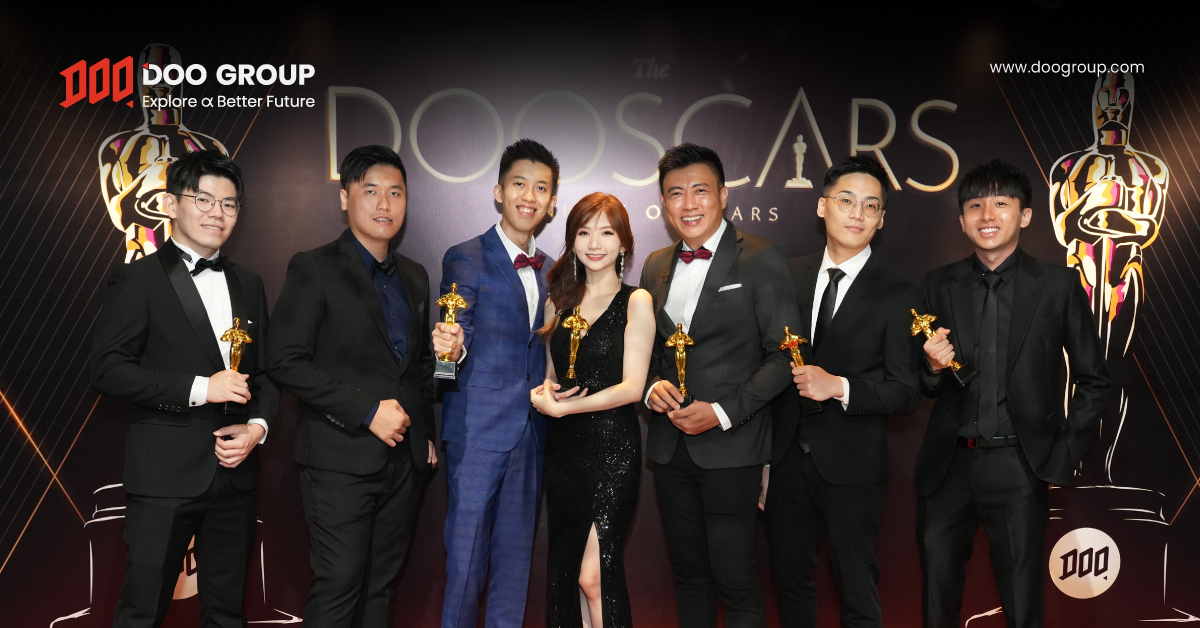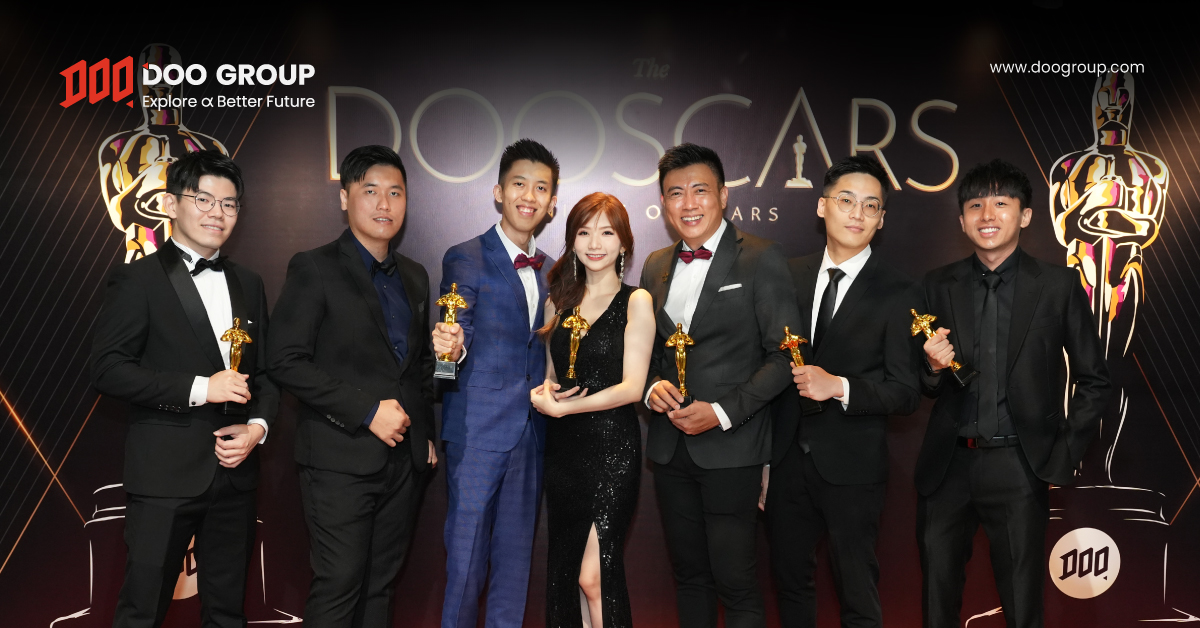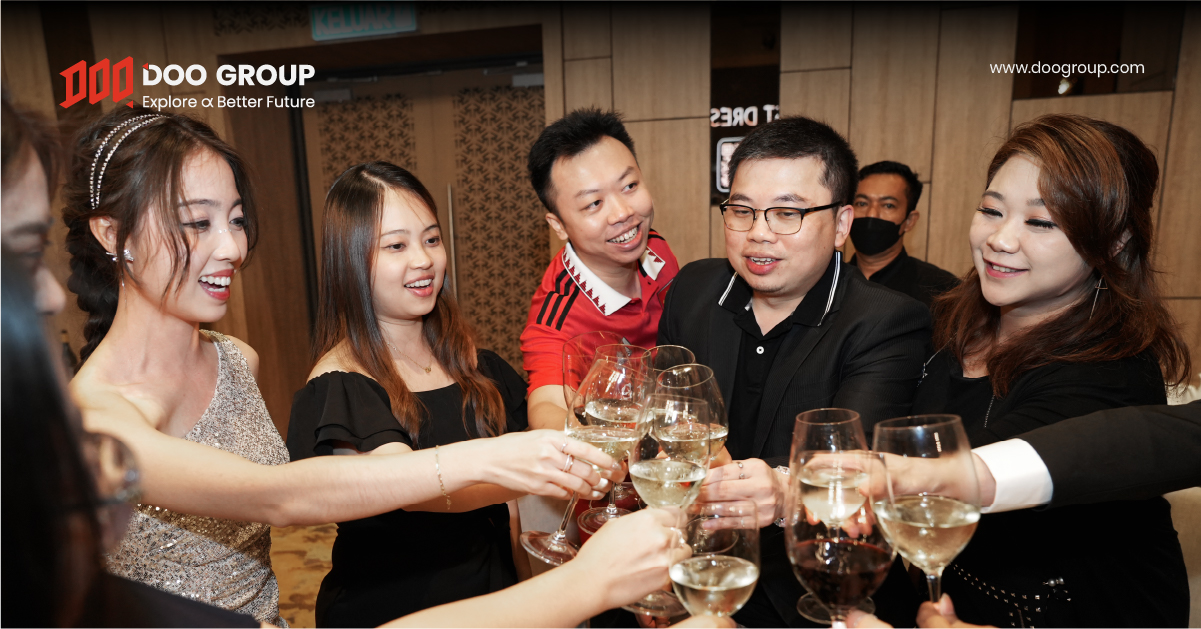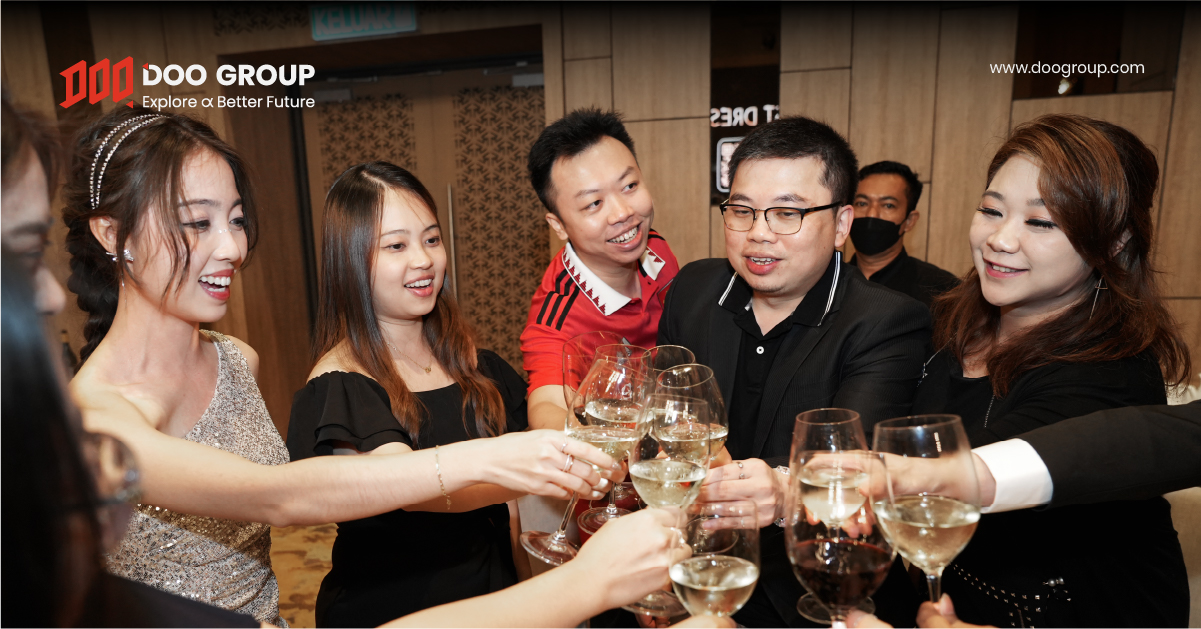 At the opening ceremony of the dinner, Hellen Tan, the COO of Doo Group, extended a warm welcome and heartfelt gratitude to the attending employees. She said, " Doo Group's leading position and remarkable achievements in the industry would not have been possible without the support of everyone present here. You should be proud of yourselves. That is why we will continue to prioritize employee growth and well-being, providing a comfortable work environment, a vibrant atmosphere, and ample opportunities for learning and development. Let's work together in building a bright future."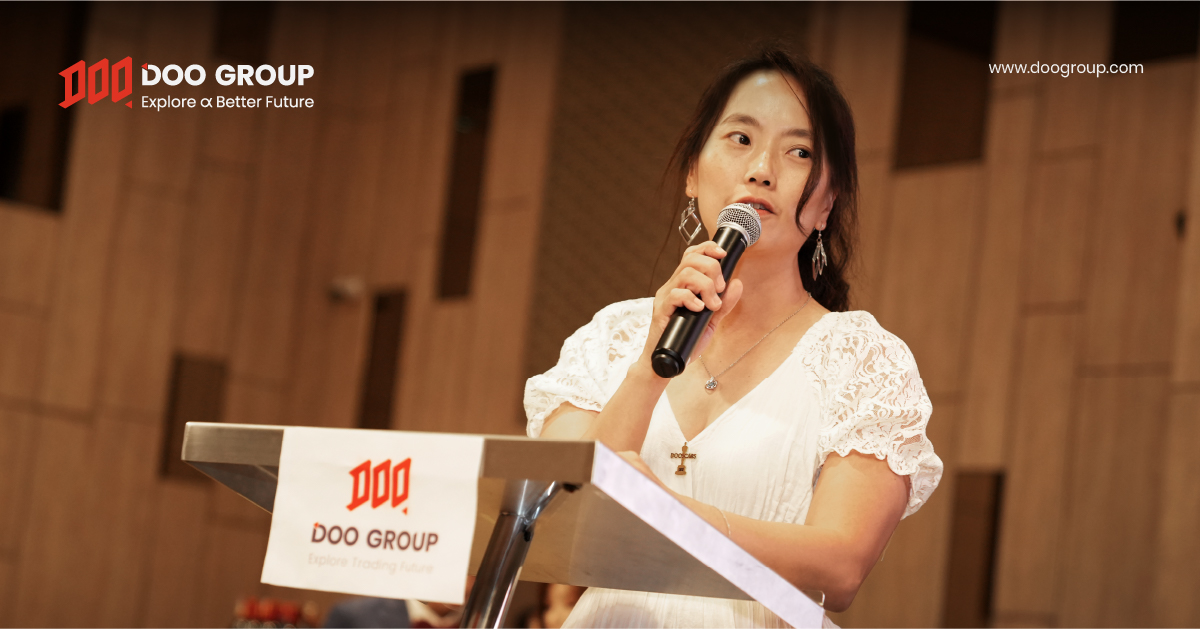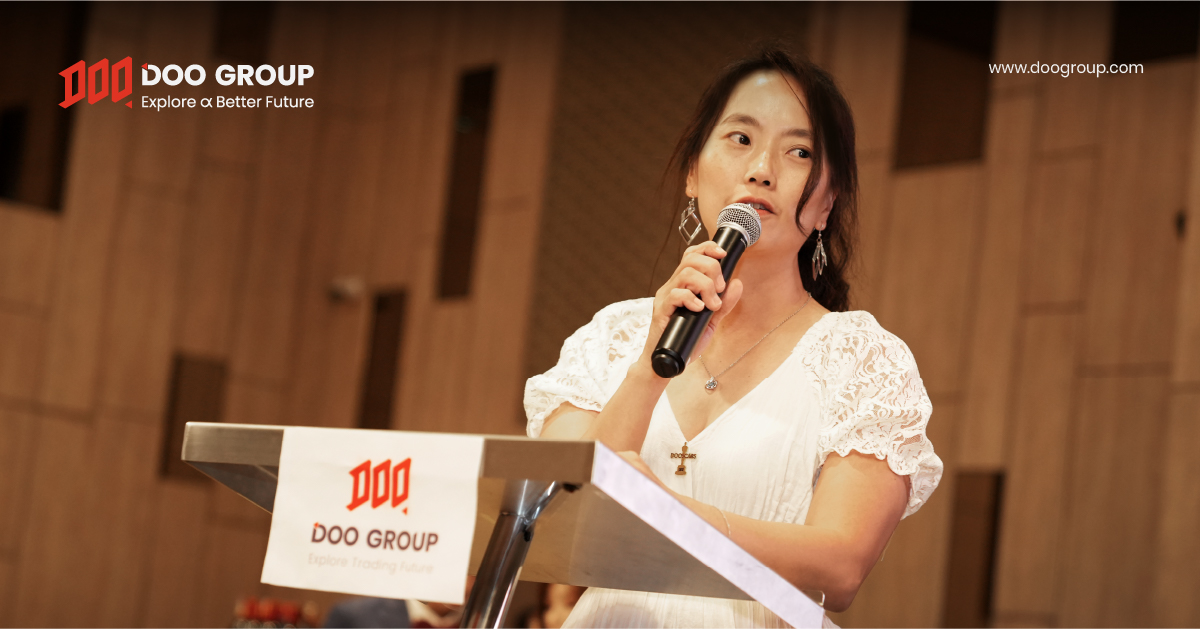 Next, the Executive Director, Costas Kappai, delivered a speech expressing his delight in witnessing the development of Doo Group and continuing to work together to overcome obstacles and move towards a brighter future. "Through our collective efforts, we have not only expanded our talent pool and opened new offices, but also achieved business growth and established a strategic partnership with renowned Manchester United. I hope that in the future, we will continue to stand united and work towards success alongside Doo Group."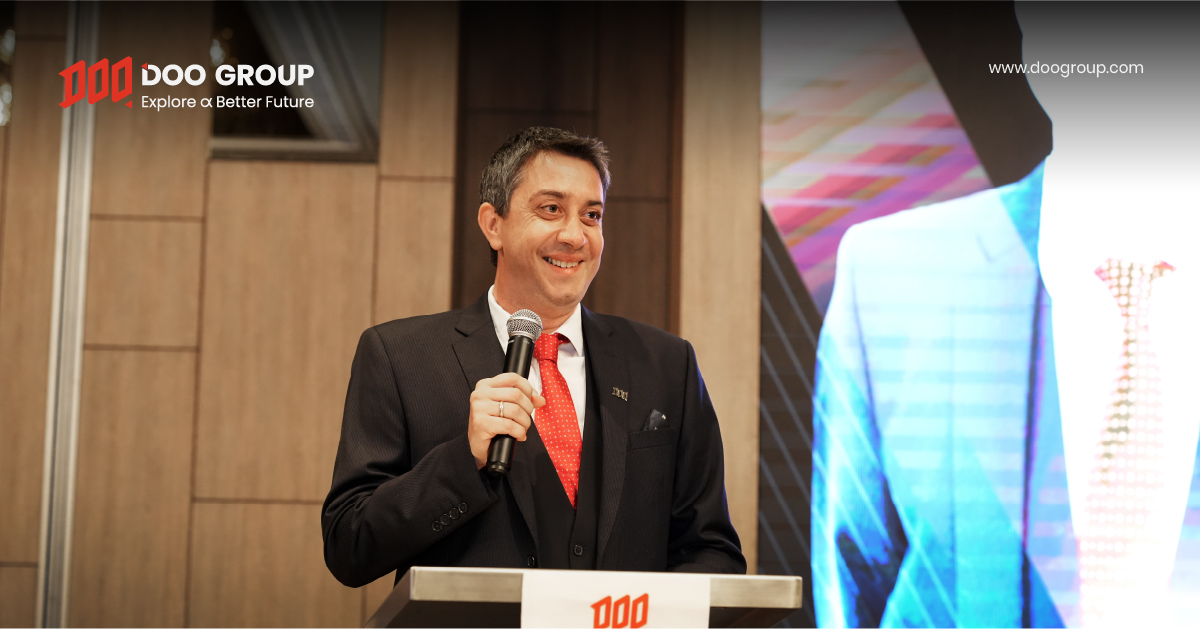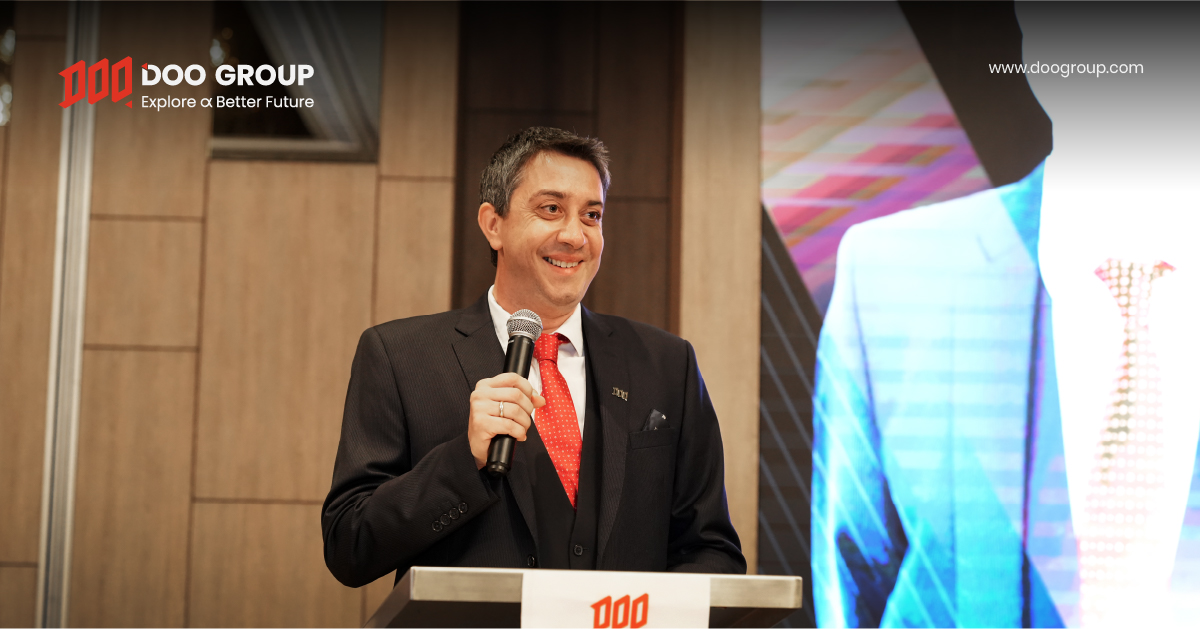 Lastly, CEO of Doo Group delivered a significant speech, highlighting the group's past accomplishments across various aspects and outlining future development plans. He provided guidance to DOOers, stating, "In the face of faster, more complex, and more competitive trends in the financial market, we still encounter formidable challenges. Let us always remember our mission and work together to forge a brighter future!"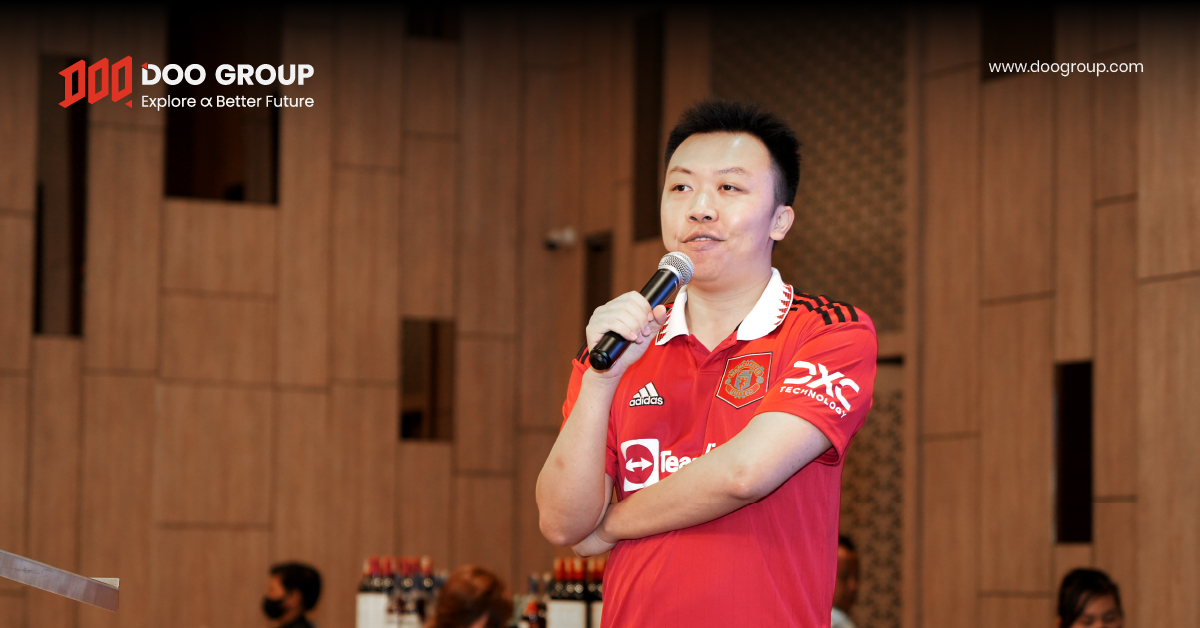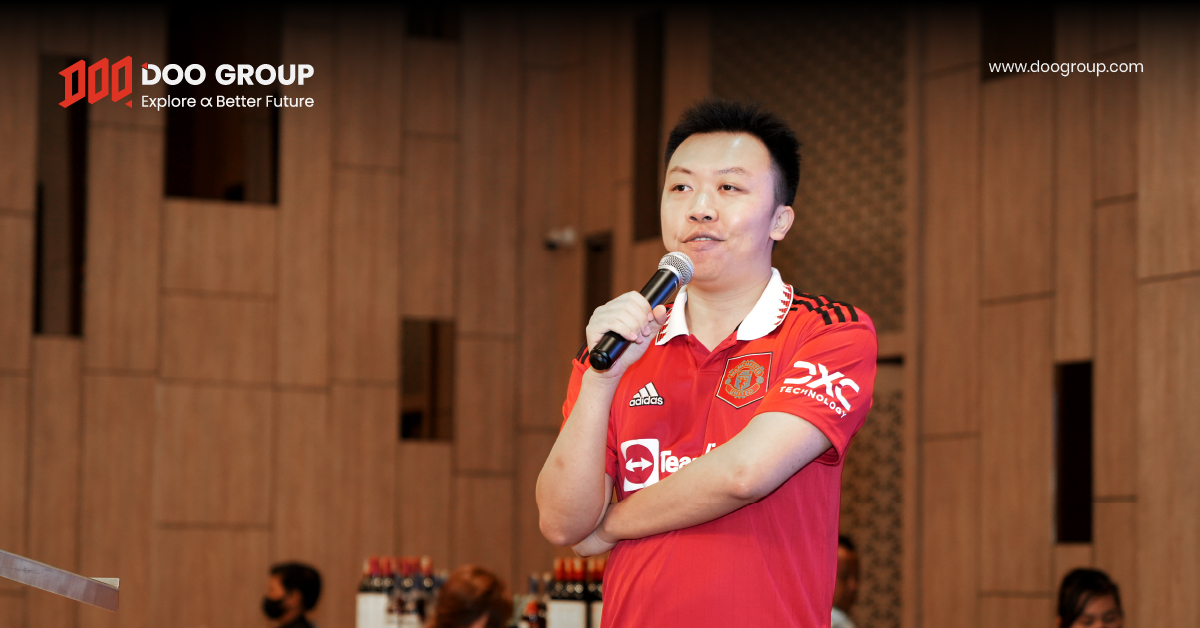 Award Ceremony: Building Dreams, Embracing Brilliance
Following the remarkable speeches, the event continued with electrifying performances and a thrilling lucky draw session. Several trendy tech and fashion items were eagerly won by lucky participants, elevating the ambiance of the dinner to new heights. The ceremony then proceeded to the awards segment, commencing with the presentation of the Long Service Award, honoring over 10 outstanding professionals from various departments. The first award presented was the Long Service Award, recognizing the dedicated "DOOers" who have been steadfastly committed to Doo Group. They were honored with custom-made awards filled with a gold coin, symbolizing our profound gratitude for their unwavering partnership and unspoken commitment. We extend our heartfelt appreciation to those who have chosen to walk alongside Doo Group, fostering growth and success together!
We also unveiled the honors for the Best Dressed Award, recognizing individuals who are not only excelled in their work but also stayed on top of the latest fashion trends. We extend our gratitude to every DOOer, even those who couldn't join us in person due to work commitments. Each and every DOOer is our hero, and together we will script a future filled with brilliance.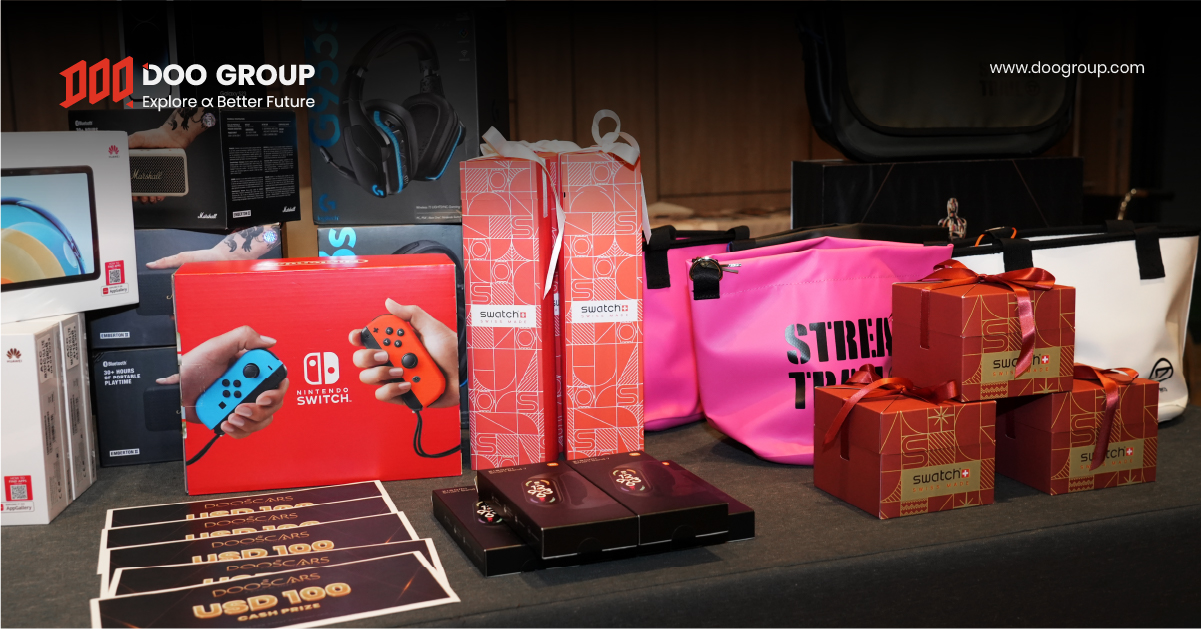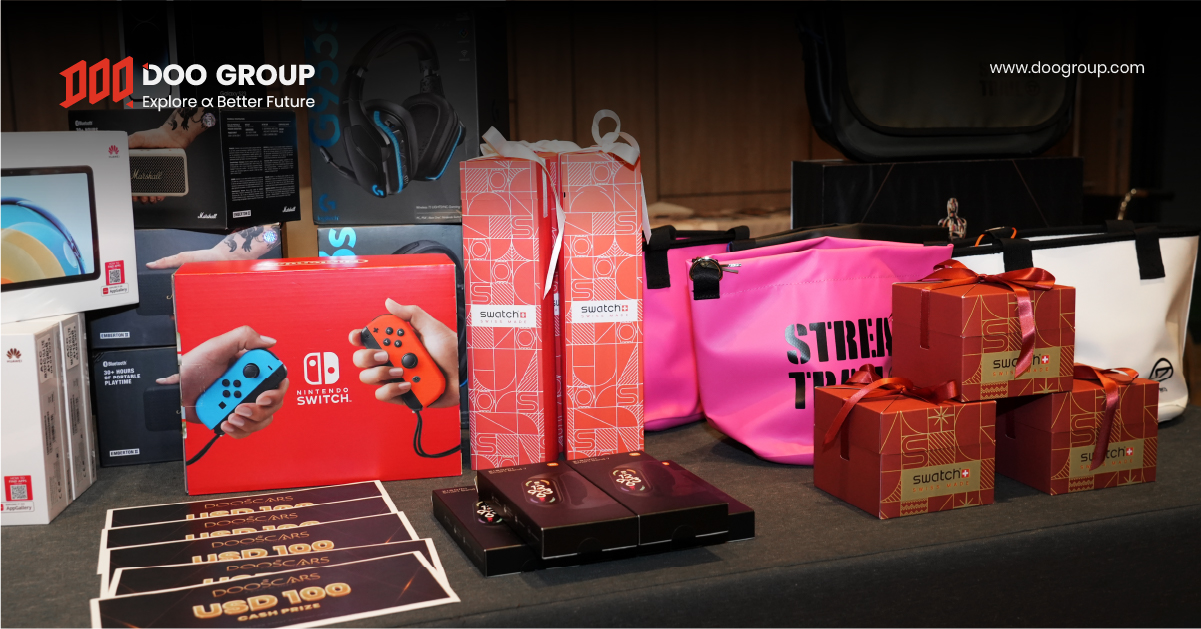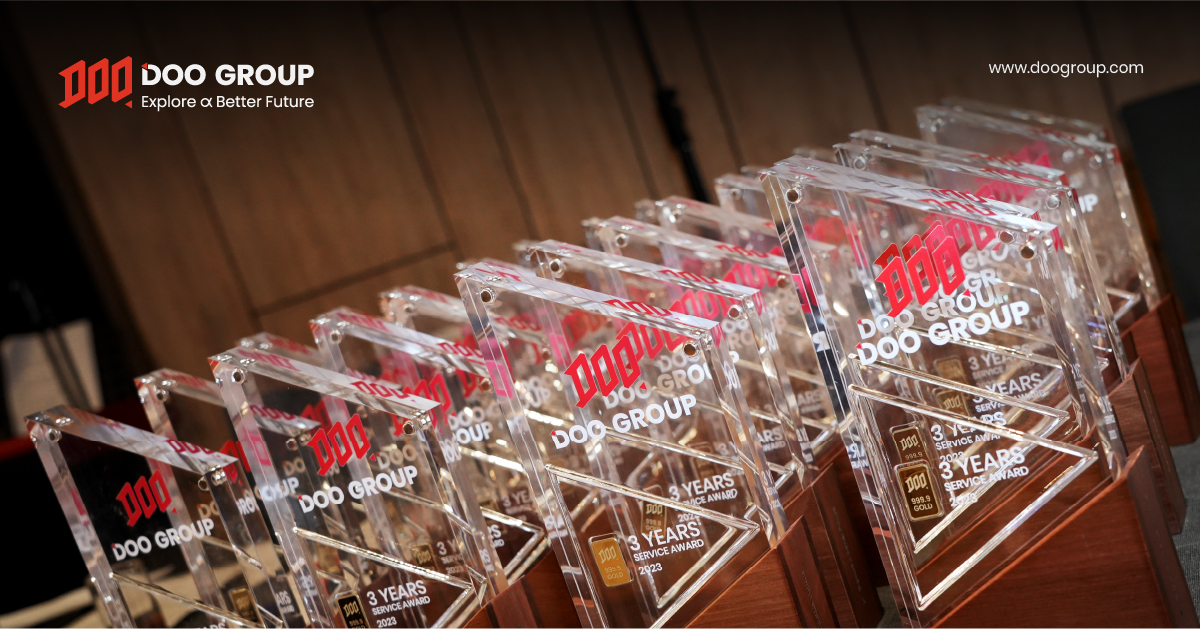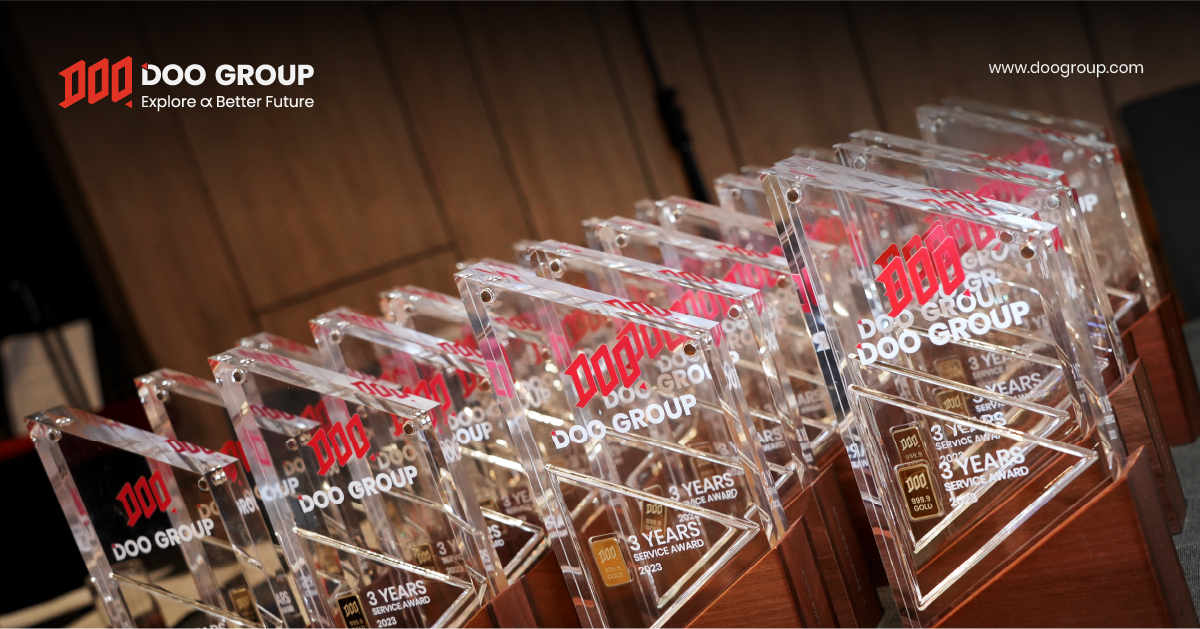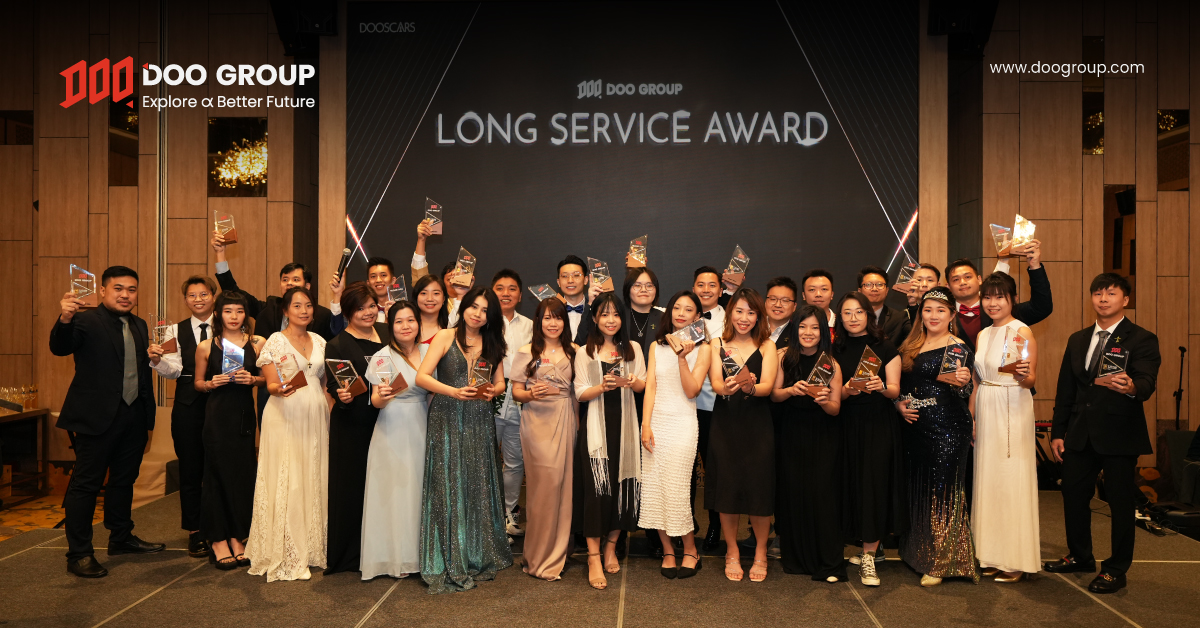 Employee welfare and team-building activities are just a reflection of our commitment in building a skilled workforce. Moving forward, we will remain steadfast in shaping a team of professionals, harnessing the power of our unity as a driving force. Fearless in the face of challenges, we will grow together, pooling our efforts and exploring a future of greater possibilities.
| About Doo Prime
Our Trading Products
Securities | Futures | Forex | Precious Metals | Commodities | Stock Indices
Doo Prime is an international pre-eminent online broker under Doo Group, which strives to provide professional investors with global CFD trading products in Securities, Futures, Forex, Precious Metals, Commodities, and Stock Indices. At present, Doo Prime is delivering the finest trading experience to more than 90,000 clients, with an average trading volume of more than USD 51.223 billion each month.
Doo Prime entities respectively holds the relevant financial regulatory licenses in Seychelles, Mauritius, and Vanuatu with operation centers in Dallas, Sydney, Singapore, Hong Kong, Dubai, Kuala Lumpur, and other regions.
With robust financial technology infrastructure, well-established partnerships, and an experienced technical team, Doo Prime boasts a safe and secure trading environment, competitive trading costs, as well as deposit and withdrawal methods that support 20+ different currencies. Doo Prime also incorporates 24/7 multilingual customer service and extremely fast trade execution via multiple industry-leading trading terminals such as MT4, MT5, TradingView, and Doo Prime InTrade, covering over 10,000 trading products.
Doo Prime's vision and mission are to become a financial technology-focused broker, streamlining international global financial products investment.
For more information about Doo Prime, please contact us at:
Phone:
Europe: +44 11 3733 5199
Asia: +852 3704 4241
Asia – Singapore: +65 6011 1415
Asia – China: +86 400 8427 539
E-mail:
Technical Support: [email protected]
Account Manager: [email protected]
Forward-looking Statements
This article contains "forward-looking statements" and may be identified by the use of forward-looking terminology such as "anticipate", "believe", "continue", "could", "estimate", "expect", "hope", "intend", "may", "might", "plan", "potential", "predict", "should", or "will", or other variations thereon or comparable terminology. However, the absence of such terminology does not mean that a statement is not forward-looking. In particular, statements about the expectations, beliefs, plans, objectives, assumptions, future events, or future performance of Doo Prime will be generally assumed as forward-looking statements.
Doo Prime has provided these forward-looking statements based on all current information available to Doo Prime and Doo Prime's current expectations, assumptions, estimates, and projections. While Doo Prime believes these expectations, assumptions, estimations, and projections are reasonable, these forward-looking statements are only predictions and involve known and unknown risks and uncertainties, many of which are beyond Doo Prime's control. Such risks and uncertainties may cause results, performance, or achievements materially different from those expressed or implied by the forward-looking statements.
Doo Prime does not provide any representation or warranty on the reliability, accuracy, or completeness of such statements. Doo Prime is not obliged to provide or release any updates or revisions to any forward-looking statements.
Risk Disclosure
Trading in financial instruments involves high risks due to the fluctuation in the value and prices of the underlying financial instruments. Due to the adverse and unpredictable market movements, large losses exceeding the investor's initial investment could incur within a short period of time. The past performance of a financial instrument is not an indication of its future performance. Investments in certain services should be made on margin or leverage, where relatively small movements in trading prices may have a disproportionately large impact on the client's investment and client should therefore be prepared to suffer significant losses when using such trading facilities.
Please make sure you read and fully understand the trading risks of the respective financial instrument before engaging in any transaction with Doo Prime's trading platforms. You should seek independent professional advice if you do not understand any of the risks disclosed by us herein or any risk associated with the trade and investment of financial instruments. Please refer to Doo Prime's Client Agreement and Risk Disclosure and Acknowledgement Notice to find out more.
Disclaimer
This information is addressed to the general public solely for information purposes and should not be taken as investment advice, recommendation, offer, or solicitation to buy or sell any financial instrument. The information displayed herein has been prepared without any reference or consideration to any particular recipient's investment objectives or financial situation. Any references to the past performance of a financial instrument, index, or a packaged investment product shall not be taken as a reliable indicator of its future performance. Doo Prime and its holding company, affiliates, subsidiaries, associated companies, partners and their respective employees, make no representation or warranties to the information displayed and shall not be liable for any direct, indirect, special or consequential loss or damages incurred a result of any inaccuracies or incompleteness of the information provided, and any direct or indirect trading risks, profit, or loss arising from any individual's or client's investment.