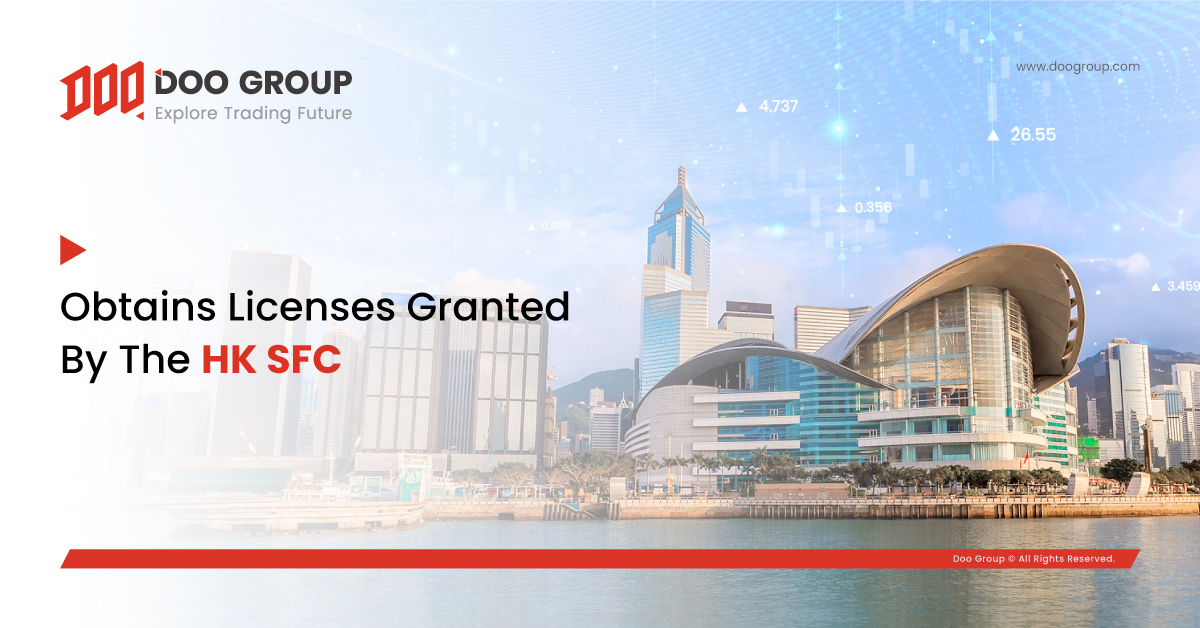 Doo Group's subsidiary company, Doo Financial HK Limited (Central entity no.: BSM562), marks another milestone in its journey with the obtainment of Type 4 (Advising on Securities) and Type 9 (Asset Management) licenses (Central entity no.: BSM562) issued by the Hong Kong Securities and Futures Commission (HK SFC).
Just celebrating its 8th anniversary in November 2022, Doo Group has been cultivating strong and professional teams across the world throughout its journey. With over 550 industry professionals working professionally for its clients, Doo Group has established over 10 offices that provide services to clients across more than 40 countries and regions. The obtainment of the licenses further demonstrates the rapid growth of Doo Group in diversified global financial markets, especially during times of uncertainty.
Providing Professional Services With The Supervision Of Prominent Financial Regulator
The HK SFC is one of the Hong Kong financial regulators. While the objectives, functions, powers and duties of the SFC are set out in the SFO, the SFC has adopted the following as a statement of its mission: "To strengthen and protect the integrity and soundness of the Hong Kong securities and futures markets for the benefit of investors and the industry".
Upon obtaining the Type 4 (Advising on Securities) and Type 9 (Asset Management) licenses issued by the HK SFC, Doo Financial HK Limited is allowed to provide clients with the following services:
Type 4 (Advising on Securities)

giving advice on –

whether;
which;
the time at which; or
the terms or conditions on which, securities should be acquired or disposed of; or

issuing analyses or reports, for the purposes of facilitating the recipients of the analyses or reports to make decisions on –

whether;
which;
the time at which; or
the terms or conditions on which, securities should be acquired or disposed of; or
For further information, please refer to Cap. 571 Securities and Futures Ordinance – Schedule 5 Regulated Activities: https://www.elegislation.gov.hk/hk/cap571!zh-Hant-HK
Type 9 (Asset Management)

real estate investment scheme management; or

securities or futures contracts management
You may perform a search on the HK SFC official website: https://apps.sfc.hk/publicregWeb/corp/BSM562/details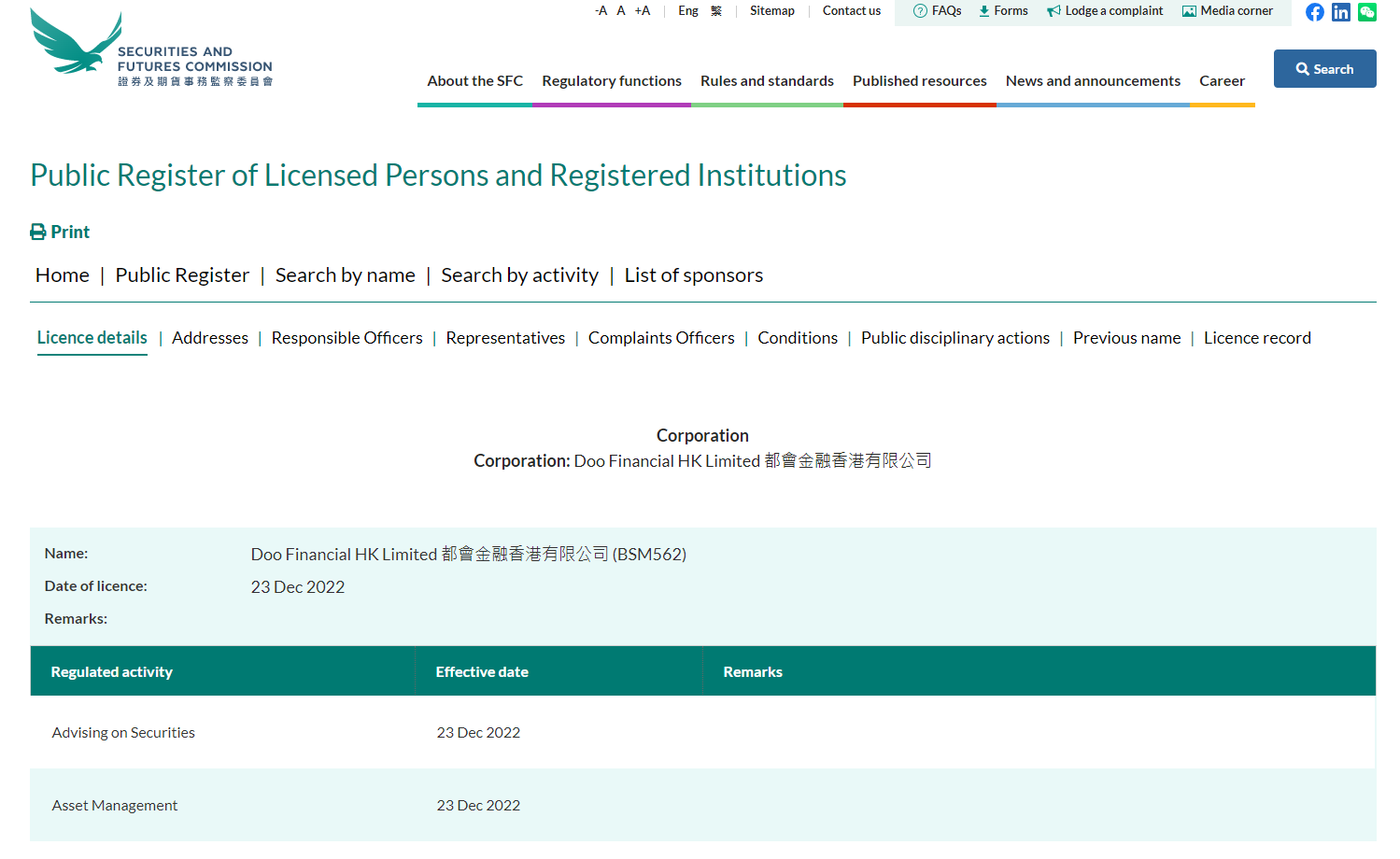 A Significant Milestone In Doo Group's Global Journey In Achieving Financial Diversity
Over the past eight years, Doo Group has been unleashing the spirit of never stop exploring, turning challenges into opportunities. The obtainment of the Type 4 and Type 9 licenses is a great stride of Doo Group in building a global cohesive financial ecosystem.
As an industry leading financial services group, the group has been discovering more opportunities in various fields of finance to empower clients with a wide range of services. Doo Group always pursues high standards industry practices, ensuring the rights of clients are strictly protected by professional third-party institutions. In the future, Doo Group will continue to venture further towards a better and prosperous future.
About Doo Group
Doo Group was established in 2014, currently headquartered in Singapore. After years of development, Doo Group has become a multi-faceted financial services group with financial technology as its core. With multiple sub-brands such as Doo Clearing, Doo Financial, Doo Prime, FinPoints and more, Doo Group is committed to provide trading and asset management services for over 20,000 financial products such as Securities, Futures, Forex, CFDs and Funds to global individual and institutional clients.
Currently, the entities within Doo Group, according to their location and products, are regulated by many of the top global financial regulators, including, but not limited to, the United States Securities and Exchange Commission (US SEC) and Financial Industry Regulatory Authority (US FINRA), United Kingdom Financial Conduct Authority (UK FCA), the Australian Securities & Investments Commission (AU ASIC), the Hong Kong Securities and Futures Commission (HK SFC), the Hong Kong Insurance Authority (HK Insurance Broker), the Hong Kong Companies Registry (HK Trust Company), the Hong Kong Customs and Excise Department (HK Money Service Operator), the Malaysia Labuan Financial Services Authority (MY Labuan FSA), the Seychelles Financial Services Authority (SC FSA), Mauritius Financial Services Commission (MU FSC), and the Vanuatu Financial Services Commission (VU FSC). Doo Group has entities operating in various global locations, including Dallas, London, Sydney, Singapore, Hong Kong, Dubai, Kuala Lumpur as well as other regions.
For enquiries and further information, please contact us:
Hong Kong: +852 6701 2091
Singapore: +65 6011 1736
Email: [email protected]
Forward-looking Statement
"Forward-looking" Statements
This article contains "forward-looking statements" and may be identified by the use of forward-looking terminology such as "anticipate", "believe", "continue", "could", "estimate", "expect", "hope", "intend", "may", "might", "plan", "potential", "predict", "should", or "will", or other variations thereon or comparable terminology. However, the absence of such terminology does not mean that a statement is not forward-looking. In particular, statements about the expectations, beliefs, plans, objectives, assumptions, future events, or future performance of Doo Group will be generally assumed as forward-looking statements.
Doo Group has provided these forward-looking statements based on all current information available to Doo Group and Doo Group's current expectations, assumptions, estimates, and projections. While Doo Group believes these expectations, assumptions, estimations, and projections are reasonable, these forward-looking statements are only predictions and involve known and unknown risks and uncertainties, many of which are beyond Doo Group's control. Such risks and uncertainties may cause results, performance, or achievements materially different from those expressed or implied by the forward-looking statements.
Doo Group does not provide any representation or warranty on the reliability, accuracy, or completeness of such statements. Doo Group is not obliged to provide or release any updates or revisions to any forward-looking statements.
Risk Disclosure
Trading in financial instruments involves high risks due to the fluctuation in the value and prices of the underlying financial instruments. Due to the adverse and unpredictable market movements, large losses exceeding the investor's initial investment could incur within a short period of time. The past performance of a financial instrument is not an indication of its future performance.
Please make sure you read and fully understand the trading risks of the respective financial instrument before engaging in any transaction with us. You should seek independent professional advice if you do not understand the risks disclosed by us herein.
Disclaimer
This information is addressed to the general public solely for information purposes and should not be taken as investment advice, recommendation, offer, or solicitation to buy or sell any financial instrument. The information displayed herein has been prepared without any reference or consideration to any particular recipient's investment objectives or financial situation. Any references to the past performance of a financial instrument, index, or a packaged investment product shall not be taken as a reliable indicator of its future results. Doo Group makes no representation and warranties to the information displayed and shall not be liable for any direct or indirect loss or damages as a result of any inaccuracies and incompleteness of the information provided. Doo Group shall not be liable for any loss or damages as a result of any direct or indirect trading risks, profit, or loss associated with any individual's investment.