The annual Earth Hour event is just around the corner, set to fall on 25 March 2023. It is a global energy saving campaign initiated by World Wildlife Fund (WWF) to combat global climate change and raise people's awareness of environmental protection – after all, it is our shared responsibility.
Standing as a world-leading financial services group, Doo Group has been practicing green finance to contribute to the coordination of financial and environmental protection for sustainable development.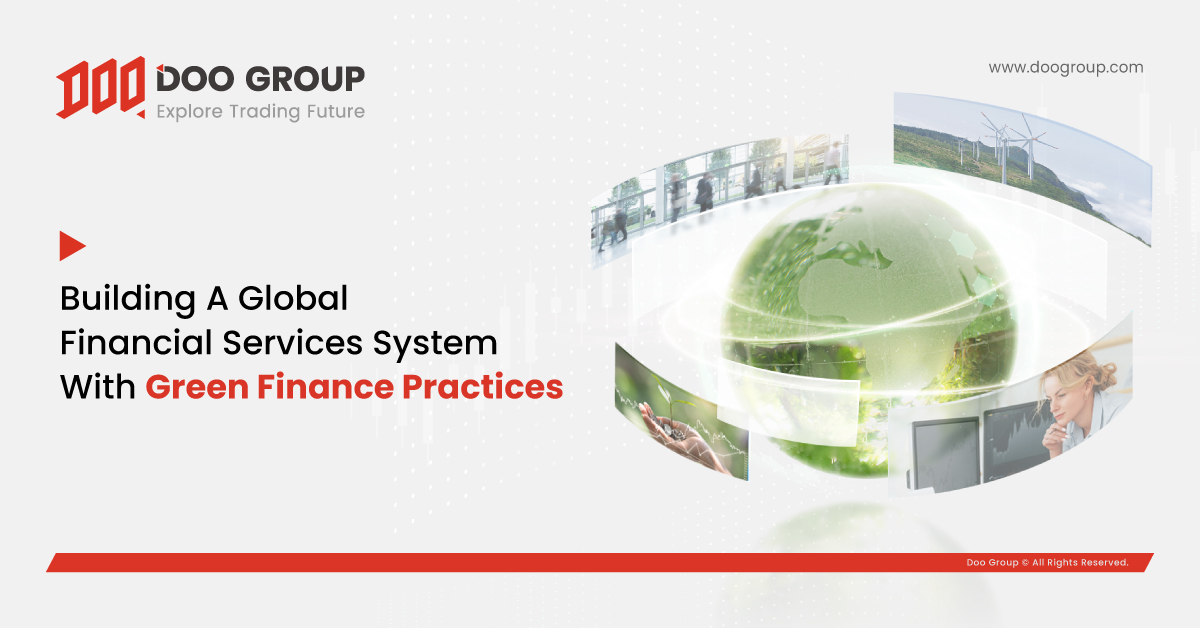 Building A Financial Services System With Green Finance Practices
There are two implications of green finance:
How the financial sector can contribute to environmental protection and sustainable economic and social development;
Sustainable development of the financial sector itself
Upholding the principle of "Clients come first", we are dedicated to improving our green financial services model.
Doo Group owns multiple sub-brands, including Doo Clearing, Doo Financial, Doo Prime, which focus on subdivided areas of the financial market in order to provide professional one-stop financial services for global investments. Under the strict supervision of the world's top financial regulators, Doo Group offers more than 20,000 financial products and asset management services in securities, futures, currency pairs, CFDs and funds to individual and institutional clients worldwide.
By incorporating green finance as part of the group's Environment, Social, And Governance (ESG) practices, Doo Group's products and services offer covers a wide range of green industry sectors with new technologies and business models.
In the future, we will be deeply involved in the green finance business through continuous opportunity tracking and the exploration of financial products that meet sustainable and green standards. With the Group's strong fintech infrastructure and financial ecosystem, we can provide investors with a wider range of asset classes and investment portfolios. While enhancing the quality of green financial services, it also promotes environmental protection and sustainable economic and social development.
Promoting Green Offices By Signing Global Environmental Charters
Doo Group has signed several global charters related to environmental protection, including the Energy Saving Charter and the 4T Charter by the Environment and Ecology Bureau, the Carbon Reduction Charter by the Hong Kong Environmental Protection Department, and the Food Wise Charter by the Food Wise Hong Kong Steering Committee.
According to these environmental protection frameworks, we take energy and water efficiency, low-carbon living, and climate risk into account in the construction of office environments. We are committed to creating green workplaces and improving the overall efficiency of office resources and energy use.
We encourage employees in each region to utilize office resources wisely according to local climate conditions and office habits – taking the initiative to turn off air-conditioners, lights and other office equipment upon leaving the workplaces and conference rooms to reduce unnecessary consumption of electricity and water. Through a comprehensive online office model, Doo Group's global offices are able to achieve cross-regional collaborations through online communication, online meetings, electronic approval and paperless office. This model not only greatly reduces the consumption of physical resources such as paper, but also the carbon footprint from business travel.
Boosting Green Development Through Industry Partnerships
Over the course of our business development, Doo Group has developed partnerships with a number of top companies in the industry. In addition to our deep collaboration in financial technology and services, we also share a common pursuit of environmental protection.
For instance, our infrastructure partner, Equinix, a leading global data operator, is committed to decreasing its carbon footprint and improving its power usage effectiveness (PUE) in response to the Paris Agreement. In addition, Equinix designs, builds, retrofits and operates their data centers with PUE goals in mind to create a physical building infrastructure that meets high energy efficiency standards.
We deploy our data centers in Equinix's London (LD5), New York (NT5), Hong Kong (HK2), and Singapore (SG1) nodes to maximize energy efficiency while ensuring an excellent trading environment.
As a financial services group with financial technology as its core, Doo Group will continue to focus on emerging sustainable technologies and carry the concept of green finance through the whole process of business development.
In the future, we will be exploring more low-carbon and environmentally friendly ways to save energy, and build a global financial services system with higher energy resource efficiency to serve global investors.
About Doo Group
Doo Group was established in 2014, currently headquartered in Singapore. After years of development, Doo Group has become a multi-faceted financial services group with financial technology as its core. With multiple sub-brands such as Doo Clearing, Doo Financial, Doo Prime, FinPoints and more, Doo Group is committed to provide trading and asset management services for over 20,000 financial products such as Securities, Futures, Forex, CFDs and Funds to global individual and institutional clients.
Currently, the entities within Doo Group, according to their location and products, are regulated by many of the top global financial regulators, including, but not limited to the United States Securities and Exchange Commission (US SEC) and Financial Industry Regulatory Authority (US FINRA), United Kingdom Financial Conduct Authority (UK FCA), the Australian Securities & Investments Commission (ASIC), the Australian Transaction Reports and Analysis Centre (AUSTRAC), the Hong Kong Securities and Futures Commission (HK SFC), the Hong Kong Insurance Authority (HK Insurance Broker), the Hong Kong Companies Registry (HK Trust Company), the Hong Kong Customs and Excise Department (HK Money Service Operator), the Malaysia Labuan Financial Services Authority (MY Labuan FSA), the Seychelles Financial Services Authority (SC FSA), Mauritius Financial Services Commission (MU FSC), and the Vanuatu Financial Services Commission (VU FSC). Doo Group has entities operating in various global locations, including Dallas, London, Sydney, Singapore, Hong Kong, Dubai, Kuala Lumpur as well as other regions.
For enquiries and further information, please contact us:
Hong Kong: +852 6701 2091
Singapore: +65 6011 1736
Email: [email protected]
Forward-looking Statement
"Forward-looking" Statements
This article contains "forward-looking statements" and may be identified by the use of forward-looking terminology such as "anticipate", "believe", "continue", "could", "estimate", "expect", "hope", "intend", "may", "might", "plan", "potential", "predict", "should", or "will", or other variations thereon or comparable terminology. However, the absence of such terminology does not mean that a statement is not forward-looking. In particular, statements about the expectations, beliefs, plans, objectives, assumptions, future events, or future performance of Doo Group will be generally assumed as forward-looking statements.
Doo Group has provided these forward-looking statements based on all current information available to Doo Group and Doo Group's current expectations, assumptions, estimates, and projections. While Doo Group believes these expectations, assumptions, estimations, and projections are reasonable, these forward-looking statements are only predictions and involve known and unknown risks and uncertainties, many of which are beyond Doo Group's control. Such risks and uncertainties may cause results, performance, or achievements materially different from those expressed or implied by the forward-looking statements.
Doo Group does not provide any representation or warranty on the reliability, accuracy, or completeness of such statements. Doo Group is not obliged to provide or release any updates or revisions to any forward-looking statements.
Risk Disclosure
Trading in financial instruments involves high risks due to the fluctuation in the value and prices of the underlying financial instruments. Due to the adverse and unpredictable market movements, large losses exceeding the investor's initial investment could incur within a short period of time. The past performance of a financial instrument is not an indication of its future performance.
Please make sure you read and fully understand the trading risks of the respective financial instrument before engaging in any transaction with us. You should seek independent professional advice if you do not understand the risks disclosed by us herein.
Disclaimer
This information is addressed to the general public solely for information purposes and should not be taken as investment advice, recommendation, offer, or solicitation to buy or sell any financial instrument. The information displayed herein has been prepared without any reference or consideration to any particular recipient's investment objectives or financial situation. Any references to the past performance of a financial instrument, index, or a packaged investment product shall not be taken as a reliable indicator of its future results. Doo Group makes no representation and warranties to the information displayed and shall not be liable for any direct or indirect loss or damages as a result of any inaccuracies and incompleteness of the information provided. Doo Group shall not be liable for any loss or damages as a result of any direct or indirect trading risks, profit, or loss associated with any individual's investment.