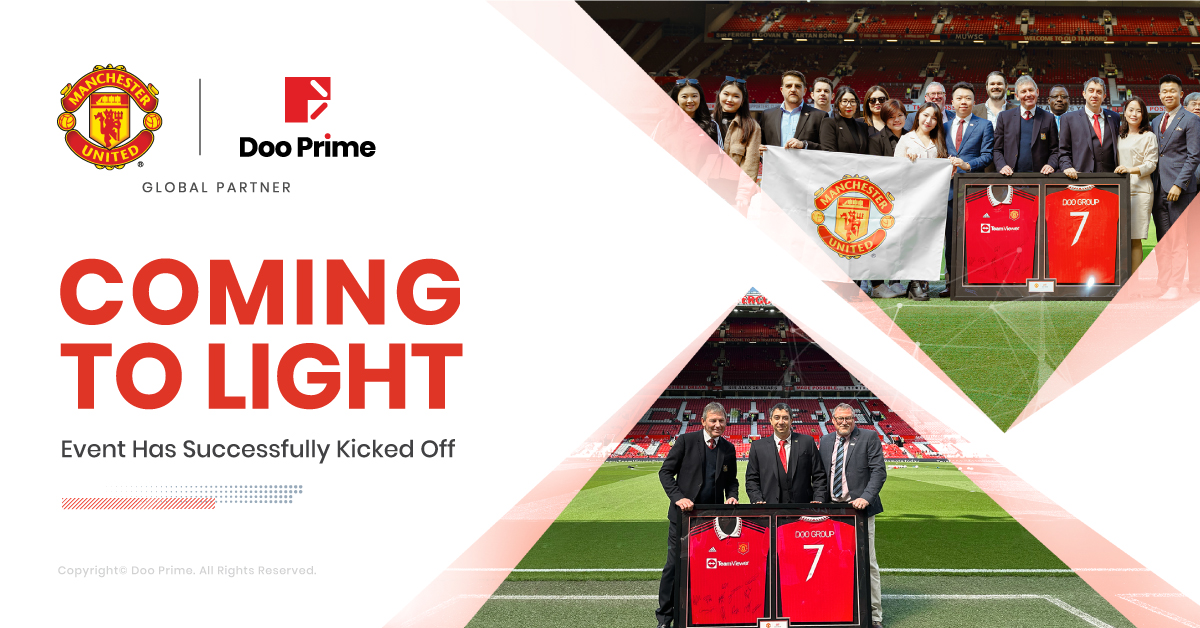 The Old Trafford faithful were cheering and in good spirits, as Manchester United beat Wolves 2-0 in the Premier League on Saturday, May 13th to strengthen their grip on the important race for the Top 4 in Manchester at Old Trafford. This result and performance capped off a really special few days as Doo Group and Manchester United celebrated the main launch activity plan together which is rooted in the importance of core shared values and mutual respect that we care about the same things in partnership together.
To commemorate the partnership, Doo Group, and Manchester United initiated the "Coming To Light" event. This culture exchange experience featured a series of events across a few days such as interviews, a Manchester United Ambassador Q&A, a training ground and stadium Tour, a signed shirt exchange, and ultimately a VIP match viewing experience for all Doo Group guests of the match Vs Wolverhampton Wanderers at the iconic Theatre of Dreams.
Doo Group and Manchester United believe in more
Commenting on the latest partnership in the event, Doo Group Director Ian Howard stated that "We are committed to perfecting the journey and have been long inspired by Man United's unwavering dedication to being the best they can be. We are beyond thrilled to bring our communities together on this momentous trip and look forward to what the future beholds."
Invest in the future, together through core shared values and caring about the same things!
Doo Group has been a global leader in its category for investing across communities when it comes to CSR for about a decade. Manchester United has a history of greatness and a future focused on achieving the highest standards. At the heart of the activation of this partnership, both parties will continue to bring fans from all communities closer to the action and celebrate our core shared values in caring about the same things.
We will leverage the club's scale and engagement with its fans globally across respective platforms to communicate our partnership mission to supporters and customers. We look forward to seeing this partnership go from strength to strength over the coming years.
In line with the partnership, Doo Group, and Manchester United will continue to place these shared core values at the heart and bring good to communities around the world, because we care about the same things you do.
| About Doo Group
Doo Group was established in 2014, currently headquartered in Singapore. After years of development, Doo Group has become a multi-faceted financial services group with financial technology as its core. With multiple sub-brands such as Doo Clearing, Doo Financial, Doo Prime, FinPoints and more, Doo Group is committed to provide trading and asset management services for over 20,000 financial products such as Securities, Futures, Forex, CFDs and Funds to global individual and institutional clients.
Currently, the entities within Doo Group, according to their location and products, are regulated by many of the top global financial regulators, including, but not limited to the United States Securities and Exchange Commission (US SEC) and Financial Industry Regulatory Authority (US FINRA), United Kingdom Financial Conduct Authority (UK FCA), the Australian Securities & Investments Commission (ASIC), the Australian Transaction Reports and Analysis Centre (AUSTRAC), the Hong Kong Securities and Futures Commission (HK SFC), the Hong Kong Insurance Authority (HK Insurance Broker), the Hong Kong Companies Registry (HK Trust Company), the Hong Kong Customs and Excise Department (HK Money Service Operator), the Malaysia Labuan Financial Services Authority (MY Labuan FSA), the Seychelles Financial Services Authority (SC FSA), Mauritius Financial Services Commission (MU FSC), and the Vanuatu Financial Services Commission (VU FSC). Doo Group has entities operating in various global locations, including Dallas, London, Sydney, Singapore, Hong Kong, Dubai, Kuala Lumpur as well as other regions.
For enquiries and further information, please contact us:
Hong Kong: +852 6701 2091
Singapore: +65 6011 1736
Email: [email protected]
Forward-looking Statement
This article contains "forward-looking statements" and may be identified by the use of forward-looking terminology such as "anticipate", "believe", "continue", "could", "estimate", "expect", "hope", "intend", "may", "might", "plan", "potential", "predict", "should", or "will", or other variations thereon or comparable terminology. However, the absence of such terminology does not mean that a statement is not forward-looking. In particular, statements about the expectations, beliefs, plans, objectives, assumptions, future events, or future performance of Doo Group will be generally assumed as forward-looking statements.
Doo Group has provided these forward-looking statements based on all current information available to Doo Group and Doo Group's current expectations, assumptions, estimates, and projections. While Doo Group believes these expectations, assumptions, estimations, and projections are reasonable, these forward-looking statements are only predictions and involve known and unknown risks and uncertainties, many of which are beyond Doo Group's control. Such risks and uncertainties may cause results, performance, or achievements materially different from those expressed or implied by the forward-looking statements.
Doo Group does not provide any representation or warranty on the reliability, accuracy, or completeness of such statements. Doo Group is not obliged to provide or release any updates or revisions to any forward-looking statements.
Risk Disclosure
Trading in financial instruments involves high risks due to the fluctuation in the value and prices of the underlying financial instruments. Due to the adverse and unpredictable market movements, large losses exceeding the investor's initial investment could incur within a short period of time. The past performance of a financial instrument is not an indication of its future performance.
Please make sure you read and fully understand the trading risks of the respective financial instrument before engaging in any transaction with us. You should seek independent professional advice if you do not understand the risks disclosed by us herein.
Disclaimer
This information is addressed to the general public solely for information purposes and should not be taken as investment advice, recommendation, offer, or solicitation to buy or sell any financial instrument. The information displayed herein has been prepared without any reference or consideration to any particular recipient's investment objectives or financial situation. Any references to the past performance of a financial instrument, index, or a packaged investment product shall not be taken as a reliable indicator of its future results. Doo Group makes no representation and warranties to the information displayed and shall not be liable for any direct or indirect loss or damages as a result of any inaccuracies and incompleteness of the information provided. Doo Group shall not be liable for any loss or damages as a result of any direct or indirect trading risks, profit, or loss associated with any individual's investment.