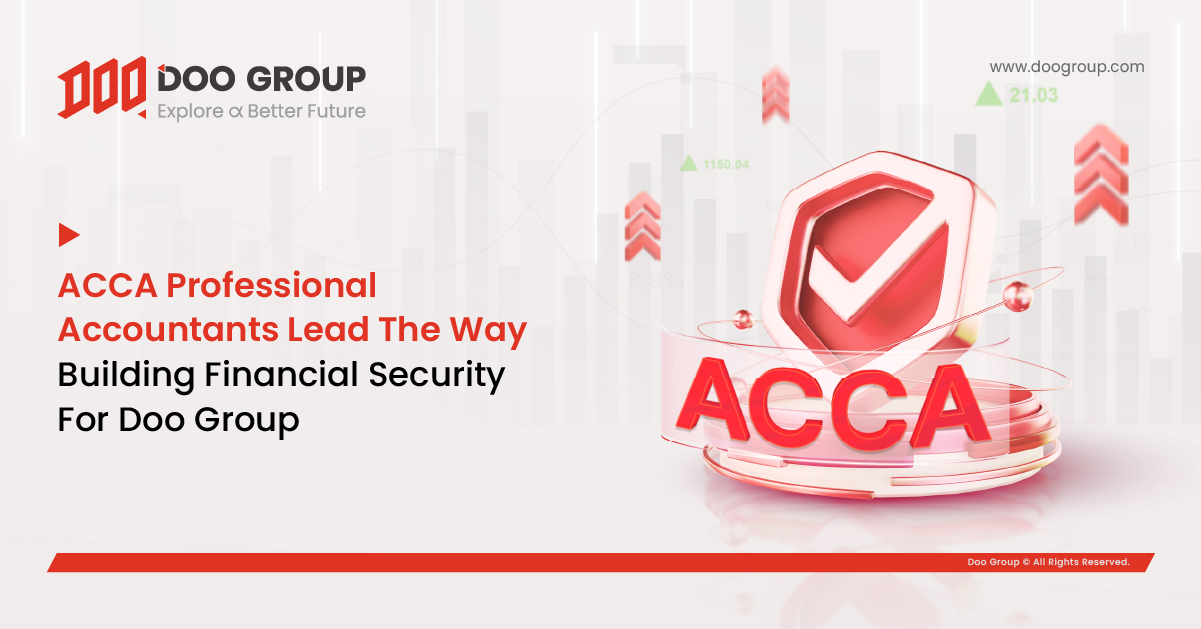 In an environment of global economic uncertainty, new financial risks and challenges are emerging. Therefore, how to properly anticipate and prevent risks is an ever-present topic, especially for a large financial service group like Doo Group. With a team of ACCA-certified accounting professionals, Doo Group is able to build robust and efficient financial security to safeguard the safety of clients' financial assets with a forward-looking perspective of potential risks within and outside the Group.
What Is ACCA?
Founded in 1904, ACCA (the Association of Chartered Certified Accountants), the ACCA has a worldwide reputation for being a progressive and modern thinker that is committed to driving innovation in the global accounting profession. To date, ACCA has over 241,000 members and 542,000 students worldwide. The ACCA professional qualification is highly recognized and highly valued in the financial and accounting sector. For businesses, ACCA professional accountants play a crucial role in ensuring successful risk management.
Professional Internal Audit To Enhance Financial Security
With the deepening of economic globalization, the business environment is becoming increasingly complex, and the business risks are increasing. Therefore, it is particularly important to establish an effective capital security and risk management system. Internal audit is an important part of this as it helps to identify and detect any risk factors facing or potentially facing the company in a timely manner, so that effective measures can be taken to ensure the safety and proper operation of internal funds.
Comprising dozens of ACCA-certified accountants, Doo Group's internal audit team is well positioned to assess and examine risks within the Group, with a forward-looking professional perspective. In this case, the team is able to identify potential gaps in risk control and fund management in order to take effective measures to minimise any level of risk that may occur in the future. Currently, Doo Group has established a comprehensive risk management system to effectively deal with various risks. At the same time, the company's capital management system is strictly controlled by the ACCA professionals. The team will supervise the entire process of client transaction settlement funds to ensure the safety of client funds. This will not only give full play to the strengths of internal audit, but also strengthens financial security.
External Audit Coordination To Regulate Financial Activities
Internal audit serves as a self-assessment mechanism for businesses. However, to further ensure the objectivity and fairness of the assessment, organizations also need external audit as a supplement financial assessment.
In addition to having an internal audit team led by ACCA members, Doo Group's affiliate, Doo Prime, is subject to business security and compliance audits by three external audit firms, AJC, VBS Business Services and Antao Associates. Objective and fair assessment results from a professional third party can effectively ensure the regularity of the company's financial activities, as well as the transparency and accuracy of financial information. By proactively accepting third-party audits and checks, Doo Group can better detect errors and prevent fraud in order to continuously improve its existing systems to fully protect the safety of our clients' funds.
Doo Group understands that it is our core responsibility to ensure that our clients' assets and rights are well-protected. With the professional guidance of ACCA members within the team, Doo Group has integrated financial security and risk management into its corporate governance structure. In the future, Doo Group will continue to maintain a high standard of auditing requirements to ensure the safety of funds and protect the rights of our clients.
About Doo Group
Doo Group was established in 2014, currently headquartered in Singapore. After years of development, Doo Group has become a multi-faceted financial services group with financial technology as its core. With multiple sub-brands such as Doo Clearing, Doo Financial, Doo Prime, Doo Wealth, Doo Health, Doo Academy, Lesspay, FinPoints and many more, Doo Group is committed to provide trading and asset management services for over 20,000 financial products such as Securities, Futures, Forex, CFDs and Funds to global individual and institutional clients.
Currently, the entities within Doo Group, according to their location and products, are regulated by many of the top global financial regulators, including, but not limited to the United States Securities and Exchange Commission (US SEC) and Financial Industry Regulatory Authority (US FINRA), United Kingdom Financial Conduct Authority (UK FCA), the Australian Securities & Investments Commission (ASIC), the Australian Transaction Reports and Analysis Centre (AUSTRAC), the Hong Kong Securities and Futures Commission (HK SFC), the Hong Kong Insurance Authority (HK Insurance Broker), the Hong Kong Companies Registry (HK Trust Company), the Hong Kong Customs and Excise Department (HK Money Service Operator), the Malaysia Labuan Financial Services Authority (MY Labuan FSA), the Seychelles Financial Services Authority (SC FSA), Mauritius Financial Services Commission (MU FSC), and the Vanuatu Financial Services Commission (VU FSC). Doo Group has entities operating in various global locations, including Dallas, London, Sydney, Singapore, Hong Kong, Dubai, Kuala Lumpur as well as other regions.
For enquiries and further information, please contact us:
Hong Kong: +852 6701 2091
Singapore: +65 6011 1736
Email: [email protected]
Forward-looking Statement
"Forward-looking" Statements
This article contains "forward-looking statements" and may be identified by the use of forward-looking terminology such as "anticipate", "believe", "continue", "could", "estimate", "expect", "hope", "intend", "may", "might", "plan", "potential", "predict", "should", or "will", or other variations thereon or comparable terminology. However, the absence of such terminology does not mean that a statement is not forward-looking. In particular, statements about the expectations, beliefs, plans, objectives, assumptions, future events, or future performance of Doo Group will be generally assumed as forward-looking statements.
Doo Group has provided these forward-looking statements based on all current information available to Doo Group and Doo Group's current expectations, assumptions, estimates, and projections. While Doo Group believes these expectations, assumptions, estimations, and projections are reasonable, these forward-looking statements are only predictions and involve known and unknown risks and uncertainties, many of which are beyond Doo Group's control. Such risks and uncertainties may cause results, performance, or achievements materially different from those expressed or implied by the forward-looking statements.
Doo Group does not provide any representation or warranty on the reliability, accuracy, or completeness of such statements. Doo Group is not obliged to provide or release any updates or revisions to any forward-looking statements.
Risk Disclosure
Trading in financial instruments involves high risks due to the fluctuation in the value and prices of the underlying financial instruments. Due to the adverse and unpredictable market movements, large losses exceeding the investor's initial investment could incur within a short period of time. The past performance of a financial instrument is not an indication of its future performance.
Please make sure you read and fully understand the trading risks of the respective financial instrument before engaging in any transaction with us. You should seek independent professional advice if you do not understand the risks disclosed by us herein.
Disclaimer
This information is addressed to the general public solely for information purposes and should not be taken as investment advice, recommendation, offer, or solicitation to buy or sell any financial instrument. The information displayed herein has been prepared without any reference or consideration to any particular recipient's investment objectives or financial situation. Any references to the past performance of a financial instrument, index, or a packaged investment product shall not be taken as a reliable indicator of its future results. Doo Group makes no representation and warranties to the information displayed and shall not be liable for any direct or indirect loss or damages as a result of any inaccuracies and incompleteness of the information provided. Doo Group shall not be liable for any loss or damages as a result of any direct or indirect trading risks, profit, or loss associated with any individual's investment.