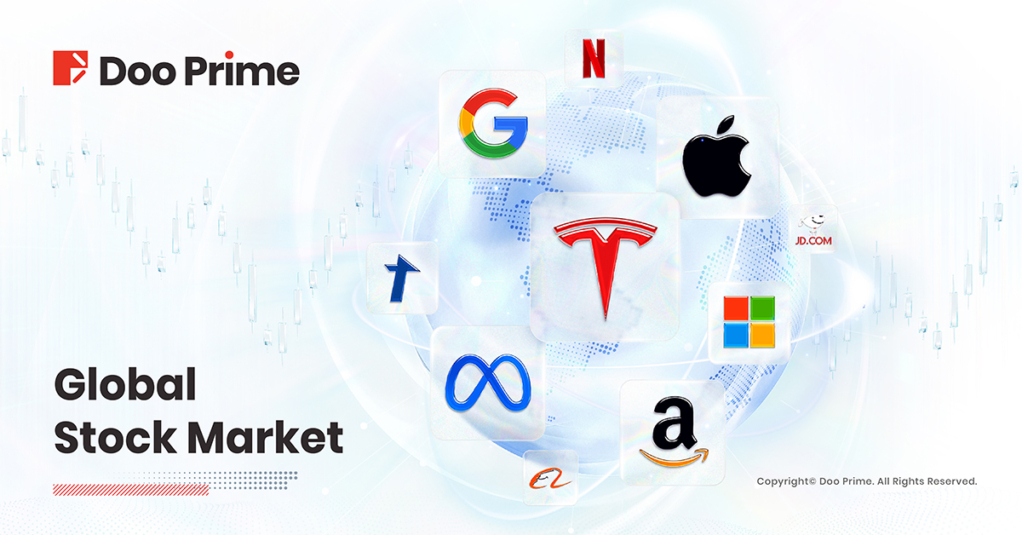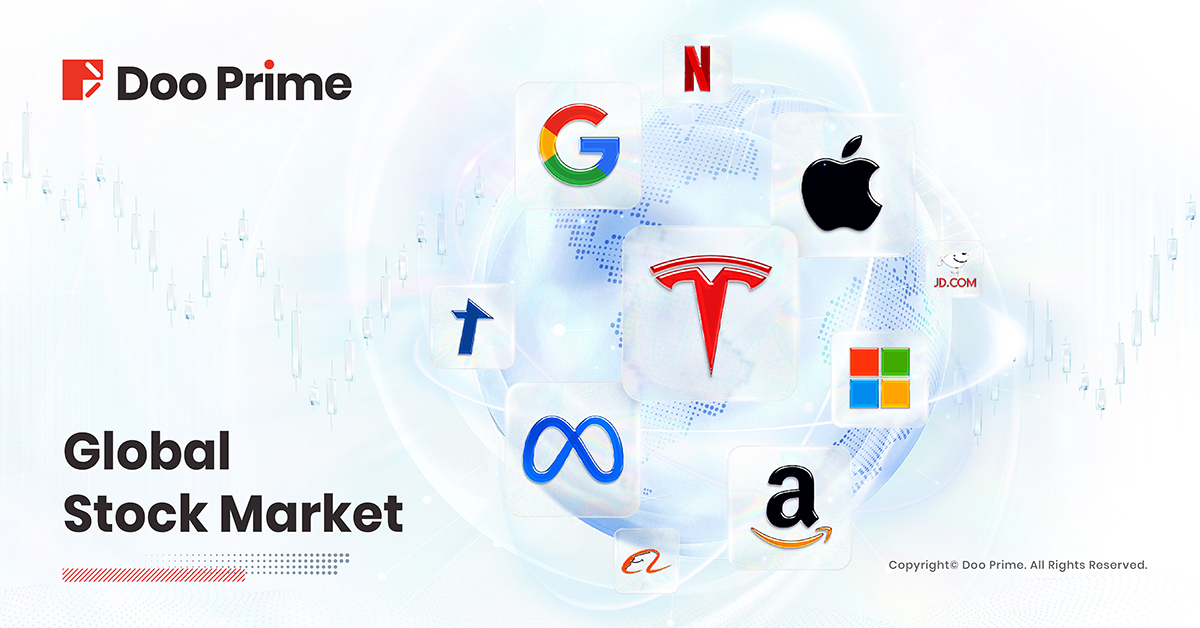 The three major U.S. stock indices closed higher on Wednesday, with tech stocks leading the way.
The 10-year U.S. Treasury bond yield pulled back from a 16-year high, providing a boost to the stock market.  
WTI crude oil futures prices saw a significant drop.
In September, the U.S. added 89,000 jobs, falling far short of expectations (153,000) and the previous figure (177,000). This marked the smallest increase since early 2021 and indicated a further slowdown in the labor market. It also cooled expectations of the Federal Reserve raising interest rates again this year.
Currently, all eyes are on the release of the U.S. September non-farm payroll data on Friday, with an expected addition of 170,000 jobs. 
On Wednesday, U.S. Treasury yields fell, lifting the stock market. The 10-year U.S. Treasury yield decreased by 7.5 basis points, reaching 4.727%.
On Tuesday, both the 10-year and 30-year U.S. Treasury bond yields reached new highs not seen since August 2007.
U.S. Stocks
Fundamental Analysis:
Large technology stocks posted gains, with Tesla surging nearly 6% and its market value crossing the $800 billion threshold.
AMD, ARM, STMicroelectronics, and ASML all gained over 3%.
Google rose over 2%, while Nvidia, Microsoft, Amazon, and Meta gained over 1%. Netflix and Apple posted slight gains.
Energy stocks performed weakly, with Caelon Petroleum dropping over 7%, and Marathon Petroleum, Schlumberger, Apache Corporation, and Murphy Oil falling over 4%. ExxonMobil, ConocoPhillips, and Western Petroleum fell over 3%, while Chevron dropped over 2%.
Chinese tech stocks had mixed movements, with the Nasdaq Golden Dragon China Index falling by 0.27%.
XPeng Motors gained over 3%, NIO rose over 2%, and New Oriental and XPeng Motors gained over 1%.
Alibaba, iQiyi, JD.com, and others experienced slight declines, while Bilibili and Vipshop Holdings dropped over 1%.
Technical Analysis:   
(S&P 500 Index, 1-day chart)
Market Trends:
Dow Jones Industrial Average gained 127.17 points, or 0.39%, closing at 33,129.55 points.
Nasdaq Composite Index (Nasdaq) rose 176.54 points, or 1.35%, closing at 13,236.01 points.
S&P 500 Index gained 34.30 points, or 0.81%, closing at 4,263.75 points.
Hong Kong Stocks
All three major indices saw gains, with core technology stocks rising collectively.
Netease gained over 2%, while JD Group, Baidu Group, and Tencent Holdings rose nearly 2%.
Auto stocks led in terms of gains, with XPeng Motors rising nearly 6% and NIO gaining almost 4%.
Real estate and property management stocks also saw gains, with China Evergrande Group rising nearly 10% and Evergrande Services gaining over 4%.
The entertainment and media industry stocks saw active gains, with Alibaba Pictures rising over 5%.
Top performers included XPeng Motors, which gained nearly 6%.
Several new energy vehicle companies reported strong sales figures for September, with BYD achieving record sales of over 280,000 vehicles, marking a 42.8% year-on-year growth.
GAC Aion surpassed the 50,000 sales milestone, and XPeng delivered over 36,000 vehicles in September, a 212% year-on-year increase, setting a new monthly record.
Other new entrants in the electric vehicle market, such as Deep Blue, Leapmotor, and NIO, also delivered over 10,000 vehicles each.
Technical Analysis: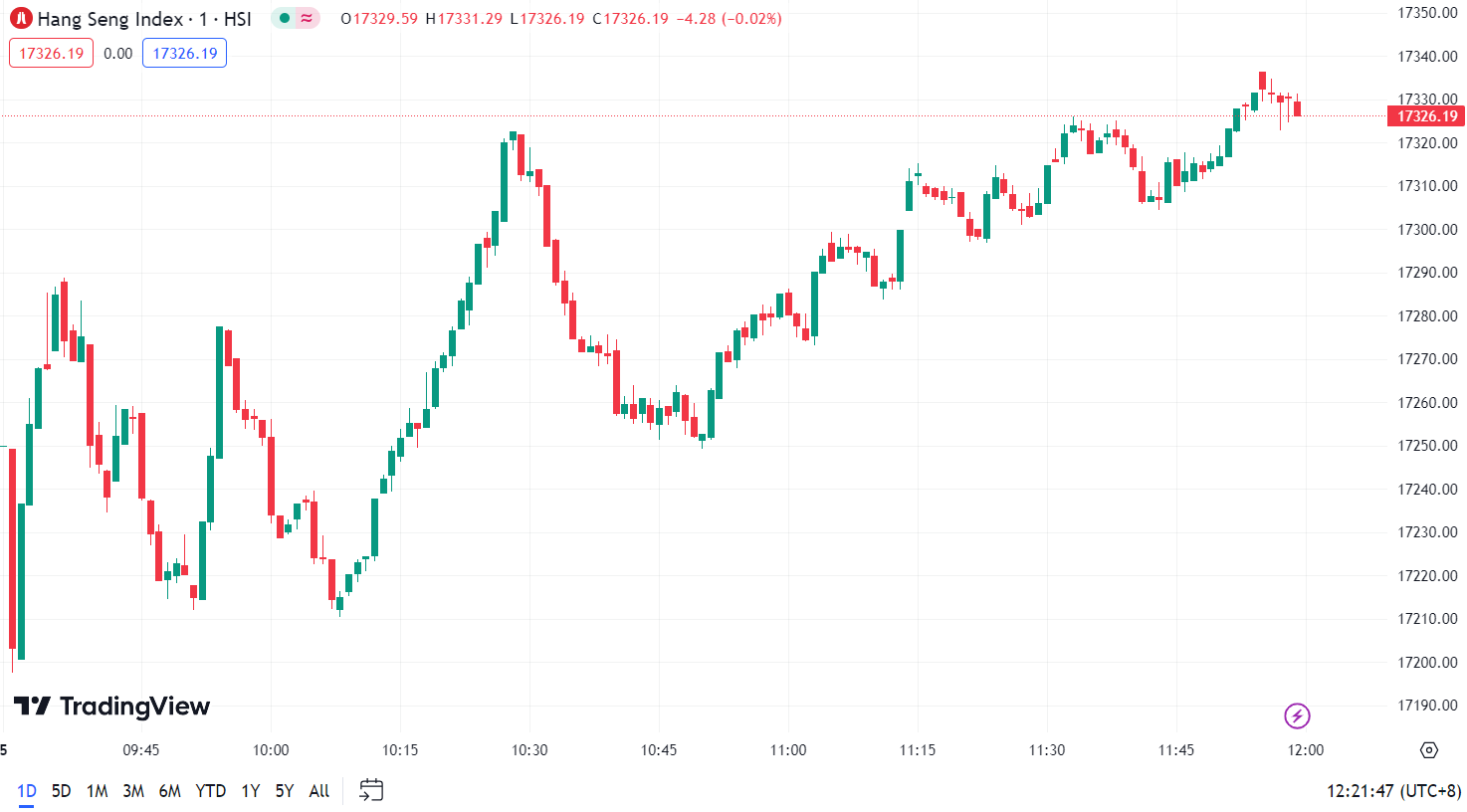 (Hang Seng Index, 1-day chart)
Market Trends:
Hang Seng Index (HSI) rose 0.76%, closing at 17,326.19 points.
Hang Seng Tech Index (HSTECH) rose 1.19%, closing at 3,797.22 points.
Hang Seng China Enterprises Index (HSCEI) rose 0.87%, closing at 5,933.61 points.
FTSE China A50 Index
Fundamental Analysis:
The A-share market in China remained closed for the entire day in light of the China National Day holiday.
Forward-looking Statements
This article contains "forward-looking statements" and may be identified by the use of forward-looking terminology such as "anticipate", "believe", "continue", "could", "estimate", "expect", "hope", "intend", "may", "might", "plan", "potential", "predict", "should", or "will", or other variations thereon or comparable terminology. However, the absence of such terminology does not mean that a statement is not forward-looking. In particular, statements about the expectations, beliefs, plans, objectives, assumptions, future events, or future performance of Doo Prime will be generally assumed as forward-looking statements.
Doo Prime has provided these forward-looking statements based on all current information available to Doo Prime and Doo Prime's current expectations, assumptions, estimates, and projections. While Doo Prime believes these expectations, assumptions, estimations, and projections are reasonable, these forward-looking statements are only predictions and involve known and unknown risks and uncertainties, many of which are beyond Doo Prime's control. Such risks and uncertainties may cause results, performance, or achievements materially different from those expressed or implied by the forward-looking statements.
Doo Prime does not provide any representation or warranty on the reliability, accuracy, or completeness of such statements. Doo Prime is not obliged to provide or release any updates or revisions to any forward-looking statements.
Disclaimer
While every effort has been made to ensure the accuracy of the information in this document, DOO Prime does not warrant or guarantee the accuracy, completeness or reliability of this information. DOO Prime does not accept responsibility for any losses or damages arising directly or indirectly, from the use of this document. The material contained in this document is provided solely for general information and educational purposes and is not and should not be construed as, an offer to buy or sell, or as a solicitation of an offer to buy or sell, securities, futures, options, bonds or any other relevant financial instruments or investments. Nothing in this document should be taken as making any recommendations or providing any investment or other advice with respect to the purchase, sale or other disposition of financial instruments, any related products or any other products, securities or investments. Trading involves risk and you are advised to exercise caution in relation to the report. Before making any investment decision, prospective investors should seek advice from their own financial advisers, take into account their individual financial needs and circumstances and carefully consider the risks associated with such investment decision.