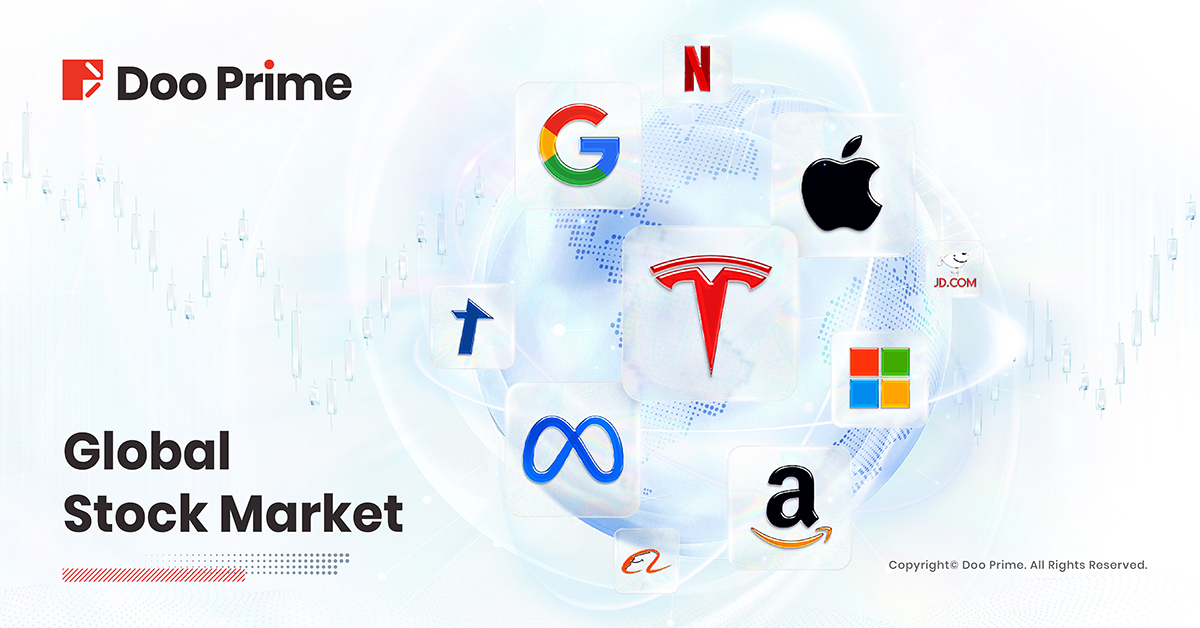 U.S. stocks ended the week on a high note, with comments from Federal Reserve Chair Powell about U.S. economic growth bolstering market sentiment. Powell mentioned that while there is elevated inflation, the possibility of further rate hikes exists, yet he also highlighted that the economic growth situation surpasses expectations. 
U.S. Stocks
Fundamental Analysis:
Last week, investors closely followed Federal Reserve Chair Powell's speech at the Jackson Hole Economic Symposium.
Powell pointed out that the pace of economic growth is faster than the Federal Reserve's projections. He stated, "2% remains and will continue to be our inflation target. Inflation data has become more favorable but still remains too high, and there is a long way to go. The economy may not cool as expected.
GDP growth has exceeded expectations so far this year, surpassing its long-term trend level. Moreover, recent data on consumer spending has been particularly robust. Additionally, after a significant 18-month slowdown, the real estate industry is now showing signs of recovery."
He added, "We will decide cautiously whether to raise rates again. Restrictive policies will be implemented until inflation consistently slows down. If appropriate, the Fed is prepared to raise rates further."
Last Friday, the Dow Jones Industrial Average fell by 0.45%, marking its second consecutive weekly decline. The Nasdaq rose by 2.26%, and the S&P 500 Index increased by 0.82%, both rebounding after three consecutive weeks of losses.
Most large tech stocks experienced gains, with Tesla rising over 3%, Netflix up by over 2%, Apple and Amazon gaining over 1%, and Microsoft and Google showing slight increases. Nvidia dropped over 2%, while Meta had a minor decrease.
"Vietnam's Tesla," VinFast, surged over 40%, accumulating almost a 350% gain for the week and approaching a market capitalization of $160 billion.
Technical Analysis: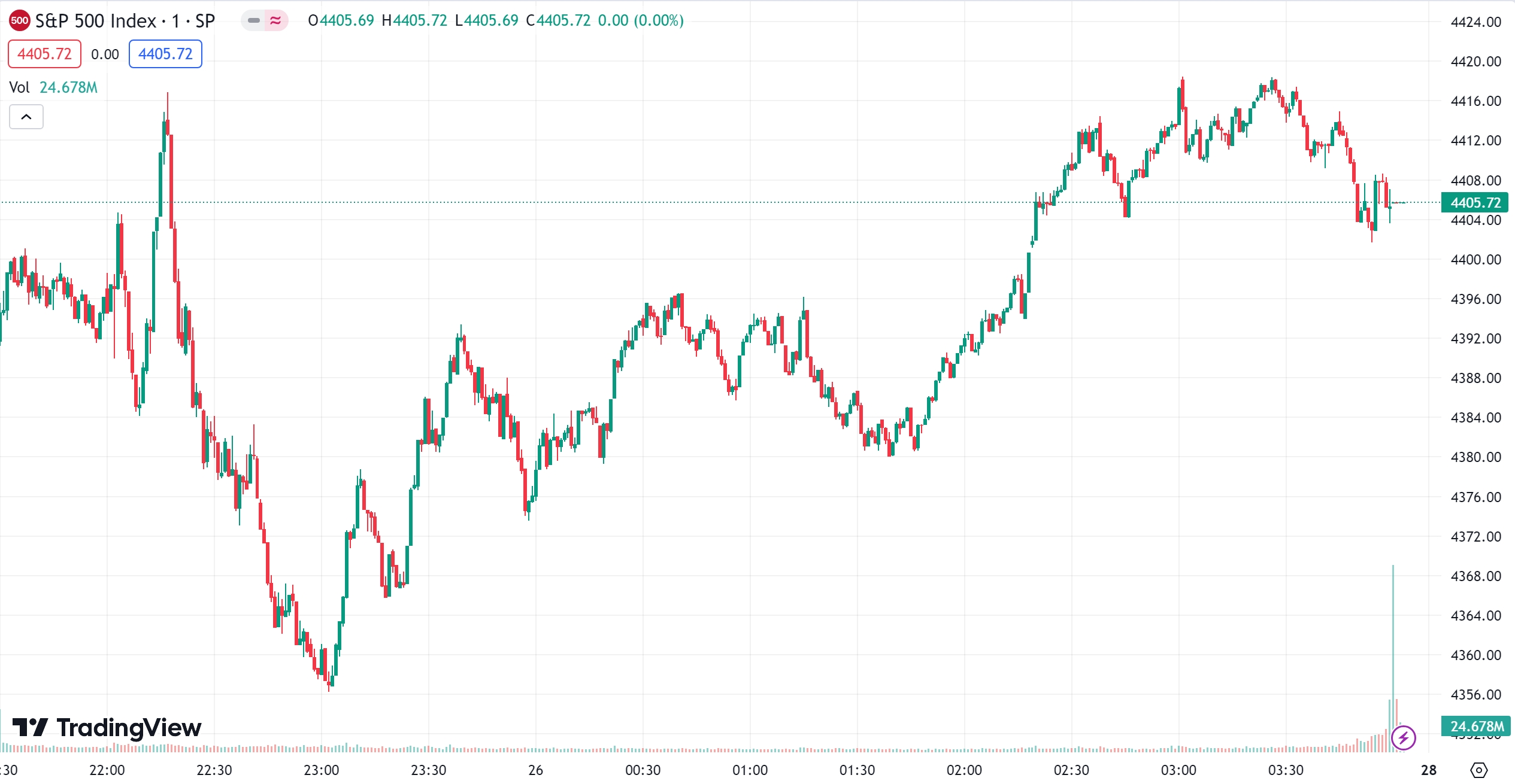 (S&P 500 Index, 1-day chart)
Market Trends:
Dow Jones Industrial Average increased by 247.48 points, a gain of 0.73%, closing at 34,346.90 points.
Nasdaq Composite Index rose by 126.67 points, a gain of 0.94%, closing at 13,590.65 points.
S&P 500 Index increased by 29.40 points, a gain of 0.67%, closing at 4,405.71 points.
Hong Kong Stocks
Fundamental Analysis:
In Hong Kong, the three major stock indices opened higher but fluctuated before falling back. After a significant morning surge, the indices narrowed their gains, closing up by around 304 points. The afternoon trend resembled the morning, with a gradual downward slide.
Among sectors, tech stocks generally rose, led by a more than 3% increase in NetEase, Inc. (9999.HK). Meituan (3690.HK) and Kuaishou Technology (1024.HK) gained nearly 2%, Tencent Holdings Limited (0700.HK) and Alibaba Group Holding Limited (9988.HK) rose over 1%.
New players in the car industry collectively gained, with XPeng Inc. (9868.HK) surging by nearly 11%.
Property stocks showed mixed performance, with China Evergrande Group (3333.HK) dropping nearly 79% on its first day of trading after suspension.
Mainland Chinese brokerage stocks rallied but retraced from their highs, most ending the session with gains.
Entertainment and media stocks declined, with China Star Entertainment Limited (0326.HK), the parent company of "The Voice," dropping over 45%.
Traditional Chinese medicine, coal, and heavy machinery stocks led in gains.
Technical Analysis: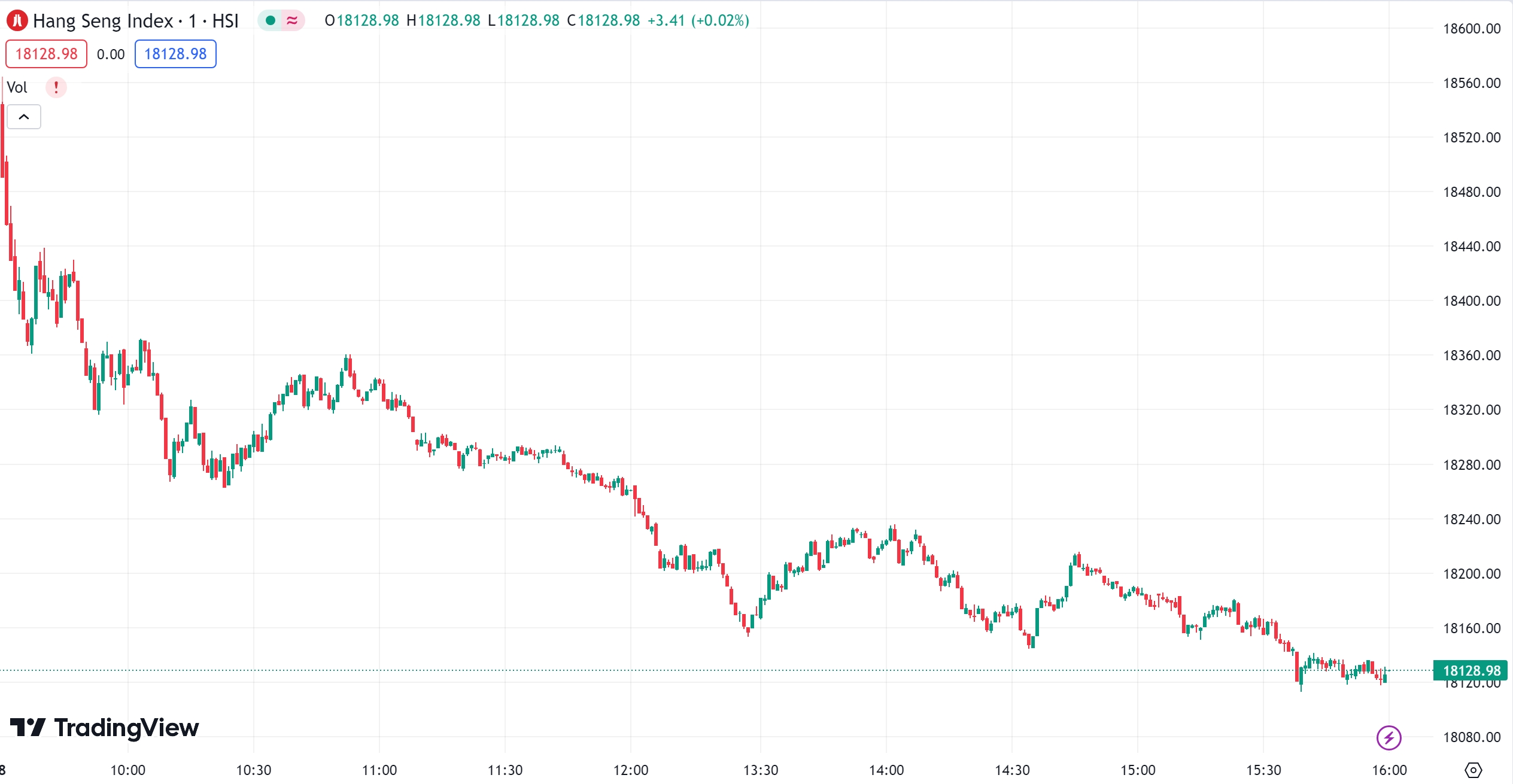 (Hang Seng Index, 1-day chart)
Market Trends:
Hang Seng Index (HSI) rose by 0.97%, closing at 18,130.74 points.
Hang Seng Tech Index (HSTECH) increased by 1.69%.
Hang Seng China Enterprises Index (HSCEI) increased by 1.15%.
FTSE China A50 Index
Fundamental Analysis:
Favorable releases from the Ministry of Finance, the State Administration of Taxation, and the China Securities Regulatory Commission resulted in a gap-up opening for A-shares today.
The Shanghai Composite Index and the Shenzhen Component Index both surged over 5%, and the ChiNext Index soared nearly 7%.
The securities sector saw a surge in limit-up stocks, yet the market saw a "gap-up and peak" scenario, displaying a high opening followed by a downward trend.
In the afternoon, the three major indices briefly rose by less than 1%.
Notably, northbound funds experienced another significant net outflow, and A-share trading volume significantly exceeded ¥1 trillion since August 4th.
The combined turnover of the Shanghai and Shenzhen markets reached ¥1.126 trillion, while northbound funds had a net outflow of ¥8.247 billion. Sixty-five stocks hit the limit-up (including ST stocks), while three stocks hit the limit-down.
In terms of sectors, real estate development, real estate services, the coal industry, decoration and building materials, and engineering consulting services showed the most substantial gains.
Communication services, brewing, precious metals, software development, internet services, and biotech products showed declines. Notable themes included nuclear pollution prevention, new urbanization, and the brokerage concept.
Technical Analysis: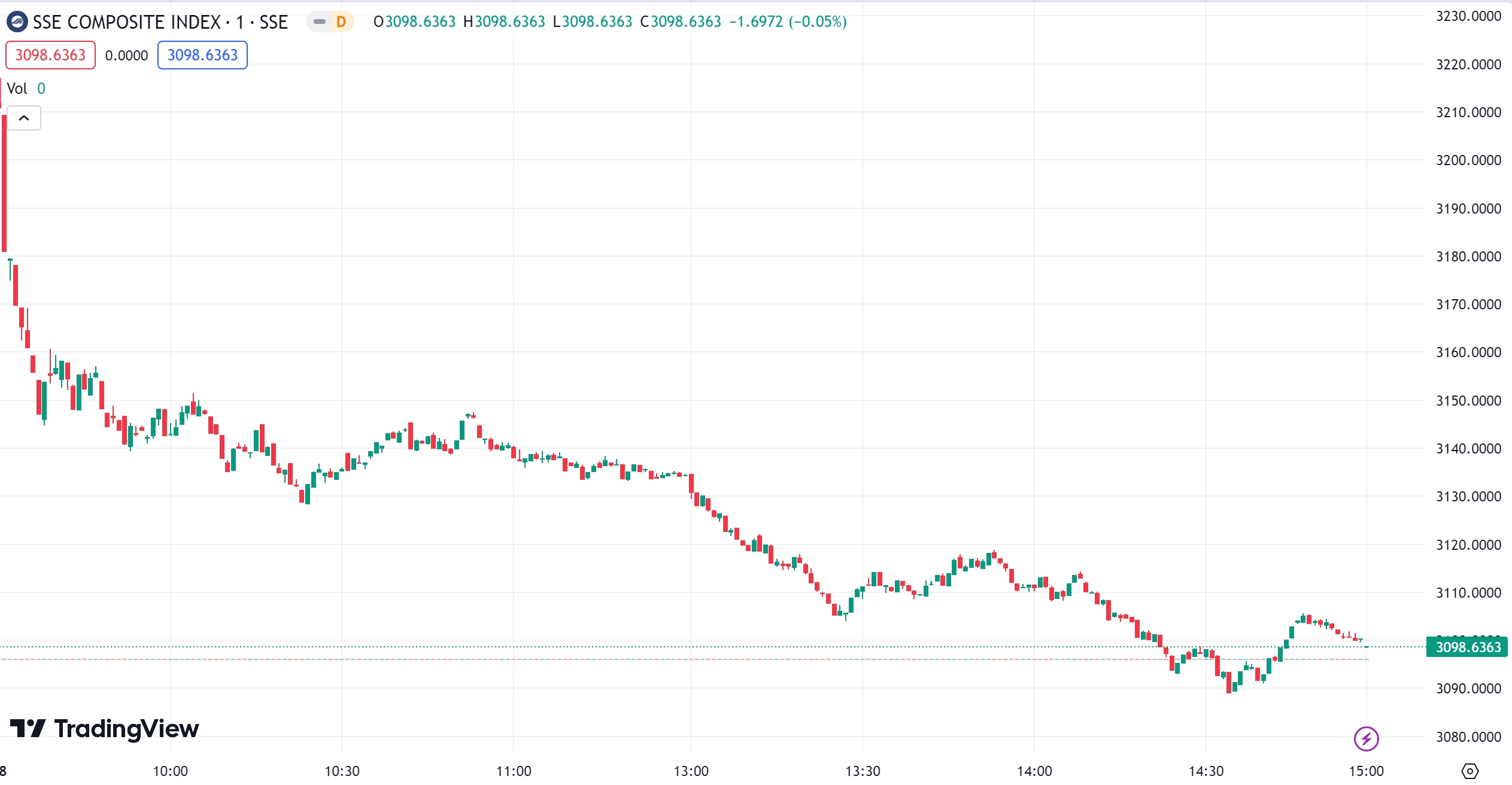 (SSE Composite Index, 1-day chart)
Market Trends:
Shanghai Composite Index (SHCOMP) increased by 1.13%, closing at 3,098.64 points. 
Shenzhen Component Index (SZCOMP) increased by 1.01%, closing at 10,233.15 points. 
ChiNext Index (CHINEXT) increased by 0.96%, closing at 2,060.04 points. 
SSE STAR Market 50 Index (SSE50) increased by 1.12%, closing at 880.19 points. 


Forward-looking Statements
This article contains "forward-looking statements" and may be identified by the use of forward-looking terminology such as "anticipate", "believe", "continue", "could", "estimate", "expect", "hope", "intend", "may", "might", "plan", "potential", "predict", "should", or "will", or other variations thereon or comparable terminology. However, the absence of such terminology does not mean that a statement is not forward-looking. In particular, statements about the expectations, beliefs, plans, objectives, assumptions, future events, or future performance of Doo Prime will be generally assumed as forward-looking statements.
Doo Prime has provided these forward-looking statements based on all current information available to Doo Prime and Doo Prime's current expectations, assumptions, estimates, and projections. While Doo Prime believes these expectations, assumptions, estimations, and projections are reasonable, these forward-looking statements are only predictions and involve known and unknown risks and uncertainties, many of which are beyond Doo Prime's control. Such risks and uncertainties may cause results, performance, or achievements materially different from those expressed or implied by the forward-looking statements.
Doo Prime does not provide any representation or warranty on the reliability, accuracy, or completeness of such statements. Doo Prime is not obliged to provide or release any updates or revisions to any forward-looking statements.
Disclaimer    
While every effort has been made to ensure the accuracy of the information in this document, DOO Prime does not warrant or guarantee the accuracy, completeness or reliability of this information. DOO Prime does not accept responsibility for any losses or damages arising directly or indirectly, from the use of this document. The material contained in this document is provided solely for general information and educational purposes and is not and should not be construed as, an offer to buy or sell, or as a solicitation of an offer to buy or sell, securities, futures, options, bonds or any other relevant financial instruments or investments. Nothing in this document should be taken as making any recommendations or providing any investment or other advice with respect to the purchase, sale or other disposition of financial instruments, any related products or any other products, securities or investments. Trading involves risk and you are advised to exercise caution in relation to the report. Before making any investment decision, prospective investors should seek advice from their own financial advisers, take into account their individual financial needs and circumstances and carefully consider the risks associated with such investment decision.