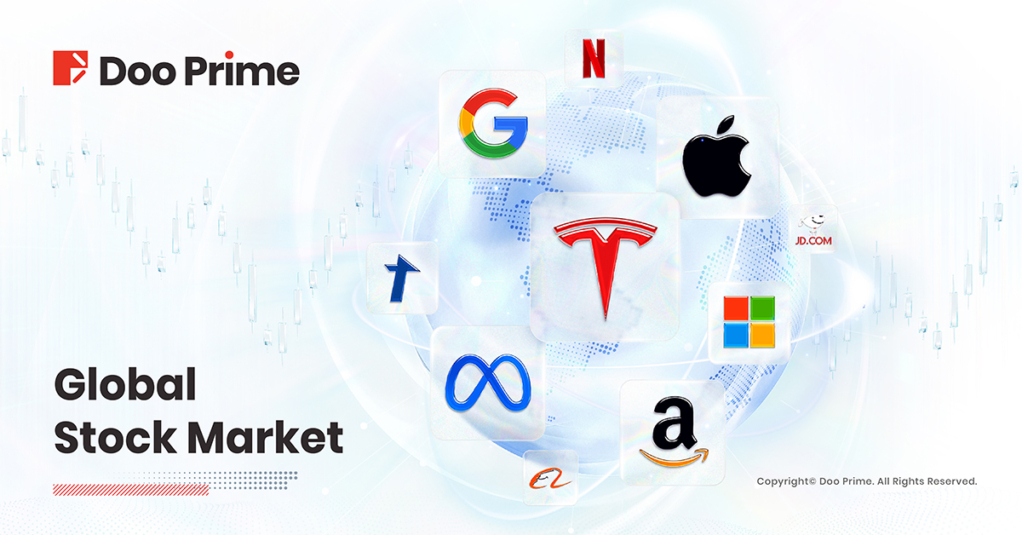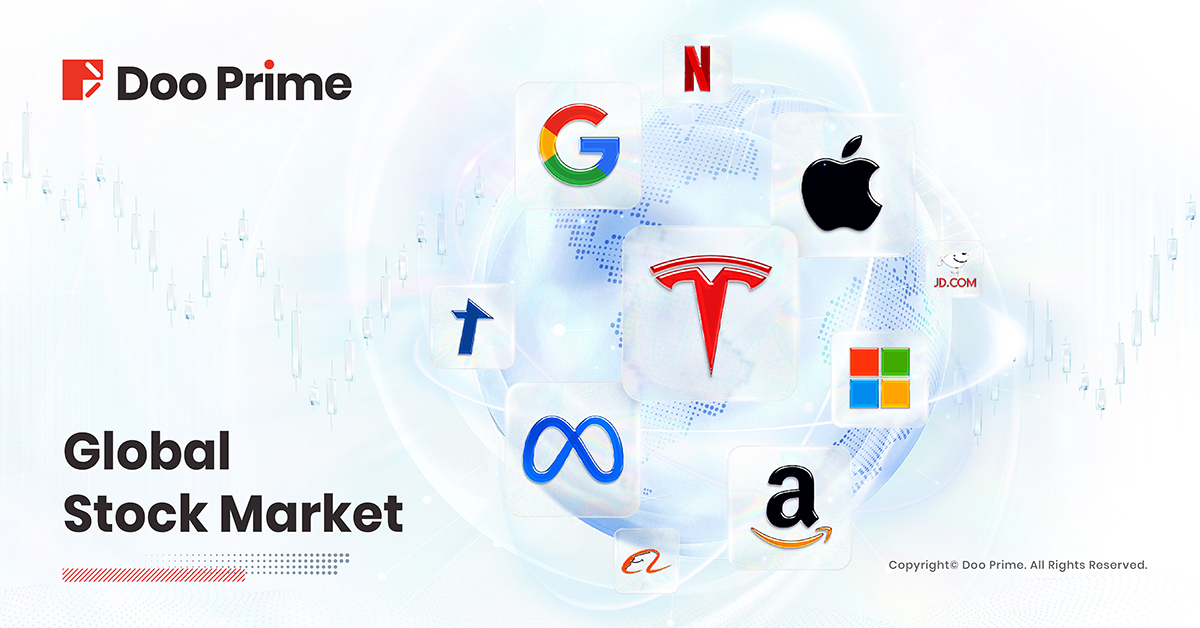 On Wednesday, U.S. stocks closed higher, with the S&P 500 index rising for the fourth consecutive trading day.
U.S. Treasury yields continued to decline.
The minutes of the Federal Reserve meeting suggested that another interest rate hike might be appropriate in the future, with officials believing that "accommodative" policies would persist until inflation meets their target. The market is awaiting the CPI inflation report on Thursday.
The Federal Reserve meeting minutes mentioned that participants believed the monetary policy stance must remain sufficiently restrictive to ensure that inflation reaches the 2% target over time.
Most participants thought that raising the target federal funds rate at a future meeting might be appropriate, while some believed that further rate hikes might not be necessary.
All participants agreed that the committee could be patient, and policy decisions at each meeting would continue to be based on the overall information available and its impact on economic outlook and risk balance.
U.S. Stocks
Fundamental Analysis:
Most large tech stocks rose, with Nvidia surging over 2%, and Google, Amazon, Microsoft, and Meta all gaining more than 1%.
Leading the gainers were weight loss drugs, precious metals, and renewable energy sectors, with Harmony Gold surging nearly 7%, Kinross and Novo Nordisk gaining over 6%, and Amgen and Eli Lilly rising over 4%, with Eli Lilly's stock price reaching a historical high.
Charging stations, medical equipment, and oil and natural gas sectors saw losses, with ChargePoint falling over 15%, Exxon Mobil and Chevron dropping more than 3%.
Biotech company Tempest soared nearly 4000% after reporting positive results in liver cell cancer treatment research.
Popular Chinese concept stocks mostly rose, with the Nasdaq Golden Dragon China Index gaining 0.39%.
Bilibili and Netease rose over 2%, while Futu Holdings, NIO, Tencent Music, Li Auto, iQiyi, Vipshop, Pinduoduo, XPeng Motors, Alibaba, Weibo, and JD experienced slight gains.
Full Truck Alliance dropped over 5%, and Baidu had a slight decrease.
Technical Analysis: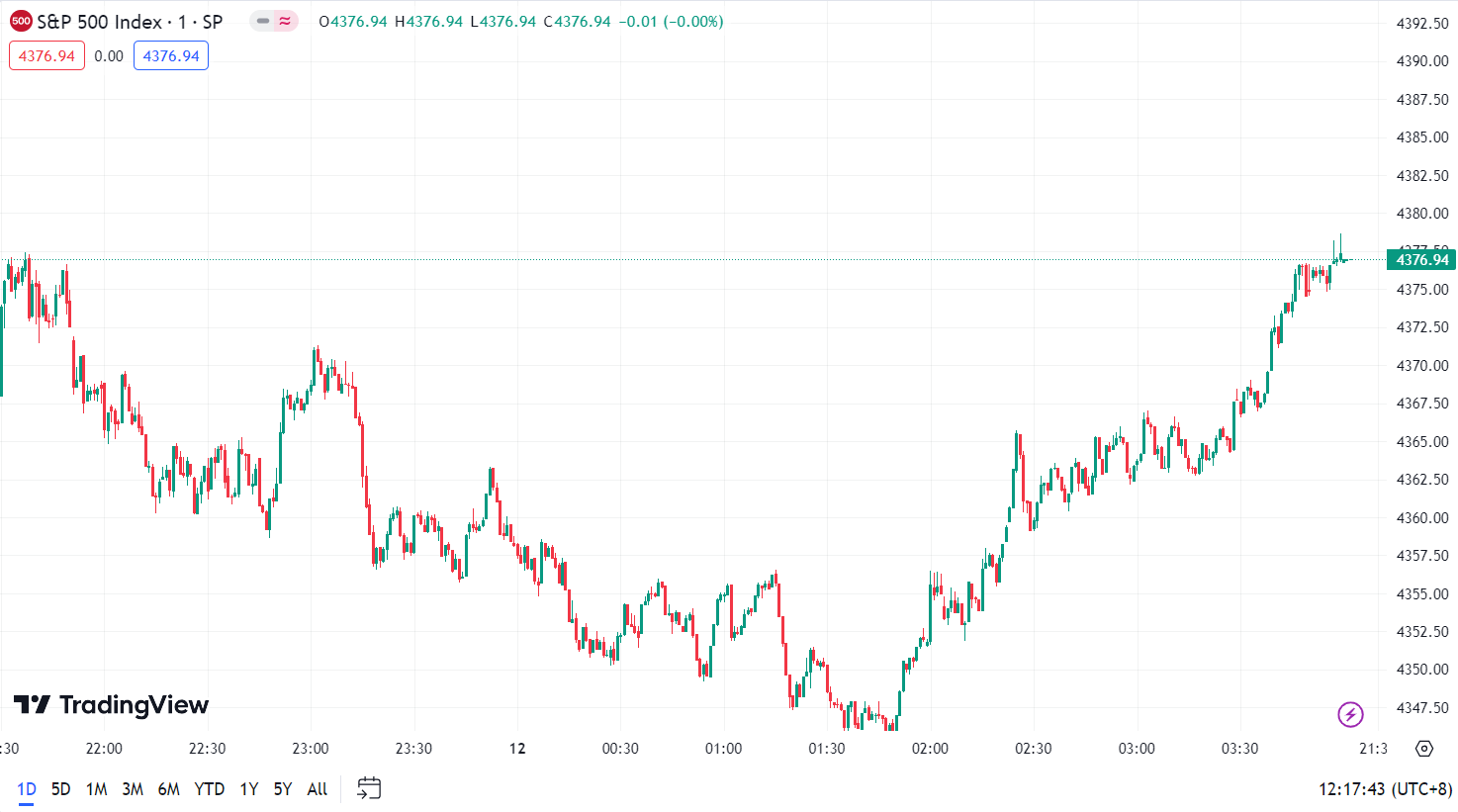 (S&P 500 Index, 1-day chart)
Market Trends:
Dow Jones Industrial Average increased by 65.57 points, or 0.19%, closing at 33,804.87 points.
Nasdaq Composite Index (Nasdaq) gained 96.83 points, or 0.71%, ending at 13,659.69 points.
S&P 500 Index rose by 18.71 points, or 0.43%, closing at 4,376.95 points.
Hong Kong Stocks
In Hong Kong, all three major stock indices rose.
Core technology stocks increased collectively, with Xiaomi Group surging over 3%, and Netease and Meituan rising by about 2%.
Real estate stocks mostly rose, with Sunac China Holdings Group gaining over 5%.
Automotive stocks performed well, with Great Wall Motor surging nearly 9%.
Precious metals saw significant gains, with Ganfeng Lithium surging over 9%.
Cement, infrastructure, and other sectors showed active gains, while petroleum stocks went against the trend, with PetroChina falling nearly 3%.
Additionally, Huijin Holdings increased its holdings in several state-owned banks, including Industrial and Commercial Bank of China, Agricultural Bank of China, Bank of China, and China Construction Bank. These moves provided a boost to A-shares, and the market exhibited varied performance during the trading session.
Technical Analysis: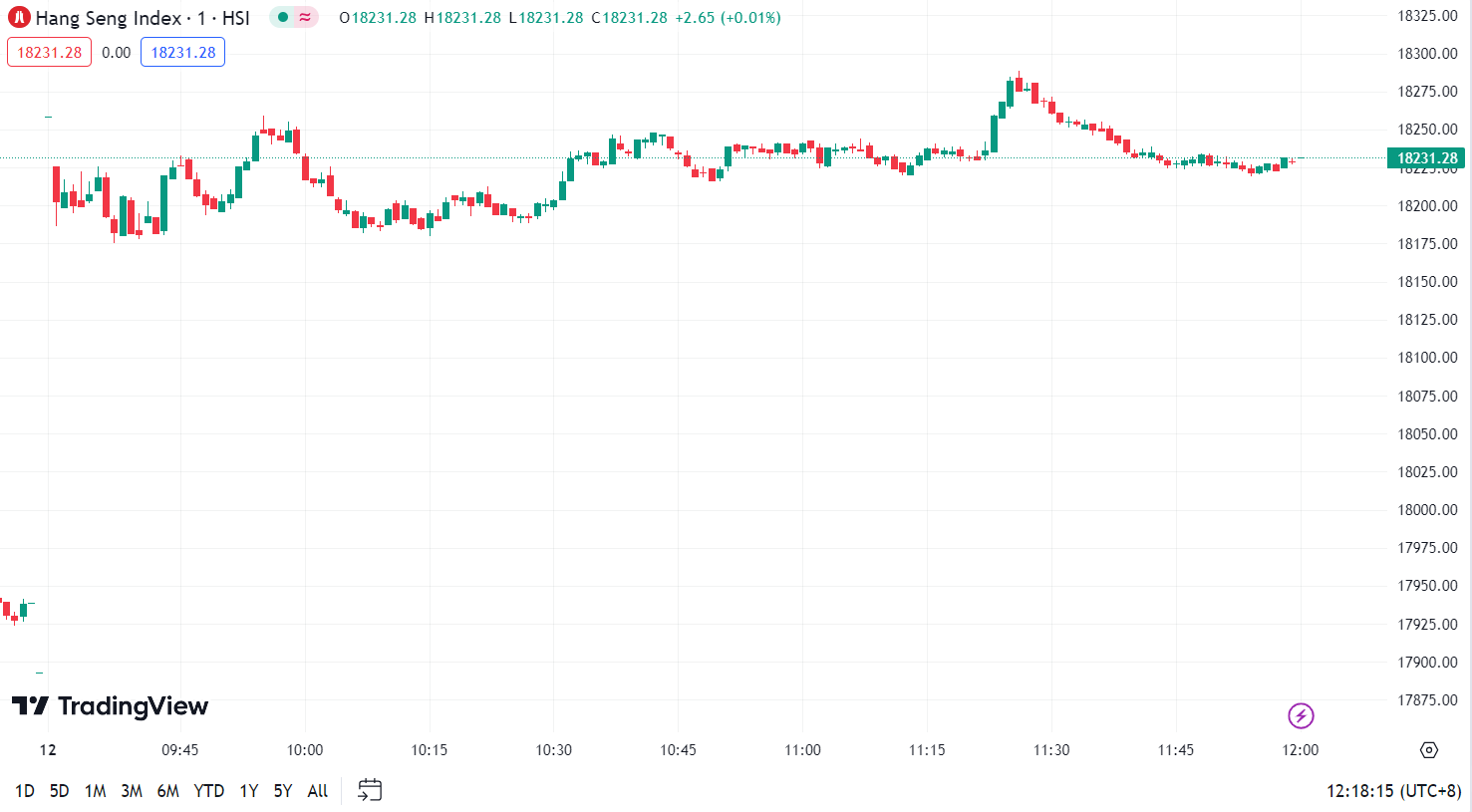 (Hang Seng Index, 1-day chart)
Market Trends:
Hang Seng Index (HSI) increased by 1.89%, closing at 18,231.28 points.
Hang Seng Tech Index (HSTECH) gained 1.64%, closing at 4,017.49 points.
Hang Seng China Enterprises Index (HSCEI) rose by 2.20%, closing at 6,267.73 points.
FTSE China A50 Index
Fundamental Analysis:
Huijin Holdings increased its holdings in the four major state-owned banks, with plans for further increases in the future.
On October 12, A-shares were boosted by this news, resulting in slightly divergent performance in the morning.
The Shanghai Composite Index fluctuated near 3100 points, while the Shenzhen Component Index and the ChiNext Index initially fell and then rebounded.
In the first hour of trading, the ChiNext Index briefly turned green before pulling back.
Various sectors, such as energy metals, automotive manufacturing, insurance, batteries, and automotive components, led the gains, while gaming, mining, culture and media, electronic chemicals, and instrumentation were among the top decliners.
Conceptually, blade batteries, solid-state batteries, hub motors, Kirin batteries, power battery recycling, fluorine industry, Huawei automobile, minor metals, and integrated automobile die-casting were active.
Technical Analysis: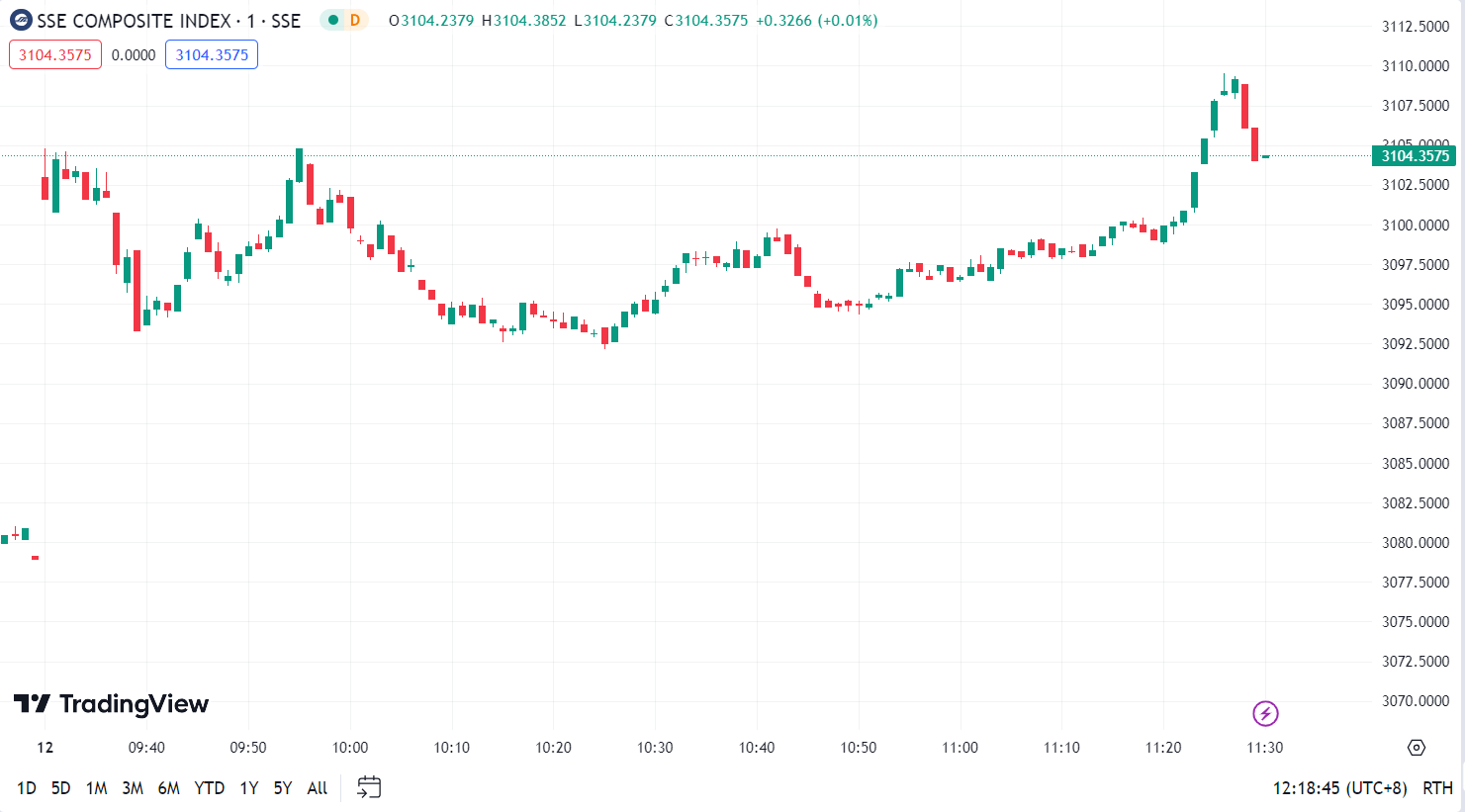 (SSE Composite Index, 1-day chart)
Market Trends:
Shanghai Composite Index (SHCOMP) gained 0.82%, closing at 3,104.36 points.
Shenzhen Component Index (SZCOMP) rose by 0.69%, closing at 10,154.64 points.
ChiNext Index (CHINEXT) increased by 0.74%, closing at 2,018.72 points.
SSE STAR Market 50 Index (SSE50) gained 0.13%, closing at 894.65 points.
Forward-looking Statements
This article contains "forward-looking statements" and may be identified by the use of forward-looking terminology such as "anticipate", "believe", "continue", "could", "estimate", "expect", "hope", "intend", "may", "might", "plan", "potential", "predict", "should", or "will", or other variations thereon or comparable terminology. However, the absence of such terminology does not mean that a statement is not forward-looking. In particular, statements about the expectations, beliefs, plans, objectives, assumptions, future events, or future performance of Doo Prime will be generally assumed as forward-looking statements.
Doo Prime has provided these forward-looking statements based on all current information available to Doo Prime and Doo Prime's current expectations, assumptions, estimates, and projections. While Doo Prime believes these expectations, assumptions, estimations, and projections are reasonable, these forward-looking statements are only predictions and involve known and unknown risks and uncertainties, many of which are beyond Doo Prime's control. Such risks and uncertainties may cause results, performance, or achievements materially different from those expressed or implied by the forward-looking statements.
Doo Prime does not provide any representation or warranty on the reliability, accuracy, or completeness of such statements. Doo Prime is not obliged to provide or release any updates or revisions to any forward-looking statements.
Disclaimer
While every effort has been made to ensure the accuracy of the information in this document, DOO Prime does not warrant or guarantee the accuracy, completeness or reliability of this information. DOO Prime does not accept responsibility for any losses or damages arising directly or indirectly, from the use of this document. The material contained in this document is provided solely for general information and educational purposes and is not and should not be construed as, an offer to buy or sell, or as a solicitation of an offer to buy or sell, securities, futures, options, bonds or any other relevant financial instruments or investments. Nothing in this document should be taken as making any recommendations or providing any investment or other advice with respect to the purchase, sale or other disposition of financial instruments, any related products or any other products, securities or investments. Trading involves risk and you are advised to exercise caution in relation to the report. Before making any investment decision, prospective investors should seek advice from their own financial advisers, take into account their individual financial needs and circumstances and carefully consider the risks associated with such investment decision.