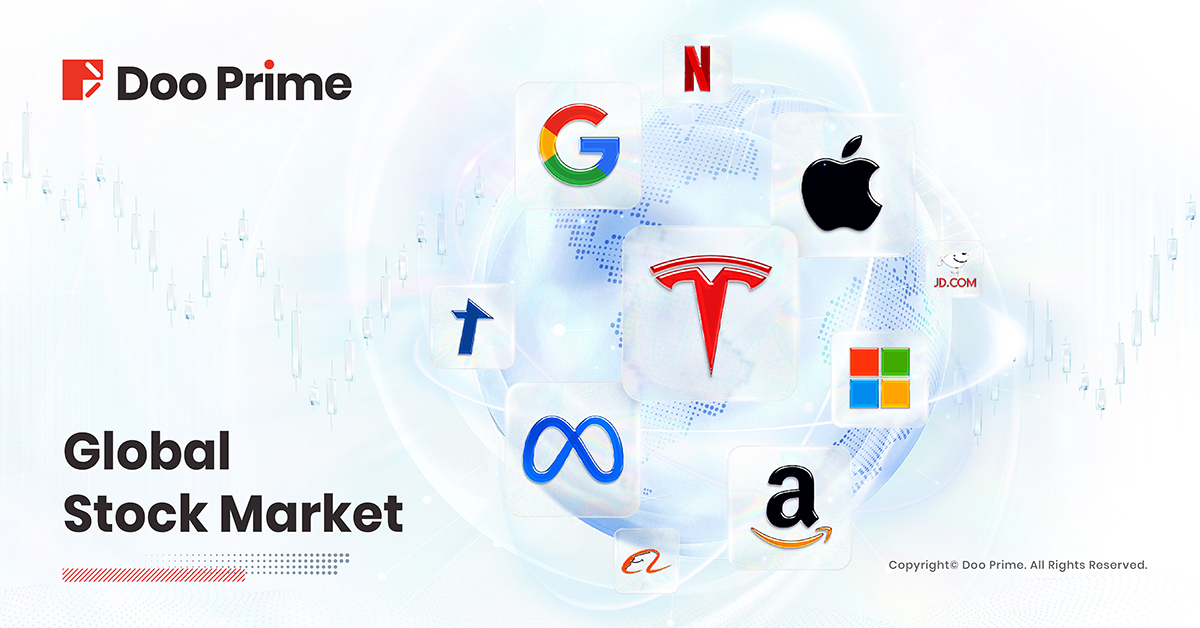 U.S. stocks closed higher on Monday, led by the technology sector. Tesla saw a remarkable surge of over 10%. Market sentiment was boosted by reports suggesting that the Federal Reserve may not raise interest rates next week. Investors are closely watching inflation and retail sales data this week. 
U.S. Stocks
Fundamental Analysis:
Local media reports on Sunday regarding the Federal Reserve's possible decision not to raise interest rates next week boosted market sentiment.
The report stated that Federal Reserve members unanimously believe there will be no rate hike at the central bank's meeting next week.
This week, the latest Consumer Price Index (CPI) and Producer Price Index (PPI) data will be released on Wednesday and Thursday.
Large-cap tech stocks saw widespread gains, with Tesla surging over 10%.
Morgan Stanley upgraded Tesla from "hold" to "buy" on Monday, raising its 12-18 month target price by 60% to $400, making it the highest target price on Wall Street and replacing Ferrari as the bank's "top pick."
Qualcomm surged nearly 4%, while Amazon and Meta gained over 3%. Intel and Microsoft both rose over 1%.
In the automotive manufacturing and metals and mining sectors, Workhorse gained over 7%, Century Aluminum surged over 5%, and companies like Rio Tinto, BHP, and Southern Copper rose over 2%.
The oil and natural gas and defense aviation sectors declined, with Virgin Galactic falling over 10%, Raytheon Technologies dropping over 7%, and Marathon Oil falling over 4%, while Western Oil and Chevron slipped over 2%.
Popular Chinese concept stocks mostly saw gains, with the Nasdaq Golden Dragon China Index rising by 1.15%.
XPeng Motors surged over 6%, Full Truck Alliance gained nearly 4%, and Bilibili, NetEase, and NIO all rose over 3%.
Pinduoduo, Baidu, iQiyi, and Futu Holdings all saw gains of over 1%. Tencent Music, JD.com, and Alibaba declined by over 1%, while Vipshop and Weibo saw slight decreases.
Technical Analysis: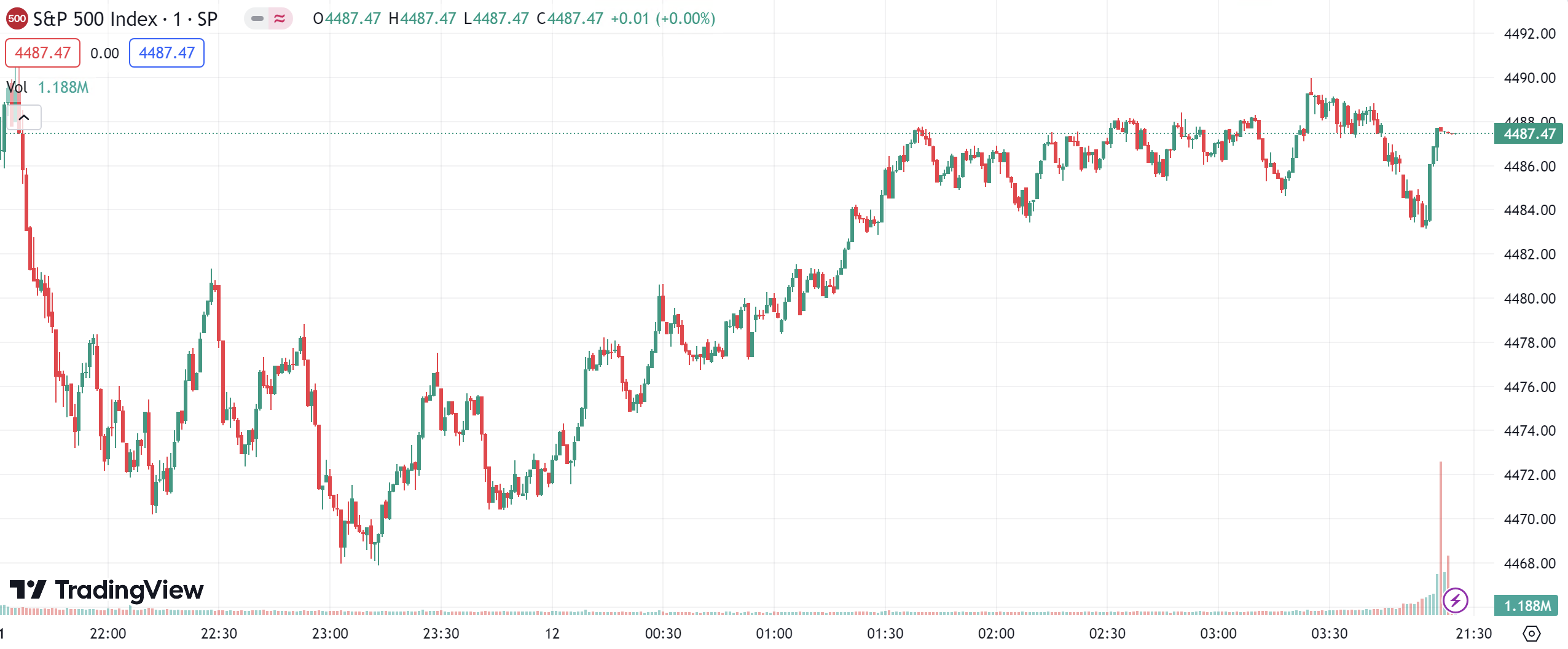 (S&P 500 Index, 1-day chart)
Market Trends:
Dow Jones Industrial Average closed up 87.13 points, a 0.25% increase, at 34,663.72.
Nasdaq Composite Index rose 156.37 points, a 1.14% increase, closing at 13,917.89.
S&P 500 Index gained 29.97 points, a 0.67% increase, closing at 4,487.46.
Hong Kong Stocks
The three major indices in the Hong Kong stock market opened lower, but then rebounded in the morning, extending their losses. They reached a low of 17,892 points, down 204 points at most.
After finding some support near the lows, they narrowed their losses and climbed back to the 18,000 level, reaching a high of 18,145, but the rebound was limited to 49 points. Subsequently, they continued to hover near the highs and lows.
The Hang Seng Tech Index briefly hit 4,031, down 51 points at most. After stabilizing slightly, it rebounded by 28 points, reaching 4,111, and remained in a narrow range.
The Hang Seng Index slipped in the morning but did not touch yesterday's low and saw a rebound.
In terms of market performance, internet stocks experienced a general decline, with Alibaba Group Holding Limited (9988.HK) and Kuaishou Technology (1024.HK) both down over 1%, and Tencent Holdings Limited (0700.HK), Meituan (3690.HK), and Baidu, Inc. (9888.HK) following suit.
Tesla's gains in the U.S. market, where it rose 10%, drove a collective rise in automotive stocks in Hong Kong, with XPeng Inc. (9868.HK) leading with a nearly 5% gain.
Property stocks collectively rose, with hina Evergrande Group (3333.HK) surging over 14%.
Energy stocks fell across the board, with PetroChina Company Limited (0857.HK) dropping over 4%.
Education stocks, gaming stocks, and traditional Chinese medicine concept stocks all showed strength.
Technical Analysis: 
(Hang Seng Index, 1-day chart)
Market Trends:
Hang Seng Index (HSI) edged up 0.01%, closing at 18,098.51.
Hang Seng Tech Index (HSTECH) gained 0.14%.
Hang Seng China Enterprises Index (HSCEI) declined 0.09%.
FTSE China A50 Index
Fundamental Analysis:
In the early morning session, the A-share three major indices in China opened lower.
In the first hour of trading, the Shanghai Composite Index traded sideways, while the Shenzhen Component Index and the ChiNext Index saw a slight dip before rebounding.
In the morning, all three major indices rose, briefly turning positive. The combined trading volume of the Shanghai and Shenzhen stock markets was 4492.47 billion yuan, with northbound capital net selling 325 million yuan.
Among the stocks, 25 hit their daily limit-up, including ST stocks, while one hit the limit-down.
In terms of industry sectors, energy and metals, chemical pharmaceuticals, traditional Chinese medicine, auto parts, and pharmaceutical commerce led the gains, while insurance, electronic chemicals, gaming, cultural media, and precious metals led the declines.
In terms of themes, weight loss drugs, industrial hemp, CPO, innovative drugs, optical communication modules, and laser radar concepts were active.
Technical Analysis: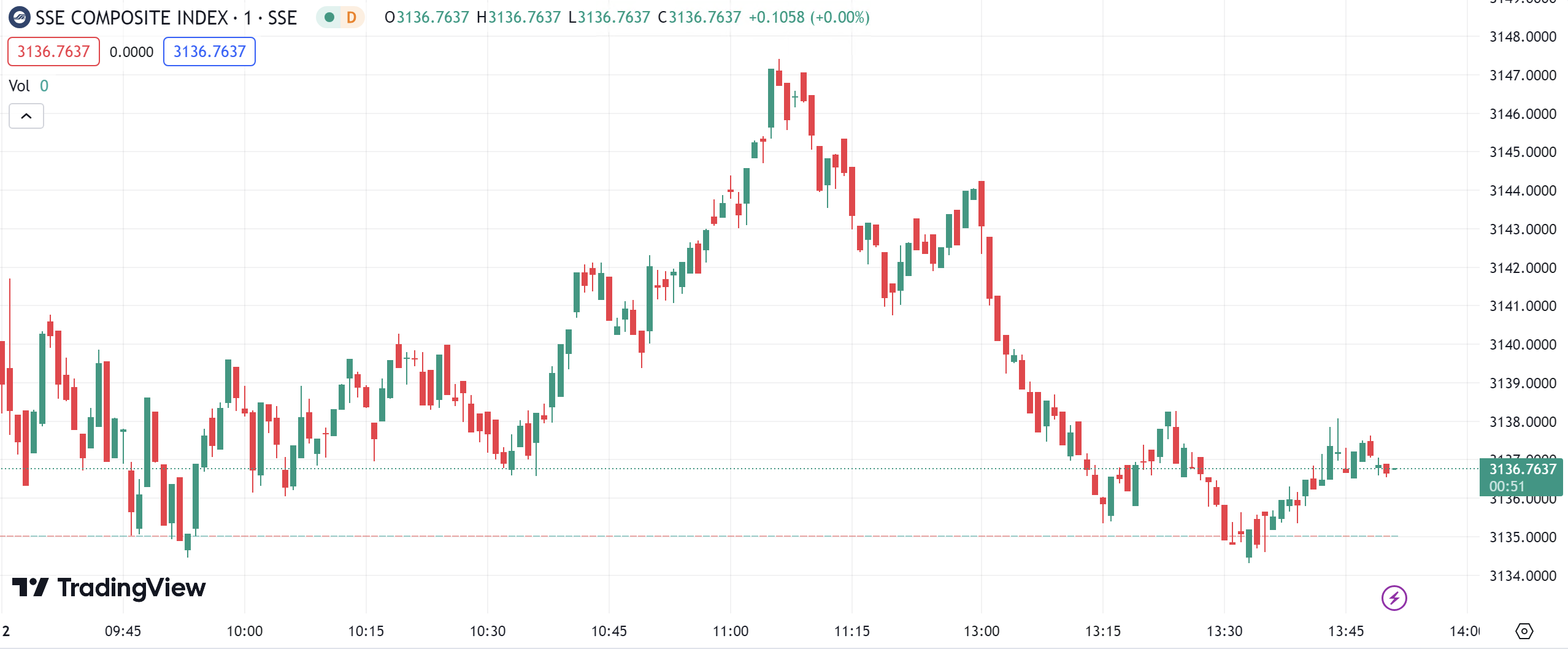 (SSE Composite Index, 1-day chart)
Market Trends:
Shanghai Composite Index (SHCOMP) rose by 0.04%, closing at 3,144.03. 
Shenzhen Component Index (SZCOMP) rose by 0.32%, closing at 10,415.22. 
ChiNext Index (CHINEXT) fell by 0.1%, closing at 2,061.1. 
SSE STAR Market 50 Index (SSE50) rose by 0.16%, closing at 908.92. 


Forward-looking Statements
This article contains "forward-looking statements" and may be identified by the use of forward-looking terminology such as "anticipate", "believe", "continue", "could", "estimate", "expect", "hope", "intend", "may", "might", "plan", "potential", "predict", "should", or "will", or other variations thereon or comparable terminology. However, the absence of such terminology does not mean that a statement is not forward-looking. In particular, statements about the expectations, beliefs, plans, objectives, assumptions, future events, or future performance of Doo Prime will be generally assumed as forward-looking statements.
Doo Prime has provided these forward-looking statements based on all current information available to Doo Prime and Doo Prime's current expectations, assumptions, estimates, and projections. While Doo Prime believes these expectations, assumptions, estimations, and projections are reasonable, these forward-looking statements are only predictions and involve known and unknown risks and uncertainties, many of which are beyond Doo Prime's control. Such risks and uncertainties may cause results, performance, or achievements materially different from those expressed or implied by the forward-looking statements.
Doo Prime does not provide any representation or warranty on the reliability, accuracy, or completeness of such statements. Doo Prime is not obliged to provide or release any updates or revisions to any forward-looking statements.
Disclaimer
While every effort has been made to ensure the accuracy of the information in this document, DOO Prime does not warrant or guarantee the accuracy, completeness or reliability of this information. DOO Prime does not accept responsibility for any losses or damages arising directly or indirectly, from the use of this document. The material contained in this document is provided solely for general information and educational purposes and is not and should not be construed as, an offer to buy or sell, or as a solicitation of an offer to buy or sell, securities, futures, options, bonds or any other relevant financial instruments or investments. Nothing in this document should be taken as making any recommendations or providing any investment or other advice with respect to the purchase, sale or other disposition of financial instruments, any related products or any other products, securities or investments. Trading involves risk and you are advised to exercise caution in relation to the report. Before making any investment decision, prospective investors should seek advice from their own financial advisers, take into account their individual financial needs and circumstances and carefully consider the risks associated with such investment decision.