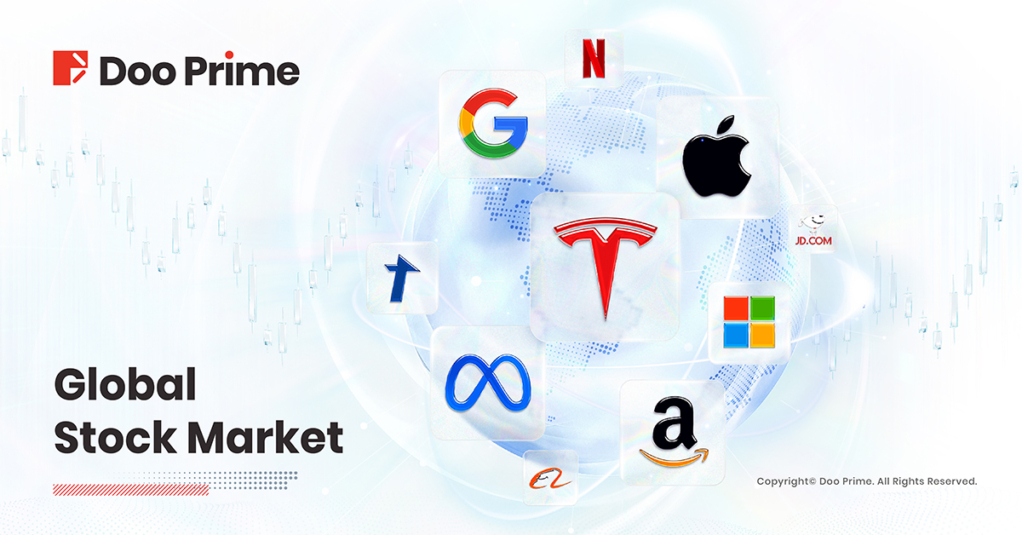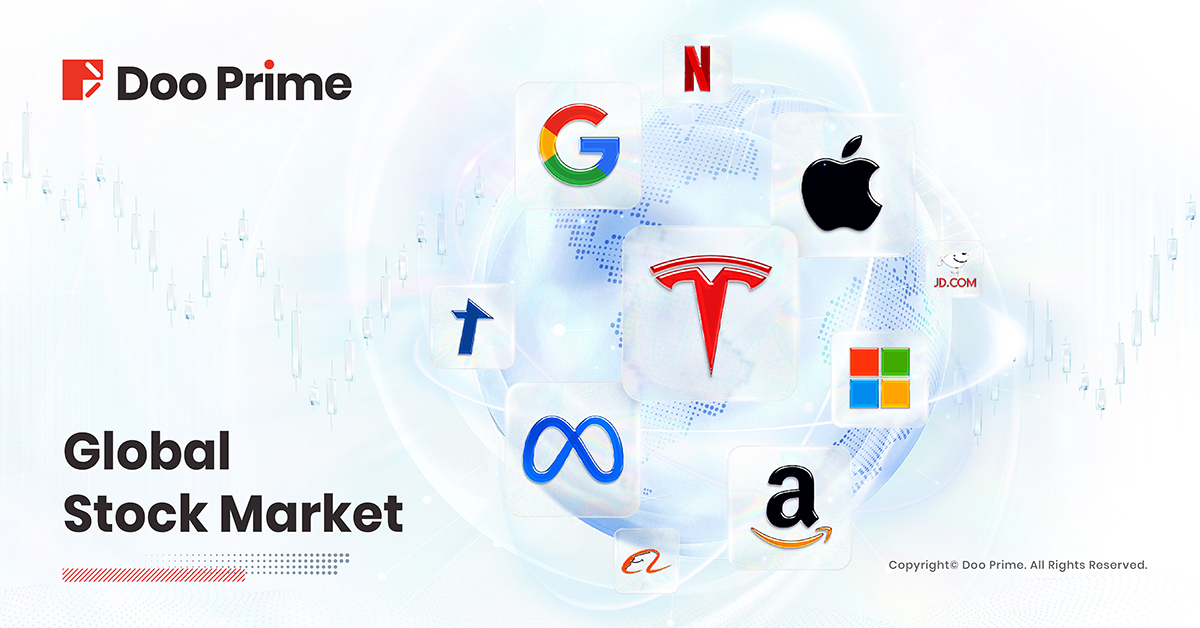 U.S. stocks closed lower on Thursday with the 10-year Treasury yield rising to 4.996%, marking a multi-year high.
The market continued to monitor third-quarter U.S. corporate earnings and developments in the Middle East situation.
Initial jobless claims in the U.S. for the past week revealed ongoing labor market tightness.
Federal Reserve Chairman Powell stated that the FOMC (Federal Open Market Committee) would proceed cautiously and might need to slow down economic growth to address excessive inflation.
On Thursday, U.S. bond yields continued to rise, continuing the recent upward trend, which dampened risk appetite.
The bond market experienced a frenzied sell-off as U.S. Treasury prices declined for the fourth consecutive day.
The benchmark 10-year Treasury yield surged to its highest level at 4.996%, approaching the 5% threshold. The last time this yield surpassed 5% was in 2007.
The 2-year Treasury yield, closely tied to the outlook for Federal Reserve rates, reached a 17-year high at 5.2442%. This surge was driven by recent economic data intensifying concerns about long-term interest rates rising.
U.S. Stocks
Fundamental Analysis:
Large-cap technology stocks mostly declined, with Meta falling by over 1%. Google, Nvidia, and Apple saw slight declines, while Amazon and Microsoft posted slight gains.
The automotive manufacturing sector took the biggest hit, with Tesla falling by 9.3%. Tesla's third-quarter earnings, released earlier in the day, fell short of expectations.
Investment bank JPMorgan also lowered its Tesla target price from $400 per share to $380 per share.
Furthermore, Wells Fargo, Citigroup, and Wedbush, a major Tesla bull, all adjusted their target prices to varying levels between $250 and $310 per share.
Semiconductor equipment and materials mostly saw declines, with Alcoa falling by over 8%, and Kulicke & Soffa and Lam Research dropping by over 6%.
Lucid Motors and Fisker Inc. also experienced declines of over 4% and 3%, respectively.
On the other hand, the streaming sector rose, led by Netflix's over 16% gain. Netflix reported a net increase of 8.76 million streaming paid users in the third quarter, surpassing analyst expectations of 6.2 million. Analysts anticipate higher subscription prices for users in the coming years.
Popular Chinese stocks faced widespread declines, with the Nasdaq Golden Dragon China Index falling by 2.11%.
Futu Holdings declined by nearly 6%, JD.com dropped by over 3%, and NIO, Weibo, Vipshop, Manbang Group, Alibaba, iQiyi, Tencent Music, Bilibili, NetEase, XPeng Motors, and Pinduoduo all fell by over 1%.
Baidu fell by over 6%, and JPMorgan lowered its target price for Baidu from $200 to $185.
Technical Analysis: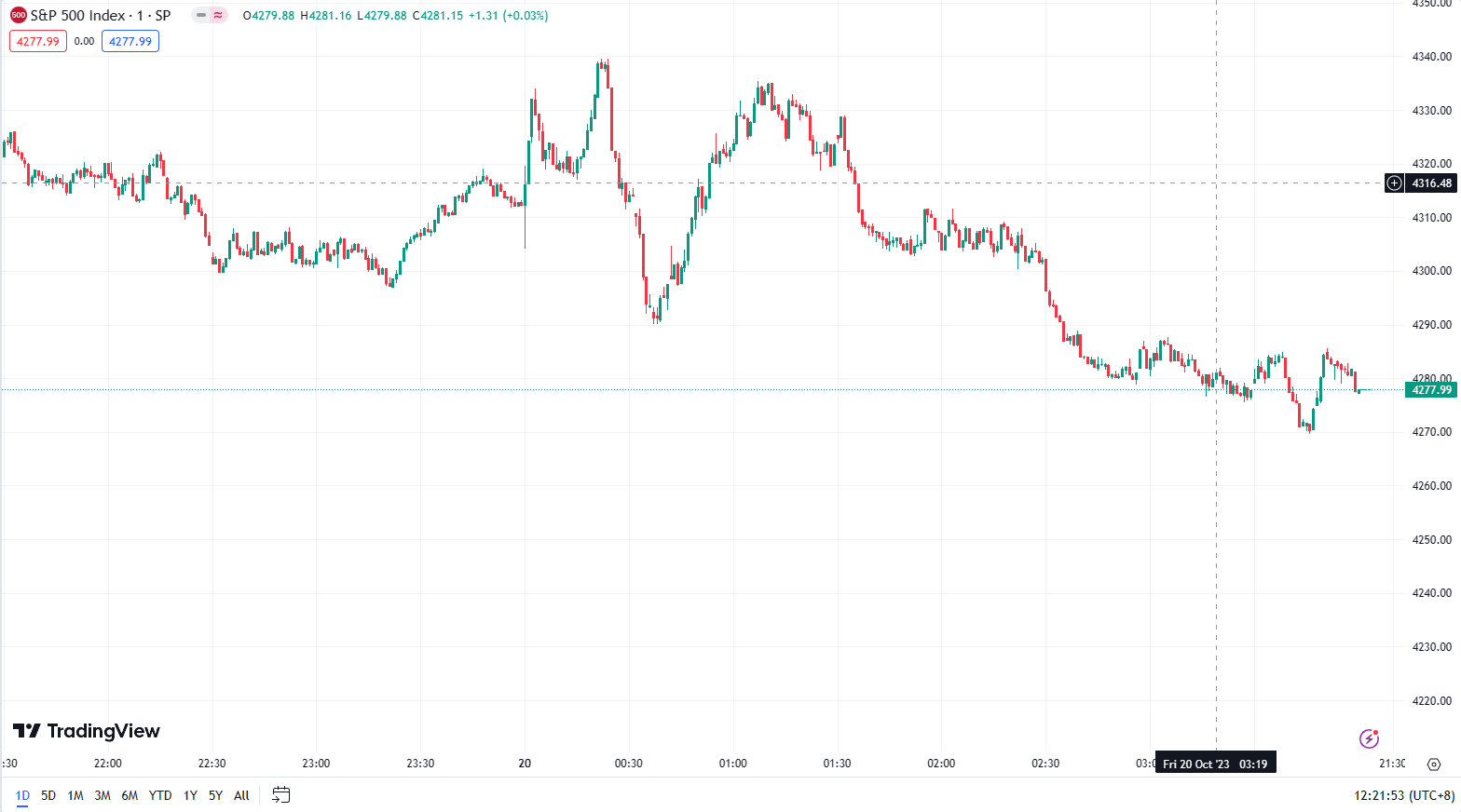 (S&P 500 Index, 1-day chart)
Market Trends:
Dow Jones Industrial Average fell by 250.91 points, a 0.75% decrease, closing at 33,414.17 points.
Nasdaq Composite Index (Nasdaq) declined by 128.13 points, a 0.96% decrease, closing at 13,186.18 points.
S&P 500 Index dropped by 36.60 points, a 0.85% decrease, closing at 4,278.00 points.
Hong Kong Stocks
In Hong Kong, the stock market saw a decline on the day.
Core technology stocks mostly declined, with Baidu Group falling by over 3% and Meituan dropping by nearly 2%. However, Kuaishou Technologies bucked the trend with a gain of over 1%.
Property stocks collectively rose, led by Country Garden's over 8% gain.  
Some automotive stocks saw gains, with XPeng Motors rising by over 4%. Semiconductor-related stocks increased, with SMIC (Semiconductor Manufacturing International Corporation) rising by over 2%.
Gas stocks saw the biggest declines, with China Gas Holdings falling by over 4%.
Apple-related, biotechnology, and electronic components sectors saw mixed performance.
Country Garden surged by over 8% as the company denied rumors of its founder and daughter leaving the country on October 19th.
Additionally, CITIC Securities noted that in September, nationwide sales of commercial housing decreased by 10.1% year-on-year for the third consecutive month, with a narrowing decline rate.
The decline in housing developers' funds in place also decreased.
Technical Analysis: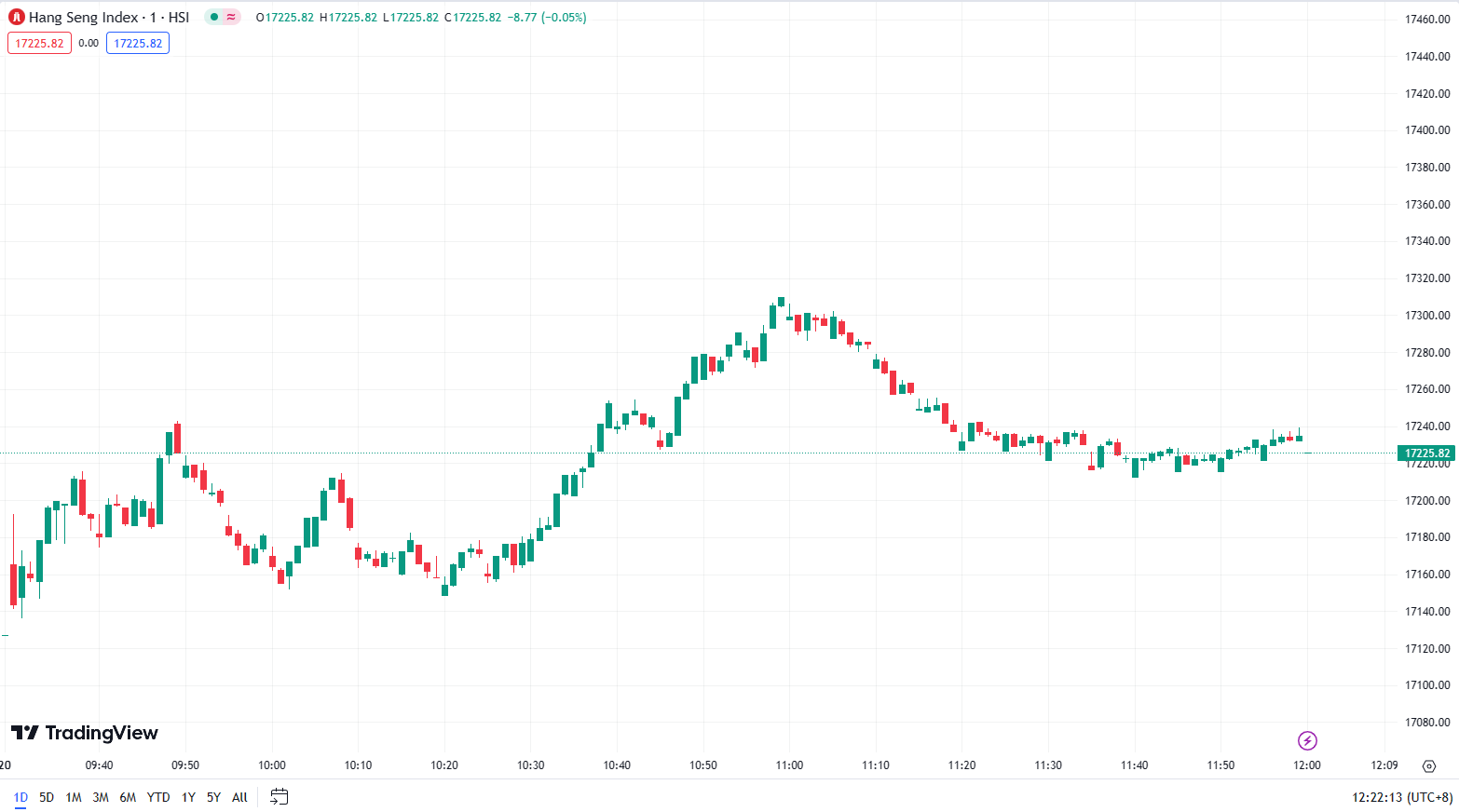 (Hang Seng Index, 1-day chart)
Market Trends:
Hang Seng Index (HSI) fell by 0.41%, closing at 17,225.82 points.
Hang Seng Tech Index (HSTECH) declined by 0.28%, closing at 3,689.84 points.
Hang Seng China Enterprises Index (HSCEI) dropped by 0.32%, closing at 5,905.09 points.
FTSE China A50 Index
Fundamental Analysis:
In the morning, A-shares in China opened lower, with the Shanghai Composite Index briefly falling below 3,000 points, marking its lowest level since November 2022. The ChiNext Index reached its lowest level since April 2020, while the Shenzhen Component Index reached its lowest level since March 2020.
After the opening, the three major indices experienced brief rebounds, followed by further declines. Before 11 a.m., A-shares saw a slight rebound, although it remained relatively weak.
Sector-wise, wind power equipment, energy metals, batteries, real estate development, real estate services, and automobile manufacturing led the gains.
Meanwhile, communication services, communication equipment, semiconductors, internet services, gaming, and software development led the declines.
Solid-state batteries, lithium extraction from salt lakes, wind energy, and graphene were among the active topics.
Technical Analysis: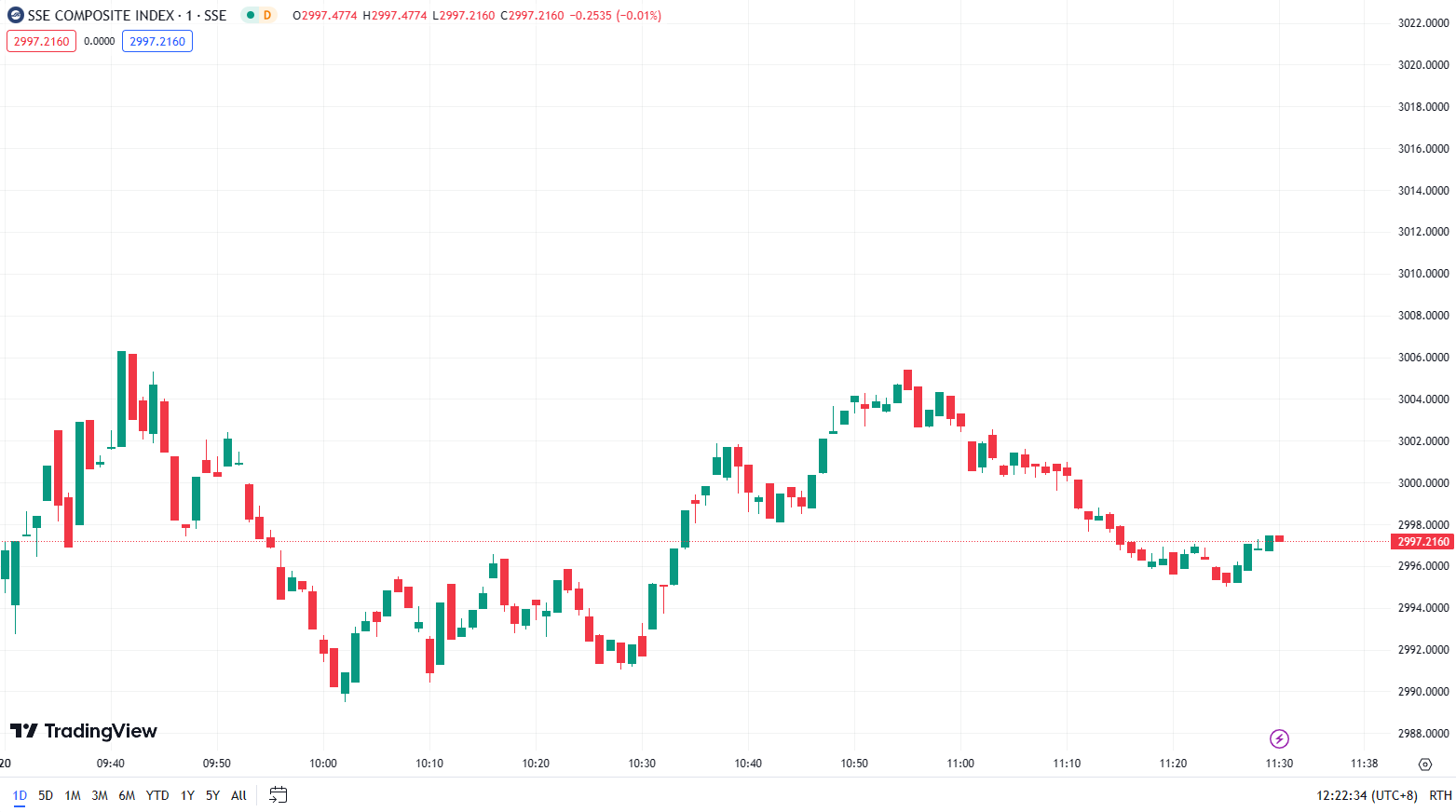 (SSE Composite Index, 1-day chart)
Market Trends:
Shanghai Composite Index (SHCOMP) fell by 0.27%, closing at 2,997.22 points.
Shenzhen Component Index (SZCOMP) dropped by 0.36%, closing at 9,620.31 points.
ChiNext Index (CHINEXT) declined by 0.44%, closing at 1,905.36 points.
SSE STAR Market 50 Index (SSE50) dropped by 0.41%, closing at 866.5 points.
Forward-looking Statements
This article contains "forward-looking statements" and may be identified by the use of forward-looking terminology such as "anticipate", "believe", "continue", "could", "estimate", "expect", "hope", "intend", "may", "might", "plan", "potential", "predict", "should", or "will", or other variations thereon or comparable terminology. However, the absence of such terminology does not mean that a statement is not forward-looking. In particular, statements about the expectations, beliefs, plans, objectives, assumptions, future events, or future performance of Doo Prime will be generally assumed as forward-looking statements.
Doo Prime has provided these forward-looking statements based on all current information available to Doo Prime and Doo Prime's current expectations, assumptions, estimates, and projections. While Doo Prime believes these expectations, assumptions, estimations, and projections are reasonable, these forward-looking statements are only predictions and involve known and unknown risks and uncertainties, many of which are beyond Doo Prime's control. Such risks and uncertainties may cause results, performance, or achievements materially different from those expressed or implied by the forward-looking statements.
Doo Prime does not provide any representation or warranty on the reliability, accuracy, or completeness of such statements. Doo Prime is not obliged to provide or release any updates or revisions to any forward-looking statements.
Disclaimer    
While every effort has been made to ensure the accuracy of the information in this document, DOO Prime does not warrant or guarantee the accuracy, completeness or reliability of this information. DOO Prime does not accept responsibility for any losses or damages arising directly or indirectly, from the use of this document. The material contained in this document is provided solely for general information and educational purposes and is not and should not be construed as, an offer to buy or sell, or as a solicitation of an offer to buy or sell, securities, futures, options, bonds or any other relevant financial instruments or investments. Nothing in this document should be taken as making any recommendations or providing any investment or other advice with respect to the purchase, sale or other disposition of financial instruments, any related products or any other products, securities or investments. Trading involves risk and you are advised to exercise caution in relation to the report. Before making any investment decision, prospective investors should seek advice from their own financial advisers, take into account their individual financial needs and circumstances and carefully consider the risks associated with such investment decision.