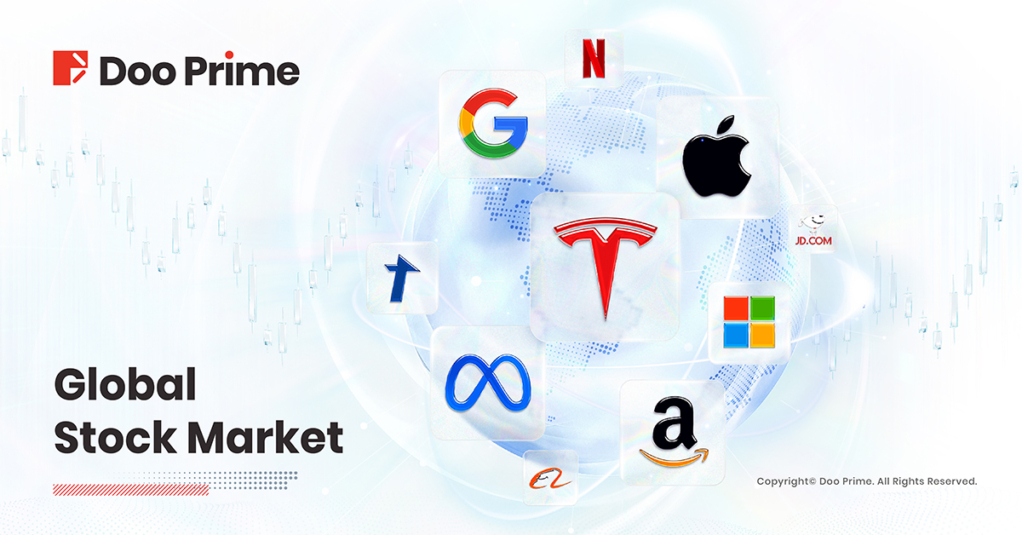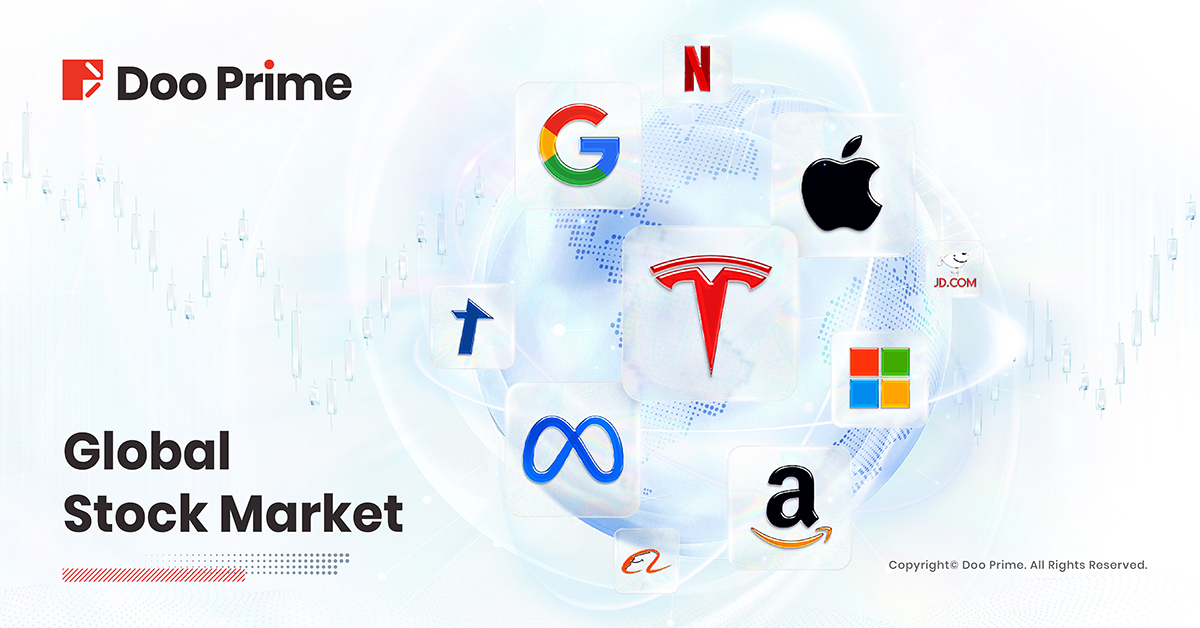 U.S. stocks closed with mixed results on Tuesday, with the S&P 500 index essentially flat as investors continue to assess earnings reports from companies such as Johnson & Johnson, Bank of America, and Goldman Sachs.
U.S. bond yields continued to climb, bolstered by robust economic reports that reinforced the Federal Reserve's rationale for keeping interest rates steady for a longer duration.
On Tuesday, U.S. treasuries were sold off, pushing the yield on the 10-year Treasury note up by 13 basis points to 4.83%, while the 30-year long bond yield surged by 12 basis points, nearing 4.99%. These levels mark new highs since October 6th and are close to the highest levels since 2007.
U.S. Stocks
Fundamental Analysis:
Technology stocks mostly declined, with chip and semiconductor sectors leading the losses.
NVIDIA saw a drop of over 4%, while Xilinx Lab fell by over 3%. Intel, AMD, STMicroelectronics, and NXP Semiconductors all declined by more than 1%.
On the other hand, retail, apparel manufacturing, metal materials, and energy sectors posted gains. Kohl's rose by over 8%, gold resources were up by over 7%, Under Armour gained over 5%, Canada Goose rose by over 4%, and Alcoa Corporation climbed by over 3%. 
Banking stocks rose for a second consecutive day, with Bank of America gaining over 2%. Their third-quarter revenue and earnings exceeded expectations, but the bank warned of cooling consumer spending.
Goldman Sachs fell over 1%, with their third-quarter revenue and earnings both declining year-on-year, though performing better than expected.
Bond trading income provided a boost, but the CEO confirmed weak consumer business performance. After initially falling by over 5%, The Bank of New York Mellon later rebounded by nearly 4%, with both their third-quarter revenue and EPS earnings surpassing expectations.
Baidu declined by over 4%. On the news front, on October 17th, the Baidu World Congress 2023 was held in Beijing. Baidu's founder, chairman, and CEO, Robin Li, officially announced the launch of the Wenshin Big Model 4.0 and introduced more than ten new AI-native applications.
These developments demonstrate the significant societal and commercial value that AI and big models can bring to users. 
Technical Analysis: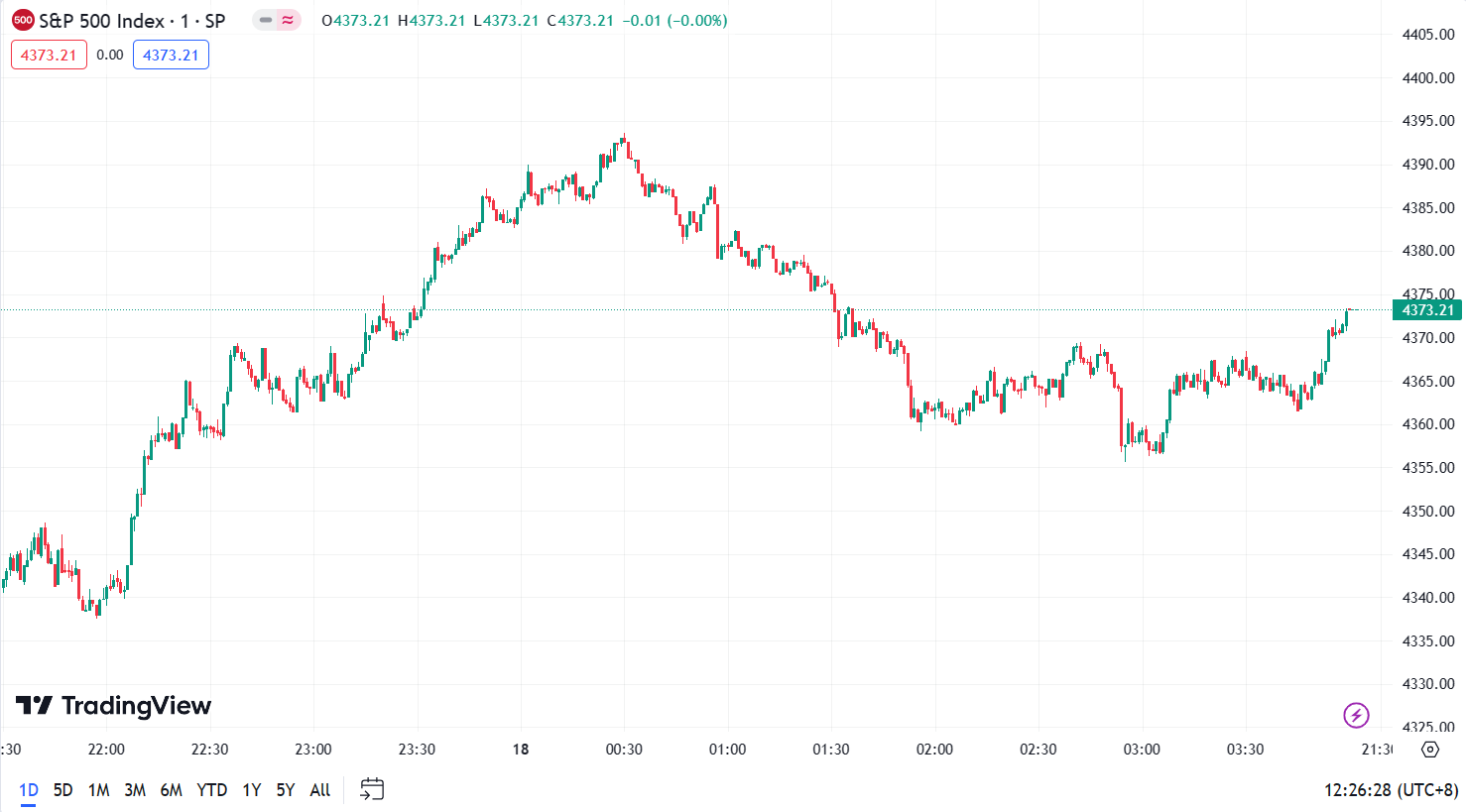 (S&P 500 Index, 1-day chart)
Market Trends:
Dow Jones Industrial Average rose by 13.11 points, a 0.04% increase, closing at 33,997.65 points.
Nasdaq Composite Index (Nasdaq) fell by 34.24 points, a 0.25% decrease, closing at 13,533.75 points.
S&P 500 Index declined by 0.43 points, a 0.01% increase, closing at 4,373.20 points.
Hong Kong Stocks
Hong Kong stocks had a relatively steady performance today.
In the market core technology stocks saw declines, with Kuaishou falling by over 6%, while Baidu Group and JD Group dropped by over 3%.
Real estate stocks declined collectively, with China Overseas Grand Oceans Group falling by over 6%.
Automotive stocks posted gains, with BYD Company rising by nearly 8%.
Sports goods, coal, and other sectors experienced increases in stock prices.
The biotechnology sector saw a decline, with Triheca Bio dropping by nearly 9%.
Automotive stocks rally as BYD shares surge by nearly 8%. On the news front, BYD anticipates achieving a net profit attributable to shareholders of the listed company in the range of 20.5 to 22.5 billion yuan for the first three quarters of 2023, marking a remarkable year-on-year increase of 120.16% to 141.64%.
In the third quarter of 2023, the company's new energy vehicle sales continued to achieve record highs, solidifying its position as the global leader in new energy vehicle sales.
Technical Analysis: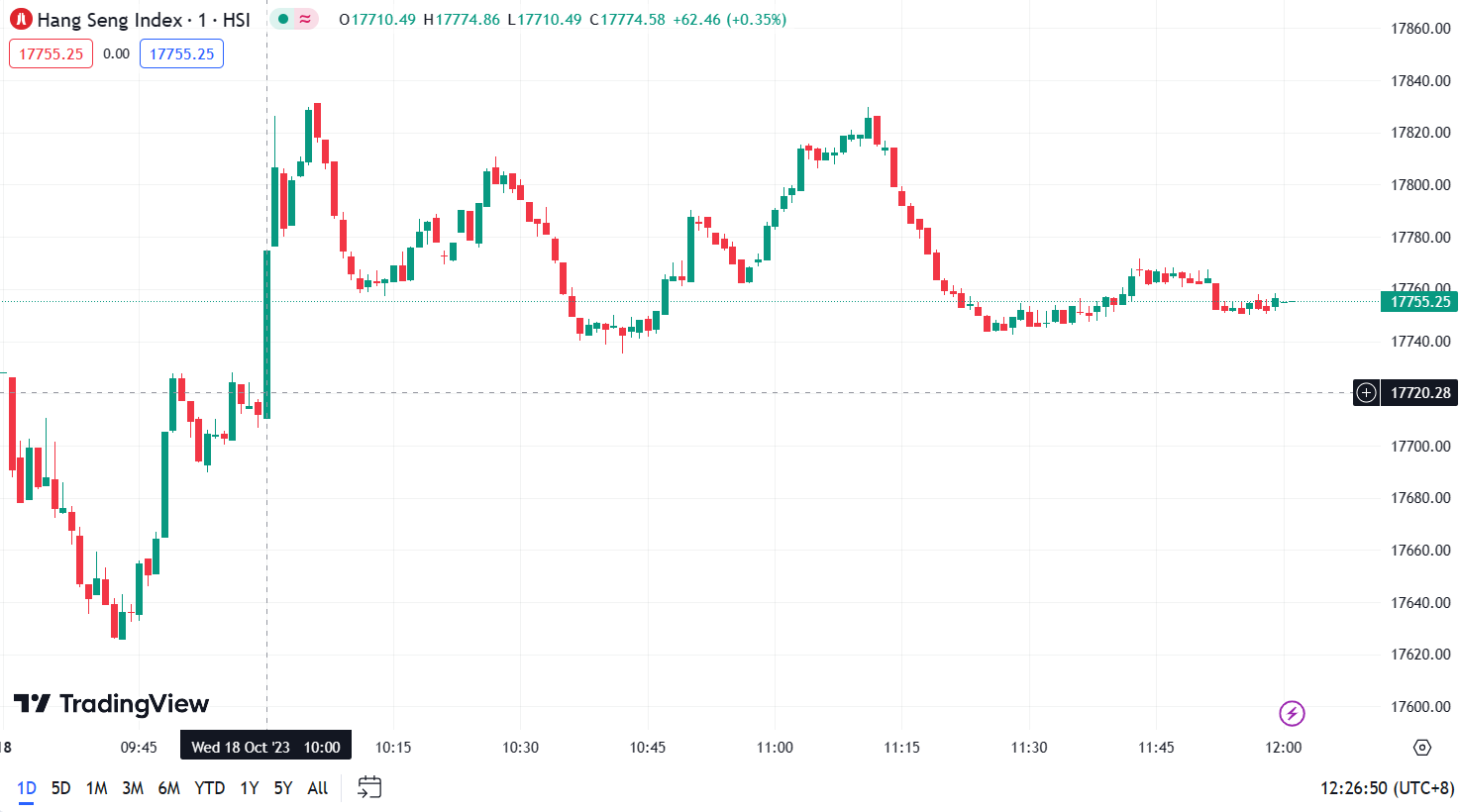 (Hang Seng Index, 1-day chart)
Market Trends:
Hang Seng Index (HSI) fell by 0.10%, closing at 17,754.91 points.
Hang Seng Tech Index (HSTECH) declined by 1.22%, closing at 3,789.30 points.
Hang Seng China Enterprises Index (HSCEI) rose by 0.01%, closing at 6,093.42 points.
FTSE China A50 Index
Fundamental Analysis:
On October 18th, the A-shares of the three major A-share indices opened slightly lower, with early trading showing a downturn.
Both the Shenzhen Component Index and the ChiNext Index declined by over 1%. Subsequently, A-shares entered a sideways trading pattern.
In the market, financial stocks exhibited upward movements during trading hours, while AI chips, Huawei-related concepts, and genetically modified concepts saw relatively active trading.
In terms of industry sectors, a few sectors such as automobile manufacturing, auto parts, and securities posted gains, while the declines were less pronounced in agriculture, animal husbandry, fishing, precious metals, and banking sectors.
Wind power equipment, education, chemical pharmaceuticals, communication services, and pharmaceutical commerce were among the sectors with more noticeable losses.
Technical Analysis: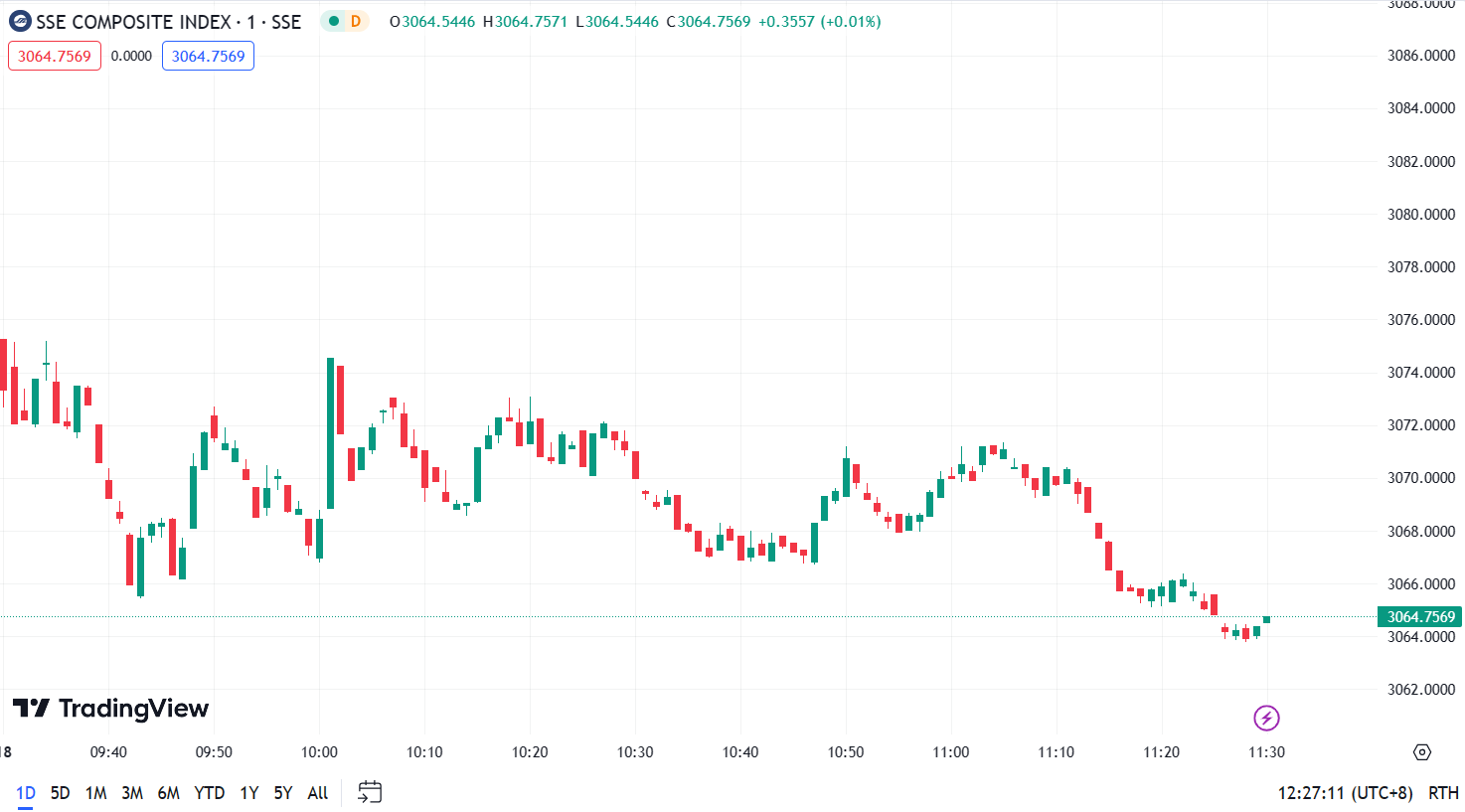 (SSE Composite Index, 1-day chart)
Market Trends:
Shanghai Composite Index (SHCOMP) fell by 0.61%, closing at 3,064.76 points.
Shenzhen Component Index (SZCOMP) fell by 0.99%, closing at 9,841.43 points.
ChiNext Index (CHINEXT) fell by 1.08%, closing at 1,940.75 points.
SSE STAR Market 50 Index (SSE50) dropped by 1.14%, closing at 872.12 points.
Forward-looking Statements
This article contains "forward-looking statements" and may be identified by the use of forward-looking terminology such as "anticipate", "believe", "continue", "could", "estimate", "expect", "hope", "intend", "may", "might", "plan", "potential", "predict", "should", or "will", or other variations thereon or comparable terminology. However, the absence of such terminology does not mean that a statement is not forward-looking. In particular, statements about the expectations, beliefs, plans, objectives, assumptions, future events, or future performance of Doo Prime will be generally assumed as forward-looking statements.
Doo Prime has provided these forward-looking statements based on all current information available to Doo Prime and Doo Prime's current expectations, assumptions, estimates, and projections. While Doo Prime believes these expectations, assumptions, estimations, and projections are reasonable, these forward-looking statements are only predictions and involve known and unknown risks and uncertainties, many of which are beyond Doo Prime's control. Such risks and uncertainties may cause results, performance, or achievements materially different from those expressed or implied by the forward-looking statements.
Doo Prime does not provide any representation or warranty on the reliability, accuracy, or completeness of such statements. Doo Prime is not obliged to provide or release any updates or revisions to any forward-looking statements.
Disclaimer    
While every effort has been made to ensure the accuracy of the information in this document, DOO Prime does not warrant or guarantee the accuracy, completeness or reliability of this information. DOO Prime does not accept responsibility for any losses or damages arising directly or indirectly, from the use of this document. The material contained in this document is provided solely for general information and educational purposes and is not and should not be construed as, an offer to buy or sell, or as a solicitation of an offer to buy or sell, securities, futures, options, bonds or any other relevant financial instruments or investments. Nothing in this document should be taken as making any recommendations or providing any investment or other advice with respect to the purchase, sale or other disposition of financial instruments, any related products or any other products, securities or investments. Trading involves risk and you are advised to exercise caution in relation to the report. Before making any investment decision, prospective investors should seek advice from their own financial advisers, take into account their individual financial needs and circumstances and carefully consider the risks associated with such investment decision.