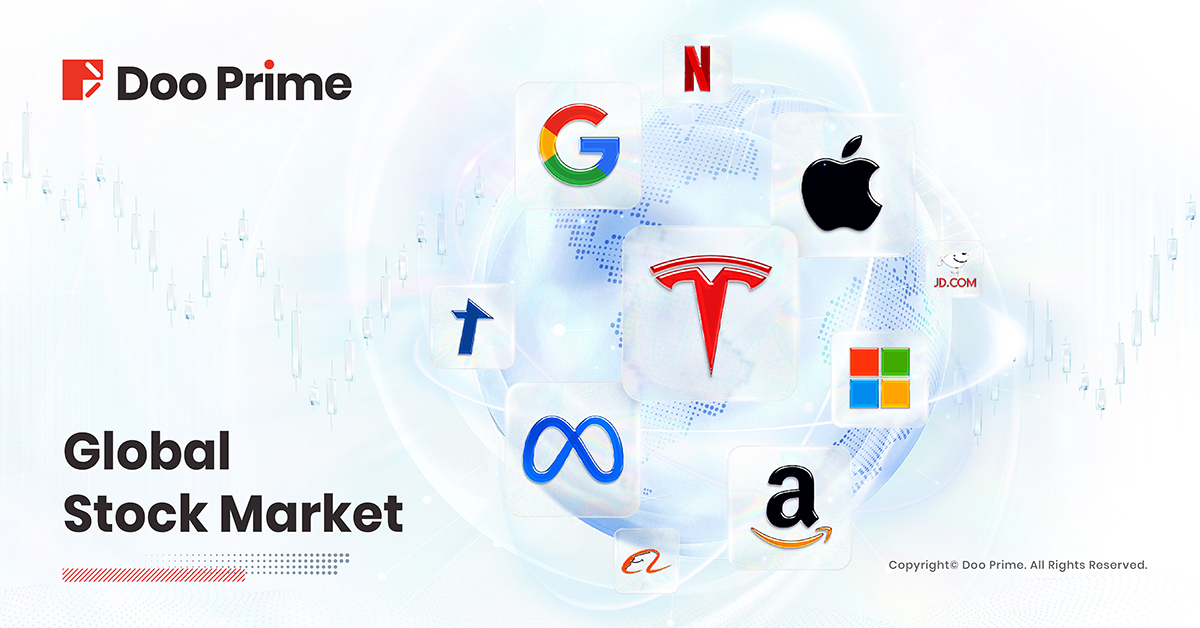 This week, investors are focusing on Wednesday's CPI (Consumer Price Index) and Thursday's PPI (Producer Price Index) inflation data to assess the signals of the Federal Reserve's policy path and rising recession risks.  
The CPI report, scheduled for release on Wednesday, reflects the inflation conditions following the skipped interest rate hike at the Federal Open Market Committee (FOMC) meeting in June.
U.S. Treasury Secretary Janet Yellen stated over the weekend that she does not rule out the possibility of an economic recession in the United States and noted that inflation remains high.
U.S. Stocks 
Fundamental Analysis: 


U.S. stocks closed higher on Monday, with the Dow Jones recording its first gain in the past four trading days. Ipek Ozkardeskaya, Senior Analyst at Swissquote Bank, stated, "It is expected that the year-on-year increase in U.S. CPI inflation data, to be released on Wednesday, will decrease from 4% to around 3%, while the month-on-month increase may see some growth. However, the core inflation rate may remain around 5%, which is more sticky."
It is expected that S&P 500 constituent companies' earnings for this quarter will decline by 6.4%, while earnings excluding the energy sector will decline by 0.7%.
Technical Analysis: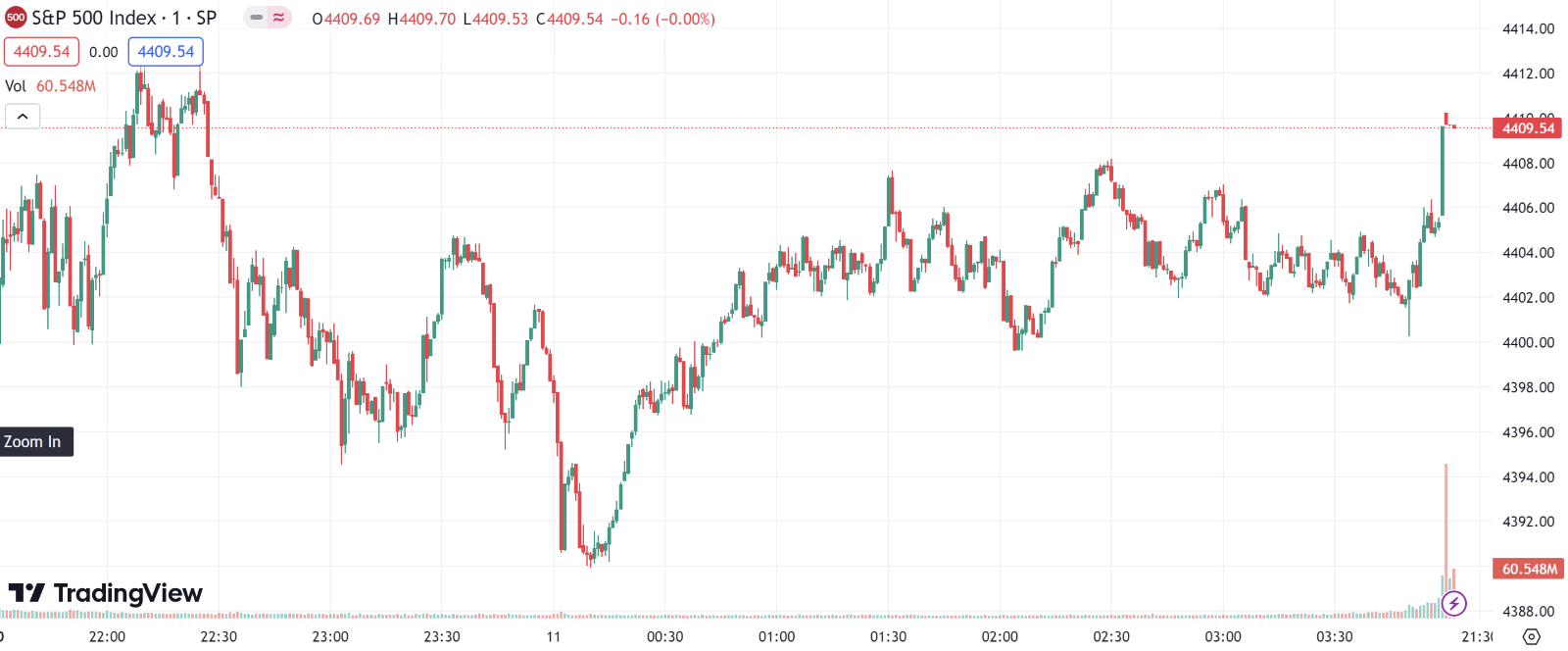 (S&P 500 Index, 1-day chart) 
Market Trends: 
The Dow Jones rose by 209.52 points, or 0.62%, to close at 33,944.40 points.
The Nasdaq increased by 24.77 points, or 0.18%, to close at 13,685.48 points.
The S&P 500 index rose by 10.58 points, or 0.24%, to close at 4,409.53 points.


Hong Kong Stocks 
Fundamental Analysis: 


Hong Kong stocks opened higher in the morning session, with the Hang Seng Index (HSI) performing the best. After opening higher by 191 points, the HSI briefly narrowed its gains to only 93 points before rebounding. The HSI closed at 18,573.
There was buying support near the recent low, leading to an expansion of the gains to a high of 18,803, reaching a maximum increase of 324 points.
In terms of market performance, large technology stocks collectively rose, with Xiaomi Corporation (1810.HK) up 3% and JD.com, Inc. (9618.HK), NetEase, Inc. (9999.HK), and Baidu, Inc. (9888.HK) up over 2%. Meituan (3690.HK), Alibaba Group Holding Limited (9988.HK), and Tencent Holdings Limited (0700.HK) all rose over 1%.
New energy automobile stocks surged, with NIO Inc. (9866.HK) rising over 12%.
As for the real estate sector, some policies related to the "16 financial measures" were postponed, leading to a rise in property stocks and property management stocks.
Pork concept stocks, which rebounded yesterday, generally declined, while stocks related to infant and child products and three major telecom operators experienced a general decline.
Technical Analysis: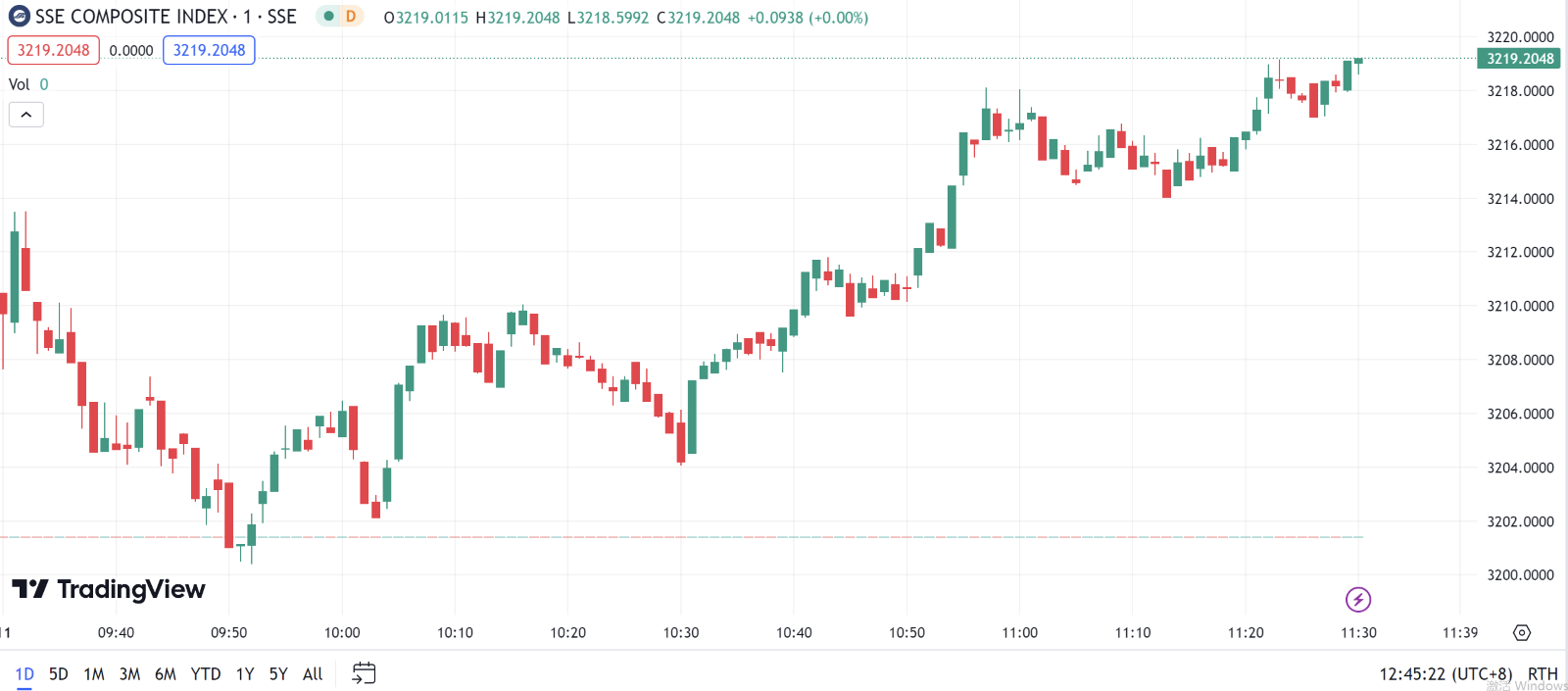 (Hang Seng Index, 1-day chart) 
Market Trends: 
The Hang Seng Index rose by 1.53% to close at 18,761.91 points.
The Hang Seng Tech Index increased by 2.06%.
The Hang Seng China Enterprises Index rose by 1.51%.


FTSE China A50 Index 
Today, the three major A-share indices opened high but fell into negative territory in the early session. Subsequently, the market showed narrow fluctuations, and the indices rebounded in the morning session.
The Shenzhen Component Index and the ChiNext Index both rose by 0.5%, while the STAR 50 Index performed well, rising by 0.85%.
In terms of sector performance, the automobile industry, semiconductor industry, automobile services, automobile components, and computer equipment showed gains, while the photovoltaic equipment, electric power industry, education, gaming, and tourism and hotel industries declined. In terms of themes, storage chips, Kirin batteries, automobile chips, wheel hub motors, AI chips, and satellite communications were active.
Technical Analysis: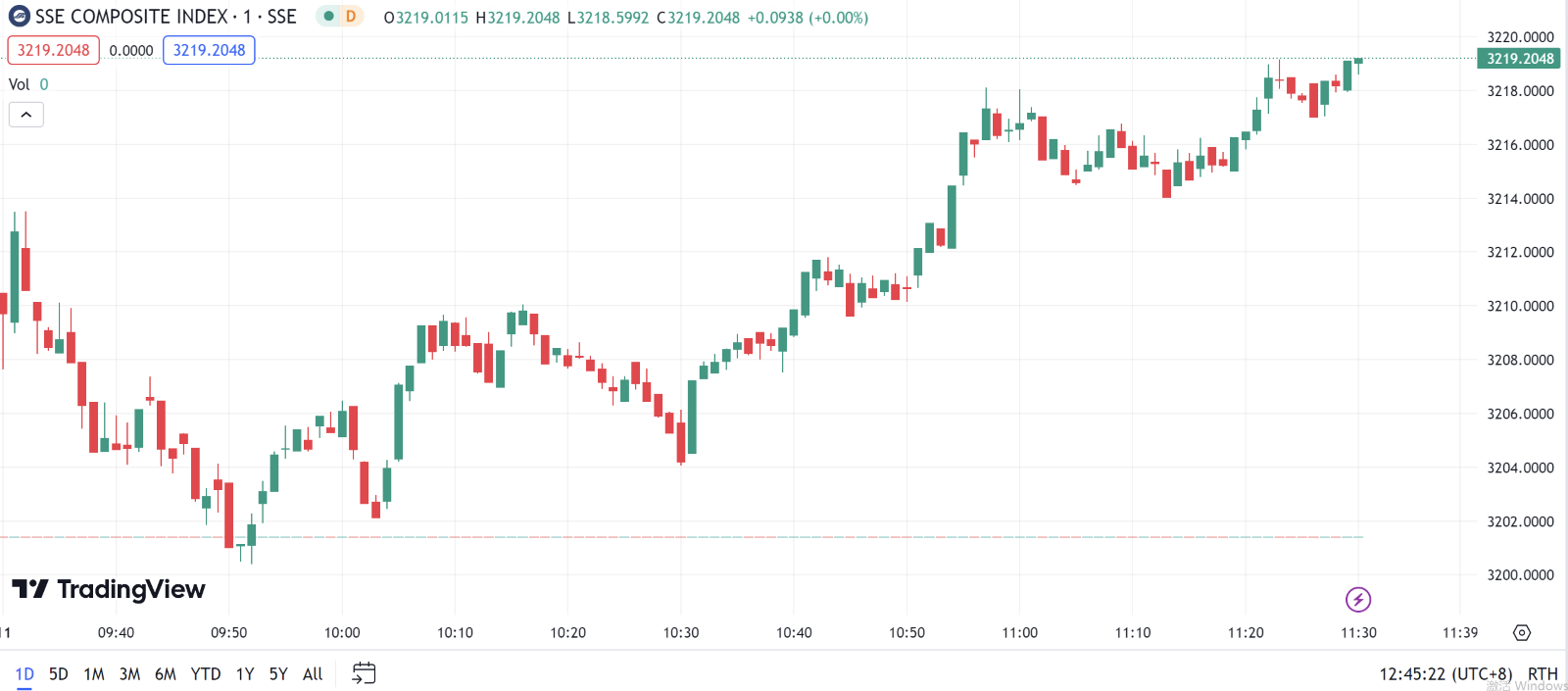 (SSE Composite Index, 1-day chart) 
Market Trends: 
The Shanghai Composite Index rose by 0.48% to close at 3,219.2 points. 
The Shenzhen Component Index rose by 0.57% to close at 11,005.14 points. 
The ChiNext Index rose by 0.51% to close at 2,210.16 points. 
The STAR 50 Index rose by 0.85% to close at 1,002.21 points. 


Forward-looking Statements    
This article contains "forward-looking statements" and may be identified by the use of forward-looking terminology such as "anticipate", "believe", "continue", "could", "estimate", "expect", "hope", "intend", "may", "might", "plan", "potential", "predict", "should", or "will", or other variations thereon or comparable terminology. However, the absence of such terminology does not mean that a statement is not forward-looking. In particular, statements about the expectations, beliefs, plans, objectives, assumptions, future events, or future performance of Doo Prime will be generally assumed as forward-looking statements.     
Doo Prime has provided these forward-looking statements based on all current information available to Doo Prime and Doo Prime's current expectations, assumptions, estimates, and projections. While Doo Prime believes these expectations, assumptions, estimations, and projections are reasonable, these forward-looking statements are only predictions and involve known and unknown risks and uncertainties, many of which are beyond Doo Prime's control. Such risks and uncertainties may cause results, performance, or achievements materially different from those expressed or implied by the forward-looking statements.
Doo Prime does not provide any representation or warranty on the reliability, accuracy, or completeness of such statements. Doo Prime is not obliged to provide or release any updates or revisions to any forward-looking statements.

Disclaimer
While every effort has been made to ensure the accuracy of the information in this document, DOO Prime does not warrant or guarantee the accuracy, completeness or reliability of this information. DOO Prime does not accept responsibility for any losses or damages arising directly or indirectly, from the use of this document. The material contained in this document is provided solely for general information and educational purposes and is not and should not be construed as, an offer to buy or sell, or as a solicitation of an offer to buy or sell, securities, futures, options, bonds or any other relevant financial instruments or investments. Nothing in this document should be taken as making any recommendations or providing any investment or other advice with respect to the purchase, sale or other disposition of financial instruments, any related products or any other products, securities or investments. Trading involves risk and you are advised to exercise caution in relation to the report. Before making any investment decision, prospective investors should seek advice from their own financial advisers, take into account their individual financial needs and circumstances and carefully consider the risks associated with such investment decision.