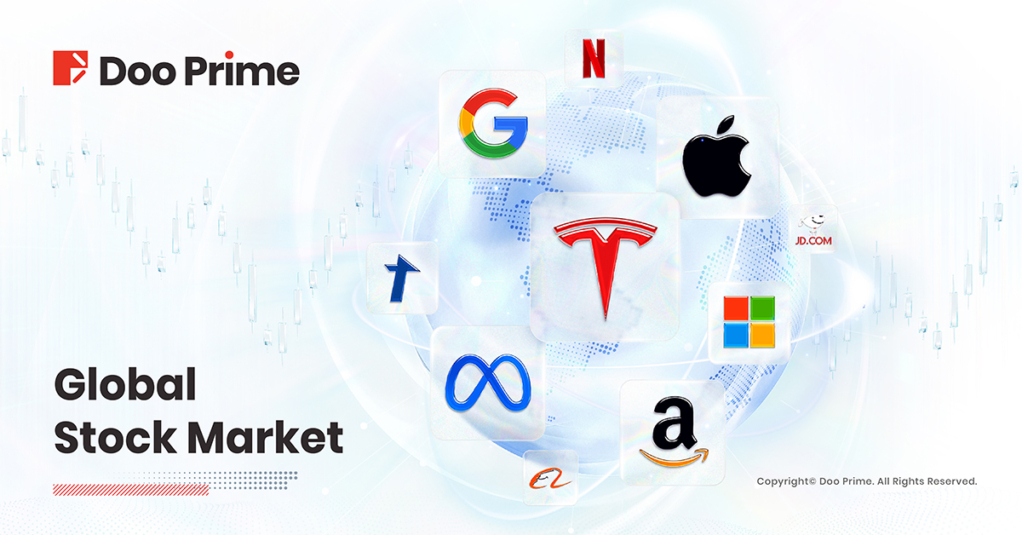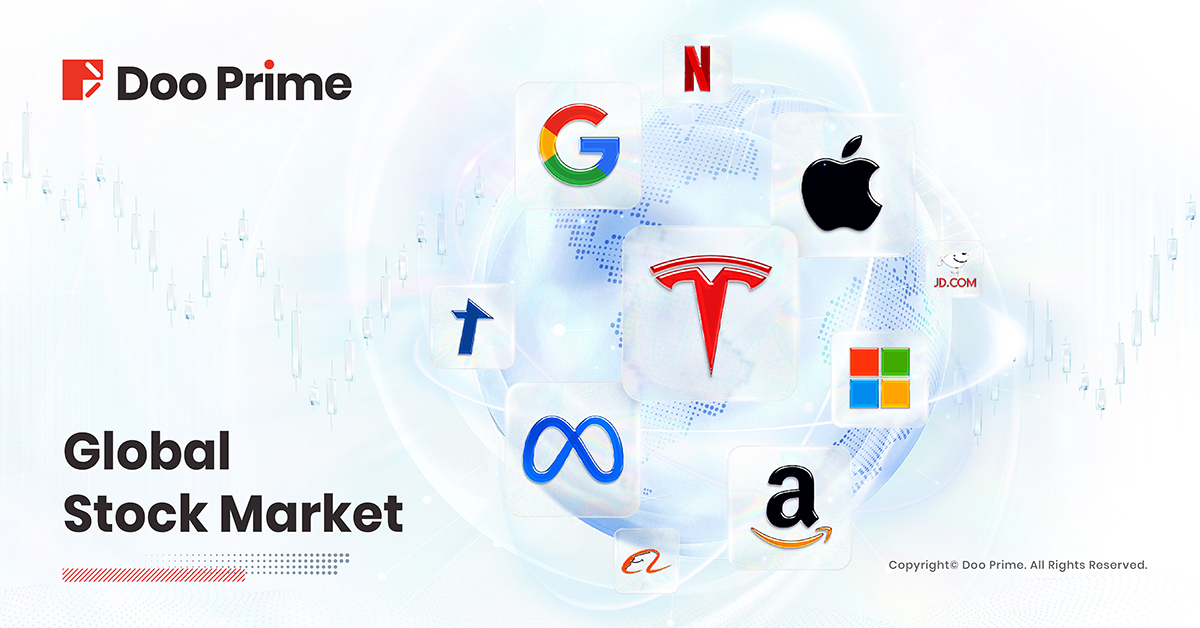 On Monday, the U.S. stock market closed higher.
Declining U.S. bond yields boosted risk appetite.
Both Microsoft and Nvidia reached record highs in intraday and closing prices, driving a surge in tech stocks.
This week's market focus remains on the Federal Reserve's monetary policy meeting minutes and Nvidia's earnings report.
Microsoft once again hit record highs in both intraday and closing prices on Monday.
Prior to this, the company's CEO Satya Nadella announced the joining of former OpenAI CEO Sam Altman to lead a new artificial intelligence research team at the tech giant.
John Stoltzfus, Chief Investment Strategist at Oppenheimer, stated, "We remain bullish on the stock market and expect the recent uptrend to expand as the U.S. economy continues its sustainable moderate expansion.
U.S. Stock Market
Fundamental Analysis:
Major tech stocks surged, with Microsoft and Nvidia rising over 2%, both hitting all-time high closing prices. Solar energy, semiconductor equipment and materials, and space concepts led the gains.
Boeing surged over 4%, while Anheuser-Busch increased by over 3%. First Solar, Virgin Galactic, Lam Research, AMD, and KLA Corp rose over 2%.
Building materials, textiles, and leasing services sectors trended downward, with Tecnoglass dropping over 3%, Herc Holdings over 2%, and United Rentals falling nearly 2%.
Popular Chinese concept stocks saw widespread gains, with the Nasdaq Golden Dragon China Index rising by 3.55%.
Manbang surged over 15%, XPeng over 8%, Tencent Music nearly 7%, Vipshop nearly 6%, Nio over 5%, Futu Holdings up by 5%, Weibo and Bilibili over 4%, and several others witnessing over 2% gains.
Technical Analysis: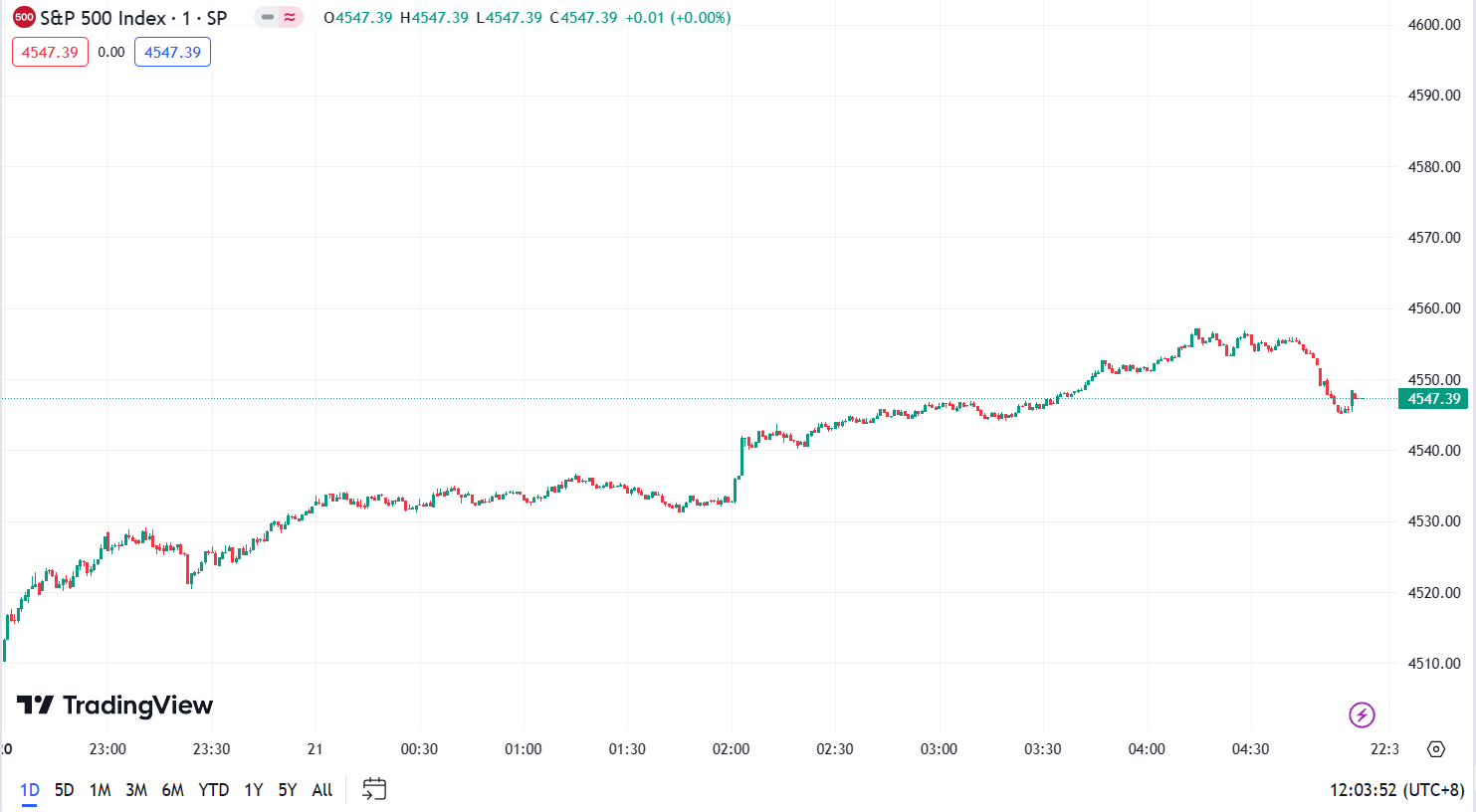 (S&P 500 Index, 1-day chart)
Market Trends:
Dow Jones Industrial Average gained 203.76 points, a 0.58% increase, closing at 35,151.04 points.
Nasdaq Composite Index rose by 159.05 points, a 1.13% rise, closing at 14,284.53 points.
S&P 500 Index increased by 33.36 points, a 0.74% increase, closing at 4,547.38 points.
Hong Kong Stock Market
All three major Hong Kong indices saw gains, led by a collective rise in core tech stocks.
Baidu Group surged over 4%, while JD.com, Alibaba, and Meituan all rose over 3%.
Xiaomi Group, however, experienced a downturn, falling nearly 3%.
Automotive stocks mostly increased, with XPeng rising over 4%.
Real estate sector received positive news, with property and property management stocks surging across the board.
China Evergrande surged nearly 19%, and R&F Properties Service rose over 8%.
Entertainment stocks also gained, with Tencent Music increasing nearly 6%.
Apple-related stocks, however, faced another decline, with Tongda Group falling over 9%.
Gold-related stocks rose, with Zijin Mining up by over 2%.
Technical Analysis: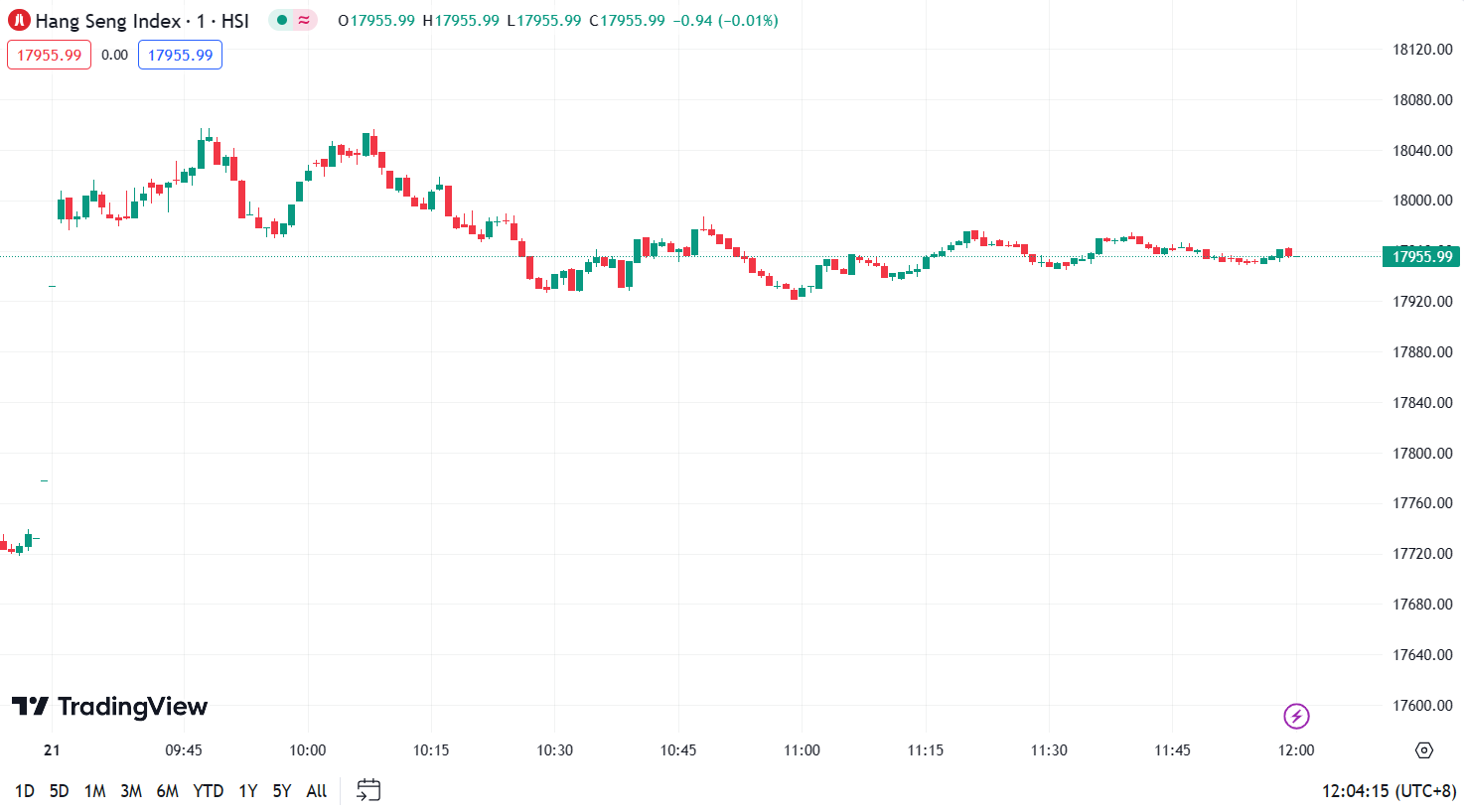 (Hang Seng Index, 1-day chart)
Market Trends:
Hang Seng Index (HSI) increased by 1.00%, closing at 17,955.99 points.
Hang Seng Tech Index (HSTECH) rose by 0.92%, closing at 4,115.19 points.
Hang Seng China Enterprises Index (HSCEI) gained 1.06%, closing at 6,167.94 points.
FTSE China A50 Index
Fundamental Analysis:
With a strengthened Renminbi exchange rate, A-share markets opened higher across all three major indices on November 21st.
Following an initial market surge, indices stabilized and the Shanghai Composite Index led the gains.
Additionally, the rare significant surge of the Beishang 50 Index by over 9% set record trading volumes in half a day.
In terms of sector performance, real estate services, culture and media, real estate development, non-metallic materials, and household light industries showed gains.
Conversely, electronic chemicals, semiconductors, optoelectronics, aerospace, and power equipment sectors faced declines.
Themes like interactive short dramas, radio and television, diamond cultivation remained active.
Technical Analysis: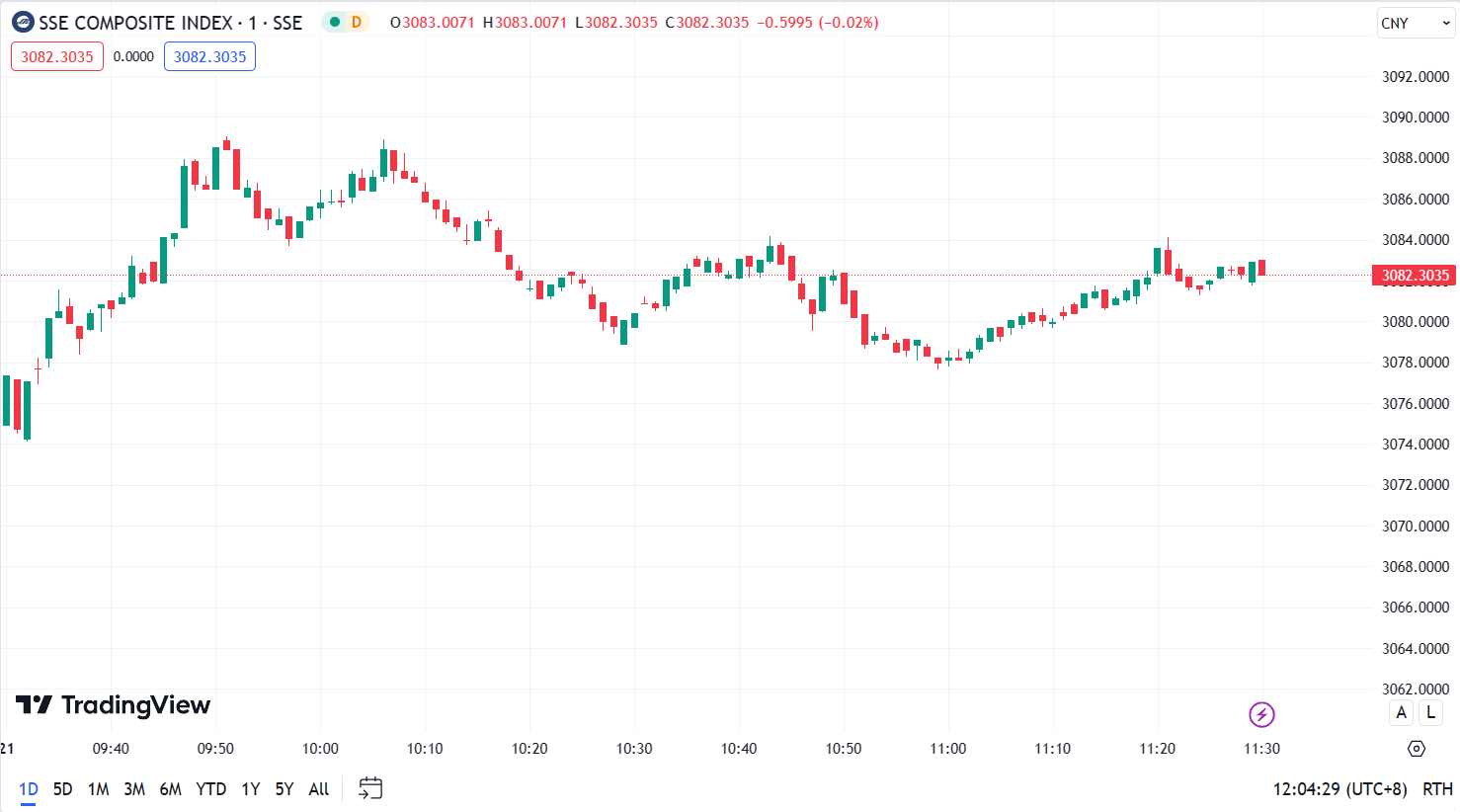 (SSE Composite Index, 1-day chart)
Market Trends:
Shanghai Composite Index (SHCOMP) rose by 0.46%, closing at 3,082.30 points.
Shenzhen Component Index (SZCOMP) gained 0.38%, closing at 10,060.45 points.
ChiNext Index (CHINEXT) saw a 0.25% rise, closing at 1,997.89 points.
SSE STAR Market 50 Index (SSE50) declined by 0.16%, closing at 891.23 points.
---
Forward-looking Statements
This article contains "forward-looking statements" and may be identified by the use of forward-looking terminology such as "anticipate", "believe", "continue", "could", "estimate", "expect", "hope", "intend", "may", "might", "plan", "potential", "predict", "should", or "will", or other variations thereon or comparable terminology. However, the absence of such terminology does not mean that a statement is not forward-looking. In particular, statements about the expectations, beliefs, plans, objectives, assumptions, future events, or future performance of Doo Prime will be generally assumed as forward-looking statements.
Doo Prime has provided these forward-looking statements based on all current information available to Doo Prime and Doo Prime's current expectations, assumptions, estimates, and projections. While Doo Prime believes these expectations, assumptions, estimations, and projections are reasonable, these forward-looking statements are only predictions and involve known and unknown risks and uncertainties, many of which are beyond Doo Prime's control. Such risks and uncertainties may cause results, performance, or achievements materially different from those expressed or implied by the forward-looking statements.
Doo Prime does not provide any representation or warranty on the reliability, accuracy, or completeness of such statements. Doo Prime is not obliged to provide or release any updates or revisions to any forward-looking statements.
Disclaimer
While every effort has been made to ensure the accuracy of the information in this document, DOO Prime does not warrant or guarantee the accuracy, completeness or reliability of this information. DOO Prime does not accept responsibility for any losses or damages arising directly or indirectly, from the use of this document. The material contained in this document is provided solely for general information and educational purposes and is not and should not be construed as, an offer to buy or sell, or as a solicitation of an offer to buy or sell, securities, futures, options, bonds or any other relevant financial instruments or investments. Nothing in this document should be taken as making any recommendations or providing any investment or other advice with respect to the purchase, sale or other disposition of financial instruments, any related products or any other products, securities or investments. Trading involves risk and you are advised to exercise caution in relation to the report. Before making any investment decision, prospective investors should seek advice from their own financial advisers, take into account their individual financial needs and circumstances and carefully consider the risks associated with such investment decision.