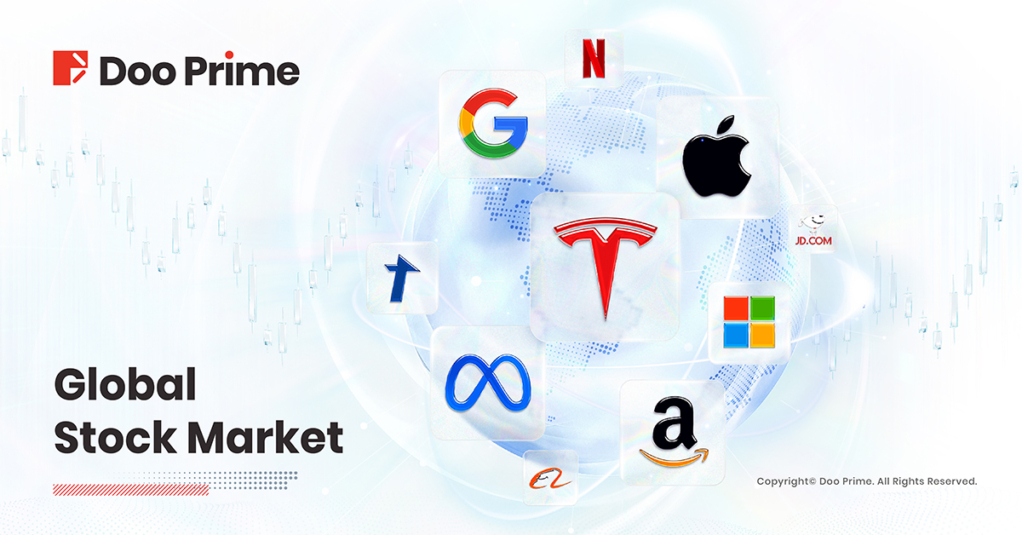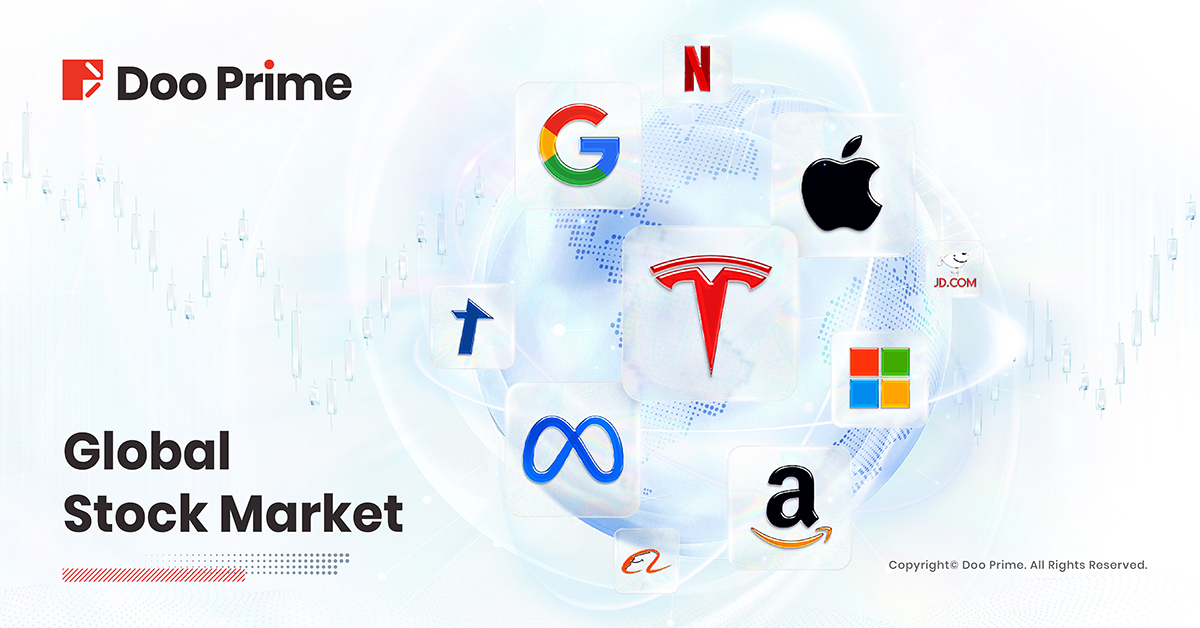 U.S. stock market closed with mixed results on Monday as investors continued to assess the impact of Moody's downgrade of the U.S. credit rating outlook.  
This week, the market's focal points include October's Consumer Price Index (CPI) and retail sales.
Over the weekend, the U.S. government faces a potential shutdown, prompted by escalating risks such as a deteriorating U.S. fiscal position and heightened political polarization.
Moody's reacted by downgrading the credit rating outlook from "stable" to "negative," citing the significant fiscal deficit and partisan deadlock in Washington as contributing factors.
U.S. Stock Market
Fundamental Analysis:
The performance of large-cap tech stocks varied, witnessing a dip of over 1% in Intel.
Meanwhile, Apple, Netflix, Microsoft, Google, and Amazon experienced marginal declines. Nvidia, on the other hand, marked its ninth consecutive daily gain.
In the realm of new energy vehicle stocks, Tesla surged over 4%, achieving a new closing high since October 19th.
Elon Musk announced the imminent trial launch of Tesla's Full Self-Driving (FSD) V12 in about two weeks.
Rivian, considered a formidable competitor to Tesla, rose over 5%, and Lucid Group gained over 4%. 
Among popular Chinese concept stocks, the Nasdaq Golden Dragon China Index rose by 0.83%.
Notable gains were observed in NIO, Futu Holdings, and XPeng Motors, with increases exceeding 4%, 1%, and 2%, respectively.
Bilibili, Baidu, NetEase, and iQiyi registered gains of over 1%, while Tencent Music, Pinduoduo, Vipshop, and Manbang Group saw marginal increases.
However, Weibo experienced a drop of over 1%, and Alibaba, NIO, and JD.com recorded minor declines.
Technical Analysis: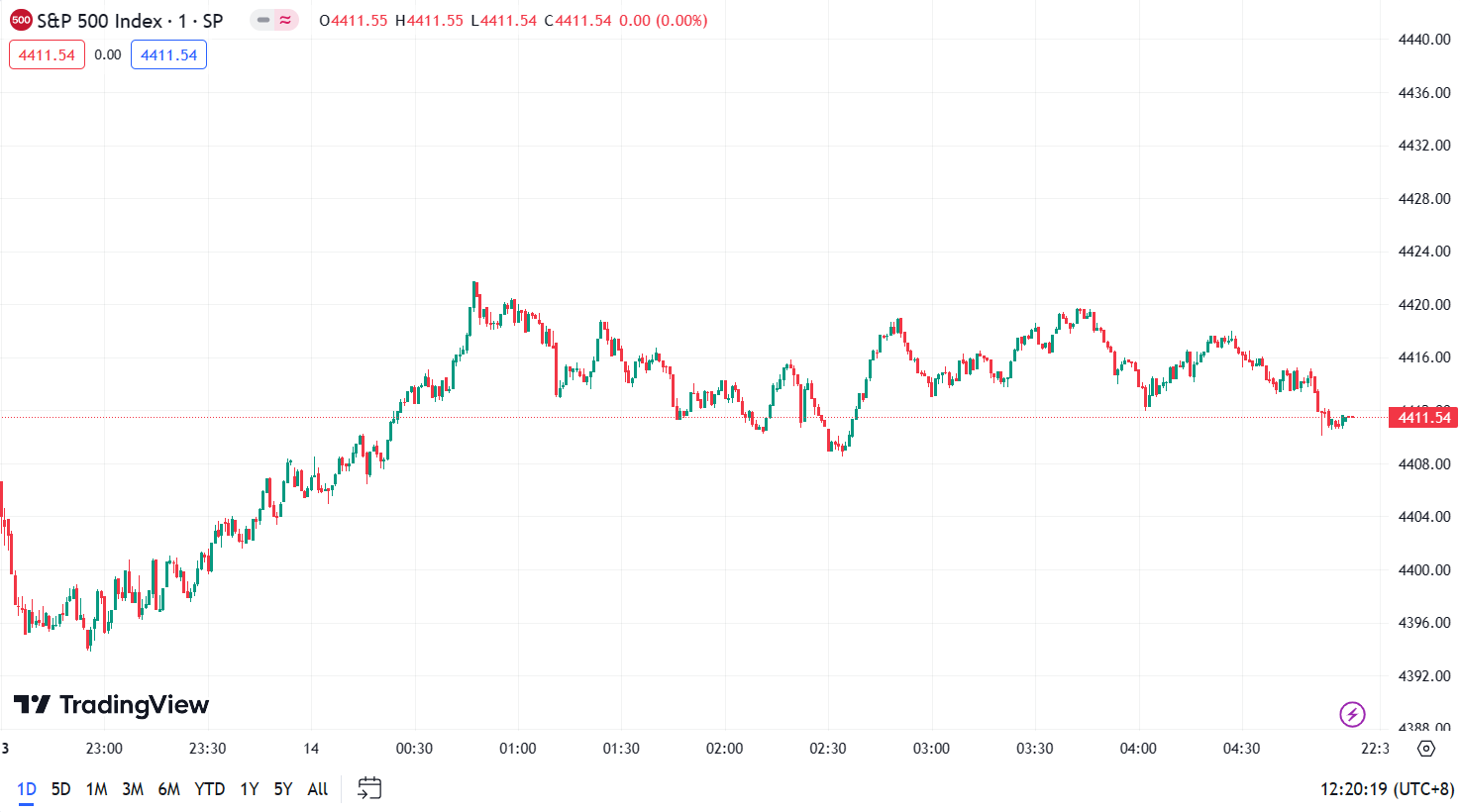 (S&P 500 Index, 1-day chart)
Market Trends:
Dow Jones Industrial Average rose by 54.77 points, a 0.16% increase, closing at 34,337.87 points.
Nasdaq Composite Index fell by 30.36 points, a 0.22% decline, closing at 13,767.74 points.
S&P 500 Index declined by 3.69 points, a 0.08% drop, closing at 4,411.55 points.
Hong Kong Stock Market
Hong Kong's three major indices opened on a positive note but witnessed fluctuations throughout the day.
Core tech stocks experienced a general decline, with Meituan, Xiaomi, NetEase, and Kuaishou dropping over 2%.
Contrarily, new electric vehicle companies defied the trend, with XPeng Motors rising nearly 4%.
Leading the gains were Chinese brokerage stocks, with China International Capital Corporation (CICC) surging over 4%.
Insurance stocks generally rose, with China Life Insurance gaining over 2%.
In the photovoltaic sector, GCL-Poly Energy gained nearly 4%, while sportswear stocks plummeted, with Anta Sports falling over 14%.
Chinese brokerage stocks, led by CICC, surged over 4%, following the China Securities Regulatory Commission's recent announcement of support for leading securities firms to enhance competitiveness through business innovation, group operations, and mergers and acquisitions.
Technical Analysis: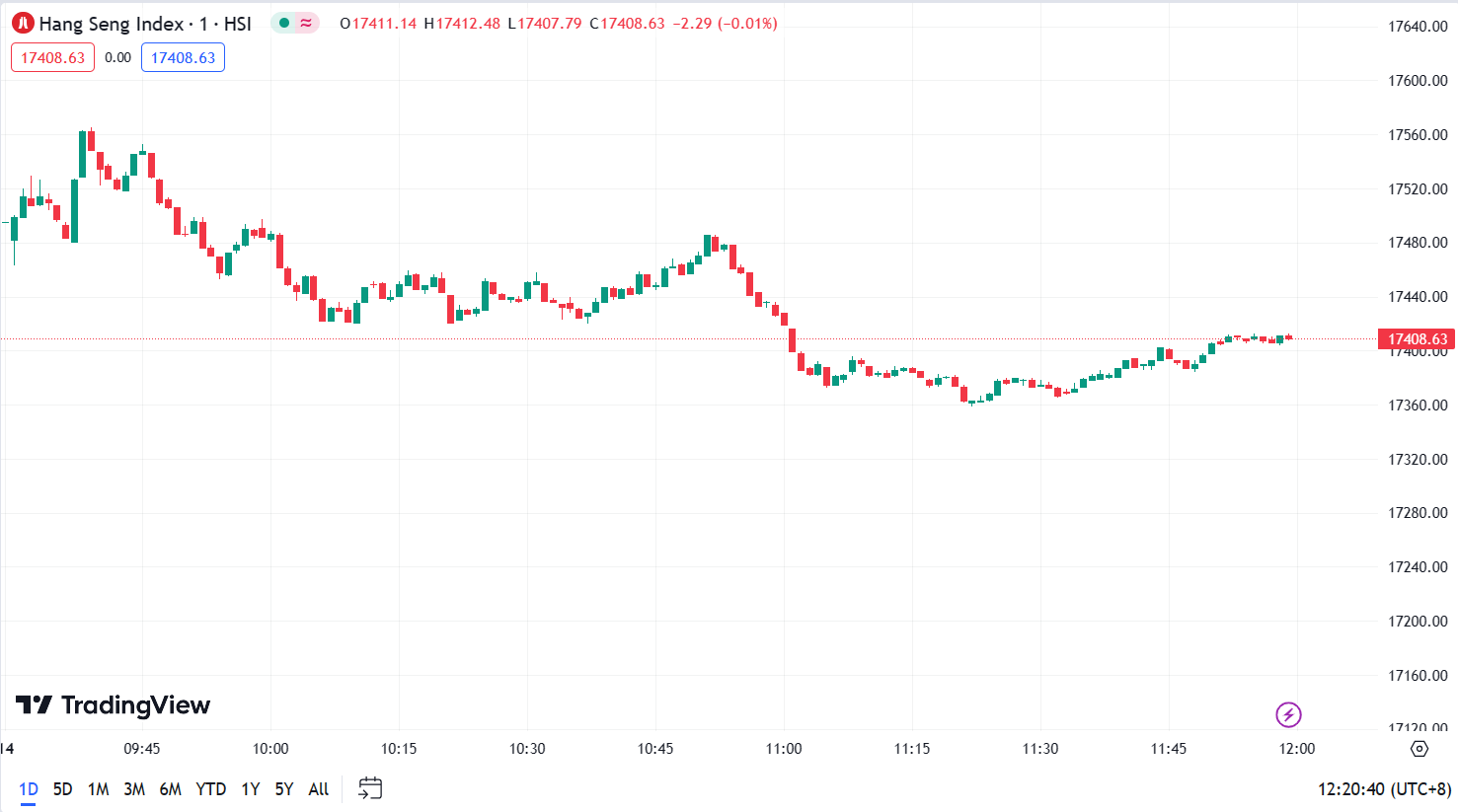 (Hang Seng Index, 1-day chart)
Market Trends:
Hang Seng Index (HSI) dropped by 0.01%, closing at 17,408.63 points.
Hang Seng Tech Index (HSTECH) decreased by 0.76%, closing at 3,951.09 points.
Hang Seng China Enterprises Index (HSCEI) fell by 0.35%, closing at 5,968.21 points.
FTSE China A50 Index
Fundamental Analysis:
In the morning session on November 14th, A-shares displayed mixed movements, initially rebounding but later experiencing a pullback.
The Shanghai Composite Index, Shenzhen Component Index, and Growth Enterprise Market (GEM) Index entered a consolidation phase, while the ChiNext Index further weakened and turned negative.
Across industry sectors, software development, securities, internet services, computer equipment, and real estate services showed the strongest gains.
Conversely, the coal industry, steel industry, gas, utilities, and energy metals witnessed the most significant declines.
Themes like HarmonyOS, data elements, Chiplet concepts, AI chips, innovative technologies, and brokerage concepts were active.
Technical Analysis: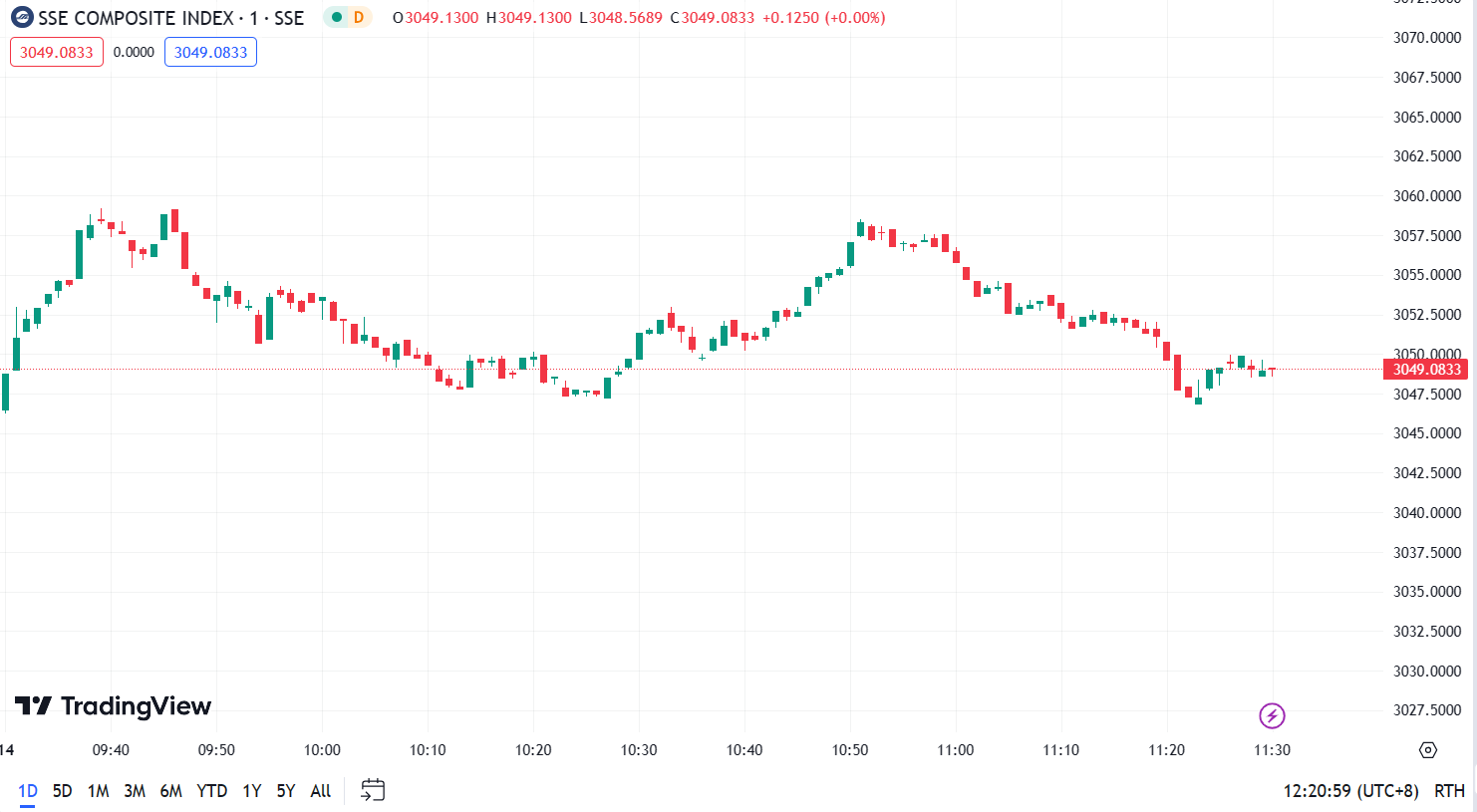 (SSE Composite Index, 1-day chart)
Market Trends:
Shanghai Composite Index (SHCOMP) rose by 0.08%, closing at 3,049.08 points
Shenzhen Component Index (SZCOMP) increased by 0.02%, closing at 9,990.59 points
ChiNext Index (CHINEXT) declined by 0.28%, closing at 2,003.68 points.
SSE STAR Market 50 Index (SSE50) increased by 0.17%, closing at 898.1 points.
---
Forward-looking Statements
This article contains "forward-looking statements" and may be identified by the use of forward-looking terminology such as "anticipate", "believe", "continue", "could", "estimate", "expect", "hope", "intend", "may", "might", "plan", "potential", "predict", "should", or "will", or other variations thereon or comparable terminology. However, the absence of such terminology does not mean that a statement is not forward-looking. In particular, statements about the expectations, beliefs, plans, objectives, assumptions, future events, or future performance of Doo Prime will be generally assumed as forward-looking statements.
Doo Prime has provided these forward-looking statements based on all current information available to Doo Prime and Doo Prime's current expectations, assumptions, estimates, and projections. While Doo Prime believes these expectations, assumptions, estimations, and projections are reasonable, these forward-looking statements are only predictions and involve known and unknown risks and uncertainties, many of which are beyond Doo Prime's control. Such risks and uncertainties may cause results, performance, or achievements materially different from those expressed or implied by the forward-looking statements.
Doo Prime does not provide any representation or warranty on the reliability, accuracy, or completeness of such statements. Doo Prime is not obliged to provide or release any updates or revisions to any forward-looking statements.
Disclaimer
While every effort has been made to ensure the accuracy of the information in this document, DOO Prime does not warrant or guarantee the accuracy, completeness or reliability of this information. DOO Prime does not accept responsibility for any losses or damages arising directly or indirectly, from the use of this document. The material contained in this document is provided solely for general information and educational purposes and is not and should not be construed as, an offer to buy or sell, or as a solicitation of an offer to buy or sell, securities, futures, options, bonds or any other relevant financial instruments or investments. Nothing in this document should be taken as making any recommendations or providing any investment or other advice with respect to the purchase, sale or other disposition of financial instruments, any related products or any other products, securities or investments. Trading involves risk and you are advised to exercise caution in relation to the report. Before making any investment decision, prospective investors should seek advice from their own financial advisers, take into account their individual financial needs and circumstances and carefully consider the risks associated with such investment decision.