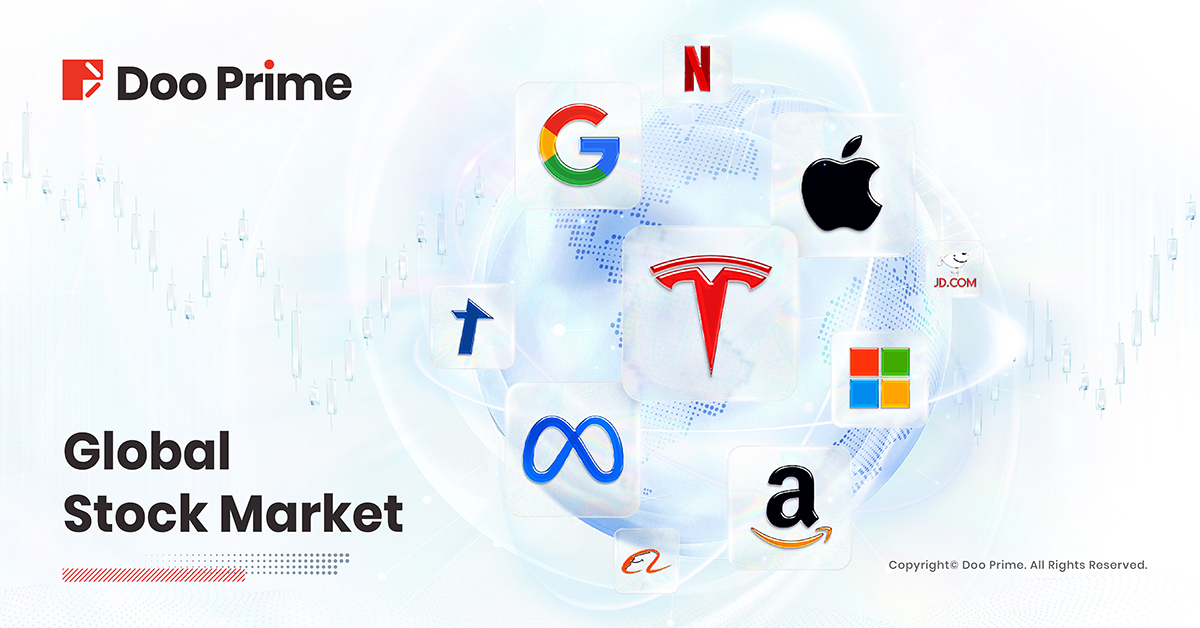 U.S. stock market mixed on Thursday, with the Nasdaq rising for the fifth consecutive trading day. All three major indices recorded declines in August. The U.S. core PCE inflation index for July increased by 4.2% year-on-year, meeting expectations. Market attention shifts to Friday's non-farm payroll data release. 
U.S. Stocks
Fundamental Analysis:
In terms of economic data on Thursday, the U.S. Commerce Department reported that the U.S. Personal Consumption Expenditure (PCE) Index for July met market expectations but indicated that inflation remained elevated.
The Federal Reserve's favored inflation metric, the Core PCE, increased by 0.2% month-on-month and 4.2% year-on-year, both in line with market expectations.
Earlier, Federal Reserve Chair Powell had noted at last week's Jackson Hole central banking policy symposium that the central bank expected higher inflation data for August.
Thursday marked the final trading day of August. During August, the Dow Jones Industrial Average fell by 2.36%, the Nasdaq dropped by 2.17%, and the S&P 500 declined by 1.77%.
Most large tech stocks saw gains, with Amazon rising over 2%, Intel up nearly 2%, and Qualcomm increasing by over 1%. Broadcom surged over 3%, and Nvidia made slight gains, with both stocks reaching new closing highs.
The computer hardware and software application sectors led the gains, with Shopify surging over 10%, Western Digital rising over 5%, and AMD gaining over 2%. Healthcare plans and precious metals sectors declined, with gold resources dropping over 5%,
UnitedHealth and Coreldan Mining falling over 3%, and Heckler & Koch Mining down over 2%. "Vietnam's Tesla," VinFast, fell nearly 16%, with its market value dropping to around $80 billion.
Technical Analysis: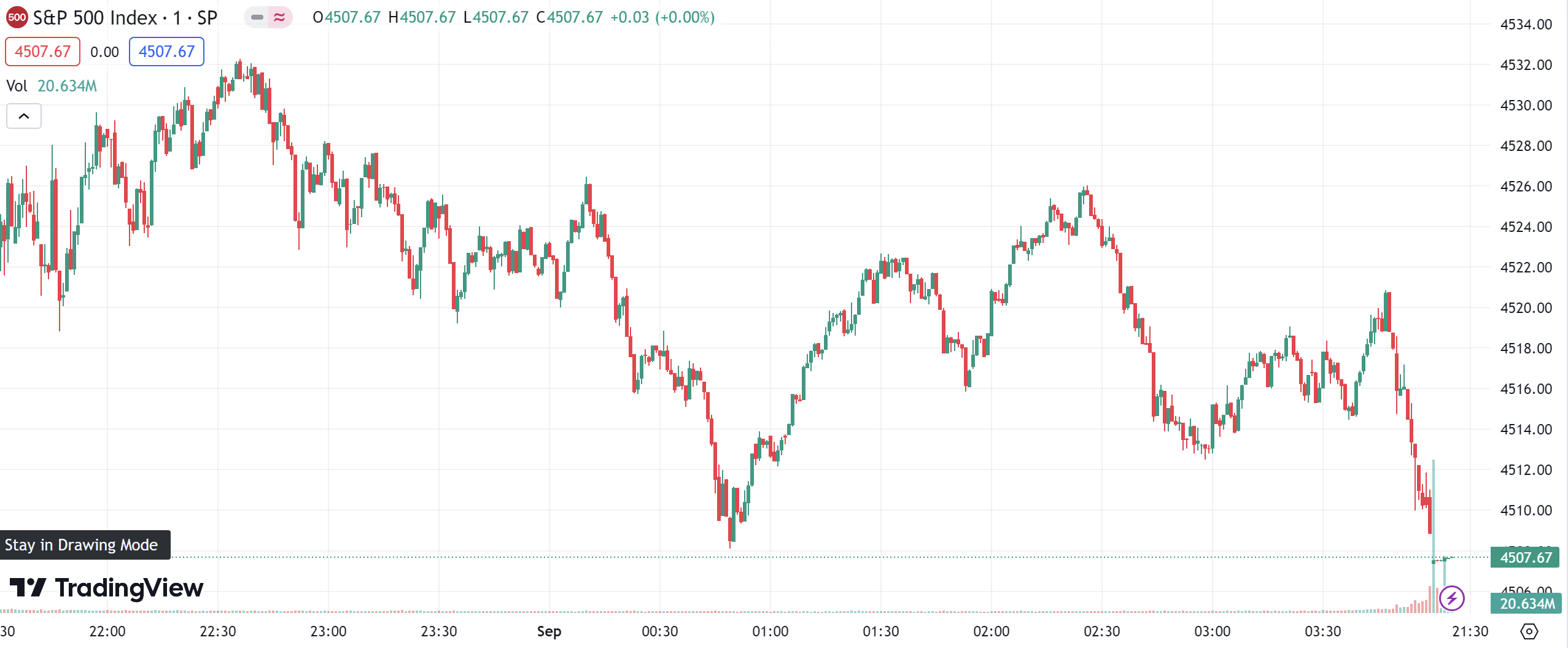 (S&P 500 Index, 1-day chart)
Market Trends:
Dow Jones Industrial Average fell by 168.33 points, a decrease of 0.48%, closing at 34,721.91 points.
Nasdaq Composite Index rose by 15.66 points, an increase of 0.11%, closing at 14,034.97 points.
S&P 500 Index dropped by 7.21 points, a decrease of 0.16%, closing at 4,507.66 points.
Hong Kong Stocks
Fundamental Analysis:
Due to a typhoon, the Hong Kong Stock Exchange suspended trading on September 1st, 2023. 
FTSE China A50 Index
Fundamental Analysis:
On September 1st, A-shares opened with mixed movements, briefly rising in the early market, then quickly retreating and exhibiting a volatile trend.
The ChiNext Index briefly turned negative during intraday trading. Additionally, the CSI 50 Index performed well with a rise of over 2%, while the STAR 50 Index fell by more than 1%.
The B-share index, which saw significant declines yesterday, stabilized and fluctuated. The total trading volume of the Shanghai and Shenzhen stock markets reached ¥4,809.98 billion, and trading through the Shanghai-Shenzhen Stock Connect was temporarily suspended.
Thirty stocks in both markets reached their daily trading limits (including ST stocks), with none hitting their lower limits.
Technical Analysis: 
(SSE Composite Index, 1-day chart)
Market Trends:
Shanghai Composite Index (SHCOMP) increased by 0.23%, closing at 3,127.19 points. 
Shenzhen Component Index (SZCOMP) rose by 0.25%, closing at 10,443.93 points. 
ChiNext Index (CHINEXT) decreased by 0.23%, closing at 2,097.75 points. 
SSE STAR Market 50 Index (SSE50) fell by 1.53%, closing at 928.19 points. 


Forward-looking Statements
This article contains "forward-looking statements" and may be identified by the use of forward-looking terminology such as "anticipate", "believe", "continue", "could", "estimate", "expect", "hope", "intend", "may", "might", "plan", "potential", "predict", "should", or "will", or other variations thereon or comparable terminology. However, the absence of such terminology does not mean that a statement is not forward-looking. In particular, statements about the expectations, beliefs, plans, objectives, assumptions, future events, or future performance of Doo Prime will be generally assumed as forward-looking statements.
Doo Prime has provided these forward-looking statements based on all current information available to Doo Prime and Doo Prime's current expectations, assumptions, estimates, and projections. While Doo Prime believes these expectations, assumptions, estimations, and projections are reasonable, these forward-looking statements are only predictions and involve known and unknown risks and uncertainties, many of which are beyond Doo Prime's control. Such risks and uncertainties may cause results, performance, or achievements materially different from those expressed or implied by the forward-looking statements.
Doo Prime does not provide any representation or warranty on the reliability, accuracy, or completeness of such statements. Doo Prime is not obliged to provide or release any updates or revisions to any forward-looking statements.
Disclaimer
While every effort has been made to ensure the accuracy of the information in this document, DOO Prime does not warrant or guarantee the accuracy, completeness or reliability of this information. DOO Prime does not accept responsibility for any losses or damages arising directly or indirectly, from the use of this document. The material contained in this document is provided solely for general information and educational purposes and is not and should not be construed as, an offer to buy or sell, or as a solicitation of an offer to buy or sell, securities, futures, options, bonds or any other relevant financial instruments or investments. Nothing in this document should be taken as making any recommendations or providing any investment or other advice with respect to the purchase, sale or other disposition of financial instruments, any related products or any other products, securities or investments. Trading involves risk and you are advised to exercise caution in relation to the report. Before making any investment decision, prospective investors should seek advice from their own financial advisers, take into account their individual financial needs and circumstances and carefully consider the risks associated with such investment decision.