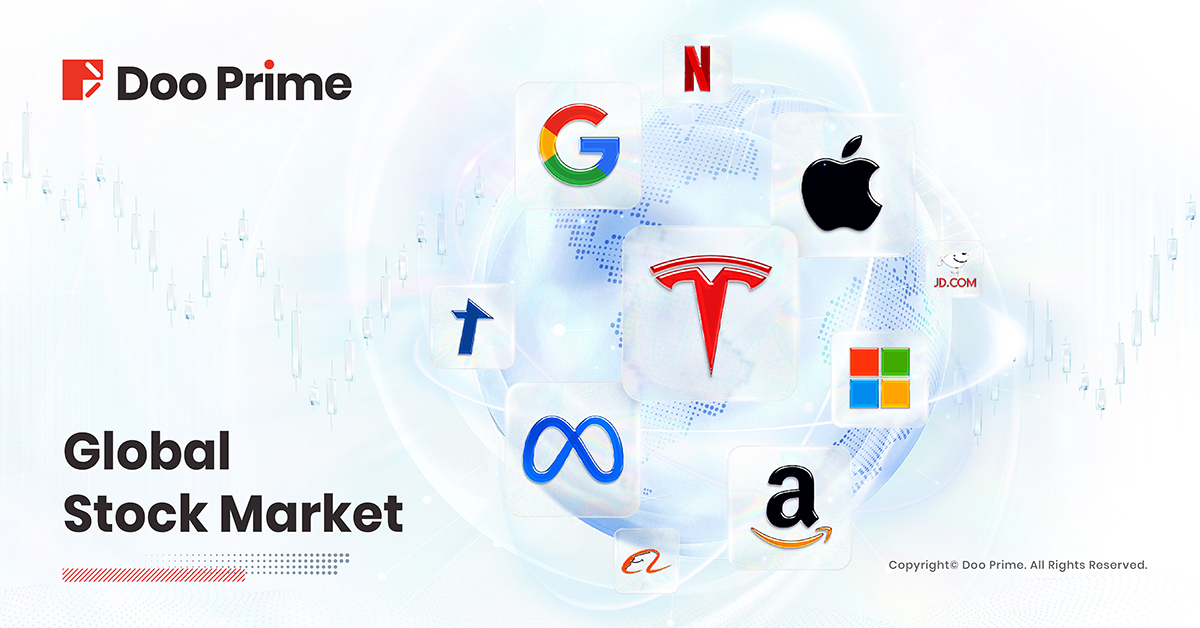 On Friday, the U.S. stock market closed with mixed results, but this week saw gains across the board for the three major indices. In August, the U.S. non-farm payroll added 187,000 jobs, surpassing market expectations, while the unemployment rate rose to 3.8%, reaching its highest point since February, with wage growth falling below expectations. Analysts believe that this data alleviates pressure on the Federal Reserve to raise interest rates in September. 
U.S. Stocks
Fundamental Analysis:
Last Friday, the U.S. Labor Department reported that after seasonal adjustments, the non-farm payroll added 187,000 jobs in August, surpassing the economists' expected 170,000 jobs according to Dow Jones survey.
The report revised June non-farm payroll numbers significantly downward from 185,000 to 80,000, while July's non-farm payroll was adjusted down from 187,000 to 157,000.
Average hourly earnings in August increased by 0.2% compared to an expected 0.3%, with a previous value of 0.4%. Year-over-year, hourly earnings in August increased by 4.3%, matching expectations and slightly down from the previous 4.4%.
The report also noted that the unemployment rate increased by 0.3 percentage points to 3.8% in August, reaching its highest level since February last year, with an increase of 514,000 unemployed individuals, totaling 6.4 million.
These two indicators were nearly the same as a year ago when the unemployment rate in August was 3.7%, and there were 6 million unemployed individuals.
Last week, the three major U.S. indices all posted gains: the Dow Jones increased by 1.43%, the Nasdaq rose by 3.25%, and the S&P 500 index saw a 2.5% increase.
Among large-cap tech stocks, Intel surged over 4%, AMD rose over 3%, Tesla fell more than 5%, and NVIDIA dropped more than 1%.
The sectors leading in gains included metals, oil, and natural gas, with companies like Freeport-McMoRan, Century Aluminum, Nabors Industries, Petrobras, ExxonMobil, and Chevron performing well.
Conversely, the automotive manufacturing, food and beverage, and aviation services sectors saw declines, with VinFast falling more than 14%, Ferrari dropping over 3%, and Anheuser-Busch InBev slipping more than 1%.
Dell Technologies recorded a remarkable gain of over 21%, marking its largest single-day increase since its IPO in the United States and achieving a historical high stock price.
Technical Analysis: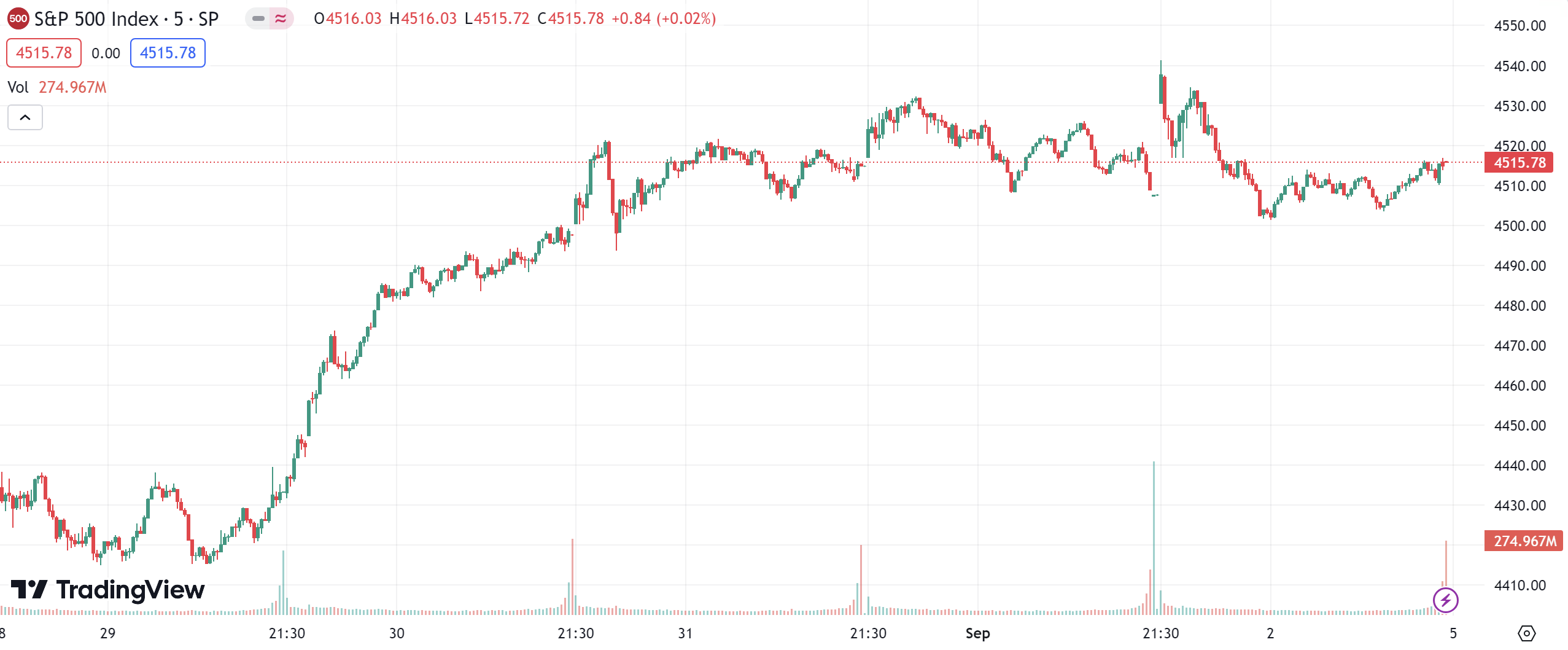 (S&P 500 Index, 1-day chart)
Market Trends:
Dow Jones Industrial Average increased by 115.80 points, a 0.33% rise, closing at 34,837.71 points.
Nasdaq Composite Index dropped by 3.15 points, a 0.02% decrease, closing at 14,031.81 points.
S&P 500 Index increased by 8.11 points, a 0.18% rise, closing at 4,515.77 points.
Hong Kong Stocks
Fundamental Analysis:
Today, the three major indices in the Hong Kong stock market opened higher and continued to rise.
In the morning, they benefited from positive news about the possibility of the United States temporarily halting interest rate hikes and the mainland's reduction in foreign exchange reserve requirements.
They opened with a gain of over 210 points, momentarily narrowing to a 193-point increase, with the Hang Seng Index reaching a low of 18,575 for the day.
Subsequently, it followed the trend of the A-share market, expanding its gains to a high of 18,899, with a maximum increase of 517 points.
The Hang Seng Index fell by 100 points on the last trading day of August and was closed.
On the first day of September, the market was suspended due to a typhoon hitting Hong Kong all day. The total weekly gain was 425 points. However, for the entire month of August, it fell by 1,696 points, a decline of over 8.5%.
Technology-related stocks saw widespread gains, with JD.com, Inc. (9618.HK) and Meituan (3690.HK) rising over 4%, Alibaba Group Holding Limited (9988.HK) up over 3%, and Tencent Holdings Limited (0700.HK) and Baidu, Inc. (9888.HK) gaining over 2%.
Automotive stocks also showed strong performance, with Zhejiang Leapmotor Technology Co., Ltd. (9863.HK) surging over 6%.
Real estate stocks were on the rise, led by China Evergrande Group (3333.HK)'s 34% surge, with property management and building materials stocks also posting gains.
Among metal-related stocks, Aluminum Corporation of China Limited (2600.HK) rose over 12%.
Tourism stocks were active, with China Tourism Group Duty Free Corporation Limited (1880.HK) surging over 8%.
The major financial sector showed strength, with insurance, banking, and Chinese securities firms all rising.
Technical Analysis: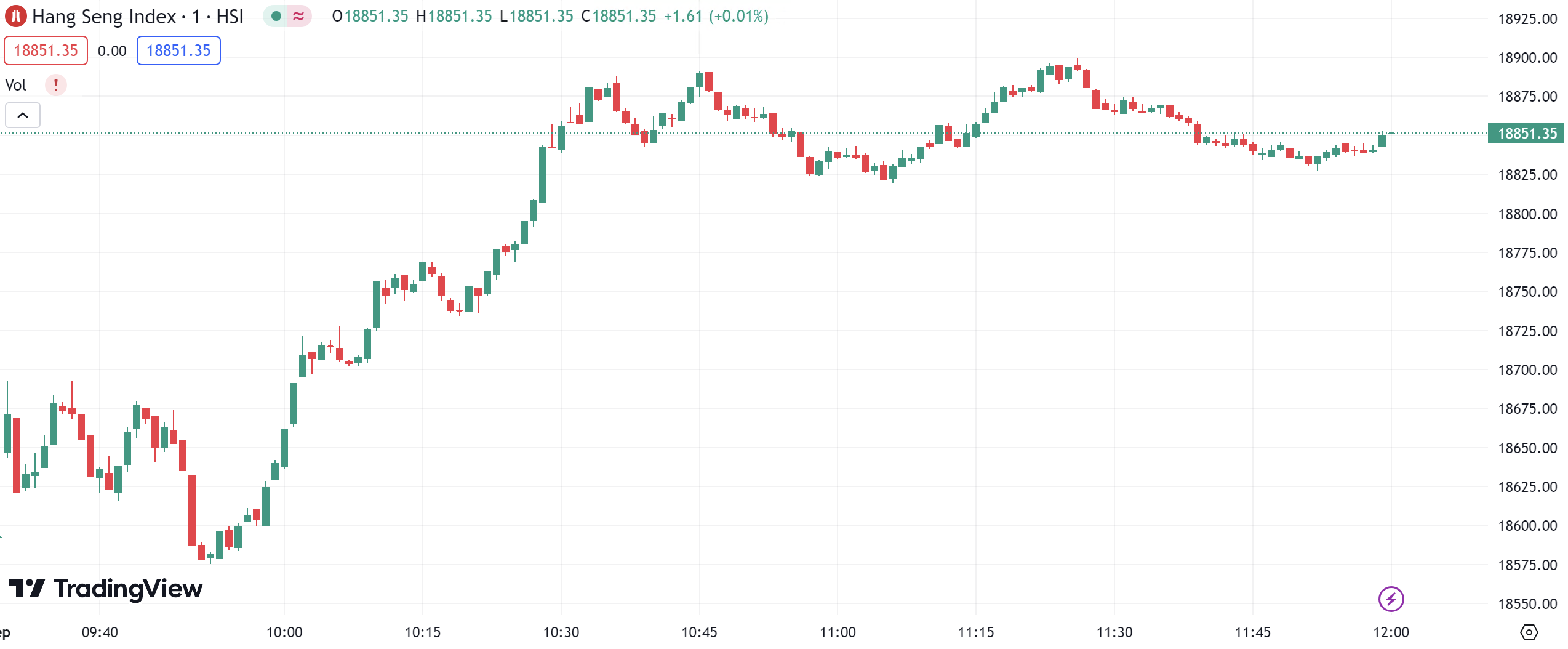 (Hang Seng Index, 1-day chart) 
Market Trends: 
Hang Seng Index (HSI) increased by 2.55%, closing at 18,851.35 points.
Hang Seng Tech Index (HSTECH) rose by 2.5%.
Hang Seng China Enterprises Index (HSCEI) increased by 3.32%.
FTSE China A50 Index
Fundamental Analysis:
On the morning of September 4th, all three major A-share indices opened higher and saw initial market fluctuations followed by gains, with the Shanghai Composite Index and the Shenzhen Component Index both rising by over 1%.
Later, the indices experienced some retracement. The Shanghai 50 Index briefly surged by over 2%, and the Shenzhen 50 Index, boosted by positive news, surged by over 7%.
The total trading volume on the Shanghai and Shenzhen stock exchanges was 549.515 billion yuan, with northbound funds net buying 6.33 billion yuan.
Forty stocks in the market hit the daily trading limit (including ST stocks), while one stock hit the daily trading limit on the downside.
In terms of industry sectors, the mining industry, coal industry, steel industry, decoration and building materials, and decoration and decoration sectors led the gains.
Semiconductor, medical equipment, gaming, electronic chemicals, and optical electronics sectors faced declines.
In terms of themes, basic metals, coal chemicals, construction machinery, liquor, phosphorus chemicals, and chemical raw materials themes were active.
Technical Analysis: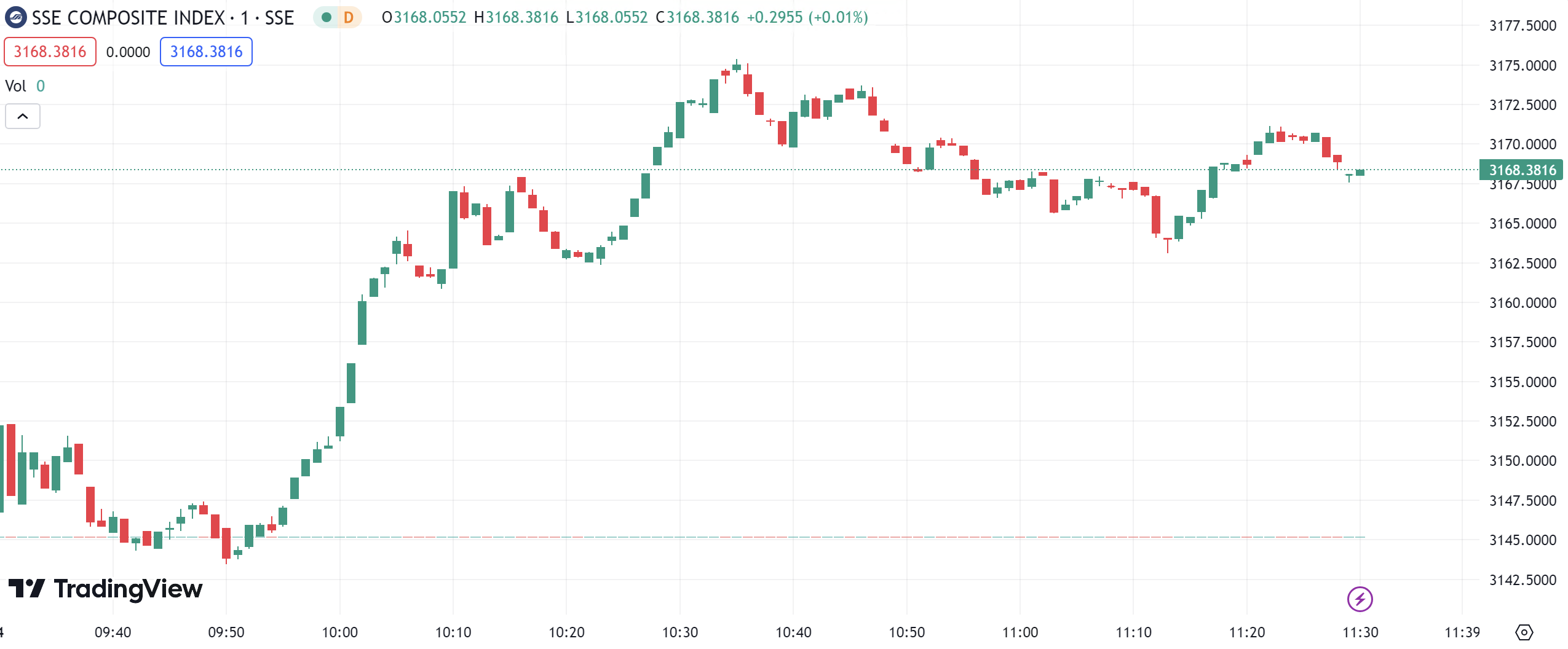 (SSE Composite Index, 1-day chart)
Market Trends:
Shanghai Composite Index (SHCOMP) rose by 1.12%, closing at 3,168.38 points.  
Shenzhen Component Index (SZCOMP) rose by 1.02%, closing at 10,570.82 points. 
ChiNext Index (CHINEXT) rose by 0.45%, closing at 2,109.68 points. 
SSE STAR Market 50 Index (SSE50) fell by 0.42%, closing at 930.9 points. 


Forward-looking Statements
This article contains "forward-looking statements" and may be identified by the use of forward-looking terminology such as "anticipate", "believe", "continue", "could", "estimate", "expect", "hope", "intend", "may", "might", "plan", "potential", "predict", "should", or "will", or other variations thereon or comparable terminology. However, the absence of such terminology does not mean that a statement is not forward-looking. In particular, statements about the expectations, beliefs, plans, objectives, assumptions, future events, or future performance of Doo Prime will be generally assumed as forward-looking statements.
Doo Prime has provided these forward-looking statements based on all current information available to Doo Prime and Doo Prime's current expectations, assumptions, estimates, and projections. While Doo Prime believes these expectations, assumptions, estimations, and projections are reasonable, these forward-looking statements are only predictions and involve known and unknown risks and uncertainties, many of which are beyond Doo Prime's control. Such risks and uncertainties may cause results, performance, or achievements materially different from those expressed or implied by the forward-looking statements.
Doo Prime does not provide any representation or warranty on the reliability, accuracy, or completeness of such statements. Doo Prime is not obliged to provide or release any updates or revisions to any forward-looking statements.
Disclaimer
While every effort has been made to ensure the accuracy of the information in this document, DOO Prime does not warrant or guarantee the accuracy, completeness or reliability of this information. DOO Prime does not accept responsibility for any losses or damages arising directly or indirectly, from the use of this document. The material contained in this document is provided solely for general information and educational purposes and is not and should not be construed as, an offer to buy or sell, or as a solicitation of an offer to buy or sell, securities, futures, options, bonds or any other relevant financial instruments or investments. Nothing in this document should be taken as making any recommendations or providing any investment or other advice with respect to the purchase, sale or other disposition of financial instruments, any related products or any other products, securities or investments. Trading involves risk and you are advised to exercise caution in relation to the report. Before making any investment decision, prospective investors should seek advice from their own financial advisers, take into account their individual financial needs and circumstances and carefully consider the risks associated with such investment decision.