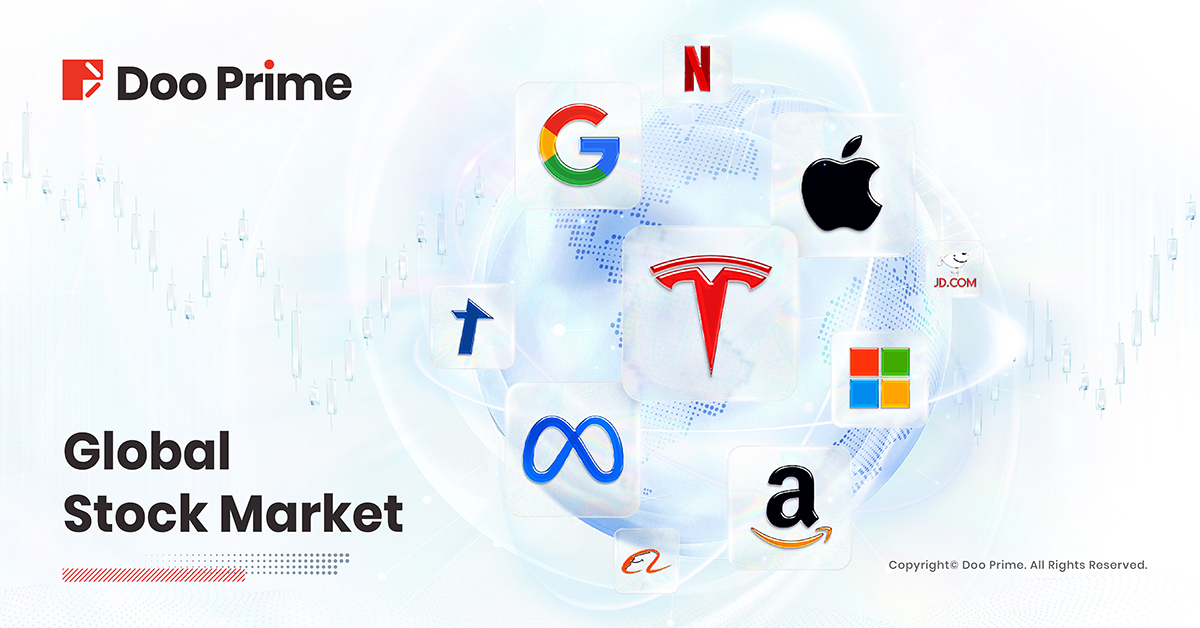 The U.S. stock market had mixed closing results. Banking shares experienced a general decline, offsetting the upward momentum of tech stocks. Market participants continued to assess the impact of rising bond yields on U.S. stocks, while also paying attention to important earnings reports from companies like NVIDIA and speeches from Federal Reserve officials. 
U.S. Stocks
Fundamental Analysis:
On Tuesday, the financial sector declined by 0.8%, marking the weakest performance among the S&P 500 sectors. Long-term U.S. Treasury yields slightly decreased.
On Monday, the benchmark 10-year U.S. Treasury yield reached its highest level since 2007. On Tuesday, this yield retreated to 4.33%. Technology stocks would face greater pressure in the face of rising bond yields.
U.S. investors received earnings reports from retailers such as Macy's and Lowe's. Lowe's had mixed results but reiterated its full-year performance guidance. Macy's issued cautious expectations for its full-year performance.
Investors are focusing this week on NVIDIA's earnings report, scheduled to be released after Wednesday's closing bell.
NVIDIA is widely regarded as an indicator of AI prosperity and sentiment. The company's shares surged over 8% on Monday, making it the top gainer among tech stocks.
Investors are eagerly awaiting Federal Reserve Chair Jerome Powell's speech on Friday at the Jackson Hole Economic Symposium in Wyoming. They hope to gain insights into the central bank's stance on inflation outlook and monetary policy, as well as to understand the next moves in the U.S. dollar and bond yields.
Most large tech stocks rose, with Netflix gaining over 1%, while Apple, Tesla, Microsoft, and Google saw slight increases. Amazon and Meta (formerly Facebook) experienced minor declines.
Chip stocks continued to decline, with NVIDIA initially opening up by 2.6% and reaching a new all-time high during trading, only to drop by nearly 3% afterward. AMD fell by over 2%, and Intel had a slight decrease.
Leading the decline were banking shares, with the "Big Four" U.S. banks collectively dropping by over 2%. Wealth management giant JPMorgan Chase fell by almost 5%, extending its 11-day consecutive decline to reach a seven-week low. This streak marked the longest continuous decline since 2004.
Among regional banks, Western Alliance Bancorporation, Zions Bancorporation, and Alliance-Western Bank saw declines exceeding 3%, while Comerica Bank and Keycorp, which were downgraded by S&P Global, fell by over 4%.
Technical Analysis: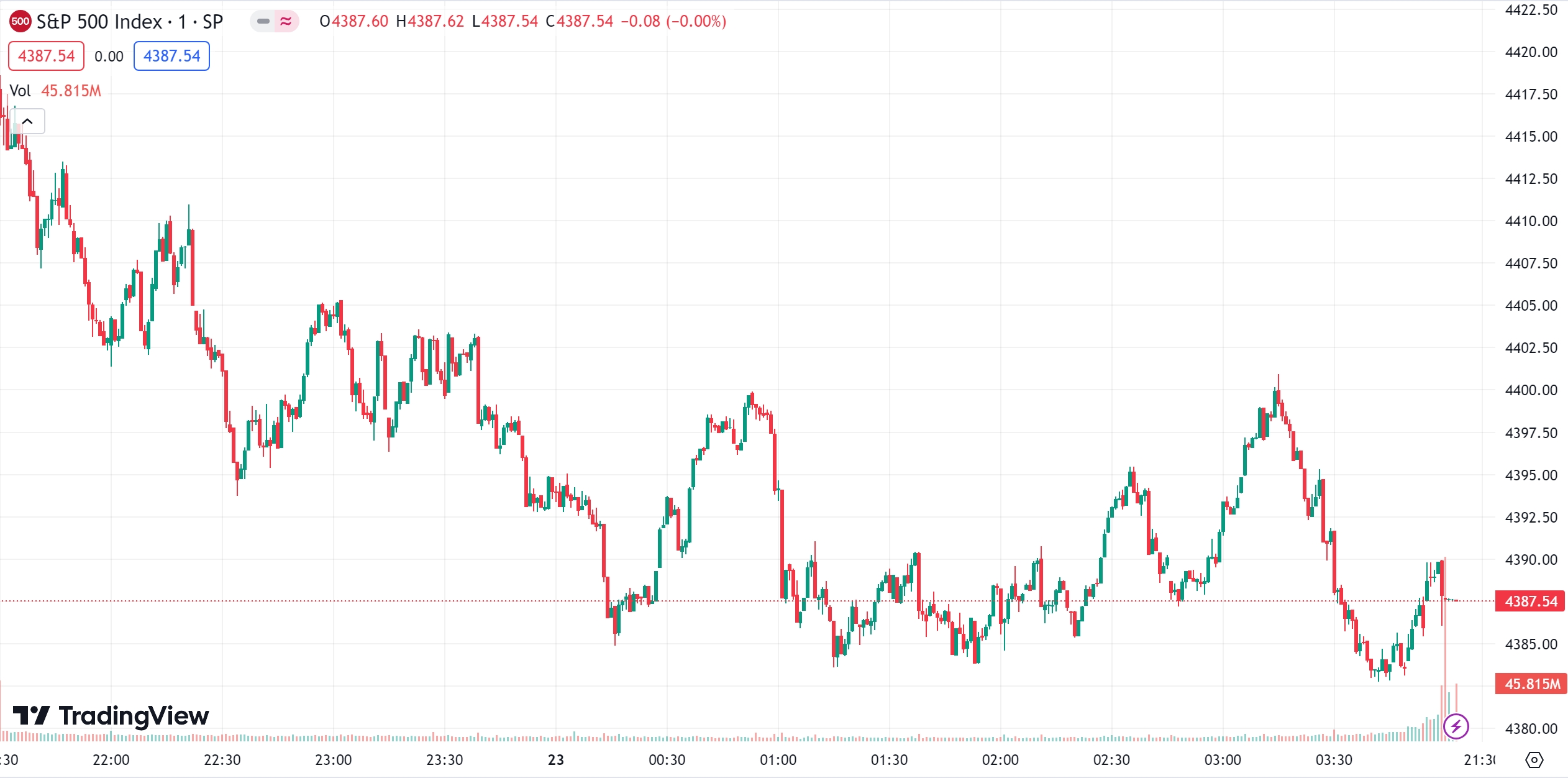 (S&P 500 Index, 1-day chart)
Market Trends:
Dow Jones Industrial Average declined by 174.86 points, or 0.51%, closing at 34,288.83 points.
Nasdaq Composite Index gained 8.28 points, or 0.06%, closing at 13,505.87 points.
S&P 500 Index dropped by 12.22 points, or 0.28%, closing at 4,387.55 points.
Hong Kong Stocks
Fundamental Analysis:
Hong Kong stocks saw fluctuations throughout the day, initially opening lower in the morning but rebounding to close near the high point at 17,852.
The Hang Seng Index (HSI) rose by 0.31%, with the Hang Seng Tech Index gaining 0.2% and the State-Owned Enterprises Index rising by 0.32%.
Tech-related stocks mostly increased, with Baidu, Inc. (9888.HK)'s earnings surpassing expectations and rising over 4%, and Kuaishou Technology (1024.HK) gaining over 3% after its earnings report.
However, companies in the new energy vehicle sector faced declines, led by a more than 5% drop in XPeng Inc. (9868.HK) ' shares.
Chinese brokerage firms collectively showed weakness, with China International Capital Corporation Limited (3908.HK), falling by over 2%.
Real estate stocks were soft, as China Evergrande Group (3333.HK) property management arm surged by over 29%, while Sunac China Holdings Limited (1918.HK) fell by 12%.
The A50 index, tracking the top 50 stocks on the Shanghai and Shenzhen exchanges, witnessed fluctuations, ending the day with a decrease of 2.4% at 879.46 points.
Technical Analysis: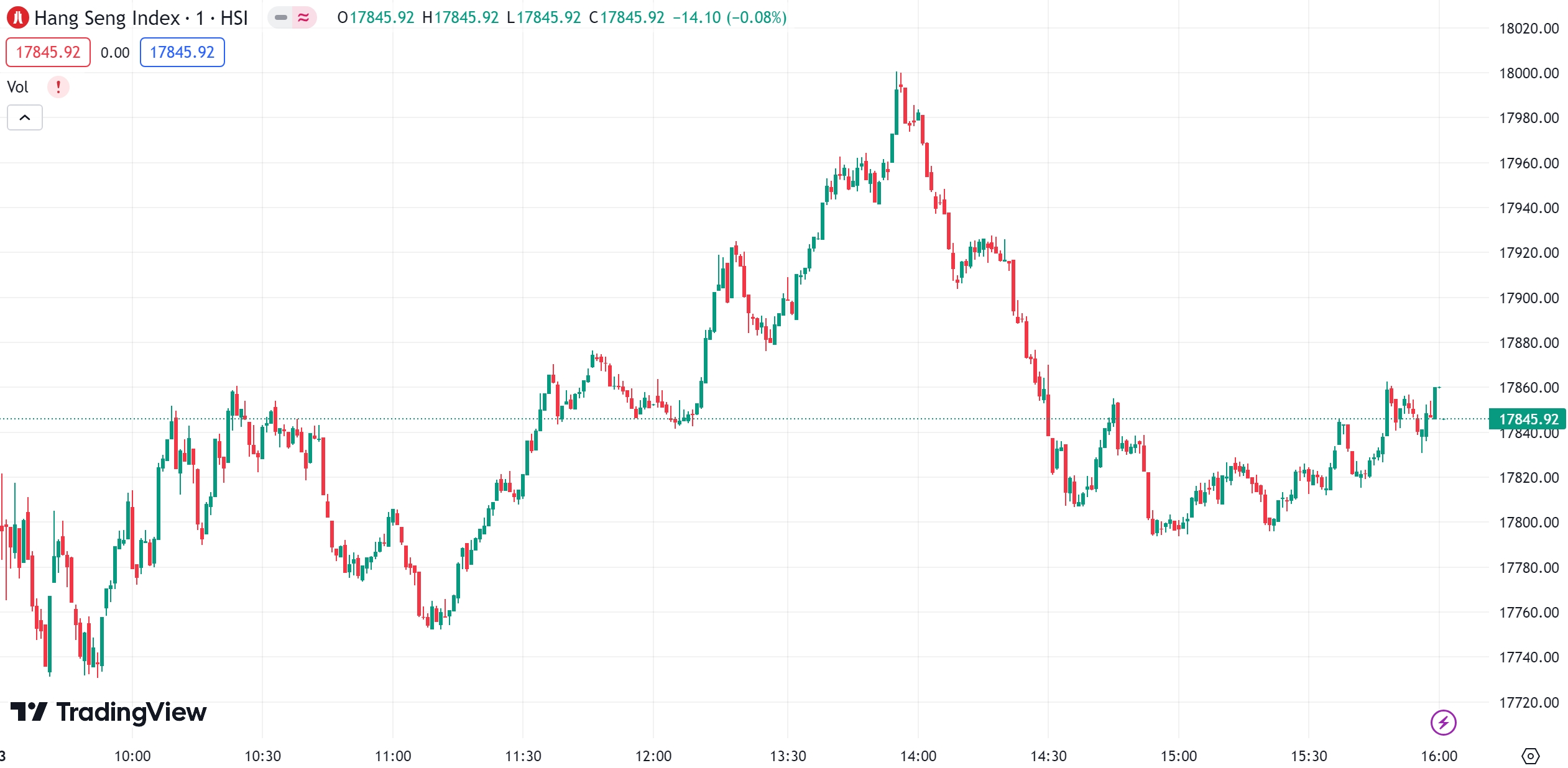 (Hang Seng Index, 1-day chart)
Market Trends:
Hang Seng Index (HSI) increased by 0.31%, closing at 17,845.92 points.
Hang Seng Tech Index (HSTECH) rose by 0.2%.
Hang Seng China Enterprises Index (HSCEI) gained 0.32%.
FTSE China A50 Index
Fundamental Analysis:
Chinese A-shares opened low, with the three major indices initially showing downward movements. The Shenzhen Component Index and the ChiNext Index fell by over 1%.
The market then experienced a modest rebound before a renewed dip around 2:00 PM, causing the ChiNext Index to decline by over 2% and reach a new low in over three years.
The total trading volume in the Shanghai and Shenzhen stock markets was CNY 705.916 billion, with net outflows from Northbound investment reaching CNY 10.461 billion for the 13th consecutive trading day.
In terms of sectors, only coal, environmental protection, pharmaceuticals, professional services, utilities, and petroleum saw gains, while aerospace and aviation, photovoltaic equipment, energy metals, shipbuilding, and securities faced the most significant declines.  
In thematic segments, aquaculture, nuclear pollution prevention, clean water concepts, soil restoration, robotics, and data elements remained active. 
Technical Analysis: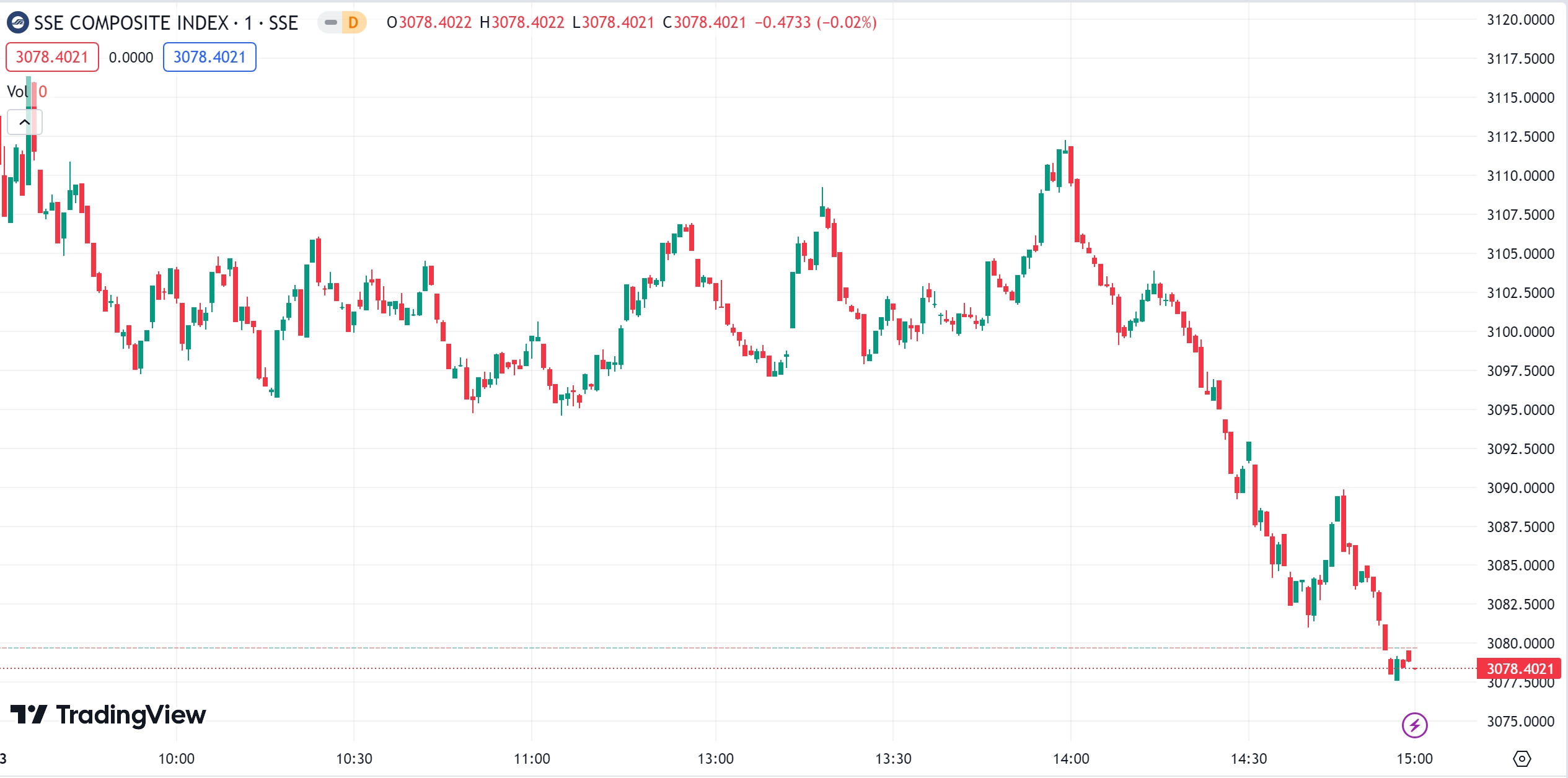 (SSE Composite Index, 1-day chart)
Market Trends:
Shanghai Composite Index (SHCOMP) fell by 1.34%, closing at 3,078.4 points. 
Shenzhen Component Index (SZCOMP) declined by 2.14%, closing at 10,152.6 points. 
ChiNext Index (CHINEXT) declined by 2.3%, closing at 2,038.98 points. 
SSE STAR Market 50 Index (SSE50) decreased by 2.4%, closing at 879.46 points. 
Forward-looking Statements    
This article contains "forward-looking statements" and may be identified by the use of forward-looking terminology such as "anticipate", "believe", "continue", "could", "estimate", "expect", "hope", "intend", "may", "might", "plan", "potential", "predict", "should", or "will", or other variations thereon or comparable terminology. However, the absence of such terminology does not mean that a statement is not forward-looking. In particular, statements about the expectations, beliefs, plans, objectives, assumptions, future events, or future performance of Doo Prime will be generally assumed as forward-looking statements.     
Doo Prime has provided these forward-looking statements based on all current information available to Doo Prime and Doo Prime's current expectations, assumptions, estimates, and projections. While Doo Prime believes these expectations, assumptions, estimations, and projections are reasonable, these forward-looking statements are only predictions and involve known and unknown risks and uncertainties, many of which are beyond Doo Prime's control. Such risks and uncertainties may cause results, performance, or achievements materially different from those expressed or implied by the forward-looking statements.
Doo Prime does not provide any representation or warranty on the reliability, accuracy, or completeness of such statements. Doo Prime is not obliged to provide or release any updates or revisions to any forward-looking statements.    
Disclaimer    
While every effort has been made to ensure the accuracy of the information in this document, DOO Prime does not warrant or guarantee the accuracy, completeness or reliability of this information. DOO Prime does not accept responsibility for any losses or damages arising directly or indirectly, from the use of this document. The material contained in this document is provided solely for general information and educational purposes and is not and should not be construed as, an offer to buy or sell, or as a solicitation of an offer to buy or sell, securities, futures, options, bonds or any other relevant financial instruments or investments. Nothing in this document should be taken as making any recommendations or providing any investment or other advice with respect to the purchase, sale or other disposition of financial instruments, any related products or any other products, securities or investments. Trading involves risk and you are advised to exercise caution in relation to the report. Before making any investment decision, prospective investors should seek advice from their own financial advisers, take into account their individual financial needs and circumstances and carefully consider the risks associated with such investment decision.