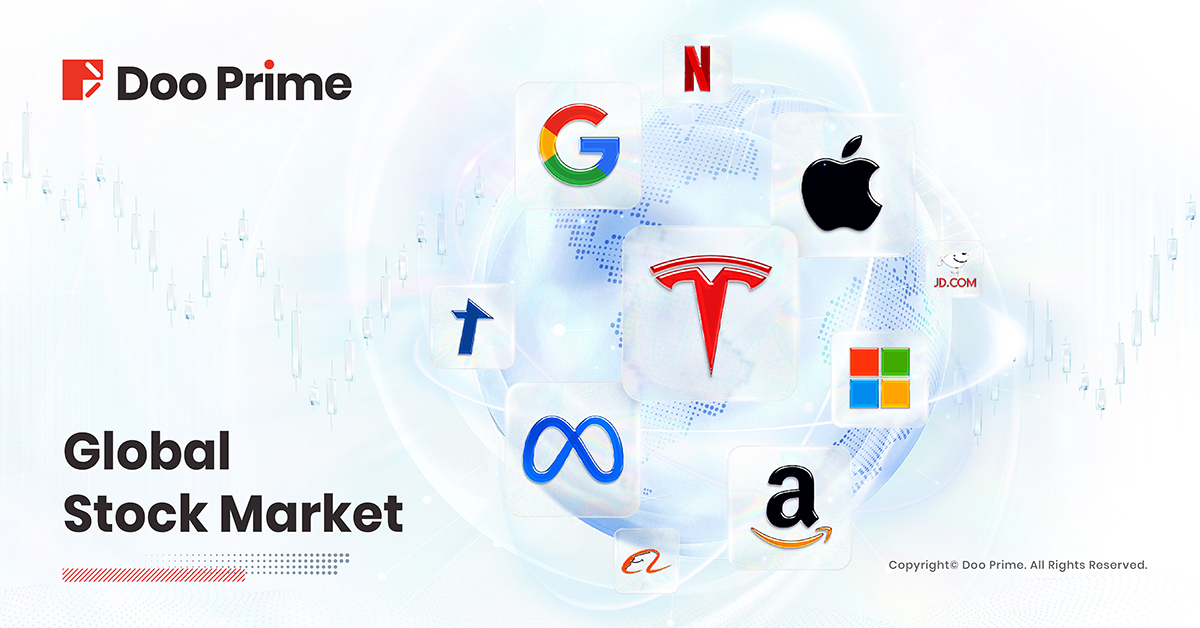 The U.S. stock market closed higher on Thursday, with the Dow Jones rising over 330 points.
The successful IPO of ARM, a chip design company under SoftBank, boosted market sentiment.
August's U.S. PPI and retail sales data both exceeded expectations, while initial jobless claims for the previous week rose to 220,000 as expected.
The European Central Bank raised interest rates for the 10th consecutive time.
The Federal Reserve will commence its monetary policy meeting on September 19th, and the market anticipates that the August CPI data will not alter the Fed's policy trajectory.
According to the CME Group's FedWatch tool, the market currently predicts a 97% chance that the Fed will maintain interest rates unchanged next week.
U.S. Stocks
Fundamental Analysis:
ARM opened at $56.10 on Thursday, briefly surging by 30% during the day and closing at $63.59, pushing its market capitalization above $65 billion. Including restricted stock, ARM's fully diluted valuation is close to $68 billion. ARM's outstanding performance validates SoftBank founder Masayoshi Son's strategy.
Moderna's stock price continued to rise, gaining 3.9% on Thursday following successful phase three testing of its flu vaccine. Meta increased by 2.2%, Tesla by 1.8%, Alphabet by 1.1%, and Apple saw a 0.9% increase after its product release.
Goldman Sachs performed the best among Dow Jones constituents, and Caterpillar, a construction equipment company, rose by 2.4%. Disney is reportedly in preliminary talks to sell ABC to Nexstar, causing Disney's stock to rise by 1.2%.
Technical Analysis: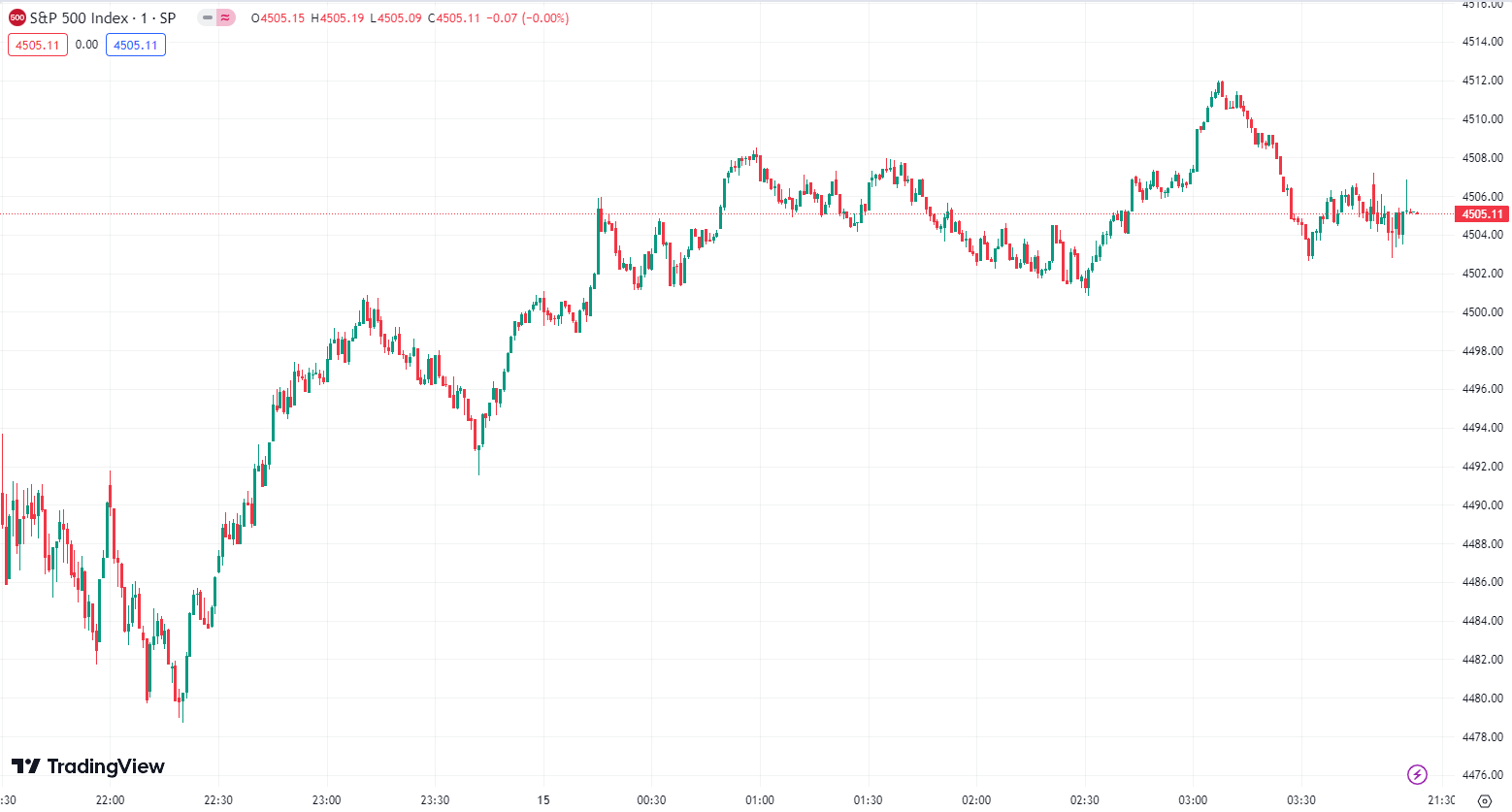 (S&P 500 Index, 1-day chart)
Market Trends:
Dow Jones Industrial Average closed up 331.58 points, a 0.96% increase, at 34,807.11 points.
Nasdaq Composite Index increased by 112.47 points, a 0.81% rise, to 13,926.05 points.
S&P 500 Index gained 37.66 points, an 0.84% increase, reaching 4,505.1 points.
Hong Kong Stocks
The People's Bank of China unexpectedly lowered the reserve requirement ratio, coupled with positive mainland economic data, leading to a rebound in the Hong Kong stock market.
The Hang Seng Index opened 106 points higher at 18,154 points, briefly dipping 17 points to 18,030 points during the day.
China's August industrial production and retail performance exceeded expectations, driving the market higher.
By noon, the Hang Seng Index had risen by 1.65%, the Hang Seng TECH Index by 1.51%, with a total market turnover of 53 billion.
In terms of sectors, healthcare outsourcing, semiconductors, gold, and biotechnology led in gains, while jewelry and forestry sectors experienced declines.
Notable stocks included blue-chip financial and biotechnology companies, with WuXi Biologics rising by 5.5%, SMIC, and Zijin Mining each gaining over 4%, and China Ping An increasing nearly 3%.
Technical Analysis: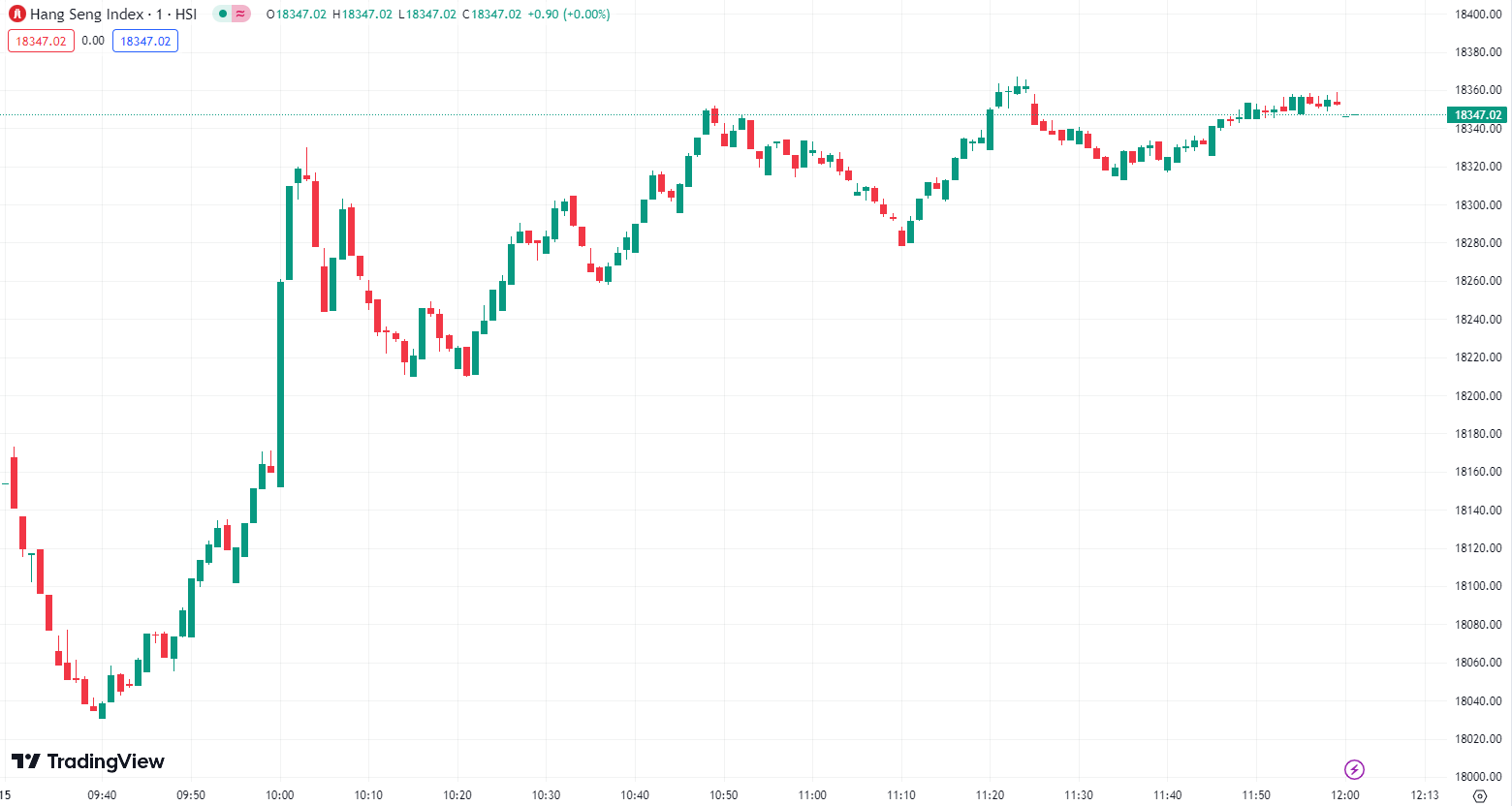 (Hang Seng Index, 1-day chart)
Market Trends:
Hang Seng Index (HSI) increased by 1.65% to close at 18,326.12 points. 
Hang Seng Tech Index (HSTECH) rose by 1.51% to close at 4,120.61 points. 
Hang Seng China Enterprises Index (HSCEI) increased by 1.5% to close at 6,369.35 points. 
FTSE China A50 Index
Fundamental Analysis:
For the second time this year, the reserve requirement ratio was lowered on September 15th, causing fluctuations in the A-share market's three major indices.
The market initially showed weakness but gradually rebounded as economic data for August was released, with all three indices turning positive.
In terms of industry sectors, medical services, biotechnology products, jewelry, medical devices, and pharmaceuticals saw the highest gains, while communication equipment, communication services, electronic chemicals, computer equipment, and the power industry experienced declines.
Themes like CRO, innovative drugs, weight-loss drugs, automotive chips, and traditional Chinese medicine concepts were active.
Technical Analysis: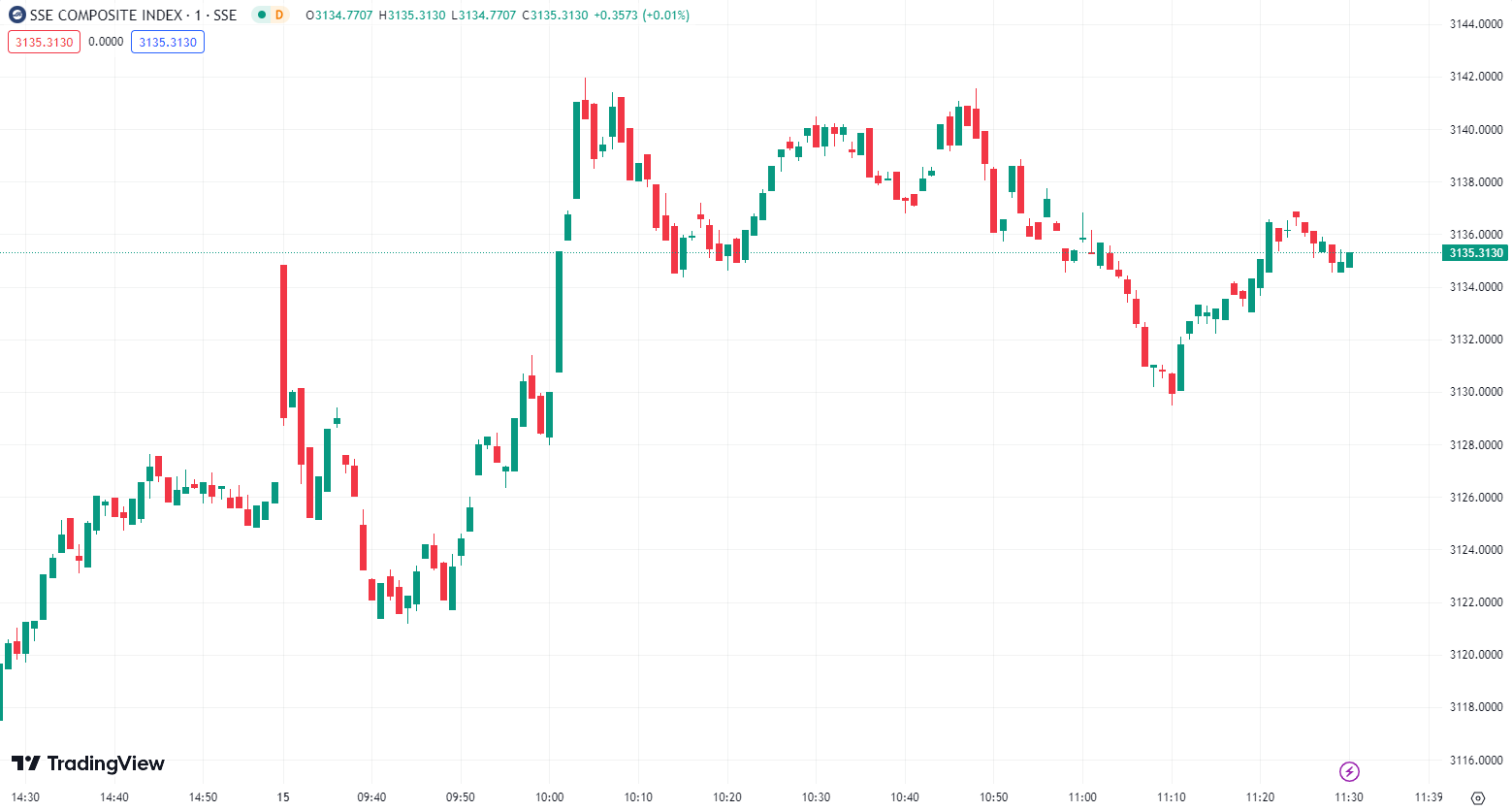 (SSE Composite Index, 1-day chart)
Market Trends:
Shanghai Composite Index (SHCOMP) fell by 0.28% to 3,135.31 points. 
Shenzhen Component Index (SZCOMP) rose by 0.11% to 10,208.75 points. 
ChiNext Index (CHINEXT) increased by 0.11% to 2,014.13 points. 
SSE STAR Market 50 Index (SSE50) gained 1.04%, reaching 890 points. 


Forward-looking Statements
This article contains "forward-looking statements" and may be identified by the use of forward-looking terminology such as "anticipate", "believe", "continue", "could", "estimate", "expect", "hope", "intend", "may", "might", "plan", "potential", "predict", "should", or "will", or other variations thereon or comparable terminology. However, the absence of such terminology does not mean that a statement is not forward-looking. In particular, statements about the expectations, beliefs, plans, objectives, assumptions, future events, or future performance of Doo Prime will be generally assumed as forward-looking statements.
Doo Prime has provided these forward-looking statements based on all current information available to Doo Prime and Doo Prime's current expectations, assumptions, estimates, and projections. While Doo Prime believes these expectations, assumptions, estimations, and projections are reasonable, these forward-looking statements are only predictions and involve known and unknown risks and uncertainties, many of which are beyond Doo Prime's control. Such risks and uncertainties may cause results, performance, or achievements materially different from those expressed or implied by the forward-looking statements.
Doo Prime does not provide any representation or warranty on the reliability, accuracy, or completeness of such statements. Doo Prime is not obliged to provide or release any updates or revisions to any forward-looking statements.
Disclaimer
While every effort has been made to ensure the accuracy of the information in this document, DOO Prime does not warrant or guarantee the accuracy, completeness or reliability of this information. DOO Prime does not accept responsibility for any losses or damages arising directly or indirectly, from the use of this document. The material contained in this document is provided solely for general information and educational purposes and is not and should not be construed as, an offer to buy or sell, or as a solicitation of an offer to buy or sell, securities, futures, options, bonds or any other relevant financial instruments or investments. Nothing in this document should be taken as making any recommendations or providing any investment or other advice with respect to the purchase, sale or other disposition of financial instruments, any related products or any other products, securities or investments. Trading involves risk and you are advised to exercise caution in relation to the report. Before making any investment decision, prospective investors should seek advice from their own financial advisers, take into account their individual financial needs and circumstances and carefully consider the risks associated with such investment decision.