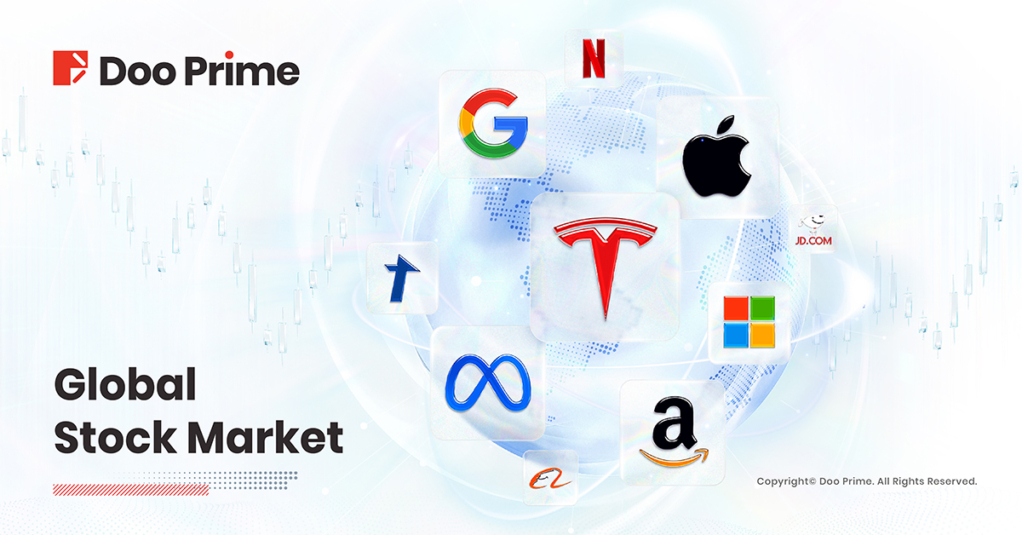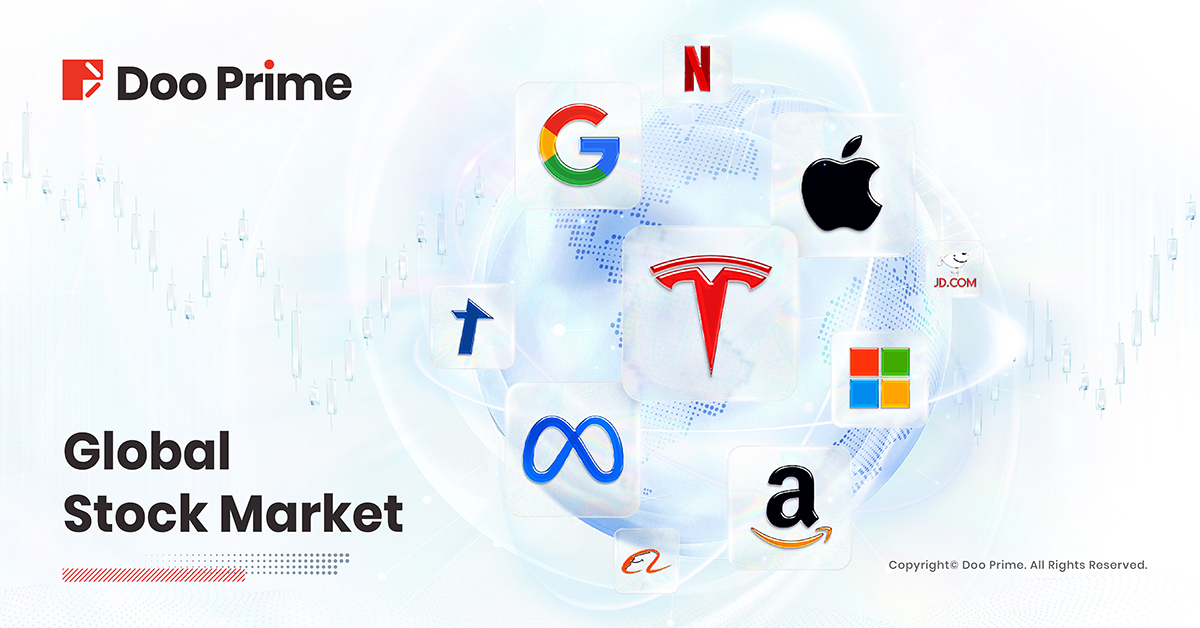 The Dow Jones Industrial Average gained over 300 points on Monday, with the market closely monitoring the third-quarter performance of U.S. stocks.
The VIX volatility index, which measures market anxiety, dropped by more than 10%.
This week, the market's focus is on U.S. third-quarter earnings reports, U.S. Treasury yield movements, and developments in the Middle East.
A Federal Reserve official suggested that the Fed should maintain stable interest rates.
The CBOE Volatility Index (VIX), which gauges market anxiety, fell significantly by over 10% to 17.33.
The yield on the 10-year U.S. Treasury bond rose by 8.3 basis points, reaching 4.712%.
This week, the market is closely watching the performance of U.S. third-quarter earnings.
Approximately 11% of S&P 500 constituent companies are set to release their earnings this week, including Johnson & Johnson, Bank of America, Goldman Sachs, New York Mellon, Netflix, Tesla, and Charles Schwab.
U.S. Stocks
Fundamental Analysis:
In the U.S. stock market, popular tech stocks saw widespread gains, with Amazon and Meta rising over 2%, and Microsoft, Google, NVIDIA, and Tesla rising over 1%.
Leading sectors included financial groups, clothing manufacturing, industrial materials, and retail, with Kohl's surging over 7%, Under Armour-A up over 5%, and Macy's rising over 3%.
On the other hand, pharmaceutical retail, precious metals and mining, and oil and natural gas drilling saw declines, with Moderna falling over 6% and Silvercorp down over 3%.
Chinese concept stocks showed mixed movements, with the Nasdaq Golden Dragon China Index rising by 0.32%.
Tencent Music gained over 6%, JD.com rose over 2%, and companies like Manbang, Weibo, Netease, NIO, and Alibaba had marginal gains.
However, XPeng Motors dropped nearly 5%, and Li Auto declined over 2%, while Pinduoduo, iQiyi, Vipshop, Futu Holdings, Bilibili, and Baidu experienced slight declines.
Technical Analysis: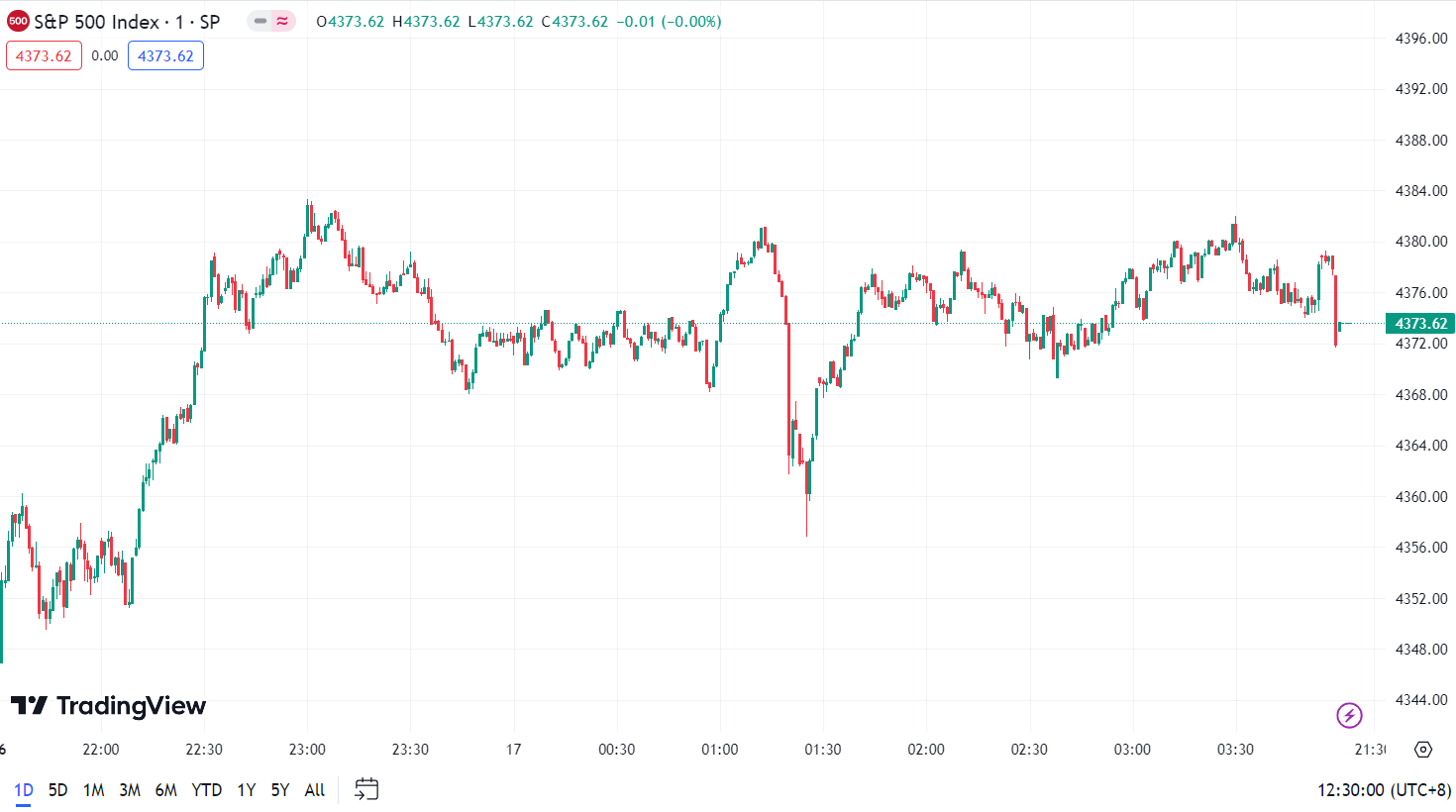 (S&P 500 Index, 1-day chart)
Market Trends:
Dow Jones Industrial Average gained 314.25 points, up 0.93%, closing at 33,984.54 points. 
Nasdaq Composite Index (Nasdaq) gained 160.75 points, up 1.20%, closing at 13,567.98 points. 
S&P 500 Index gained 45.85 points, up 1.06%, closing at 4,373.63 points. 
Hong Kong Stocks
Hong Kong's three major indices opened higher in the morning, later dipped, and then rebounded.
Core tech stocks mostly rose, with Xiaomi Group surging over 3%, JD Group up nearly 2%, and Bilibili, Alibaba, and Meituan rising nearly 1%.
Most property stocks increased, led by Sunac China, up over 1%. Automotive stocks saw mixed results, with Great Wall Motors rising nearly 4% and XPeng Motors falling nearly 3%.
Chinese brokerage stocks showed a general increase, with Guolian Securities up nearly 6%.
Semiconductor concept stocks led the gains, with Huahong Semiconductor surging nearly 4%.
Electronic components and Apple concept stocks also showed positive trends.
In the metal sector, there was significant activity, with Tianqi Lithium Industries rising nearly 8%.
Recent reports have shown a continuous uptick in the price of battery-grade lithium carbonate, a crucial component for lithium-ion batteries.
This price surge is attributed to growing demand, bolstered by robust policies encouraging electric vehicle adoption and the introduction of new models by automakers.
These factors indicate the potential for increased sales of new energy vehicles in the upcoming fourth quarter.
Technical Analysis: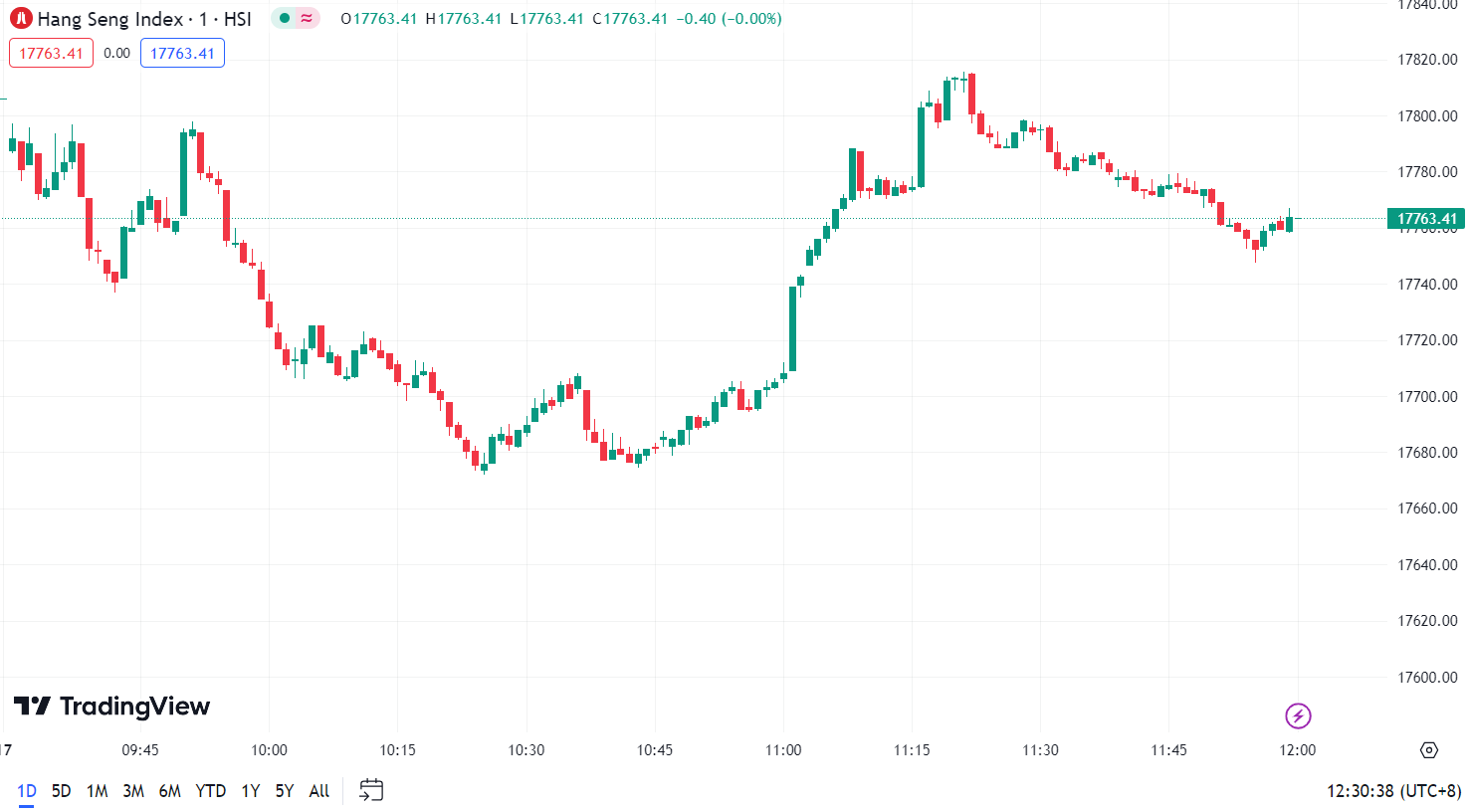 (Hang Seng Index, 1-day chart)
Market Trends:
Hang Seng Index (HSI) gained 0.70%, closing at 17,763.41 points.
Hang Seng Tech Index (HSTECH) gained 0.72%, closing at 3,839.04 points.
Hang Seng China Enterprises Index (HSCEI) gained 0.70%, closing at 6,092.45 points.
FTSE China A50 Index 
Fundamental Analysis:
In the morning of October 17th, A-shares opened with all three major indices rising.
The Shanghai Composite and Shenzhen Component indices gradually weakened after the opening and turned negative.
The ChiNext Index also turned down after oscillating higher.
The securities sector surged after a morning rebound, leading to gains in all three major indices.
In terms of industry sectors, the leading gainers were the securities, insurance, textile and apparel, household light industry, and diversified financials sectors.
On the other hand, the biggest losers were the precious metals, automotive parts, traditional Chinese medicine, chemical pharmaceuticals, and medical devices sectors.
In terms of themes, cross-border payments, digital currency, brokerage concepts, and mobile payments were active.
Technical Analysis: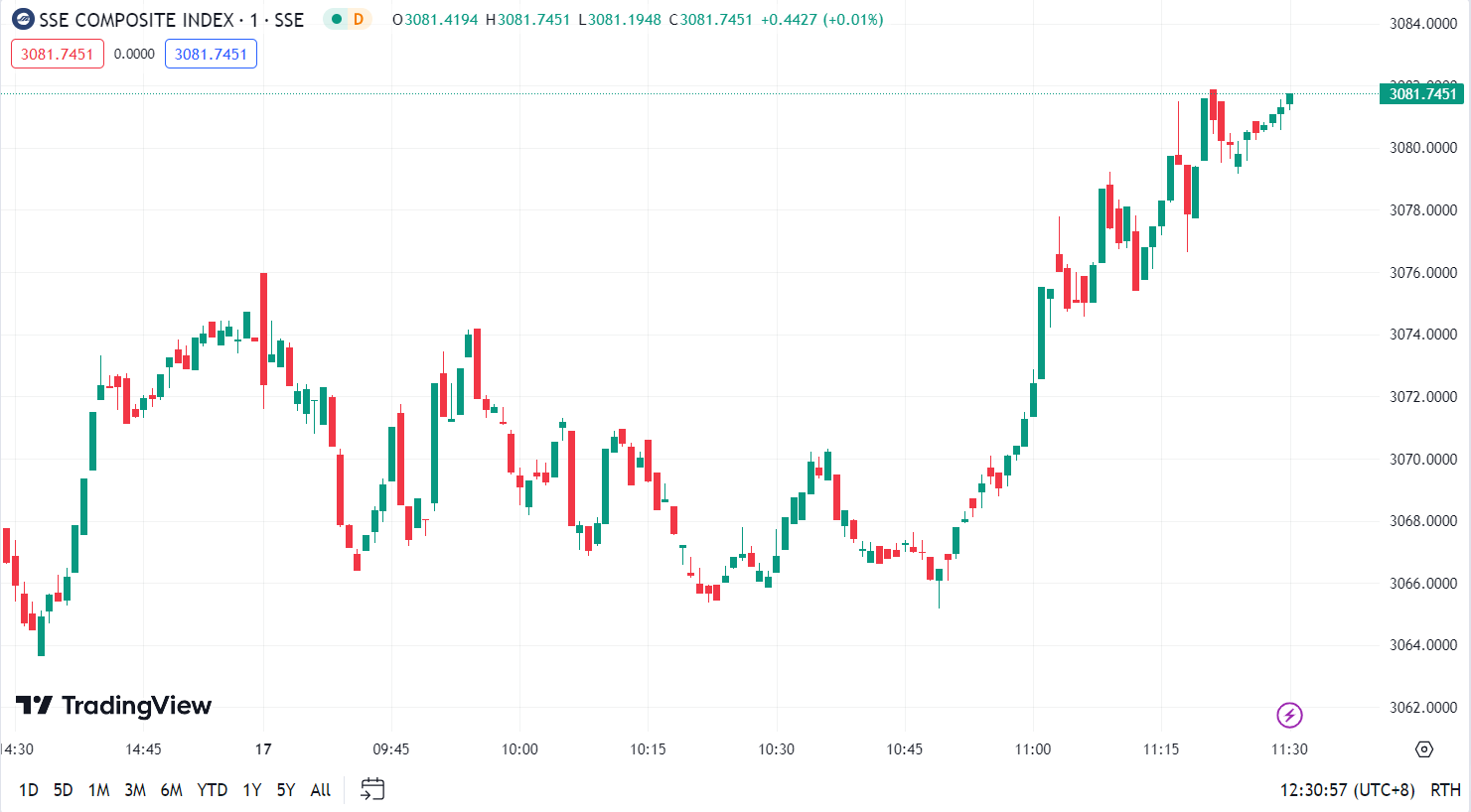 (SSE Composite Index, 1-day chart)
Market Trends:
Shanghai Composite Index (SHCOMP) gained 0.26%, closing at 3,081.75 points.
Shenzhen Component Index (SZCOMP) gained 0.24%, closing at 9,949.16 points.
ChiNext Index (CHINEXT) gained 0.58%, closing at 1,968.16 points.
SSE STAR Market 50 Index (SSE50) gained 1.18%, closing at 884.33 points.
Forward-looking Statements
This article contains "forward-looking statements" and may be identified by the use of forward-looking terminology such as "anticipate", "believe", "continue", "could", "estimate", "expect", "hope", "intend", "may", "might", "plan", "potential", "predict", "should", or "will", or other variations thereon or comparable terminology. However, the absence of such terminology does not mean that a statement is not forward-looking. In particular, statements about the expectations, beliefs, plans, objectives, assumptions, future events, or future performance of Doo Prime will be generally assumed as forward-looking statements.
Doo Prime has provided these forward-looking statements based on all current information available to Doo Prime and Doo Prime's current expectations, assumptions, estimates, and projections. While Doo Prime believes these expectations, assumptions, estimations, and projections are reasonable, these forward-looking statements are only predictions and involve known and unknown risks and uncertainties, many of which are beyond Doo Prime's control. Such risks and uncertainties may cause results, performance, or achievements materially different from those expressed or implied by the forward-looking statements.
Doo Prime does not provide any representation or warranty on the reliability, accuracy, or completeness of such statements. Doo Prime is not obliged to provide or release any updates or revisions to any forward-looking statements.
Disclaimer
While every effort has been made to ensure the accuracy of the information in this document, DOO Prime does not warrant or guarantee the accuracy, completeness or reliability of this information. DOO Prime does not accept responsibility for any losses or damages arising directly or indirectly, from the use of this document. The material contained in this document is provided solely for general information and educational purposes and is not and should not be construed as, an offer to buy or sell, or as a solicitation of an offer to buy or sell, securities, futures, options, bonds or any other relevant financial instruments or investments. Nothing in this document should be taken as making any recommendations or providing any investment or other advice with respect to the purchase, sale or other disposition of financial instruments, any related products or any other products, securities or investments. Trading involves risk and you are advised to exercise caution in relation to the report. Before making any investment decision, prospective investors should seek advice from their own financial advisers, take into account their individual financial needs and circumstances and carefully consider the risks associated with such investment decision.