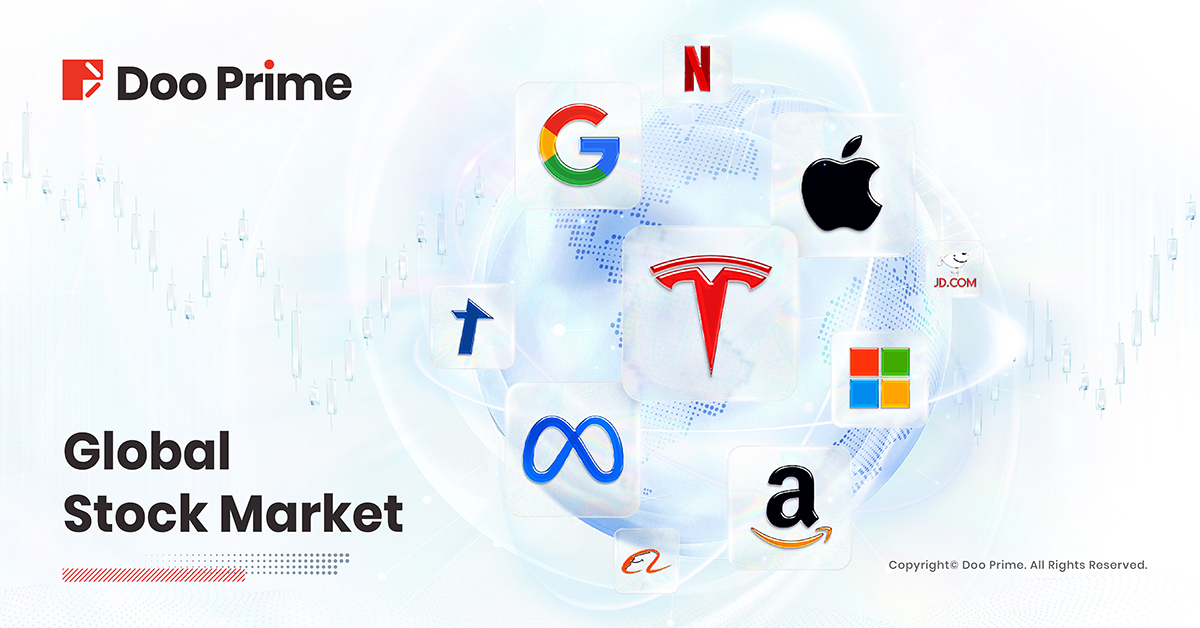 U.S. stocks closed with mixed results on Wednesday. The Dow Jones Industrial Average (Dow) achieved its 13th consecutive trading day of gains, setting a new record for the longest continuous upward streak since 1987. Investors are evaluating the financial reports of several major tech companies. 
U.S. Stocks
Fundamental Analysis: 
As expected, the Federal Reserve announced a 25-basis-point interest rate hike, raising the benchmark interest rate to a range of 5.25% to 5.5%, the highest level since January 2001.
With this hike, the Federal Reserve has now raised interest rates 11 times since starting its rate-tightening cycle last year, totaling a cumulative increase of 525 basis points. The federal funds rate has risen from 0% to 0.25% to its current range.
Federal Reserve Chairman Jerome Powell indicated that if economic data allows, there might be another rate hike in September, but he expressed the willingness to stop raising rates before inflation reaches 2%.
He also stated that there will be no rate cuts this year, though several Federal Open Market Committee (FOMC) members support multiple rate cuts next year. The two-year Treasury yield briefly fell to a daily low of 4.82%.
Among large tech stocks, Google surged over 5%, surpassing expectations for Q2 earnings with a strong rebound in its advertising business. However, Microsoft fell over 3%, as its cloud business growth continued to slow down in the fourth quarter.
Snap also experienced a sharp decline, dropping over 14% due to a net loss of $377 million in the second quarter.
On the positive side, West Pacific Unibank surged over 26% after announcing its merger with a California bank.
Meanwhile, Huirong Technology witnessed the largest intraday increase, soaring over 81%, as the market regulatory authority approved American Megalith Corporation's acquisition of Huirong Technology's shares under certain conditions.
Technical Analysis: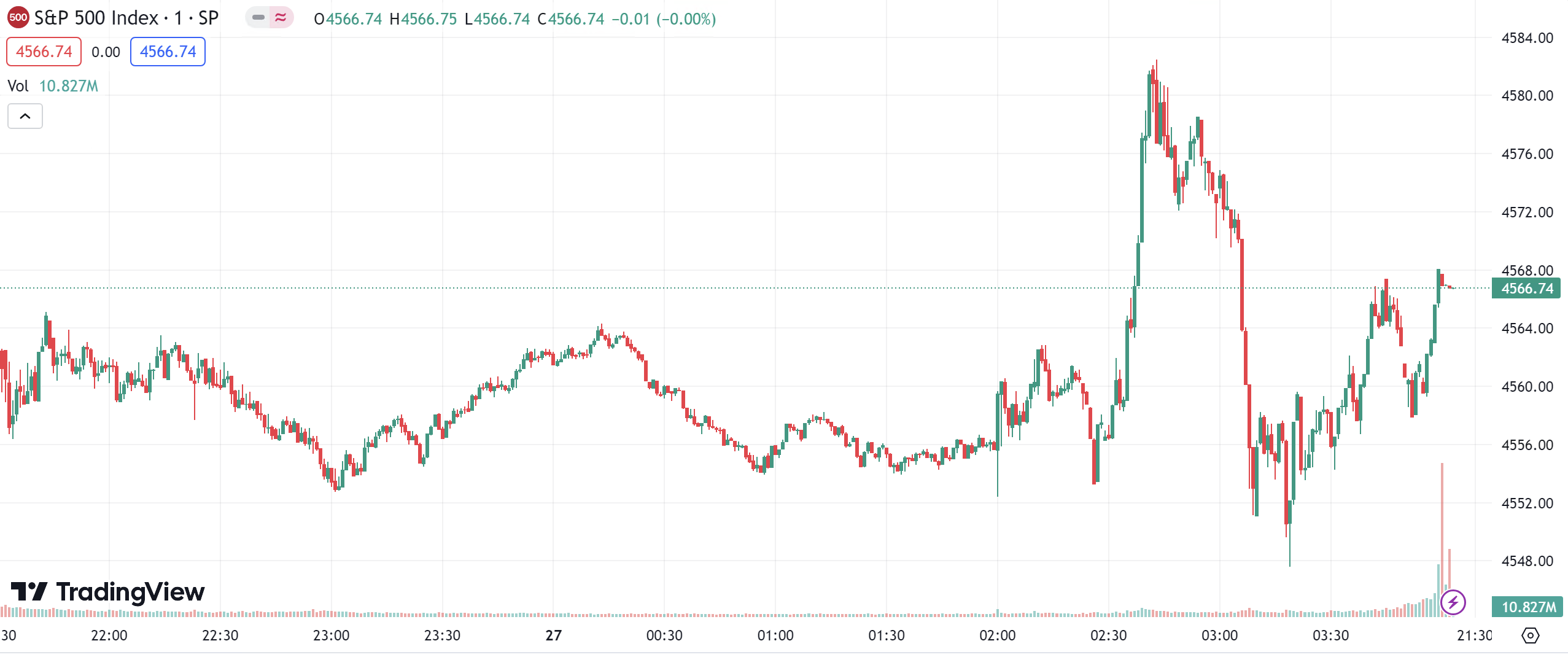 (S&P 500 Index, 1-day chart)
Market Trends:
Dow increased by 82.05 points or 0.23%, closing at 35,520.12 points.
Nasdaq decreased by 17.27 points or 0.12%, closing at 14,127.28 points.
S&P 500 Index decreased by 0.71 points or 0.02%, closing at 4,566.75 points.
Hong Kong Stocks
Fundamental Analysis:
Hong Kong stocks started the day with a significant surge in response to positive cues. The Hang Seng Index opened 136 points higher and later narrowed to a gain of 117 points, closing at 19,482, its intraday low.
With the U.S. rate hike decision meeting expectations and uncertainties cleared, investors gained more optimism about the stock market, leading to increased capital inflows.
The Hang Seng Index extended its gains to reach a high of 19,685, rising by up to 320 points and remained hovering near the high levels.
The Hang Seng Tech Index also surged after opening higher, reaching a high of 4,357, an increase of 138 points, representing a gain of just over 3%, surpassing the Hang Seng Index by about 1.5%.
In the market, a $700 million investment from Volkswagen boosted the shares of XPeng Inc. (9868.HK) by over 33%, driving a collective rally in the automobile sector and its supply chain.
Large tech stocks saw broad gains, with Meituan (3690.HK), JD.com, Inc. (9618.HK), Alibaba Group Holding Limited (9988.HK), and NetEase, Inc. (9999.HK) all rising by more than 1%.
Property and property management stocks displayed strength once again, with Country Garden Holdings Company Limited (2007.HK) surging by 13%.
However, gold stocks, which were active the previous day, experienced a correction, and power and high-speed rail infrastructure stocks declined, with Huadian International Power falling by nearly 5%.
Technical Analysis: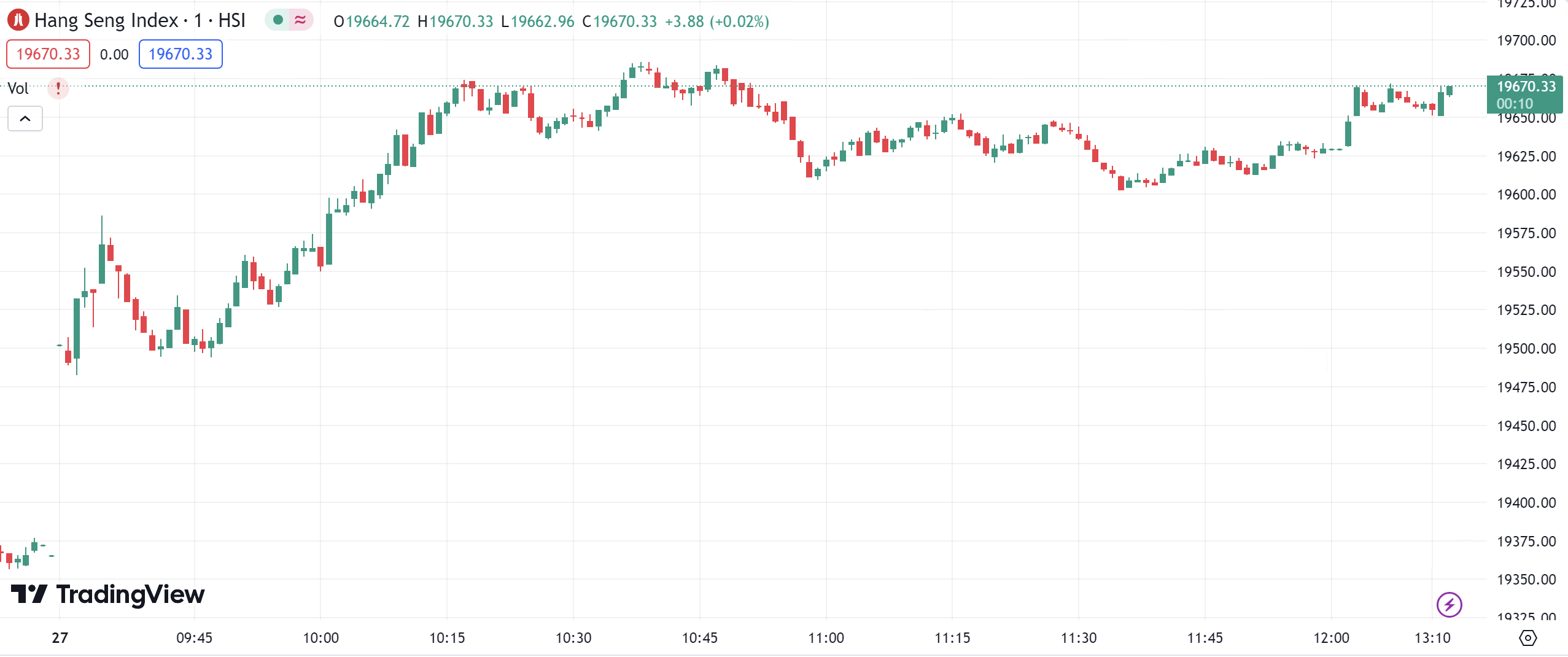 (Hang Seng Index, 1-day chart)
Market Trends:
Hang Seng Index increased by 1.36%, closing at 19,629.23 points.
Hang Seng Tech Index increased by 2.98%, up 20% from its low in May, possibly entering a technical bull market.
Hand Seng China Enterprises Index increased by 1.97%.
FTSE China A50 Index
Fundamental Analysis:
A-Shares in China started the day with all three major indices opening higher. The Shanghai Composite Index and the Shenzhen Component Index gradually rose before experiencing slight retracements, while the ChiNext Index demonstrated a consolidating trend.
The total turnover of both Shanghai and Shenzhen markets reached CNY 473.51 billion, with northbound funds net buying CNY 3.584 billion. Twenty-eight stocks hit their daily limit (including ST stocks), while none experienced limit-down.
In terms of industry sectors, automobile parts, shipbuilding, automotive manufacturing, aerospace, and insurance led the gains, while semiconductors, commercial department stores, household light industry, software development, and internet services saw declines.
In terms of themes, hub motors, integrated casting for automobiles, automotive thermal management, autonomous driving, new energy vehicles, aircraft carrier concepts, liquor, and connected vehicles performed actively.
Technical Analysis: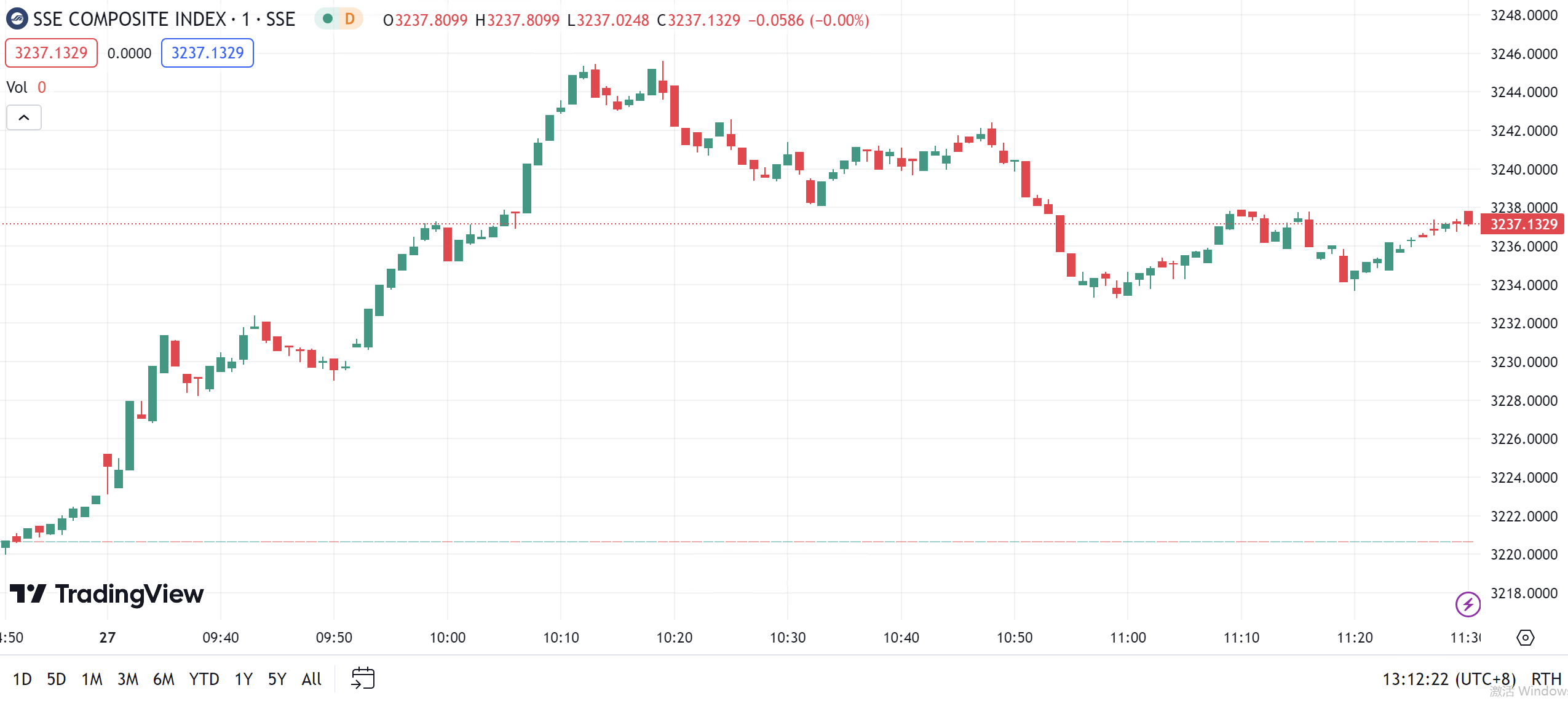 (SSE Composite Index, 1-day chart)
Market Trends:
Shanghai Composite Index increased by 0.44%, closing at 3,237.13 points.
Shenzhen Component Index increased by 0.34%, closing at 11,005.82 points.
ChiNext Index increased by 0.49%, closing at 2,201.99 points.
SSE Star 50 Index (STAR50) decreased by 0.32%, closing at 958.51 points.


Forward-looking Statements
This article contains "forward-looking statements" and may be identified by the use of forward-looking terminology such as "anticipate", "believe", "continue", "could", "estimate", "expect", "hope", "intend", "may", "might", "plan", "potential", "predict", "should", or "will", or other variations thereon or comparable terminology. However, the absence of such terminology does not mean that a statement is not forward-looking. In particular, statements about the expectations, beliefs, plans, objectives, assumptions, future events, or future performance of Doo Prime will be generally assumed as forward-looking statements.
Doo Prime has provided these forward-looking statements based on all current information available to Doo Prime and Doo Prime's current expectations, assumptions, estimates, and projections. While Doo Prime believes these expectations, assumptions, estimations, and projections are reasonable, these forward-looking statements are only predictions and involve known and unknown risks and uncertainties, many of which are beyond Doo Prime's control. Such risks and uncertainties may cause results, performance, or achievements materially different from those expressed or implied by the forward-looking statements.
Doo Prime does not provide any representation or warranty on the reliability, accuracy, or completeness of such statements. Doo Prime is not obliged to provide or release any updates or revisions to any forward-looking statements.

Disclaimer
While every effort has been made to ensure the accuracy of the information in this document, DOO Prime does not warrant or guarantee the accuracy, completeness or reliability of this information. DOO Prime does not accept responsibility for any losses or damages arising directly or indirectly, from the use of this document. The material contained in this document is provided solely for general information and educational purposes and is not and should not be construed as, an offer to buy or sell, or as a solicitation of an offer to buy or sell, securities, futures, options, bonds or any other relevant financial instruments or investments. Nothing in this document should be taken as making any recommendations or providing any investment or other advice with respect to the purchase, sale or other disposition of financial instruments, any related products or any other products, securities or investments. Trading involves risk and you are advised to exercise caution in relation to the report. Before making any investment decision, prospective investors should seek advice from their own financial advisers, take into account their individual financial needs and circumstances and carefully consider the risks associated with such investment decision.