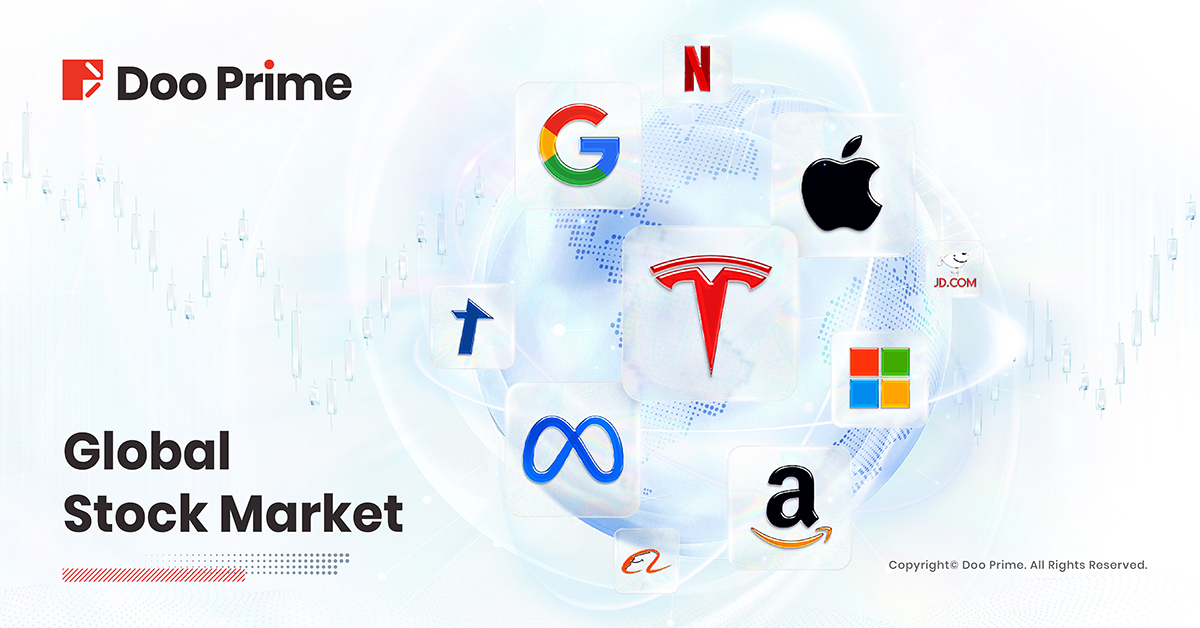 In July, the U.S. added 187,000 non-farm jobs, below the expected 200,000. The unemployment rate was 3.5%, lower than the expected 3.6%. Average hourly earnings increased by 4.4% year on year, beating the expected 4.2%, and rose 0.4% compared to the previous month, exceeding the expected 0.3%.
With core inflation cooling down and positive signs in total employment, employment diffusion index, and quit rate, the job market is showing initial signs of recovery.
The three conditions supporting the Federal Reserve to pause interest rate hikes (significant cooling down of core inflation, positive trends in the job market, and slowing bank credit growth) have all emerged.
For the Fed, stopping rate hikes and maintaining high-interest rates to allow inflation, employment, and credit to gradually cool down might be a favorable option.
U.S. Stocks
Fundamental Analysis:
The major U.S. stock indices opened high and then fluctuated. Large tech stocks had mixed performance, with Amazon rising over 8% due to a better-than-expected 13% revenue growth in the second quarter.
However, Apple fell 4.8% as its latest financial report indicated a decline in iPhone revenue, leading to concerns about consecutive quarterly declines and a significant drop in market value of USD 3 trillion. Tesla also dropped more than 2%.
Superconductor-related stocks continued their volatility. After a preliminary assessment by a Korean academic community that LK-99, a hotly-discussed superconducting material, may not be a superconductor, a second LK-99 floating video was released by a Korean team.
Researchers from Huazhong University of Science and Technology and Indian physicists still have positive expectations for LK-99's future potential, leading to a strong rebound of 7% in American Superconductor (AMSC) stock.
Consumer electronics and digital music sectors declined, with Cook Music falling over 5%, Gauss Electronics dropping more than 2%, and Warner Music down more than 1%.
Technical Analysis: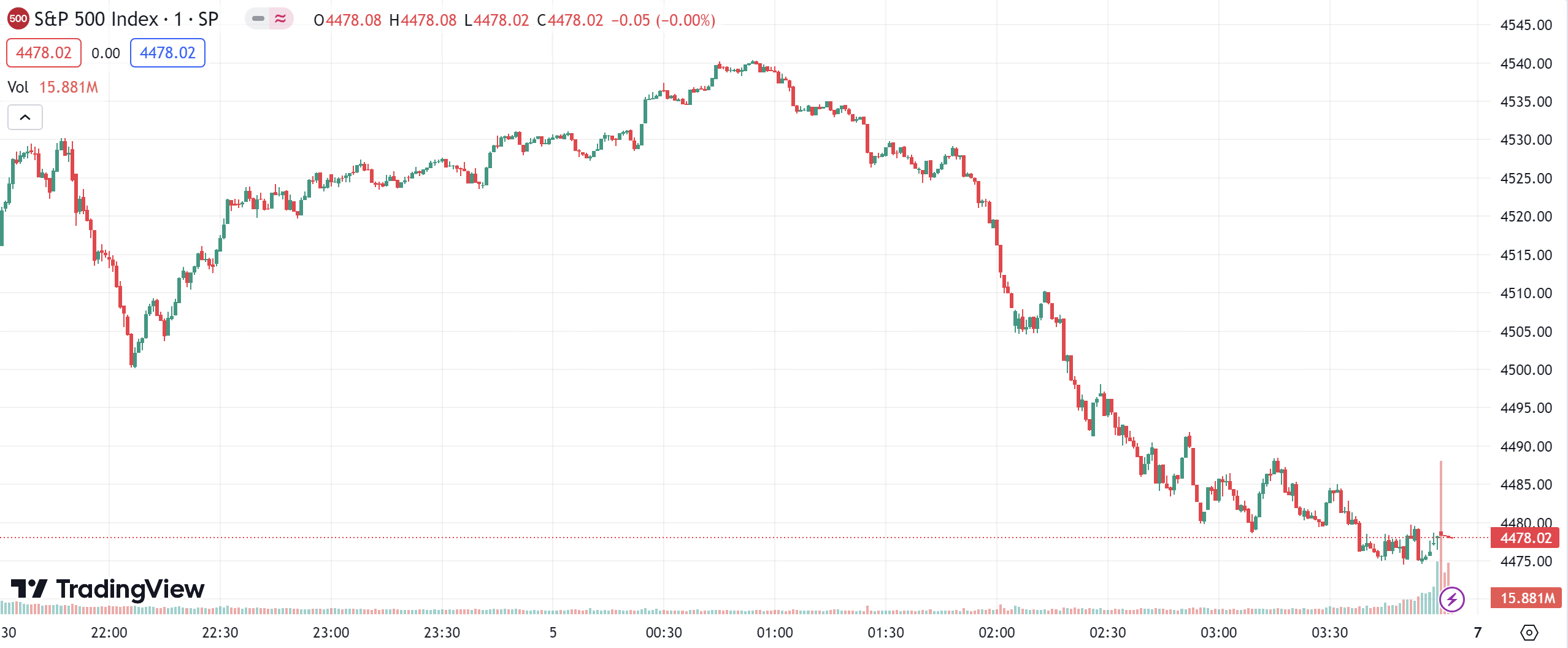 (S&P 500 Index, 1-day chart)
Market Trends:
NASDAQ Index closed down 50.48 points, a decrease of 0.36%, at 13,909.24 points.
S&P 500 Index closed down 23.86 points, a decrease of 0.53%, at 4,478.03 points.
Dow Jones Index closed down 150.27 points, a decrease of 0.43%, at 35,065.62 points.
Hong Kong Stocks
Fundamental Analysis:
The three major Hong Kong stock indices opened low and experienced a brief rise before falling again. The Hang Seng Index initially dropped 64 points and reached a low of 19,352, down by a maximum of 187 points. However, it gradually narrowed its decline and even rebounded 42 points to reach a high of 19,581 before approaching the 19,000 mark, attracting buying interest at the lower levels.
In the market, large tech stocks had mixed performance. JD.com, Inc. (9618.HK), Alibaba Group Holding Limited (9988.HK), and Meituan (3690.HK), were up, while Kuaishou Technology (1024.HK) and Tencent Holdings Limited (0700.HK) fell more than 1%.
The oil sector showed strong momentum, with all three major oil companies rising, and CNOOC Limited (0883.HK) gaining more than 3%.
Benefiting from the continuous recovery of box office revenues, movie-related stocks showed active gains, with Linmon Media Limited (9857.HK) leading with a 10.63% increase.
Property and property management stocks performed weakly, with Evergrande Property Services Group Limited (6666.HK) falling more than 10%.
The healthcare sector was affected by anti-corruption measures in the medical field, leading to a subdued performance. The power and automobile sectors had relatively active gains.
Technical Analysis: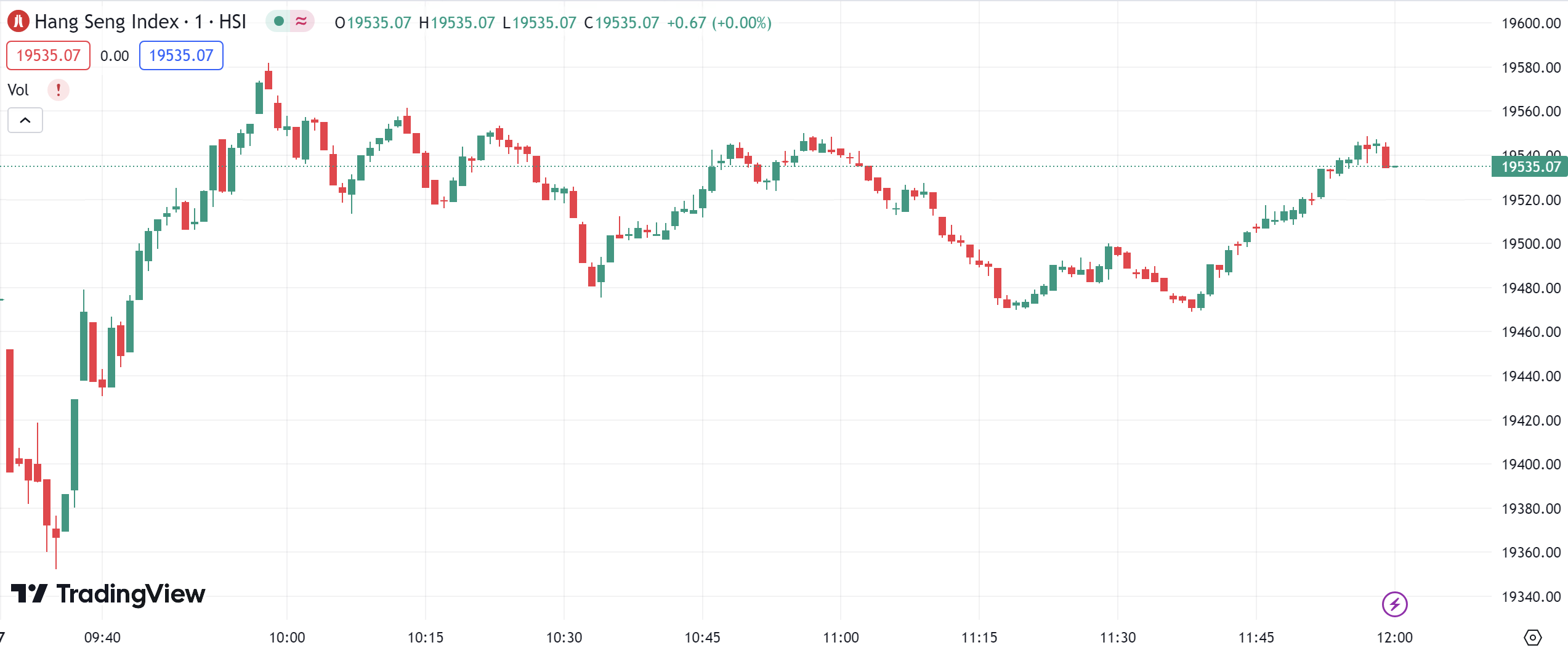 (Hang Seng Index, 1-day chart)
Market Trends:
Hang Seng Index closed down 0.02% at 19,535.07 points.
Hang Seng Tech Index closed down 0.26%.
Hang Seng China Enterprises Index closed down 0.08%.
FTSE China A50 Index
Fundamental Analysis:
All three major A-share indices opened low. The Shanghai Composite Index showed slight downward movement after the initial decline, maintaining a sideways trend.
The Shenzhen Component Index and the ChiNext Index gradually weakened, with the latter dropping by over 1% at one point. The combined turnover of the Shanghai and Shenzhen stock markets was 5766.51 billion yuan, and northbound funds had a net outflow of 2.387 billion yuan.
There were 23 stocks that reached the daily limit up (including ST stocks) and 6 stocks that reached the daily limit down.
In terms of industry sectors, the gaming, cultural media, agriculture, mining, and securities sectors had the highest gains, while the biotechnology, engineering consulting services, real estate development, insurance, and pharmaceutical sectors performed poorly.
In terms of themes, grain, superconductor, CPO, film, and online gaming concepts were active.
Technical Analysis: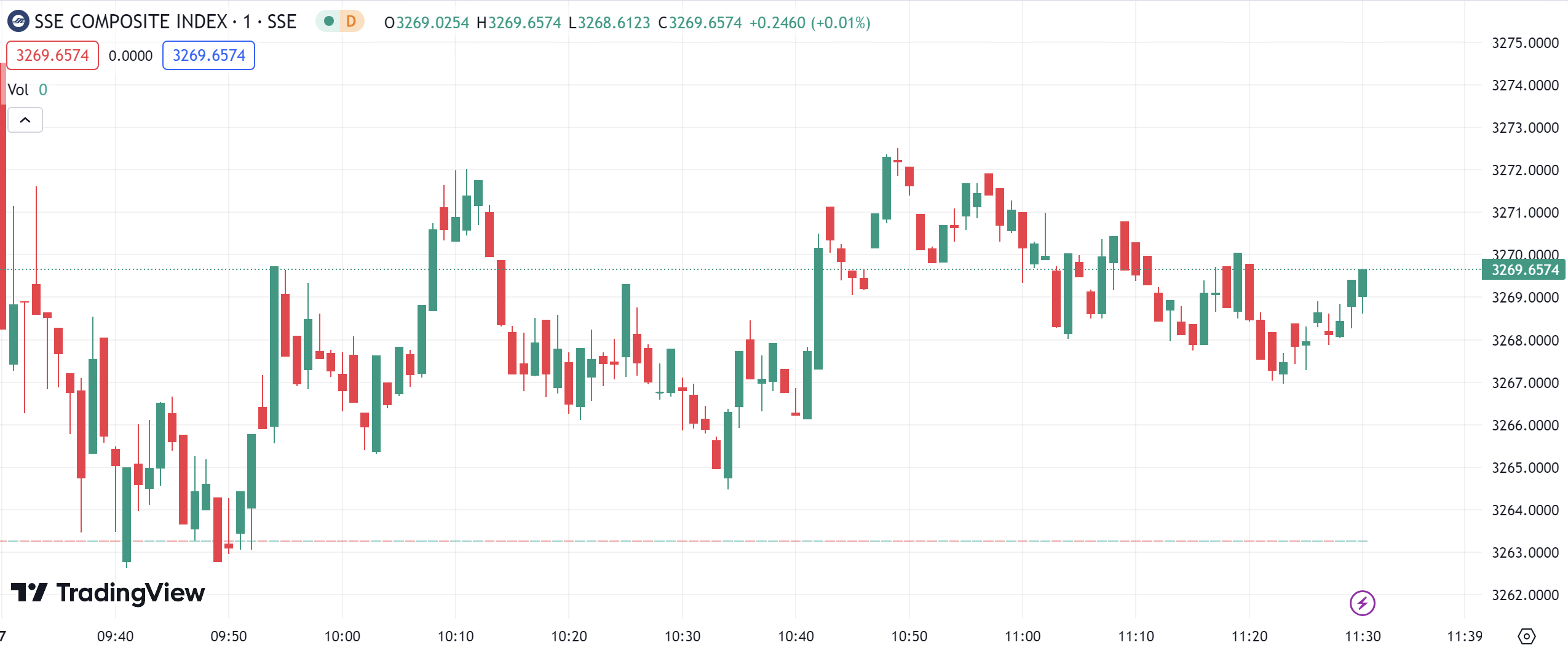 (SSE Composite Index, 1-day chart)
Market Trends:
Shanghai Composite Index closed down 0.56% at 3,269.66 points. 
Shenzhen Component Index closed down 0.72% at 11,156.89 points. 
ChiNext Index closed down 0.98% at 2,241.09 points. 
SSE STAR 50 Index closed down 0.42% at 971.64 points. 

Forward-looking Statements
This article contains "forward-looking statements" and may be identified by the use of forward-looking terminology such as "anticipate", "believe", "continue", "could", "estimate", "expect", "hope", "intend", "may", "might", "plan", "potential", "predict", "should", or "will", or other variations thereon or comparable terminology. However, the absence of such terminology does not mean that a statement is not forward-looking. In particular, statements about the expectations, beliefs, plans, objectives, assumptions, future events, or future performance of Doo Prime will be generally assumed as forward-looking statements.
Doo Prime has provided these forward-looking statements based on all current information available to Doo Prime and Doo Prime's current expectations, assumptions, estimates, and projections. While Doo Prime believes these expectations, assumptions, estimations, and projections are reasonable, these forward-looking statements are only predictions and involve known and unknown risks and uncertainties, many of which are beyond Doo Prime's control. Such risks and uncertainties may cause results, performance, or achievements materially different from those expressed or implied by the forward-looking statements.
Doo Prime does not provide any representation or warranty on the reliability, accuracy, or completeness of such statements. Doo Prime is not obliged to provide or release any updates or revisions to any forward-looking statements.

Disclaimer
While every effort has been made to ensure the accuracy of the information in this document, DOO Prime does not warrant or guarantee the accuracy, completeness or reliability of this information. DOO Prime does not accept responsibility for any losses or damages arising directly or indirectly, from the use of this document. The material contained in this document is provided solely for general information and educational purposes and is not and should not be construed as, an offer to buy or sell, or as a solicitation of an offer to buy or sell, securities, futures, options, bonds or any other relevant financial instruments or investments. Nothing in this document should be taken as making any recommendations or providing any investment or other advice with respect to the purchase, sale or other disposition of financial instruments, any related products or any other products, securities or investments. Trading involves risk and you are advised to exercise caution in relation to the report. Before making any investment decision, prospective investors should seek advice from their own financial advisers, take into account their individual financial needs and circumstances and carefully consider the risks associated with such investment decision.