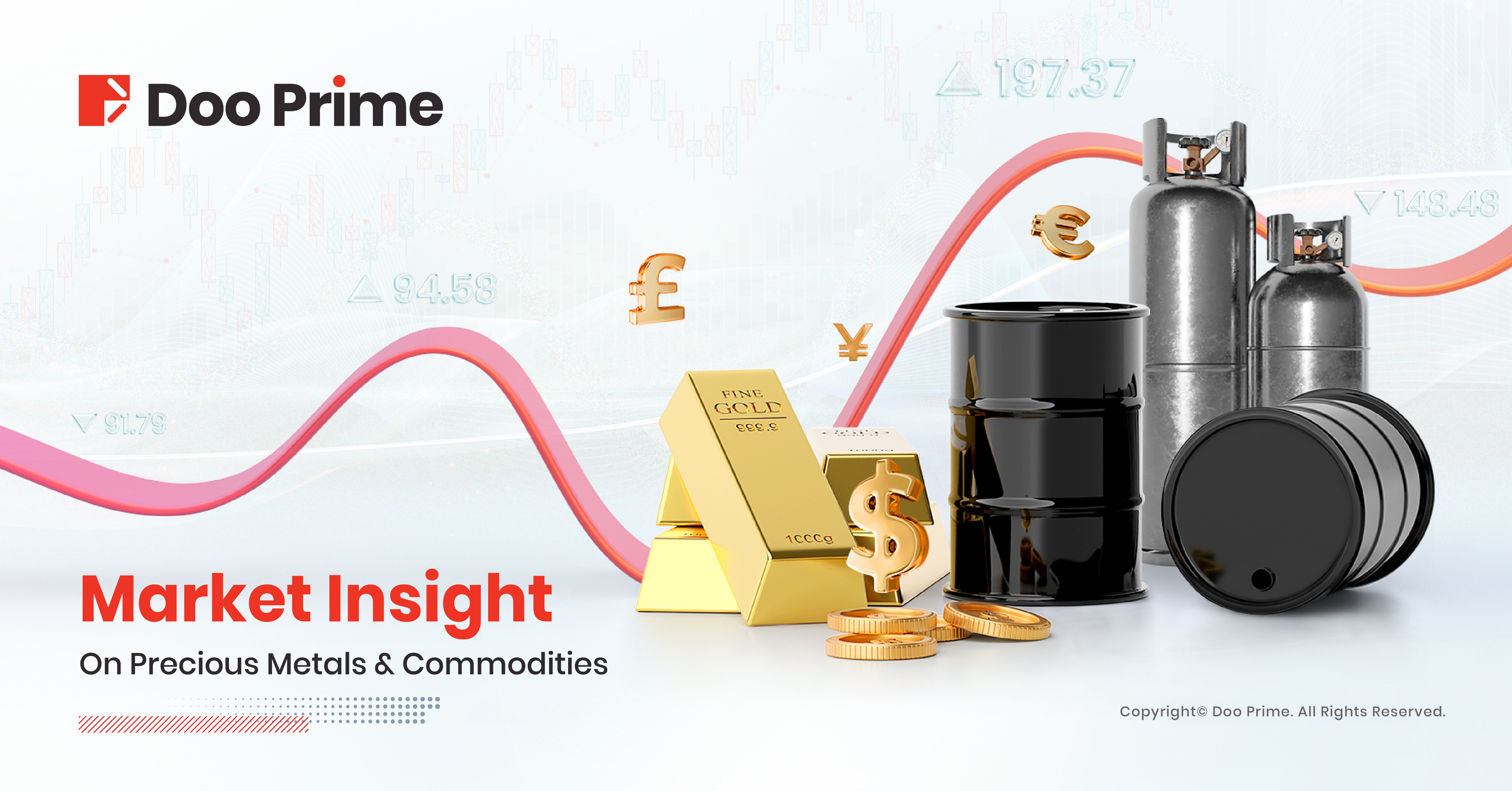 Powell's hawkish speech boosted the U.S. dollar and Treasury yields, with a limited impact on gold, resulting in a modest rise in gold prices.
Federal Reserve Chairman Jerome Powell's hints at potential future interest rate hikes shook hopes of strong demand in the stock and oil markets, hindering oil price rebound, causing a slight uptick. 
Gold >> 
On Thursday, spot gold edged up by 0.41% or $8.04 per ounce, closing at $1958.20 per ounce. December gold futures rose by 0.61%, settling at $1969.80 per ounce.
Despite a decrease in geopolitical concerns in the Middle East, suppressing safe-haven demand for gold, the weakening momentum of the US dollar and lingering low U.S. bond yields created short-term downward pressure on gold prices, prompting a rebound adjustment demand.
The speech by Federal Reserve Chairman Powell is expected to be moderately hawkish, potentially providing opportunities for bulls.
Technically, gold exhibited narrow-ranging consolidation around the $1945-47 range after a brief dip, with a strong rebound breaking above the range during the U.S. session.
Although suppressed around the $1954 level during the Asia-Europe session, the price swiftly fell below the $1945 support, entering a sideways consolidation. In the late U.S. session, the overall price stabilized around the $1945 level before a robust bottom exploration, surging through the $1960 level and closing strongly near $1965. 
Technical Analysis: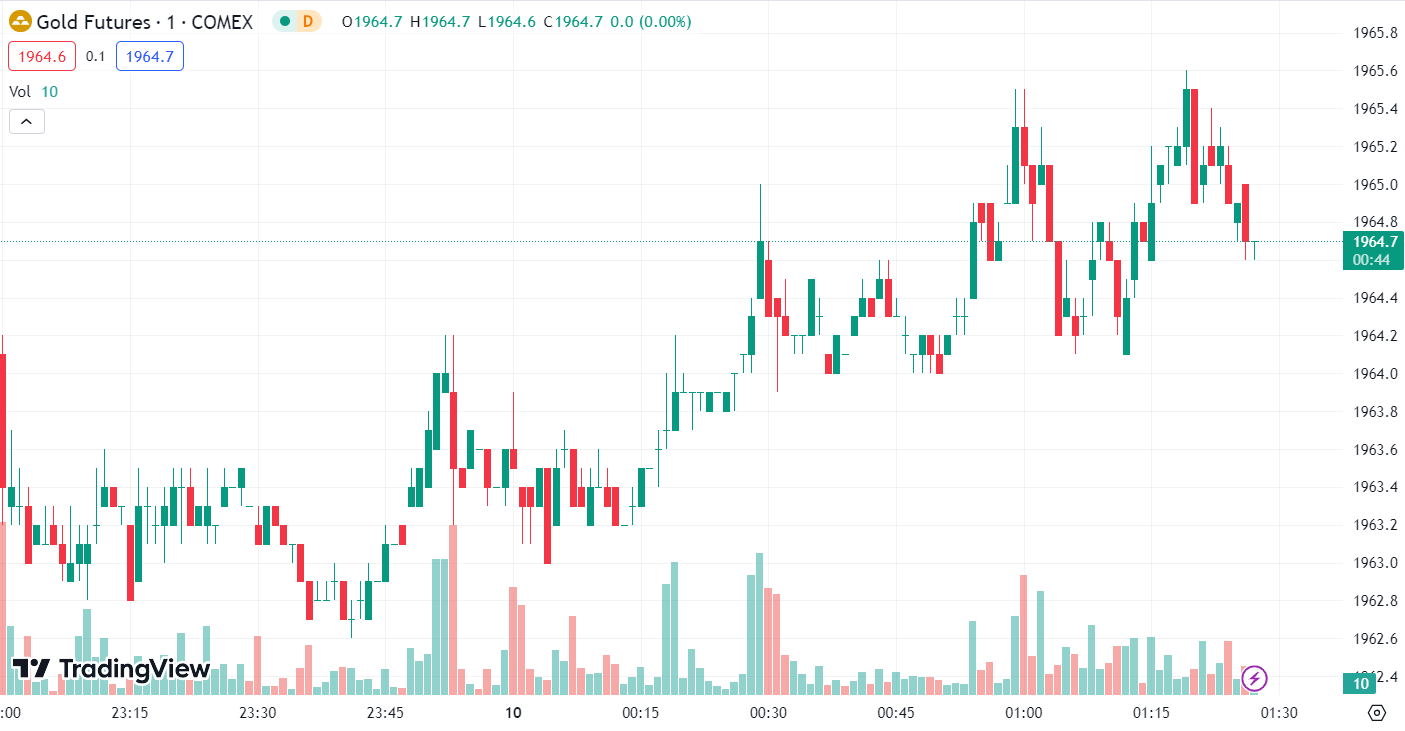 Today's short-term strategy for gold suggests focusing on long positions during pullbacks, with short positions as a secondary option during rebounds.
Key resistance levels to watch in the short term are around 1970-1980.
Key support levels to watch in the short term are around 1948-1940.
WTI Crude Oil >> 
On Thursday, WTI crude oil futures faced resistance in their rebound. Intraday, prices briefly surged by 2% to $77.09 per barrel, but the gains narrowed towards the closing, settling at $75.74 per barrel, a modest increase of $0.41 per barrel or 0.54%. Brent crude oil futures closed at $80.01 per barrel, rising by $0.47 per barrel or 0.59%.
Data from China and the United States indicates a decrease in crude oil demand. According to the U.S. Energy Information Administration (EIA), as of August, U.S. crude oil production reached a historic high, exceeding 404 million barrels, breaking the previous record of 402 million barrels set in December 2019.
Additionally, both OPEC and the International Energy Agency (IEA) are expected to provide their assessments of the oil demand and supply fundamentals next week. OPEC is also scheduled to hold a meeting at the end of this month to discuss production policies for 2024.
During the Asia-Europe session, crude oil experienced a rebound, relying on the $75.3 level, but faced resistance and pulled back after attempting to breach the $76 level in the afternoon.
In the late U.S. session, there were two retracements, finding support around the $75.7 level, leading to a rebound and continuation of the upward movement. After midnight, the overall price accelerated, breaking through the $77.1 resistance but retraced to close below it. 
Technical Analysis: 
Today's crude oil trading strategy suggests prioritizing short positions on rebounds, with long positions on pullbacks as a secondary option.
Key resistance levels to monitor in the short term are around 77.4-78.
Key support levels to monitor in the short term are around 74.6-75. 
Forward-looking Statements
This article contains "forward-looking statements" and may be identified by the use of forward-looking terminology such as "anticipate", "believe", "continue", "could", "estimate", "expect", "hope", "intend", "may", "might", "plan", "potential", "predict", "should", or "will", or other variations thereon or comparable terminology. However, the absence of such terminology does not mean that a statement is not forward-looking. In particular, statements about the expectations, beliefs, plans, objectives, assumptions, future events, or future performance of Doo Prime will be generally assumed as forward-looking statements.
Doo Prime has provided these forward-looking statements based on all current information available to Doo Prime and Doo Prime's current expectations, assumptions, estimates, and projections. While Doo Prime believes these expectations, assumptions, estimations, and projections are reasonable, these forward-looking statements are only predictions and involve known and unknown risks and uncertainties, many of which are beyond Doo Prime's control. Such risks and uncertainties may cause results, performance, or achievements materially different from those expressed or implied by the forward-looking statements.
Doo Prime does not provide any representation or warranty on the reliability, accuracy, or completeness of such statements. Doo Prime is not obliged to provide or release any updates or revisions to any forward-looking statements.

Disclaimer
While every effort has been made to ensure the accuracy of the information in this document, DOO Prime does not warrant or guarantee the accuracy, completeness or reliability of this information. DOO Prime does not accept responsibility for any losses or damages arising directly or indirectly, from the use of this document. The material contained in this document is provided solely for general information and educational purposes and is not and should not be construed as, an offer to buy or sell, or as a solicitation of an offer to buy or sell, securities, futures, options, bonds or any other relevant financial instruments or investments. Nothing in this document should be taken as making any recommendations or providing any investment or other advice with respect to the purchase, sale or other disposition of financial instruments, any related products or any other products, securities or investments. Trading involves risk and you are advised to exercise caution in relation to the report. Before making any investment decision, prospective investors should seek advice from their own financial advisers, take into account their individual financial needs and circumstances and carefully consider the risks associated with such investment decision.