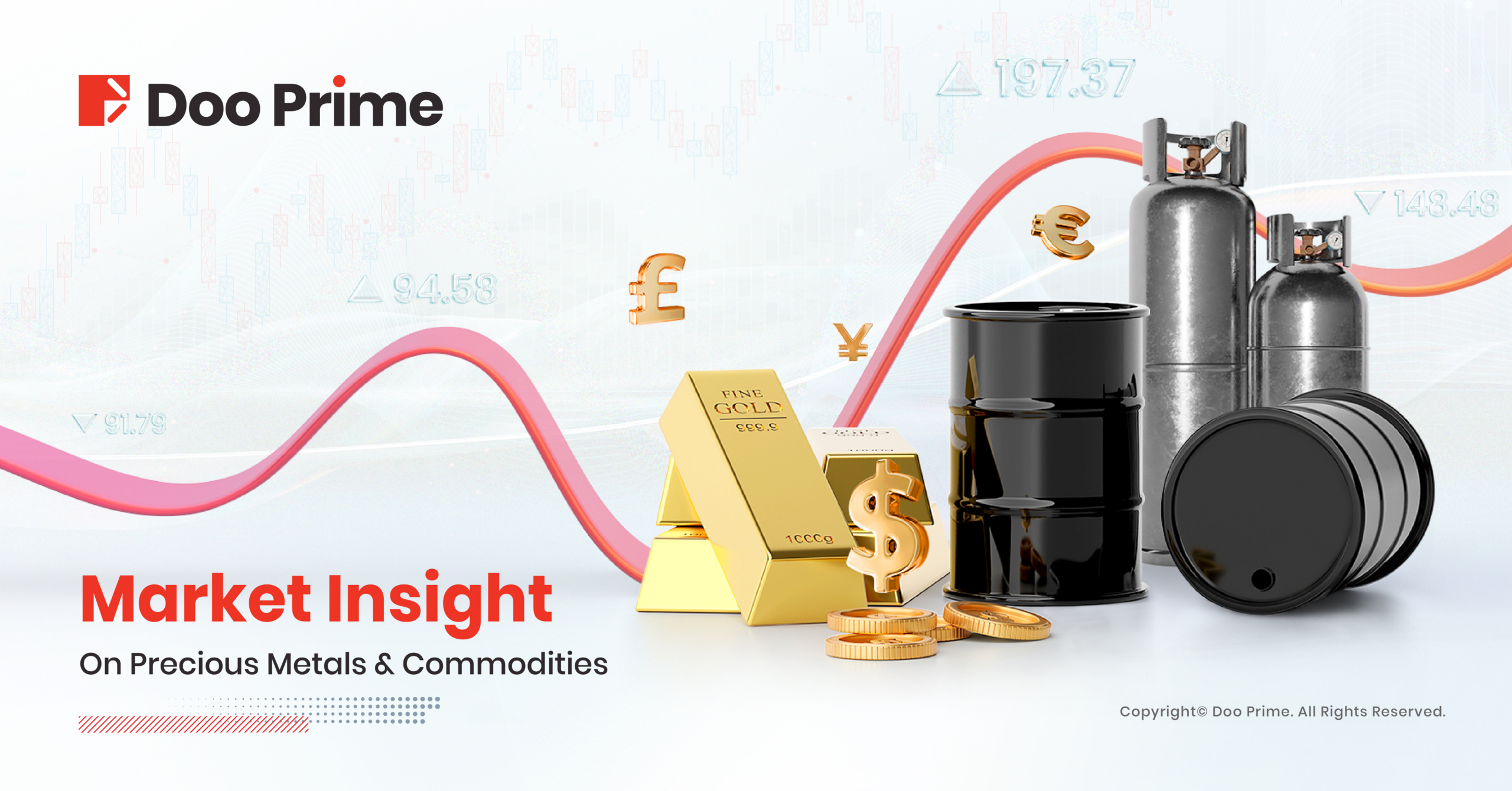 The congressional testimony of Fed Chair Powell and successive interest rate hikes by several central banks have heightened concerns about the global economic growth outlook, diminishing the investment value of interest-free gold.
As a result, gold prices declined by nearly 1%, reaching a three-month low. The Bank of England's larger-than-expected rate hike has sparked worries about the economy and fuel demand, overshadowing positive U.S. inventory data, and causing oil prices to decline by around 4%.
Gold>>
Under the influence of the hawkish sentiment driven by the Federal Reserve's continued interest rate hikes, gold prices fell by nearly 1%, reaching a three-month low and breaking below the key level of $1920 per ounce.
Intraday, prices briefly dropped to a low of $1912.46 before ultimately closing down 0.98% at $1913.96 per ounce.
Following Fed Chair Powell's testimony, the possibility of further rate hikes overshadowed any support from signs of weakness in the labor market.
Initial jobless claims in the United States remained at a 20-month high last week, which could be an early indication of labor market weakness amidst the Fed's aggressive credit tightening. After the data release, gold prices initially narrowed their decline.
Gold prices have been under pressure in the recent period, further retreating after breaking below the $1934 level. They then oscillated around the $1925 level and briefly pierced the $1930 level in response to a slight positive impact from the initial jobless claims data.
However, prices ultimately weakened further and closed with weakness around the $1912 level.
Technical Analysis: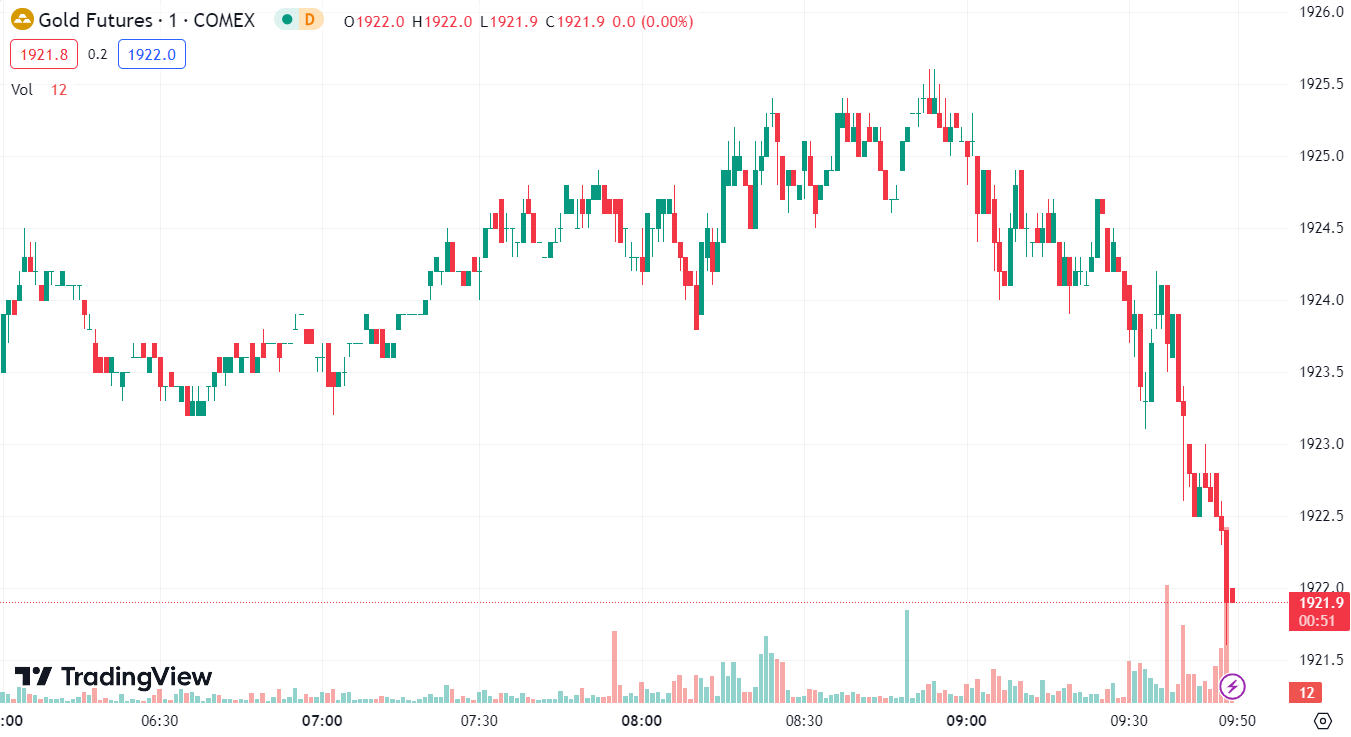 It is advised to focus on short-term short positions during price rebounds and consider long positions on pullbacks.
Key resistance levels to watch on the upside are in the range of 1920 to 1930.
Key support levels to watch on the downside are in the range of 1900 to 1895.
WTI Oil>>
During today's early Asian trading session, WTI crude oil hovered around $69.36 per barrel. The Bank of England's interest rate hike, which surpassed expectations, raised worries about the economy and fuel demand, overshadowing the support from the unforeseen drop in U.S. petroleum inventories.
Consequently, oil prices experienced an approximately 4% decline yesterday. Analysts suggest that the market is currently trading within a range, with concerns about the economy and broader economic issues exerting pressure on prices.
Yesterday, the U.S. Energy Information Administration (EIA) reported an unexpected decrease in US crude oil inventories last week, driven by strong export demand and a decline in imports, while gasoline and distillate inventories saw an increase.
Some market analysts believe that both the crude oil and refined product markets are being weighed down by higher interest rates, and the expected increase in demand may not materialize as quickly as anticipated.
Despite the unexpected decrease in U.S. crude oil inventories, the prospect of rate hikes by the Federal Reserve and the substantial rate increase by the Bank of England have suppressed oil prices, posing further downside risks in the short term.
Yesterday, crude oil attempted to test higher levels but faced pressure and retreated, failing to reach the upper resistance level. It continued to trade under pressure below the upper resistance level, with the daily chart closing at a low level, staying below $70.0 per barrel and exhibiting weak oscillations.
The neutral value remains weakly below $70.0 per barrel. Following yesterday's downward close, the daily and short-term charts are looking toward the lower support level for a potential rebound. The extent of further downside will depend on whether the support level is breached.
In the early Asian-European session today, the price is expected to continue the downward movement toward the lower support range of $67.0 to $66.60.
Technical Analysis: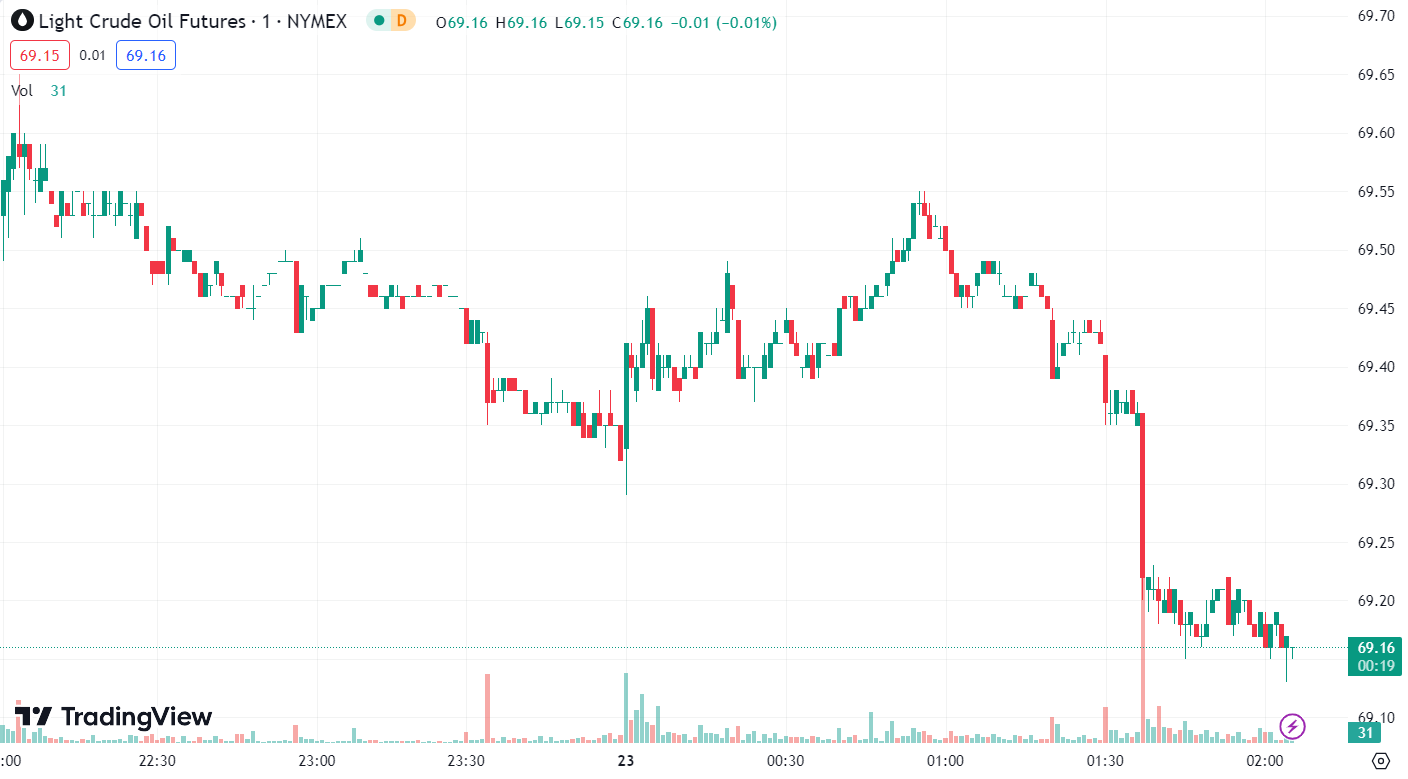 Prioritize long positions during price pullbacks and short positions during upward rebounds.
Key resistance levels to monitor in the short term are between $70.5 and $71 per barrel.
Key support levels to focus on in the short term are between $68.3 and $67.8 per barrel.
Forward-looking Statements
This article contains "forward-looking statements" and may be identified by the use of forward-looking terminology such as "anticipate", "believe", "continue", "could", "estimate", "expect", "hope", "intend", "may", "might", "plan", "potential", "predict", "should", or "will", or other variations thereon or comparable terminology. However, the absence of such terminology does not mean that a statement is not forward-looking. In particular, statements about the expectations, beliefs, plans, objectives, assumptions, future events, or future performance of Doo Prime will be generally assumed as forward-looking statements.
Doo Prime has provided these forward-looking statements based on all current information available to Doo Prime and Doo Prime's current expectations, assumptions, estimates, and projections. While Doo Prime believes these expectations, assumptions, estimations, and projections are reasonable, these forward-looking statements are only predictions and involve known and unknown risks and uncertainties, many of which are beyond Doo Prime's control. Such risks and uncertainties may cause results, performance, or achievements materially different from those expressed or implied by the forward-looking statements.
Doo Prime does not provide any representation or warranty on the reliability, accuracy, or completeness of such statements. Doo Prime is not obliged to provide or release any updates or revisions to any forward-looking statements.

Disclaimer
While every effort has been made to ensure the accuracy of the information in this document, DOO Prime does not warrant or guarantee the accuracy, completeness or reliability of this information. DOO Prime does not accept responsibility for any losses or damages arising directly or indirectly, from the use of this document. The material contained in this document is provided solely for general information and educational purposes and is not and should not be construed as, an offer to buy or sell, or as a solicitation of an offer to buy or sell, securities, futures, options, bonds or any other relevant financial instruments or investments. Nothing in this document should be taken as making any recommendations or providing any investment or other advice with respect to the purchase, sale or other disposition of financial instruments, any related products or any other products, securities or investments. Trading involves risk and you are advised to exercise caution in relation to the report. Before making any investment decision, prospective investors should seek advice from their own financial advisers, take into account their individual financial needs and circumstances and carefully consider the risks associated with such investment decision.